Talk about the difference between Facebook and Google ads - which advertising platform should your product use?
Included in the topic.
#谷歌/Bing ad optimization.
28.
Hey, yo, I'm Mr. Tupa, and today I want to talk to you in 5,000 words about the difference between Facebook and Google ads.

We do sea marketing, certainly the most contact is the advertising platform, that is, Google and Facebook.
But everyone thinks: Should I use Google ads or Facebook ads? Or, I'm using The Shopify stand-alone site to put Facebook on facebook right now, or not.Google ads.Try it? Or will my product explode at Google and Facebook will explode?
And today, I will share the difference between Google ads and Facebook ads, and talk about which products are suitable for which platform to promote, I hope that we have a clearer concept of the two advertising platforms.
First, the most important difference.


1. Different user needs (fundamental differences) are reflected


First of all, I'd like to talk about the fundamental difference between Google ads and Facebook ads -- they reflect different user needs.
This distinction must be remembered and will directly affect the choice of platform.
So what are the different needs of the user?
Facebook:Interest-led.
When we set up Facebook ads, we set the audience type, with custom audiences, segmented interested audiences, and so on.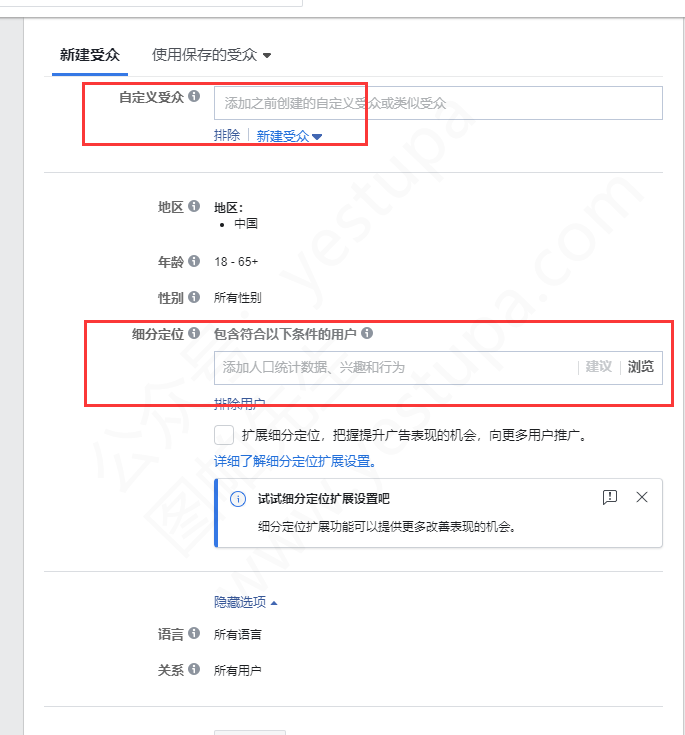 This is also a big difference from Google ads.
(Note that this article only focuses on the difference between Facebook ads and Google search and shopping ads; Google has display ads, which are also based on people's interests, but the conversion is far less good than Facebook's.(Also look at the product), so this article does not compare Google Display ads, and I also do not recommend that friends who do not understand Google Ads contact Display Ads so quickly.If you have to do, also ok, in fact, and Facebook settings are similar, estimated that the problem is not big!
Take myself as an example, my Facebook trumpeer adds a lot of groups about Facebook ads, facebook Ad Hacks in the bottom frame, so Facebook knows I'm a facebook ad user, even a practitioner (I also fill in my personal introduction).
So in my message, there will be a box on google ads service ads out!
But why do I follow Facebook, which comes out with Google's ads? This.It's interest-led.! (Mr. Tupa Public No.: yestupa)
I don't necessarily use Google ads, but advertisers use interest settings to reach people like me who follow marketing and ad serving, and the ads are on my side (though maybe I don't have the need to vote for Google ads).
Google:Demand-driven.
Google ads are also called Google keyword ads, we set Google ads, we will set keywords section (search ads directly set keywords, shopping ads keywords set in the feed; display ads can also set keywords, but not discussed).
At the same time, the first step in google advertising is to collect keywords first.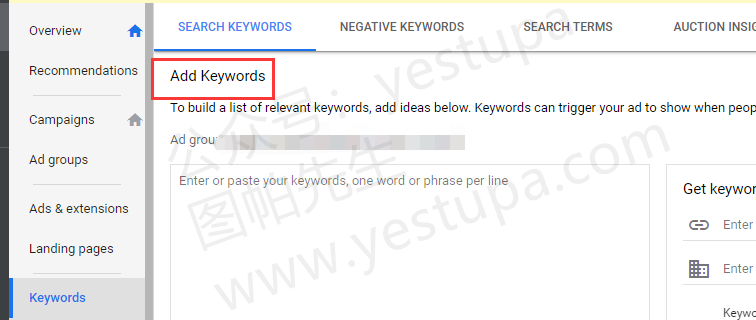 What does that mean?
Is that users must search in Google search engine, will trigger our ads!
And why should users search?It's because they have a clear need.。
For example, searching for women's bags will show shopping ads for bags.
I search for women's bags, maybe I'm a person interested in clothes, but Google doesn't show me ads for women's clothes or pants - because I don't search!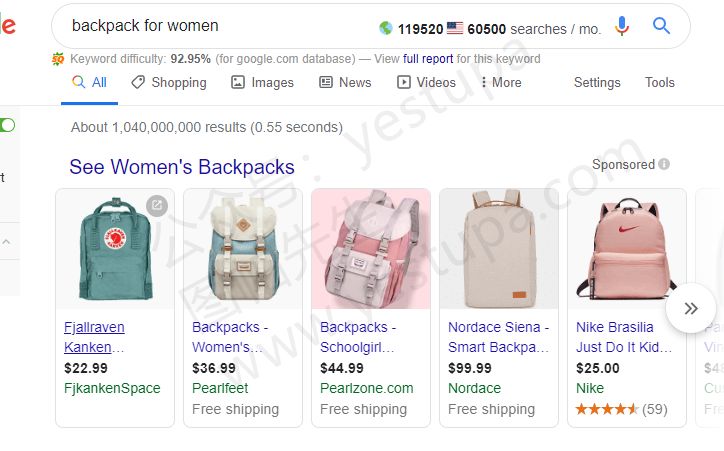 It should be clear by now that google ads are fundamentally different from Facebook ads:
Facebook targets interest-reaching ad audiences, even if.Users do not have the relevant shopping desire, will also show (so FB material is very important, to immediately stimulate the user's desire to buy);
Google mainly targets keyword-triggered ads,Users have a clear need for search, will be displayed.(Google, on the other hand, needs to improve its professionalism and character, and users want to buy it, but why choose you?) )。 (Mr. Tupa Public No.: yestupa)
2. The types of products that apply vary.


Because of the fundamental differences mentioned above, it also determines that Google ads and Facebook ads apply to different products.
I've tried a product that invests $5k a day in Google ads and a ROI of 2.8, but only 0.6 on Facebook (a daily budget of 100). Therefore, also according to the situation of their own products, to consider.
Facebook ads.
Visualized services/products.



If your product is mostly clothing, or travel, customers won't just decide whether to buy it by price or paper, the image above the ad will be key.
In the case of tourism, for example, most visitors will like to see pictures of their rooms, views from the window, photos of the facilities provided by the hotel, etc. to decide whether to stay.
And the clothes, there are elegant models to show, let people feel that they will wear so good-looking.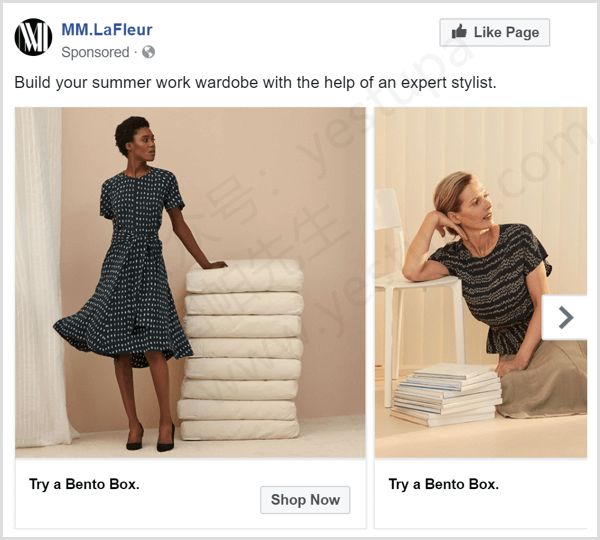 In addition, the game category is very suitable for Facebook, because the promotion of game videos are very eye-catching.
(Of course the game class can also perform well in Google app ads, not discussed here))
2. Products are more special, innovative, customers will not take the initiative to search.
Most of the things we encounter that we don't know will ask Google directly, but if a new product or service, most people don't know its name?
For example, customized products: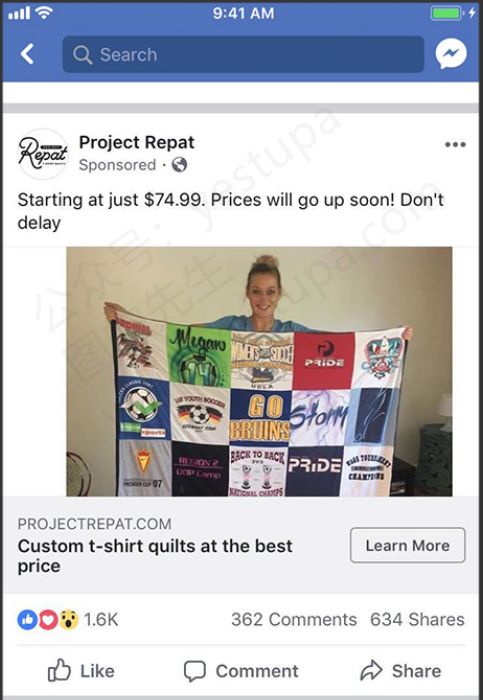 How many people will search Google for what "there are a lot of logos on it"?
And the interest settings on Facebook are a great way to reach people who like novelty.
For example, a user is interested in a beech, but doesn't necessarily want to buy a custom-patterned one (perhaps he likes a regular blanket). However, when he saw the advertisement, such an interesting bee, there was still a good chance to stimulate his desire to buy.
This product, or Facebook ad, is also suitable for impulse spenders.
They may not have thought about buying a certain kind of product, but suddenly see the products related to their interests, and look good, it is likely that they will be ordered.
3. Products that "can't be named".
This one is a bit similar to the one above, because some novelty products are usually nameless.
For example, I've seen a boxing ball on my head before: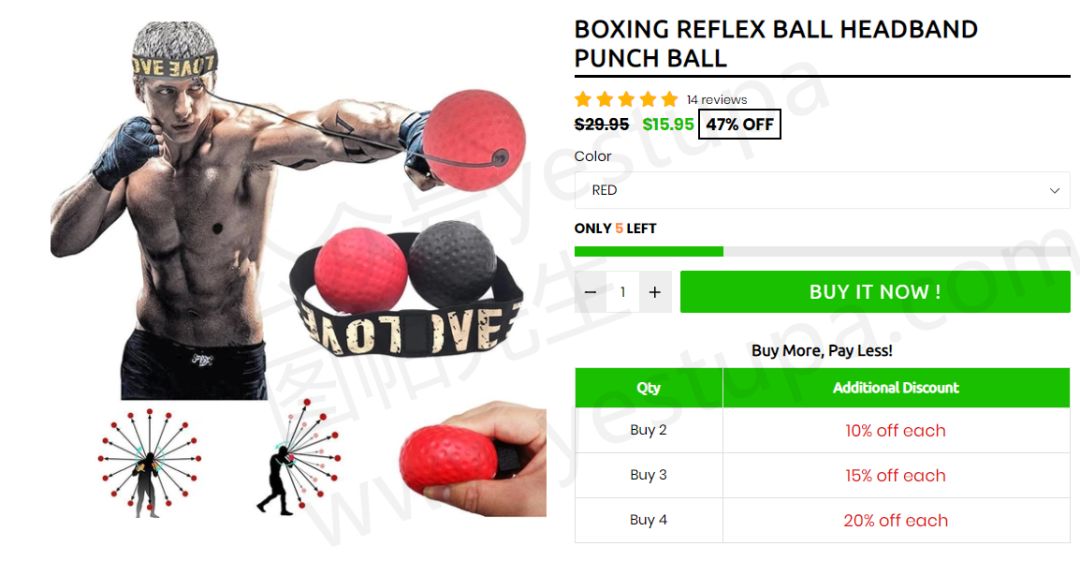 This product is very novel, the average person would not think of "wearing a boxing ball on the head" such a word, search in Google, this word usually in Google also has no search volume.
And this product is usually highly interactive, which is good for Facebook.
Does that mean that those new, visual products aren't suitable for Google ads?
Not necessarily.
Test method: you can go to GKP Google keyword planner put the product keywords up, probably look at the search volume, if some strange products keywords also have a certain amount of search, then you can try to vote Google!

Google ads.
1. The product is more professional, lily.
Google advertising is ideal for products with its own base market, such as astronomical equipment, professional photographic equipment, aquarium equipment: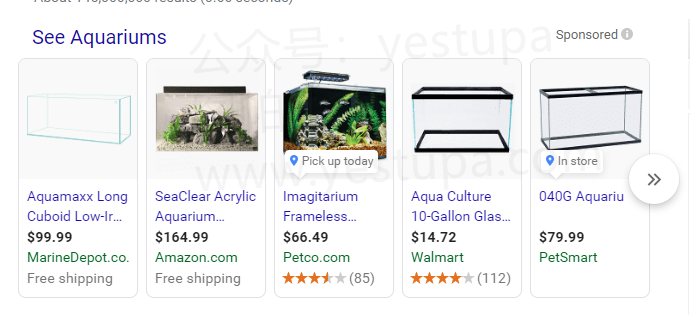 Because the users interested in this product, already know them very well, what is the problem, will search directly on Google. Such users know exactly what they want to do, buy accessories, or solve problems.
The product is unusually good at Google, but usually does well on Facebook.
Do this product has a little trouble is that the need for professionalism is relatively high, they have to learn a lot of relevant knowledge, especially terminology, such as aquarium has many kinds, park and home are two different phrases. If you're making a home water tank, the ad uses the word park water tank.
This is also a test of customer service.
2. The website already has a certain brand awareness.
If your site has reached a certain size (no matter how it's promoted) or even done SEO, try casting Google ads.
One is because the public is impressed with your brand, it is likely to search from Google for relevant information, this time through advertising to show the URL to them again;
Second, because Google advertising is not suitable for impulse consumption and purchase of products, customers will be relatively shrewd, in contact with your products will understand your brand, if your brand already has a certain degree of visibility, that conversion also has a certain guarantee.
There are two main reasons why you can start with a search ad for a brand word:
1. The bid for your own brand word is very low, occupies the pit as early as possible, and the conversion will be very high;
2. Avoid competitors grabbing their own traffic by casting your brand words.
In addition, the site's pages should also be done better, so don't be stingy on the pay topic. To tell you the truth, some sellers say that google advertising performance is not good one of the reasons is that their website experience is very bad, credibility has dropped, which is why most of the shops or websites that invest in Google ads are more self-built stations (can do self-built stations are usually also a certain degree of visibility of the brand only have the capital to do it), because every inch of self-built stations can be modified, optimized, can improve the user experience. The platform's stand-alone stations can certainly do Google ads, but only once again: pay attention to the user experience. (Mr. Tupa Original - Public Number: yestupa)
3. More mature products.
Compared with Facebook's novel products, Google ads are more suitable for mature products, such as clothing, bags, although the competition will be very large, but if the product has its own characteristics, or can occupy a mouthful of cake.
For example, for example, clothes, if you sell a variety of skirts, categories are very general, you must lose money, because the advertising space in front of the basic are occupied by big brands (people have visibility, there is a source), even if you bid very high, ranked first, but your brand is not well-known, poor website experience, bad conversion will kill themselves.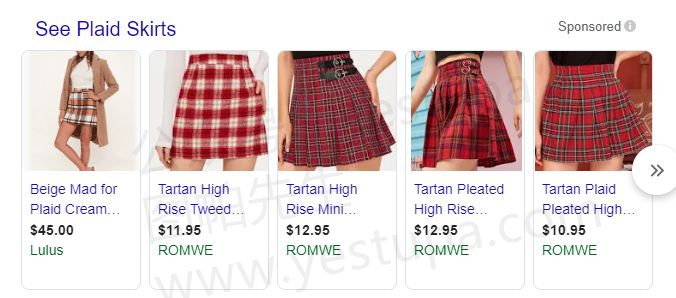 Like the grid skirt on the screenshot, the competitor brand is big, the resource is sufficient, the price is low, the local warehouse, but also parcels. You're fighting a price war with him? Bid and budget with him? It's impossible to drop...
But if your skirt is a bit characteristic, turn utilitarian, such as playing a large number, suitable for obese people to wear, hey, the opportunity to come out there is no!
4. Service type products.
In addition to e-commerce, Google advertising also applies to housing agencies, dance fitness classes, wedding services, tourism, finance, lawyers and so on, such professional services.
These service products may not be used by the average user on a daily basis, but once customers need this content, they will bet more time to search, compare, and will be willing to spend a higher amount of money and time on these service products.
At this point with Google ads will have a better effect.
Mr. Tupa, who has also done Google ads for travel and courses, has a different flavor.
4. Local services.
If your company's overseas businesses are also targeted at local guests, you can offer on-site service, or you have a brick-and-mortar store in the area, which is suitable for Google advertising.
The layout reflects local features, such as the example in the following image, as well as ads on Google Maps, which are also very good at showing their own local characteristics.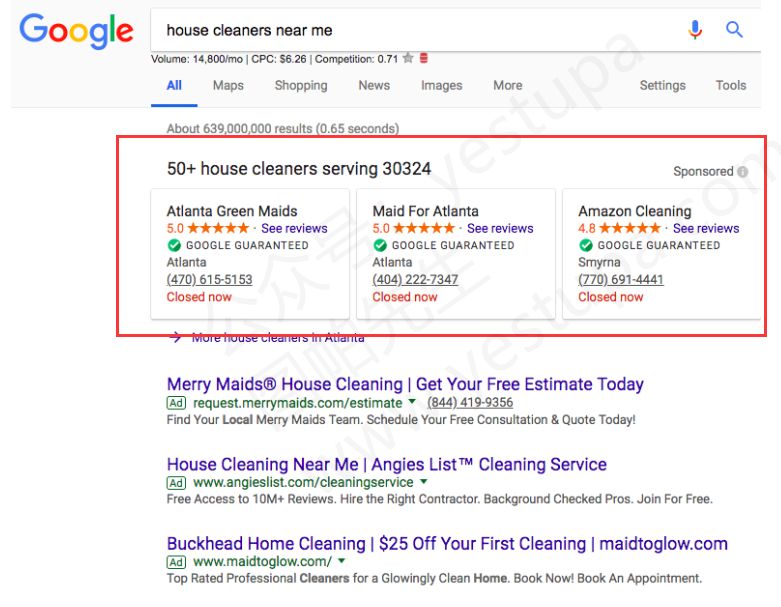 5. Mechanical parts.
For example, refrigerator parts, small motors (engines) and so on, look at specific categories, can be 2B can also 2C, in Google's performance is also very good.
It's also easier to dominate the screen (selling a pass here) - it's also the most fun place for this type of product.

Now, a simple summary of what's right for both ad delivery platforms:
1. Google Ads: lily, professional, have a certain brand awareness, user needs of the product obvious results may be better. Because ads appear when customers actively search, they are highly interested in the content they are searching for and have a high willingness to buy. Because when customers take the initiative to search, but also the most 慾 the moment.
2. Facebook: New, stylish products, a new product category that no one knows about, can display product features in multimedia (images or videos), users can unwittingly swipe Facebook to see your ads, they can like, comment, and then "unknowingly" underground list.
But both products can be found with Google Trends:
16 explosives I found on Google Trends during the outbreak.

Second, secondary differences.
1. Bids are made differently.


Most of Facebook's bids are paid for by cpm.
Google bids in as many as nine ways.What CPC, tROAS, CPA, etc.
This is not really too much one-to-one comparability, each platform bids have their own advantages and disadvantages, need to change different bidding methods at different times.
2. Different maintenance methods.


(Note that the following is just a little discussion of the more typical maintenance methods, maintaining a good Facebook and Google advertising account will have many ways and strategies, just like pit dad)
Facebook's two major ways to maintain it: measure your audience and change your footage.
As you probably know, the FB ad report has a freency that represents how often your audience has seen your ad. So we're going to stimulate their senses by changing the material. There are also tests of different types of audiences to see if there is a new continent that has not been discovered.
And Google ads, individuals will be roughly classified are also two points: no word, and test the campaign.
No word, is to add negative keywords, some are not related to the product or we do not need keywords will trigger to our ads, then these traffic is not helpful to us, so to exclude these keywords through these searches.
Another test campaign, this is a bit general, which involves testing bids (because the bid method is set in campaign), measuring product keyword matching and so on, not much to say here, there may be a special article to say later.
Budget preparation is different.


Google's performance time is slower than Facebook's, especially for more popular products, which take longer to test.
Facebook may be able to detect explosions with 1000 knives, we usually open a few ad groups, 20 knives a day, which ad group can not stop immediately. But Google is not the same, such as shopping ads, Google on the newly uploaded product Feed at least a week of study period, that is to say, during this time the data will run very bad, the amount can not come up, only consume a few knives a day, so if this time you think the product can not do, soon stopped advertising, you can not measure any meaningful results. (Public no. yestupa)
Take an example of a small product on a website I recently tested:
At first, $10 a day doesn't make it, my budget is $40 a day, but at the back, the average day can have two. The cycle is about a month, and ROAS has 3.24. As you can see, the trend is slowly rising.

If you haven't been exposed to Google ads and want to try them, you'll personally suggest:
1. Prepare at least 3000 knife test budget, I am used to using the daily budget of 100 dollars to measure;
2. Keep at least a month's observation period (in addition to patience to let machine learning to run advertising, but also to constantly optimize the adjustment, that specific how to measure, how to see the data, see how everyone's feedback, see if you have any interest, I may be a separate article to tell)
 4. Performance calculations may be somewhat different.


Ad performance may be divided by sales by ad spend, as a KPI, and then a xx% profit as a percent increase. I'm just saying, for example, that every place might have its own formula. Facebook ads are easy to understand and calculate.
But Google ads are a bit of a tricky here.
Because Google ads we have campaigns dedicated to branding.
And some companies, will put the brand word delivery effect to you out, not in the performance!
The company's consideration here is to say that the brand word is the company's assets, not the embodiment of your advertising skills, so do not give you performance. However, this algorithm is usually the performance calculation method of the proxy. If you invite people to their own company dedicated to the launch, so that in fact a little less human, pitchers in the company's sense of belonging may not be so large.
So if you're sensitive to this, it's best to ask that in an interview. Similarly, if you're the boss, can you relax a little bit in this place?
Overall:
Google advertising to a certain extent is very testing people, bosses and advertising pitchers are, because the early stage will be in a more war-torn state, looking at the data seems to run bad (some products can run around, but some really compare pit people), both sides of the pressure will be relatively large. But when you run smoothly, the maintenance costs of the late account are lower than Facebook's, because, relatively, you don't have to change the material often to measure that.
Third, how do you choose.


Well, finally, under the simple finishing, how to choose between the two platforms:
1. If you are using platforms such as shopify to build a station, and more urgent need to withdraw funds, then first honest and practical Facebook hit, explosives, and so on run very cool, and then try Google ads is not too late, a Google advertising budget is a little more and test cycle is relatively long, both, if more than one advertising pitcher will not be too cheap;

2. If your product is already more lynski, you can try Google advertising;
3. Google ads to do, first do brand word search ads and shopping ads, first do not touch the display ads (please ignore);
4. According to their own development strategy decision, if the site and brand want to do it for a long time, then Google ads must be contact, or already do Google ads, want to "brush face" in the social media to improve brand exposure, you can also vote on Facebook.
No matter what you choose, the best state in the end, of course, is that both Facebook and Google are in the dosing.
Moreover, it is not that suitable for Facebook is not suitable for Google, according to the different characteristics of each platform to judge, such as a product, look at Google's search volume, look at the audience range in Facebook, and then look at the product type, if the platform meets the benchmark, then try it.
Finally, a lot of times not to say that this advertising platform is good and bad, or this advertising pitcher is not strong, but, their own products to a certain extent determine the performance of different platforms.
So there are a lot of experienced Google advertising pitchers on the market, because they have been exposed to different products and optimization strategies, can be very clear about how your site should do, and when there are problems can quickly expand their thinking, optimization.
And some people have been doing a website and a class of products, do time may also be quite long, advertising spending is very high, ROI is also very ideal, but it is likely that he is doing a more lily-based products or a certain brand (standing on the shoulders of giants), can do it casually ah, and he optimizes your website advertising account, may not necessarily have the effect of his resume.
This is for your reference.
Hopefully, you'll now be more aware of the difference between Facebook ads and Google ads.

There must be a lack of understanding in the text, readers are welcome to put forward a message.

Peace Out!
Sweep the code to pay attention to Mr. Tupa.


Get more foreign SEM, SEO dry goods.

www.yestupa.com

Welcome to share the article with friends.
For a reprint, please contact Mr. Tupa.
---