Golden Reward: Tencent's social advertising has been crowned the most valuable digital advertising platform

On the evening of October 18th, Tencent Social Advertising launched the "Brand Phenomenon Festival" with 22.5 million transactions, and Tencent Social Advertising became the most valuable digital advertising platform in 2017. 


The most ROI, short-link power products in one

The theme of the competition will focus on the "most ROI digital resources trading platform", including Tencent social advertising, Ai Qiyi, Sohu video and other well-known digital media gathered to attract the country's major brand decision makers to participate in the bidding.
On the spot, Ctrip won Tencent's "Brand Phenomenon Festival" for $22.5 million.
▼Zhang Minyi, Tencent's deputy general manager of social advertising, posed for a photo with Gu Bin, general manager of Ctrip Wireless Marketing

"Brand Phenomenon Festival" has become the most valuable advertising resources, because it integrates Tencent's two social platforms one-stop marketing resources, set the largest social platform, prime time, optimal video traffic in one, to help advertisers in the shortest possible time to obtain the dissemination of social phenomena, to achieve brand, effect integration of the best marketing efficiency.

Brand Phenomenon Festival, to create a phenomenon-level classic case

Standing in the new fashion of social video, Tencent Social Advertising has invested in the most innovative forms of advertising, as well as the highest quality resources to help the "Brand Phenomenon Festival", in order to create a "unique" marketing returns for the brand.  
Tencent social advertising for the "brand phenomenon festival" provides a good social soil, through the "social video" advertising form innovation, so that advertising is perfectly integrated into the user content exploration experience, showing different rendering power and visual impact, more easily help brands focus on fragmented attention.
At the same time, Tencent social advertising through WeChat, QQ two social platforms, covering 90% of Chinese netizens, to achieve user reading, social, games and other sub-scenes of all-weather companionship. "The widest resources and all-weather companionship" makes warm-up, draining, interaction, re-dissemination of the whole path through, more easily trigger the social cluster effect, to create a national hot spot.
The unique value of this brand is reflected in the "shortening of the conversion link". The use of Tencent social advertising unique ID system, payment, public number and other closed-loop capabilities, to achieve high-quality exposure and precision touch, so that users in the open multi-dimensional scene to buy, pay attention to, submit forms and other conversions, to achieve the "24-hour all-time gold" perfect closed-loop marketing, and ultimately achieve product efficiency.
Zhang Minyi, deputy general manager of Tencent's social advertising, said, "Brand Phenomenon Festival with 'social scenes and innovative video' to touch users and brands to have a high degree of resonance, is a breakthrough innovation of product efficiency, Tencent social advertising through the construction of a phenomenon-level platform, to provide the brand with phenomenon privileges and phenomenon-level services, together to create a phenomenon-level social video advertising classic case." "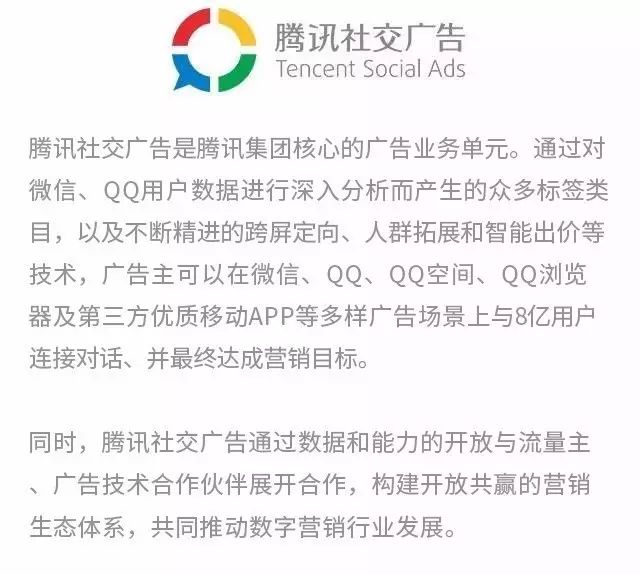 Sweep the code to pay attention and get more

---