Digital ad traffic is improving, but the situation remains grim

AdMaster, a leading independent third-party data technology company, has been working on invalid traffic data monitoring and analysis for three consecutive years to advance the anti-fraud ecosystem of digital marketing advertising. Based on data tracked from 2016 to date, AdMaster found that the status quo indicators for invalid traffic are gradually improving across the scale, but still deserve sustained attention and attention.
In the first half of 2018, AdMaster was responsible for monitoring digital advertising programs covering thousands of advertisers in a wide range of industries, including fast-food, mother and child, automotive, catering, finance, and the Internet. AdMaster points out that The percentage of invalid traffic in January-June 2018 was 28.8%, up from 29.6% in the first half of 2017 and 30.4% in the first half of 2016.
As of mid-2018, issues such as advertising transparency, invalid traffic, and brand safety have received common industry attention. Each side of the industry is doing its part, and AdMaster insists on conducting a comprehensive invalid traffic analysis study, publishing a semi-annual white paper on invalid traffic, which has been published five times so far. AdMaster aims to continuously bring brand owners and the industry to the attention and understanding of the current state of invalid traffic in the domestic digital marketing market through such a periodic "medical report". At the same time, continue to invest in research and development resources, for different modes of traffic fraud, to provide coping strategies and solutions, the establishment of a "all-round, deep-seated, multi-angle, cross-platform" advertising anti-fraud solutions.
Referring to recognized industry standards such as MRC and CMAC,Focusing on the current situation of invalid traffic in the first half of 2018, the White Paper on Invalid Traffic for Digital Advertising in China (Part V) focuses on: GIVT (General Invalid Traffic, General Invalid Traffic), SIVT (Sophisticated Invalid Traffic, Complex Invalid Traffic), Low Quality Traffic Caused by Advertising Visibility Issues, Invalid Traffic in Video Class, Invalid Traffic in Smart TV, etc. And put forward the coping strategy.
AdMaster's research found that:Invalid Traffic, IVT) was 28.8% in the first half of 2018, down from the previous two years. For smart TV platforms, in the first half of 2018, smart TV ads accounted for 8.9% of traffic monitored through the Client-to-Server API, a slight improvement from the first half of 2017. Domestic digital advertising GIVTs (regular invalid traffic) accounted for an average of 2.1% in the first half of 2018, a slight improvement over 2017 data (2.2%) and a relatively low overall share. The main issues are still focused on SIVT (complex invalid traffic), which deserves the sustained attention and attention of all parties in the industry.
AdMaster identified the overall situation of invalid traffic for January-June 2018 by grinding years of invalid traffic screening technology as follows:
- Overall analysis: The percentage of invalid traffic in the first half of 2018 was 28.8%, down steadily from 29.6% in the first half of 2017 and 30.4% in the first half of 2016.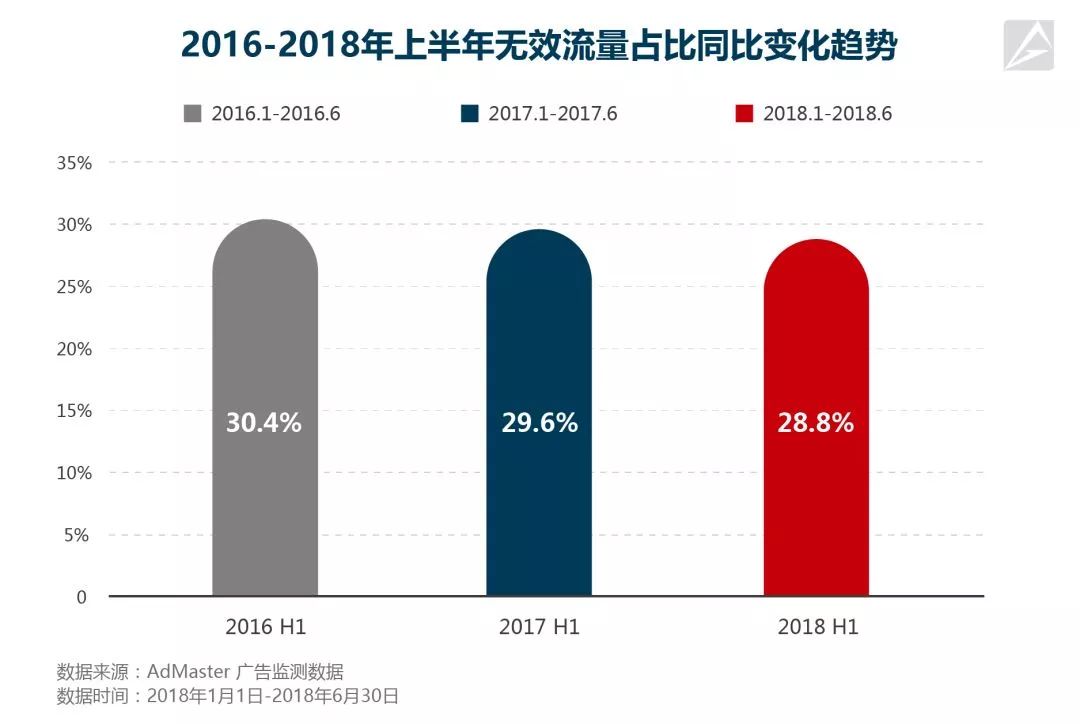 - The percentage of invalid traffic (months) in January-June 2018 decreased overall compared to the same period in 2017, with a significant improvement in January and June of the "hard-hit areas" in previous years, but slightly higher in March, April and May than in the same period in 2017.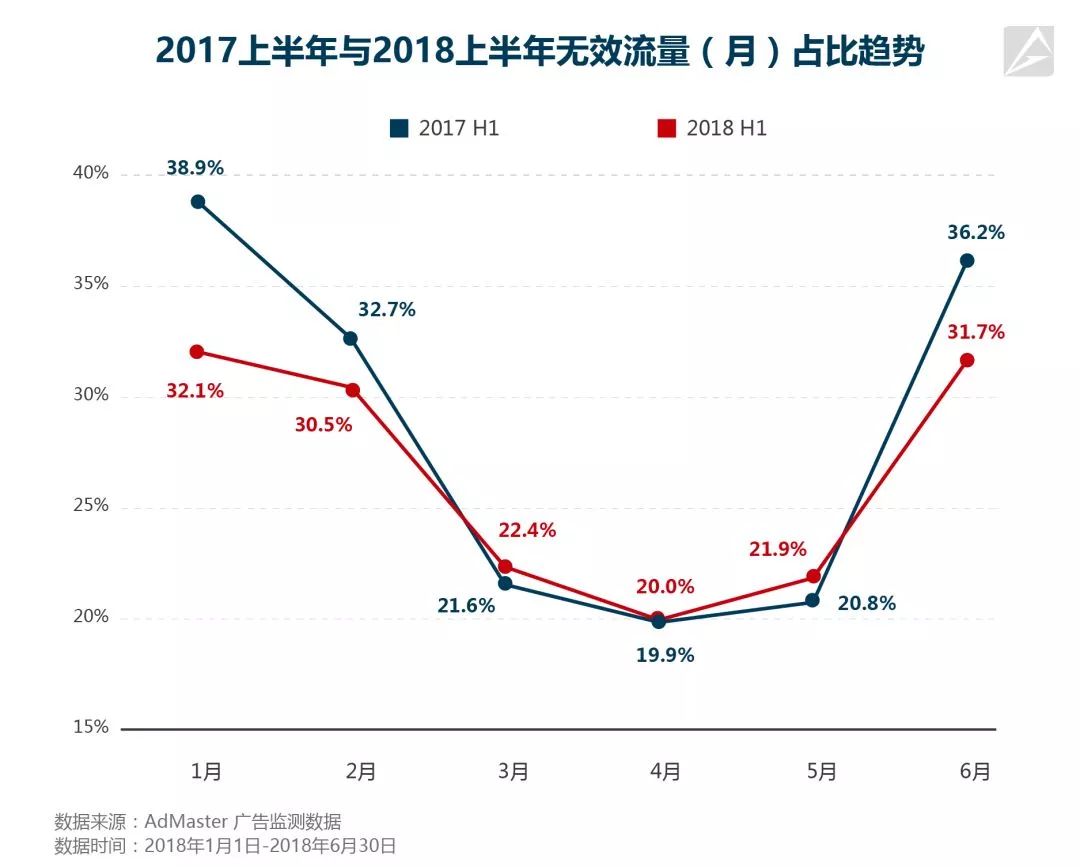 - Sub-media types: Vertical media invalid traffic ratio is still the highest, all media types invalid traffic ratio ranking remains unchanged, the overall have a small decline.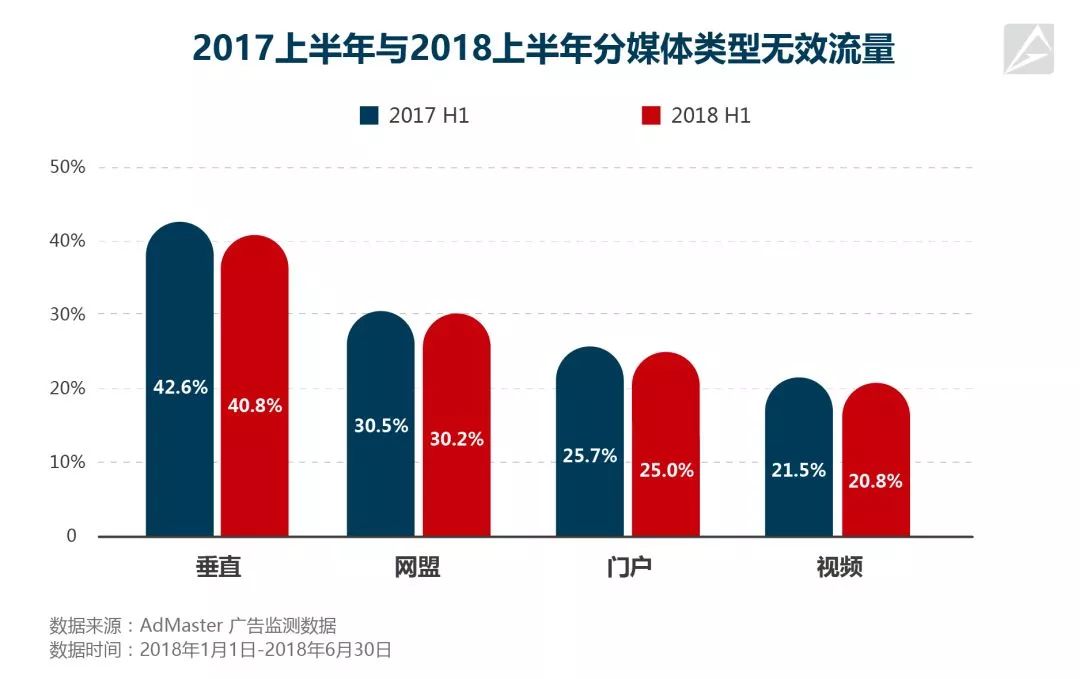 Vertical media segmentation:Female, mother and child, car invalid traffic accounted for a relatively high, stable in the top three positions. In addition to the automobile vertical media invalid traffic ratio increased year by year, other vertical media segment invalid traffic ratio decreased.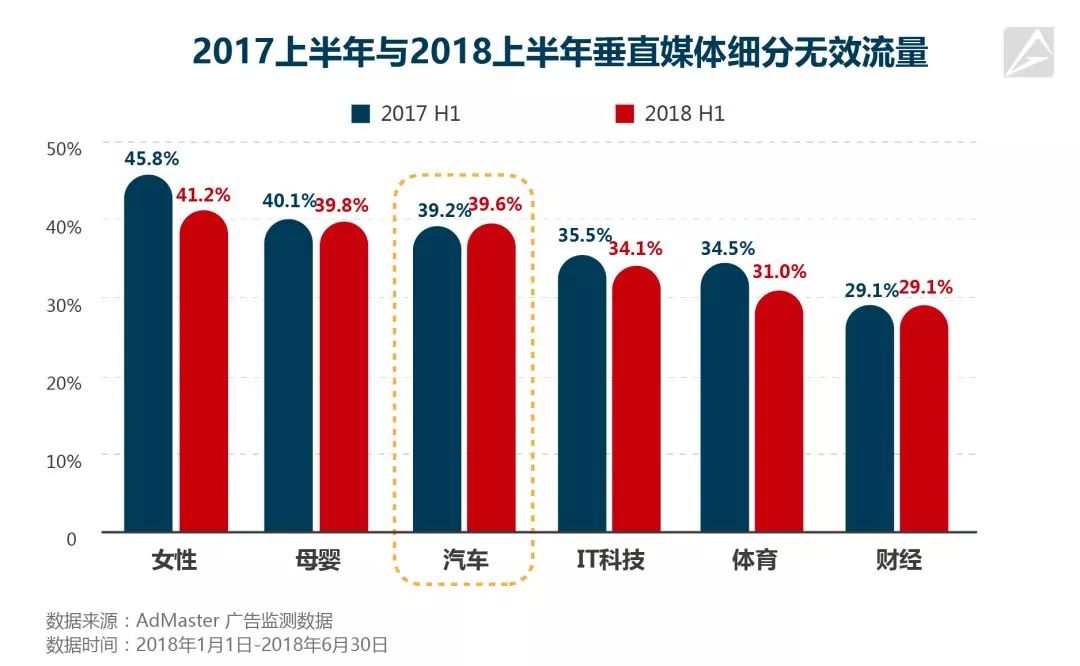 - Sub-industry: The invalid traffic situation of the automobile industry is not optimistic, and the proportion is increasing year by year, forcing the FMCG industry. In the first half of 2017, except for automobiles, the proportion of invalid traffic in all sectors decreased.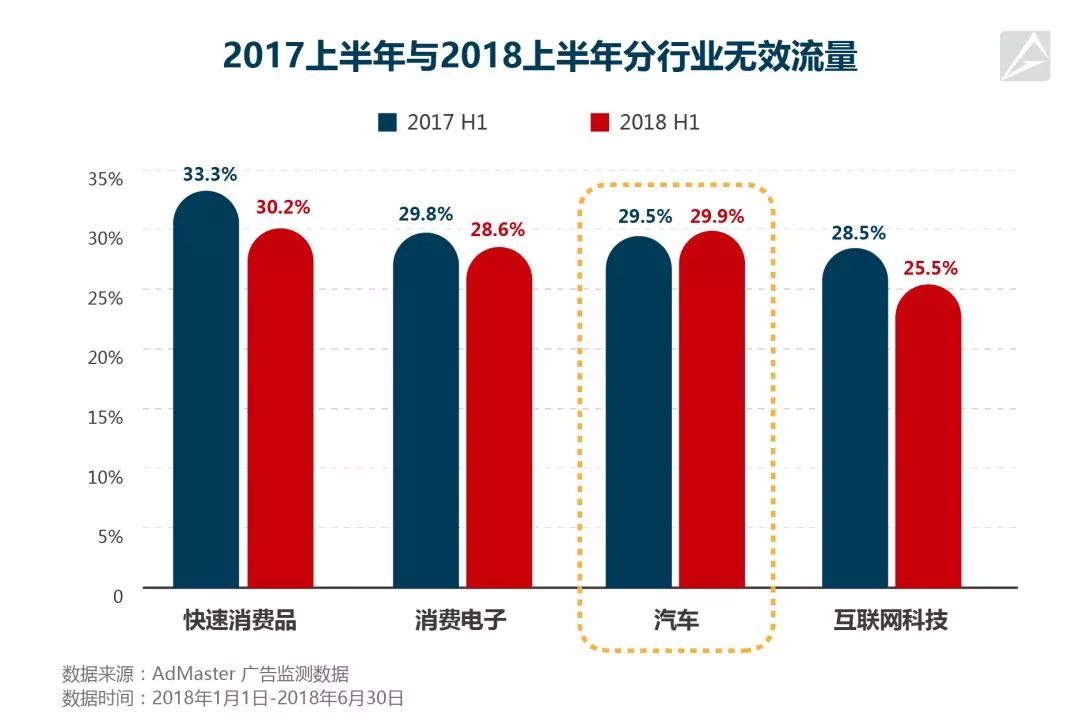 - Sub-platform: PC side is still the most invalid traffic disaster area, accounting for the highest proportion, compared with the first half of 2017, PC side, mobile side, smart TV side invalid traffic ratio all achieved a decline.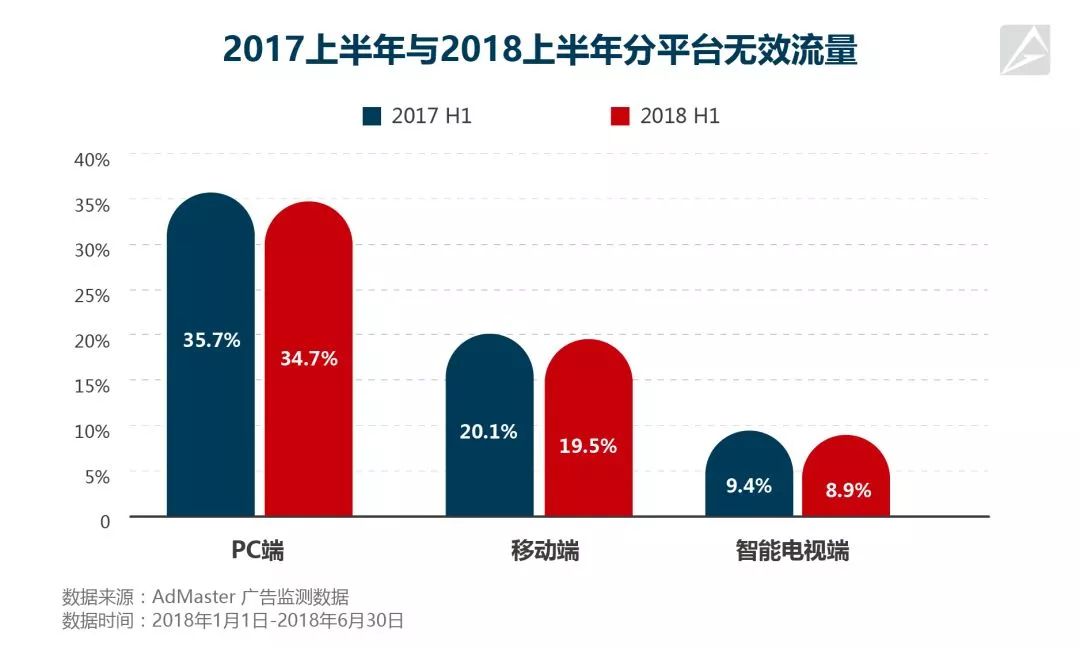 With the increasing maturity and popularity of smart TV (CTV) advertising, invalid traffic situation also appears with the increase of advertising volume. However, more and more equipment manufacturers and media platforms in the industry are open to third-party monitoring and are willing to accept the C2S API approach to monitoring, so that CTV advertising monitoring and collection more standardized. Currently, smart TV ads are monitored in third-party SDK monitoring, C2S (Client-to-Server) API, and S2S (Server-to-Server) APIs, the first two of which are more secure and easier to monitor traffic anomalies than S2S.
- AdMaster's smart TV C2S API traffic monitoring finds:
1) In the first half of 2018, the average percentage of invalid traffic of the smart TV (CTV) platform was 8.92%, and the proportion of invalid traffic (months) was shown in the figure below, of which the second quarter was more serious.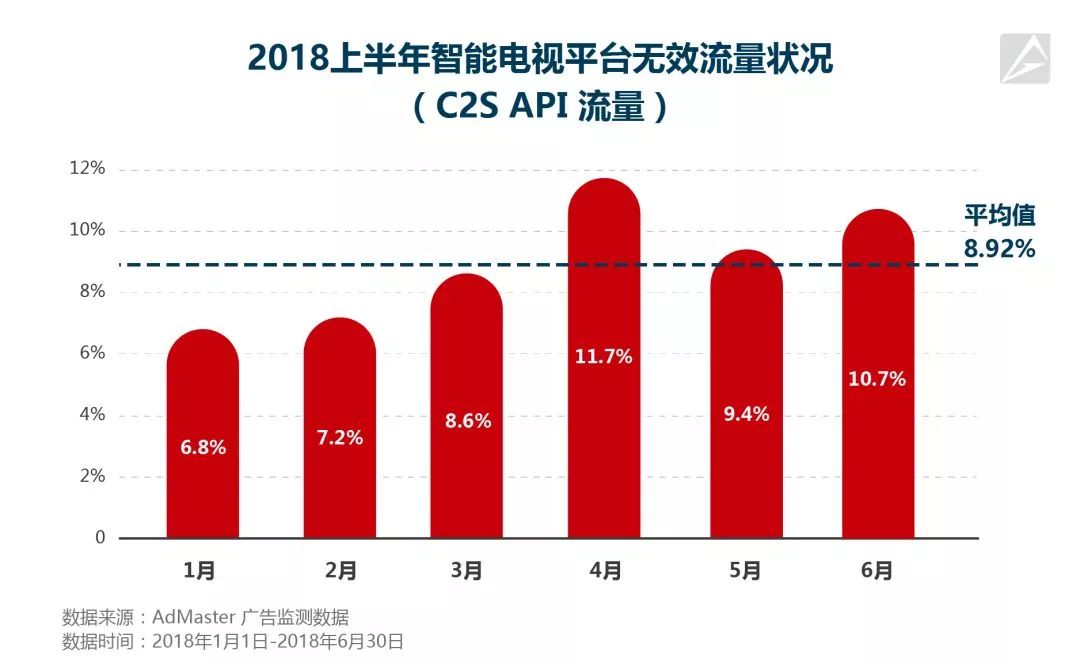 2) In the smart TV side, different industries are affected by invalid traffic there are some differences. Financial/investment/banking financial brands are most affected by invalid traffic, electrical appliances/home appliance brands are also higher proportion of invalid traffic, food and beverage, Internet industry invalid traffic situation is more optimistic, which is related to different industries of smart TV advertising forms and channel preferences.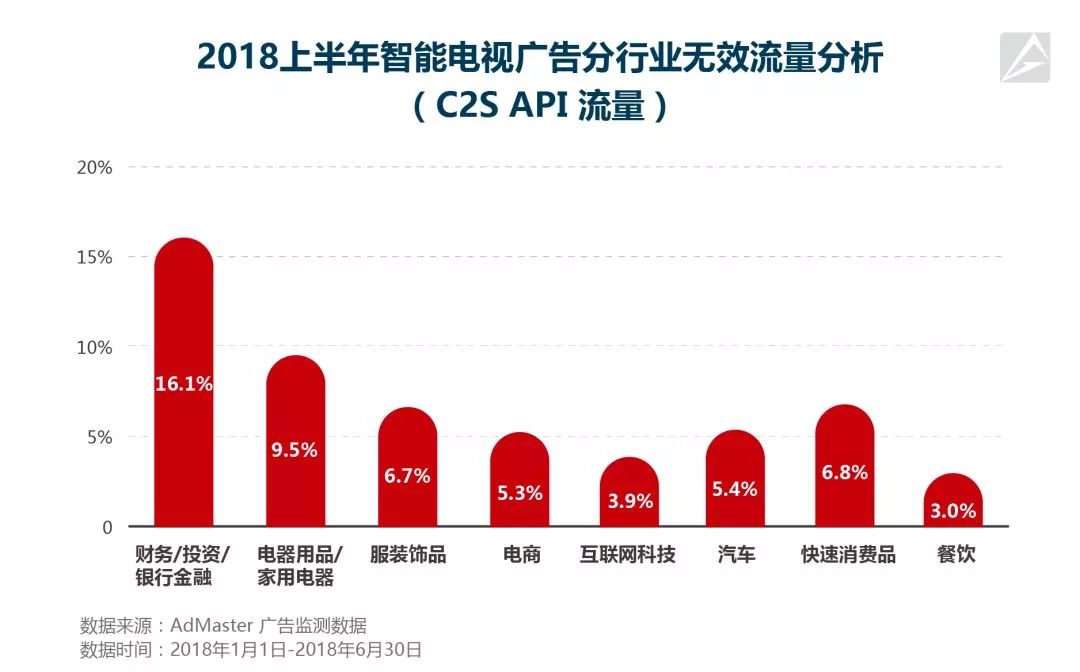 - GIVT share: In the first half of 2018, domestic digital advertising GIVTs (regular invalid traffic) accounted for an average of 2.1%, slightly lower than the data as of December 31, 2017 (2.2%). Mobile accounted for the highest proportion, up to 2.7%, PC side accounted for 1.9%, OTT side accounted for 0.7%.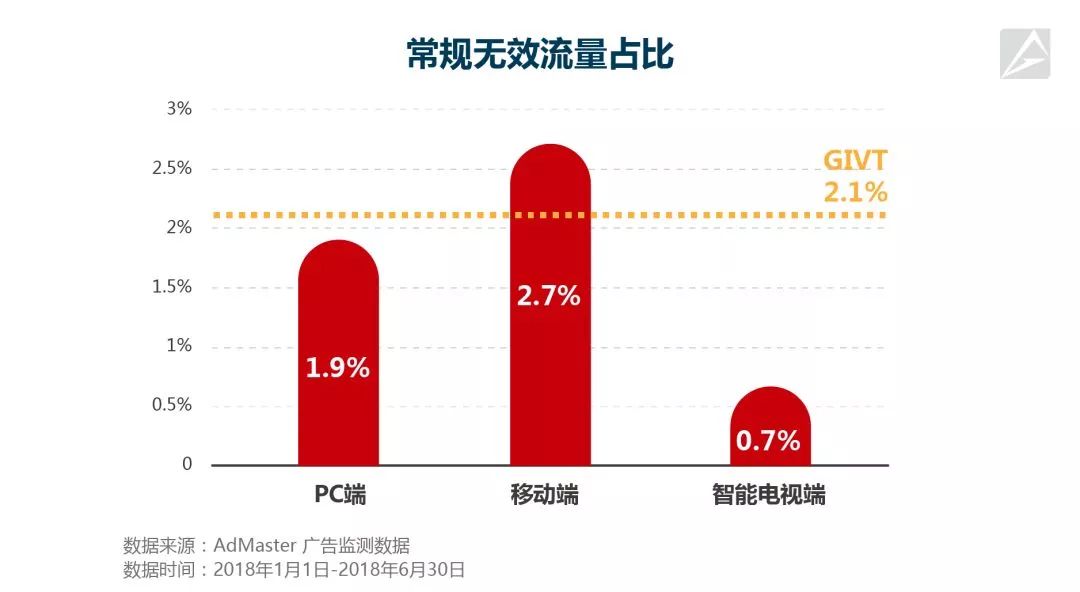 In early 2018, AdMaster first introduced the concept of Metasurement plus , pointing out that "quality-to-quality" monitoring should be the industry's most basic barrier to entry. Paying attention to the phenomenon of invalid traffic, improving the quality of advertising from the root cause, is also the common voice of China's digital advertising industry. The establishment of the China Media Assessment Committee (CMAC) and the release of the China Wireless Marketing Alliance (MMA) can be seen as a reflection of the market's continuous efforts and progress. AdMaster has also been investing in research and development for three years, and has joined forces with industry-leading companies and organizations to promote transparency in digital marketing and promote the healthy and healthy development of the industry's ecology.
Calvin Chan, chief executive of AdMaster, said: "The problem of invalid traffic is not only serious for advertisers, but also for the media. The intrusion of invalid traffic leads to the decline of media traffic quality, and the results of effect measurement and audience analysis are affected. Fortunately, over the past six months, we are pleased to see that the Chinese market is moving in the right direction. Through AdMaster's collaboration with advertisers in the industry, we are also seeing that more and more advertisers are turning GIVTs into standard metrics for their digital advertising projects, and we believe that next, in line with global trends, more advertisers in china will follow SIVT, as well as other advertising quality assessment criteria such as Viewability and Brand Safety. It is expected that all parties in the industry will work with AdMaster to build a healthy industry environment and build a healthy environment for the healthy development of the digital advertising market. "
Click to read the original text to get itAdMaster  2018 White Paper on Invalid Traffic for Digital Advertising in China in the First Half of 2018
Successful marketingIt is now resident

Today's headlines are a bit of news
Tencent News Phoenix News Sohu News
Hundreds of large fish interface

---