Facebook unveils holiday marketing 30 billion ads a day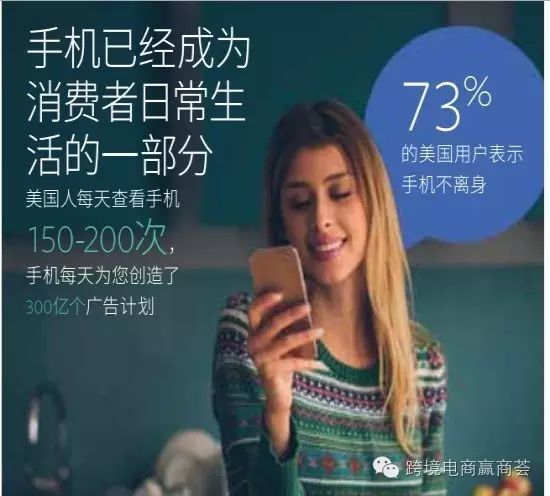 Facebook recently released a set of data on how users in the U.S., Germany and France spend their phones on holidays, showing that 73 percent of U.S. users say their phones don't leave, and Americans view them 150-200 times a day.
During the holiday season, 64 percent of U.S. shoppers want to learn more about their products on their mobile phones; 54 percent of French consumers say they will use their phones more for Christmas shopping; in Germany, the trend doubled from 2014; and 65 percent of U.S. users use their phones when shopping.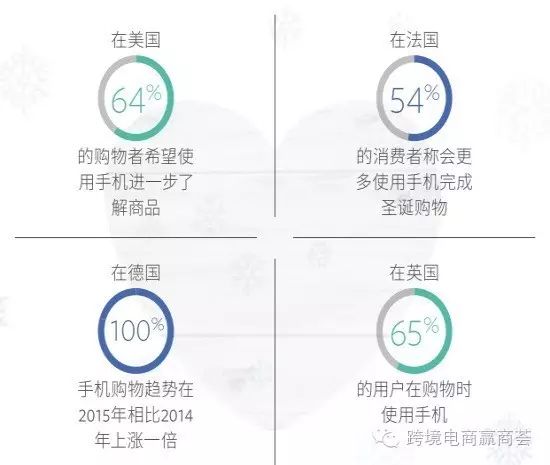 In addition, people celebrate the holidays on Facebook and Instagram, where 26 million one-day operations are made over the Christmas period. Mobile videos account for 80 per cent of sharing, with 56 per cent more videos posted on Instagram over Christmas than on average. As a result, Facebook estimates that the phone could create 30 billion ads a day.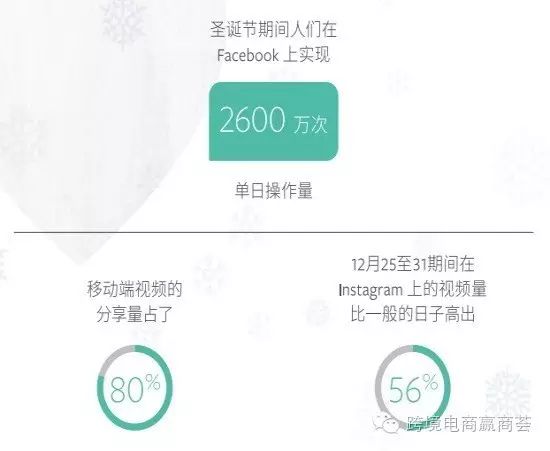 The holiday shopping frenzy has become an extremely important time in overseas marketing, and mobile marketing can reach the most valuable consumers. In the holiday before the arrival of a good plan, marketing throughout the festival at different stages, for export e-commerce enterprises is not to be missed the opportunity.
According to data posted on Facebook, marketing for different periods of the holiday season is also different. Facebook offers the following advice:
Between August and September, companies can increase exposure before the festival, causing new shoppers to shop. Use season shopping to build momentum for holiday marketing in the United States. In Germany, 1.3 times as many people shopped on mobile phones during this period as in other channels.
2, October to December, during the holiday season, to stimulate the existing customer shopping demand, improve transaction volume.
In the U.S., holiday mobile commerce grew 33% in 2015 compared to 2014, with Black Friday and Cyber Monday the most important shopping periods on Facebook.
In the UK, Black Friday, which generates 87 per cent of its trading volume on the day, has a one-day top of two, while Boxing Day has a strong momentum;
In Germany, mobile phone transactions doubled in 2015 compared with 2014. December's "Super Tuesday" is the best time to reach mom consumers.
In France, PC-side transactions are 6.6 times higher than mobile phones, and "Black Sunday" is even more impressive than Black Friday.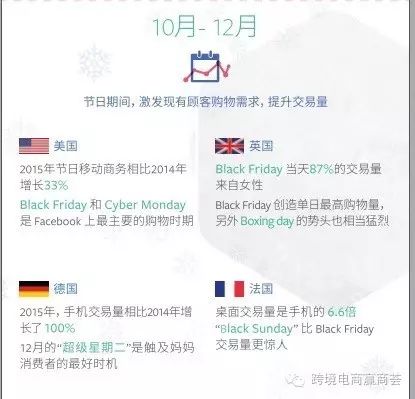 March and January, a month after the festival, can cultivate customer loyalty and continue to promote transactions. It is understood that 65% of U.S. consumers plan to continue shopping after Christmas. January was the peak month for millennial men shopping in France, with Facebook bringing in the biggest CPM of the year in January.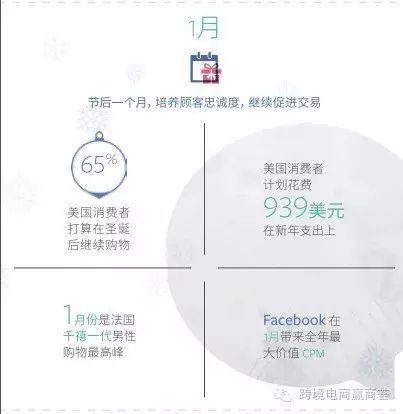 Sixteen percent of Millennials (born 1983-2000, representing a generation that grew up at the same time as the rapid growth of internet/computer science and is an adult in the late 21st century) plan to spend $1,340 on shopping this year, compared with That's up 16 percent last year; 1.3 times millennials are spending more than 1.3 times as much as other age groups; 69 percent plan to shop on their mobile phones; and 69 percent plan to buy gifts for themselves.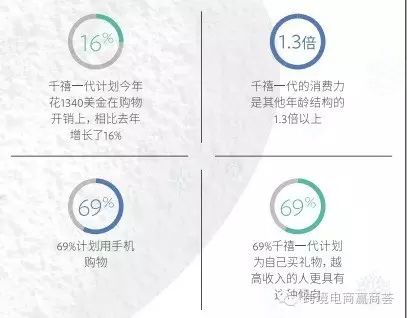 Notably, the best-selling gifts on Facebook are clothing or accessories, electronics, jewelry and watches, health and leisure products. There are also different best-selling gifts for people of different age and income.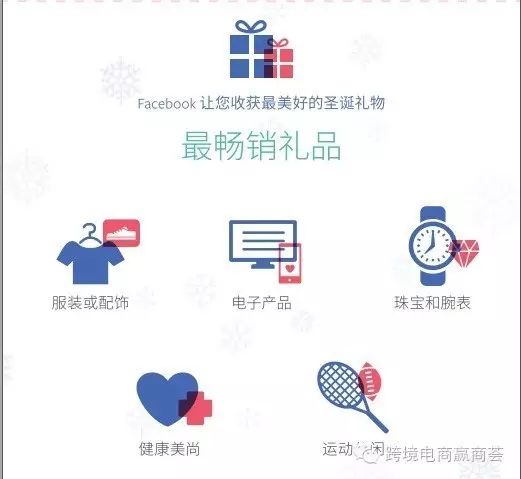 It is understood that 65% of American women are willing to buy their own clothing or accessories;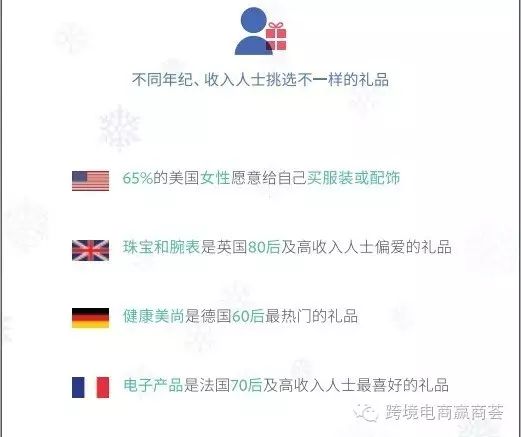 Stimulate demand and expand transaction volumes during the holiday season, using custom and lookalike audiences to identify potential people and guide users to shop on the PC side or mobile app. This is a new lesson for sellers in overseas marketing.

It's widely reported:Old Wei carefully builtAmazon Live Full-Order CourseThe.22period will be inClasses start on October 15-16, limited to 40 people, please click on the details"Registration entrance", you can also consult Lao Wei himself, QQ:757164998;Phone:13418661159; WeChat:szwaimaoren。
Quality service provider promotion
Selection of referrals, only for sharing.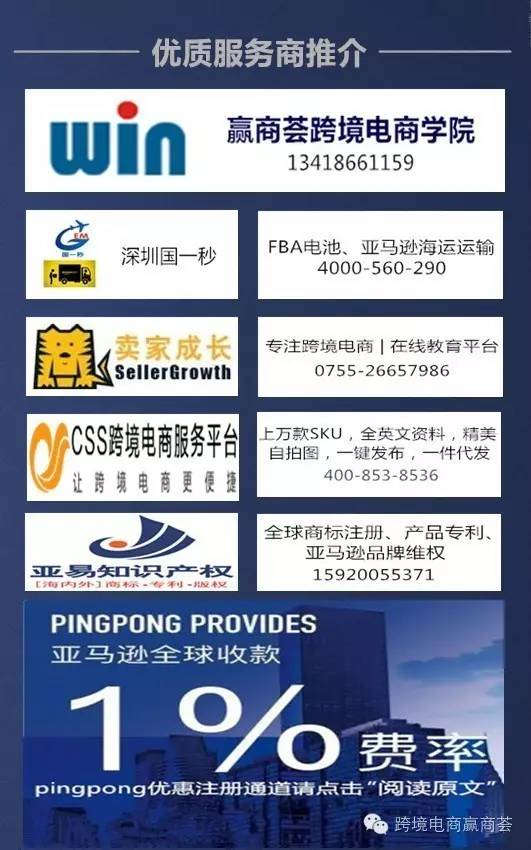 The products and services provided are highly relevant to the needs of cross-border electricity merchants;
Be able to offer VIP benefits to readers of this public number.
Including but not limited to: logistics, ERP software, overseas warehousing, good product recommendations, talent recruitment
Service providers interested in joining the promotion, please contact the public number administratorQQ: 3170982617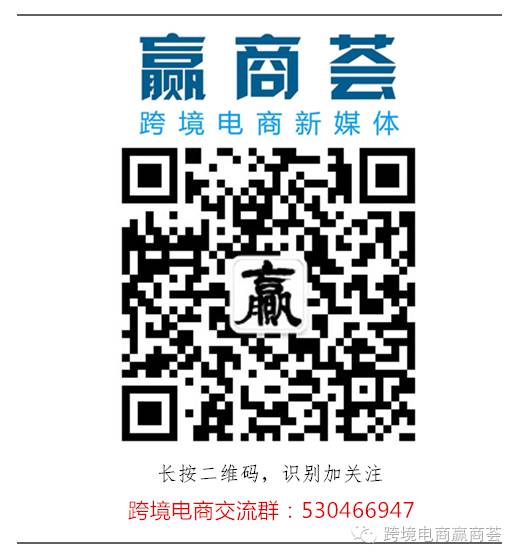 Use pingong to collect moneyThe full fee is capped at 1%, please click on the discount registration channelRead the original text
---