Black Five or Net One? Facebook Peak Season Marketing Ultimate Eleven Asks!

Mr. Qin took you to fish dry goods online courses perfectly ended, after class is not to feel that high season marketing become so easy!

Put the essence of a course here,Friends who missed the course, clickRead the original textSign up for a papaya cross-border gang for free and become a member of us.Get to full course video Oh!
At the end of the course, there are many sellers asking questions about the difficulties encountered in marketing during the peak season.
In line with the principle of serving the people, small editor specially sorted out for everyone - peak season marketing the ultimate eleven questions!

Teacher, after listening to the online course, feel opened the two veins of Rendo, I have a lot of questions to ask!
Everyone is in no hurry, one by one to ask

Q: As for holiday marketing, is it recommended to grasp all festivals, or to focus on one of them?
Christmas shopping in the U.S. usually begins after Thanksgiving, which is the ongoing process from Black Friday to Christmas. It is recommended to maintain an adequate budget every day during this period, while increasing the budget on holiday day.Can mainly push one or two holiday activities,Focus your advertising budget on a holiday cycle.
There is no right or wrong here, only to see is not suitable for each seller's specific situation and operational capacity.
Q: Which traffic will be err this year's Black Friday and Cyber Monday?
Black Friday has always symbolized the beginning of Holiday Season in the United States and is widely considered the ultimate shopping festival. It started out as an offline brick-and-mortar discount and is now spreading to almost all of the Online Store,Discounts are on par with brick-and-mortar stores.
Cyber Monday is a true online shopping day, and on the Monday after Thanksgiving, all online Stores have promotions, and brick-and-mortar stores may not have such discounts.
Black Friday and Cyber Monday,

It's actually two very closely related festivals,

You can plan a promotion together. For example: Miss Black Friday, and Cyber Monday. The two festivals are quite the same,

It is recommended that more budgets be set aside for both days.
Q: Is the 19th Christmas deadline mentioned in the course uniform? Amazon, too?
Here's the Christmas deadline,It's about getting customers to order as much as possible, and it won't ship after that day.This is very well understood, just like the domestic month 28 with the customer reminded that the holiday does not ship, after the beginning of the year began to ship. For Chinese sellers, this 19th is not a problem, because china does not have a holiday during this period,The question is whether foreign logistics is on holiday.As for whether Amazon is unified, there is no such saying.
Q: How do I conduct off-site deal drains at festivals?
The question is broader.The words of the introduction are mainly concentrated in the pre-festival and festival.
Pre-festival advice is to promote brand awareness through reach and frequency, allowing your ads to reach more people and increase website awareness and clicks.
Do website conversion at the festival, transforming by reaching core audiences, lookalike audiences, and Custom audiences.
Q: I do home class, which festival is more suitable for me?
Categories and festivals

There's not too much correlation,

Mainly lies in the intensity of activities, means of publicity and the product itself.

In Q4, the black five network one should be the top priority (the activity is the strongest), the black five network before the need to do different forms of promotion, in order to avoid a large number of customers waiting for the black five network a big push to place an order.
Q: What's the way we reached the masses early on and find a core audience through Audience Insight, and then you said, "What's the way to replicate a core audience like this?"
Audience Insight This tool needs to accumulate a certain amount of user data before it can be used.
So when we first reach the public, we reach the audience through demographic (region, age, gender, etc.) segmentation or interest targeting. After accumulating a certain amount of user data, we can pass 

Audience Insight 

Expand your core audience,

Create lookalike audiences from existing users and create custom audiences to do retargeting.
Q: How does the audience circle? What if the precision audience is too small?
The last question mentions how to circle the audience.
For precise audience targeting, it is recommended not to rush.

You've got to target your core audience and lookalike audience, get enough user data, and then be a precise audience.

That's Custom Audiences (CA and WCA).
Q: How do I test which ad site has the highest conversion rate?
It is recommended to vote Auto placements and have Facebook automatically optimize the placement.
Q: Can Facebook Pixel now directly accumulate similar audiences, and a certain custom audience?
No. Similar audiences and Custom Audiences need to be created from pixel data, and they're easy and fast to create.
Q: How many potential audiences are most appropriate? Each time you choose an audience, you have tens of millions of people
How many potential audiences are appropriate is based on your goals and budget. Specific analysis of the situation, there is no unified answer.
If the audience is too large, it will not be conducive to the ad system in a relatively short period of time to optimize.
Q: Ads on Facebook appear in the news feed, top right, and mobile. Did you choose these three places yourself, or did Facebook automatically help me choose them?
The first thing to note is that Facebook's advertising space includes: Facebook (including Desktop Newsfeed, Mobile Newsfeed, and desktop right column).),Instagram 和 Audience Network。
These positions can be selected by themselves,

Of course, the advertising target, advertising form is different, the optional layout will be different. For example, canvas ads can only be posted on Mobile News feeds.
Finally, it is recommended to cast auto placements

Auto-optimize layouts with help from Facebook.
Papaya Cross-Border Gang is a Facebook advertising tool developed by Papaya Mobile, a service-free promotion platform tailored for China's cross-border e-commerce companies. Papaya Cross-border Help to "simple and fast" concept to provide free account opening, optimization of advertising, technical support and other services, is committed to help cross-border e-commerce to enhance revenue.
Click.Read the original text
Sign up for the papaya cross-border gang for free
Bring made in china to the world!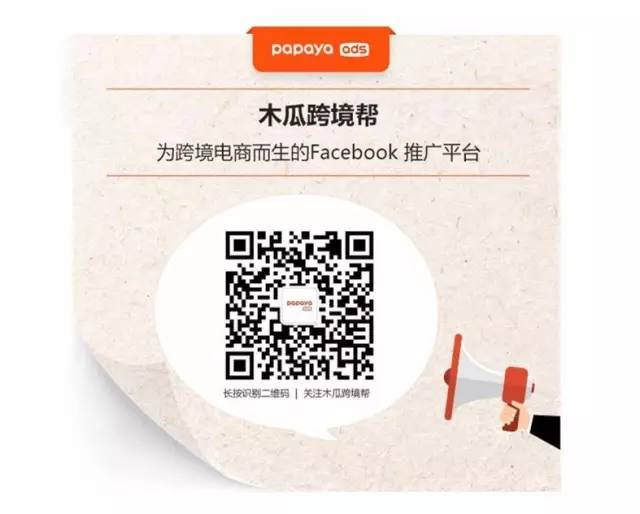 ---