Facebook mobile streaming ads
1. Facebook's mobile advertising revenue accounts for more than 66% of total ad revenue, and the credit behind this is infoflow advertising. Facebook's mobile streaming ads had an 187 percent higher click-through rate than pc's.
2. If the flow of information ads want to reduce the interference with the user experience, in addition to ensuring the quality of advertising content, the core is to improve the accuracy and relevance of advertising.
3. Facebook's advantage is its ability to deliver more accurate ads based on user behavior data. If this advantage can be extended, Facebook's mobile advertising ambitions are not to do info streaming ads alone, but to extend to the entire mobile advertising market.
important decisions
Looking back on his decade of creating Facebook, Zuckerberg would have rated the decision that surprised everyone: adding ads to the feeds that users refresh every day. Today, 66 per cent of Facebook's advertising revenue comes from mobile devices such as mobile phones, contributing to the turning point behind the performance, which came from the crucial decision.
At the end of 2011, the rise of smartphones made Facebook teams aware of the crisis: on this small screen, they couldn't find a corner to place ads. At the same time, the time users spend in front of their computers is being cut short, and the tiny ad position on the right side of the PC page is already struggling to attract advertisers. When the team had to look for ad space on the mobile side, Zuckerberg finally let go: Why don't we try to put ads in the stream?
In the Wall Street Journal's description, the decision stunned everyone present, but no one dared ask why, fearing Zuckerberg would change his mind. Starting in January 2012, Facebook Stream ads were first tested on the PC side and then extended to the mobile side. It has since changed Facebook's overall ad revenue and structure.
First, the rapid rise of mobile advertising
Mobile advertising is based on users who are active on their phones on a large scale. Of the 1.35 billion monthly active users, 1.12 billion are mobile active users, and 34 percent of them log in only on the mobile side, according to Facebook. Both mobile active users and mobile-only users grew by 28.6% and 79.5%, significantly faster than the overall user growth rate of 13%.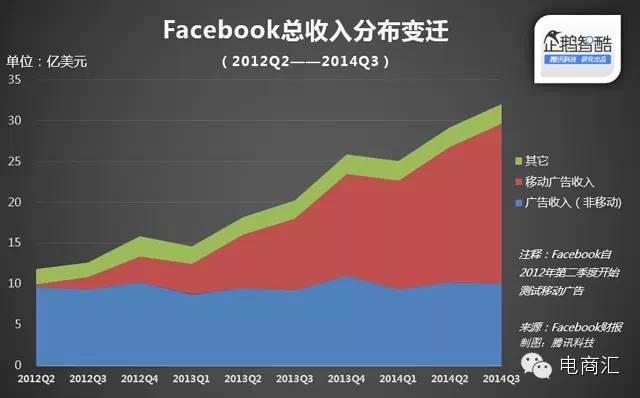 In keeping with the growth in the size of Facebook's mobile active users, mobile advertising is at the heart of driving Facebook's overall revenue. As can be seen from the chart, mobile advertising revenue has grown significantly since the second quarter of 2012, when mobile ads were launched online. Non-mobile advertising revenue from the PC side basically remained at a level, with no significant growth or decline. Other categories, such as games and e-commerce, also performed flatly.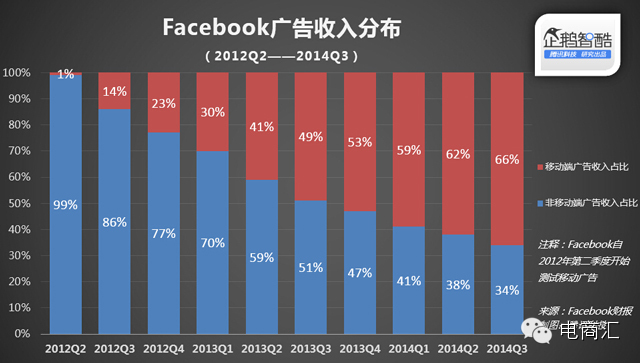 As of the third quarter of 2014, mobile advertising revenue was $1.95 billion, or 66% of total advertising revenue. The growth rate of its proportion can also be seen intuitively in the chart.
Second, how Facebook does mobile advertising
Mobile ad location: Stream of information
Facebook's ad serving location consists of three main locations: ad section on the right side of the PC page, PC streaming ads, and mobile streaming ads. When advertisers enter the ad delivery system, they can turn on where they want to run. As you can see, Facebook mobile ads are basically focused on streaming ads.
Ads appear in the areas where users' attention is most focused, and the most important thing for Facebook to balance is that they don't affect the user's experience of socializing, but they don't reduce advertisers' returns. To accomplish this, Facebook has only one weapon: to get advertisers to deliver personalized, accurate ads based on their target audience.
Based on high-quality ad content and format, accurate user delivery, and streaming, Facebook's mobile advertising performance, both in terms of click-through rates and advertisers' cost of serving, shows an advantage. Mobile streaming ads have 187 per cent more click-through rates than PC-side ads, while click-through costs are 22 per cent lower, according to Martin Software, an online advertising agency.
Mobile ad content: The stage for app downloads and interactive ads
When running ads on Facebook, the first thing advertisers need to determine is what they want to serve. Facebook Ads Backstage offers nine types of ad content, namely content (post) promotion, Page promotion, click promotion, conversion promotion, app download promotion, app interactive promotion, event promotion, consumer voucher promotion and video promotion.
In addition to using Facebook posts to communicate ad content, Facebook mobile ads are most attractive in the form of app downloads and app engagement. For developers who lack promotional tools, this form of advertising can direct users to download apps or enter downloaded apps for activities.
Nanigans, a third-party advertising agency, has reported that 74 per cent of Facebook's mobile advertising revenue comes from installed ads for mobile apps. However, the data was not officially endorsed by Facebook, and Sandberg, who heads Facebook's advertising business, said on a earnings conference call that app download ads are not the main body of mobile ads. It's not just developers who advertise app downloads, but traditional businesses such as burger king, a restaurant company that needs to attract customers to download their apps for ordering or using coupons.
Mobile ads are charged by CPM and CPC
Facebook charges for ads in two main ways, one is based on CPM ,1000 impressions, which means thousands of people show costs, for example, if CPM costs $1, advertisers pay $1 for every 1,000 impressions they make.
Another way to charge is CPC, where advertisers pay per click, and Facebook defines clicks that include interactions such as likes, comments, or shares. In addition to these two, some ads can also be paid for by CPA, which is the actual conversion effect, such as the use of a coupon or app download, but this method of billing requirements are relatively high, the use of a very small range.
From the advertiser's experience sharing, most recommended CPM billing. While CPC sounds more cost-effective, advertisers find CPM less expensive in terms of final conversion performance and delivery costs than using CPC.
Sandberg also pointed out that in the mobile Internet era, users face a multi-terminal environment, too much emphasis on click ads is not in line with industry trends. Some Facebook advertisers found that 90 percent of the ads that influenced users' behavior came from ads they saw but didn't click on. Unlike cookie-based advertising in the PC era, users in the mobile age use multiple devices, and consumer behavior is also trending online and offline convergence, so the tracking effect of advertising also needs to change.
The value core of mobile advertising: accuracy and relevance
It is undeniable that ads placed in the stream of information are at the expense of the user's experience of accessing social information. From the user's standpoint, the quality of the content of the ad, the relevance of the ad is the most important aspect of Facebook. Advertisers can also get users at a lower cost if their ads are accurate and relevant.
How can you be precise and relevant? This returns to the advantage Facebook has: understanding its users. What articles and apps users like to share and click on facebook, what apps they use, which pages they follow, and what book and video preferences they like, all serve as a basis for Facebook to determine a user's identity, helping advertisers deliver accurate deliveries.
In the background of advertising, advertisers in addition to according to user identity attributes, geographical location, the use of equipment can be conditions to serve, but also can choose the target to serve the interests of the crowd preferences, behavior characteristics, such as want to do dog food ads, you can target to own a pet dog, and even can be targeted to have a pine lion, or a golden retriever dog dog.
To avoid distracting users from some missteps, Facebook also offers users an additional option for streaming ads: If they find an ad irrelevant to them, they can choose to block the ad or block all ad messages from that advertiser.
The future of Facebook mobile advertising
The location of streaming ads is limited, and for a group of 1.5 million Facebook advertisers, the cost of bidding for an ad space is rising so much that some small advertisers may lose the ability to bid, a bottleneck that Facebook mobile advertising is bound to face, and Facebook's mobile advertising ambitions are not just to stream ads, but to apply this ability to deliver accurately to the entire mobile advertising space.
At its third-quarter 2014 earnings meeting, Sandberg shared Facebook's new weapons in mobile advertising: the Atlas advertising platform and the Audience Network. The former is a one-stop service that helps advertisers find target audiences, improve ad delivery accuracy, and buy, sell, optimize, and track ads. The latter is to allow ads to appear on third-party apps and websites outside of Facebook, such as the mobile game "Kim Kardashian" and the music recognition app shazam, which has already started hosting Facebook ads.
The mobile advertising market is clearly not entering a truly high-growth phase: "Americans spend an average of 25 percent of their media time on the mobile side, but advertisers spend only 11 percent of their budget on the mobile side." One of the main reasons advertisers don't move their targets quickly to mobile is that mobile doesn't have an effective channel to host ads and calculate how effective they are. Sandberg explains.
According to Nielsen, ads in the Internet industry are less than 60 percent accurate, which means that four out of ten people see the wrong ads that aren't targeted by those users.
Facebook's core strength lies in its large user base and understanding of their behavior, which helps it improve the accuracy of its advertising. Especially when users frequently use their Facebook accounts to sign in to third-party apps, Facebook gets more data about its behavior.
Another opportunity for the mobile advertising market is to connect online and offline. Facebook's revamp of Atlas is about more accurate measurement of the effect between online marketing and offline sales.
The foundation of all this success, of course, is that Facebook remains the world's largest social platform, with active users and no loss of platform appeal. After all, its dream of mobile advertising is only beginning to see the outline.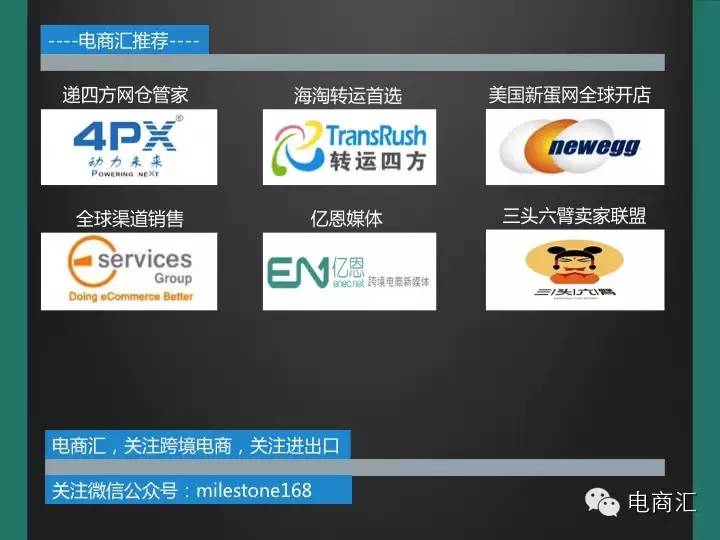 ---