Facebook . . High-conversion product advertising paper should be written like this!
One-stop solution for cross-border brand marketing
Phone:18515697258 (with WeChat)
QQ:2573234826
Long press to identify QR code attention, understand consultation!
Advertising is especially important for Facebook ads and Google keyword ads. But writing a copy of this thing, it seems simple, carefully pondering is a technical job, especially our ads or to foreign consumers to see, but fortunately we have a talent, called: imitation, we can see how other people's Facebook ads are written, which may be helpful to your marketing promotion.

We should be clear about the fact that:Ad text should be written only for the target customer, not everyone, that is, to attract the target customer to see your ad, it has to convey the value of Landing Page and audience expectations:
You need your product
Money to buy products
Now willing to buy
The following small editor takes you to see the following classic advertising text forms
Direct: You can use a sniper without a machine gun
To capture the user's attention, advertising documents should be presented in a simple, familiar way. Because the brain is lazy, the simpler it is, the faster it can be noticed and recognized. SometimesDirectly speaking out about selling points is the most effective way to get Facebook users to notice ads, which allows users not to play I guess also guess do not understand the game, users do not have to think more to clearly understand the advertising information is not good.
Question-and-answer style: Feed your curiosity
A good question can arouse our curiosity and awaken attention, but to do so, the question must involve the audience or want to know more.When you ask a question, it's best to make sure that your readers already know about it or agree with it.Because it's hard to be curious about things we don't know or are not interested in.

Direct command: The user is too lazy to move his head
The command title takes a tough approach to telling the reader exactly what to do, which has a stronger demand for action.For example: contact us, ask for a click, request it now, attend an event, watch a movie... and so on.Use this advertising title to make your proposal strong enough and positioned clearly enough, otherwise it would be futile to order it.
Customer Witness: Word-of-mouth is the fastest promoter
Perhaps your customers are more likely than you to sell products and bring in new customers. Because what they say tends to be more influential and credible in the ears of potential customers, what they say from the beneficiaries is the best proof.So it's better to let someone talk to you than to talk to you. If you're targeting a similar audience, this type of title is a great choice and a way to filter out audiences who are really interested in your product or service.
The content of the article is reproduced from the foreign trade circle

The origin can be found in reading the original text, encroaching on the deletion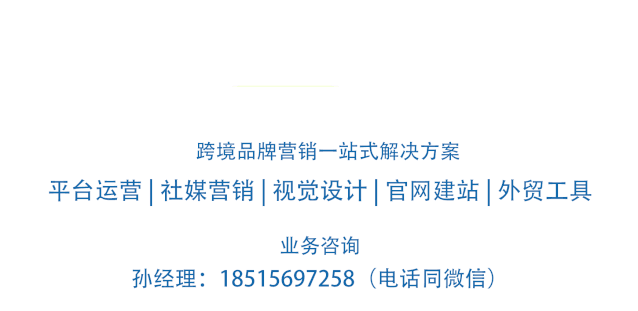 ---