Facebook's $1 billion APUS ad efficiency doubled to the top of the list
Facebook recently announced that its new advertising network, FAN, has cashed in $1 billion in ads. It can be seen that in the mobile Internet accelerated cash-out harvest season, the most reliable, most popular, the most gold-sucking revenue model is still advertising, but more and more "screens" preempt the user's time. In the creative explosion of the mobile Internet field, who said that advertising can not "play", how to let users fall in love with advertising? Facebook gave the answer. AUS, China's mobile Internet sea-going leader, became Facebook's global case because its ad-clicks were twice the average.
It is reported that fan business model is to provide advertisers with a highly accurate customized Banner bit ads, native ads and interstite ads. It allows developers to add a piece of code from Facebook to their app so that the app can connect to Facebook's FAN platform, display ads from the Facebook Audience Network, and give developers a share of their advertising revenue.
Explaining the AOS Outcome Score, Facebook said APUS Know's original "moment of discovery" allows users to double their advertising performance by pulling down icons on the desktop of the APUS user system, which allows users to browse the latest news and service advertising.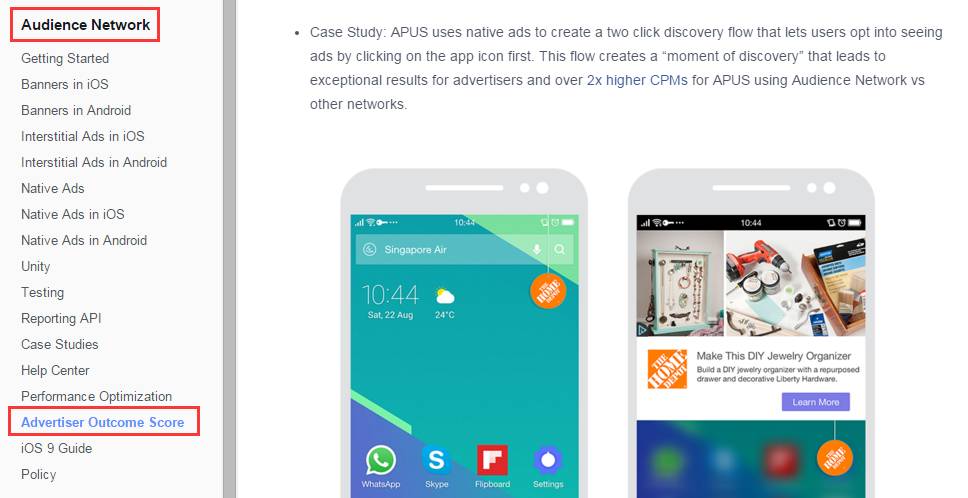 APUS is customized to make people fall in love with ads
Speaking of advertising, everyone will have different degrees of resistance, some redundant information, forced to occupy too much time and attention. APUS founder and CEO Li Tao believes that in general, people do not like advertising because: traditional advertisers in the advertising, usually no crowd, no category, no difference in time, but in fact, the ad itself is very useful information, when the user needs to push, this is the "good" ads, is the user's favorite ads. Therefore, mobile advertising, to have greater interactivity, it becomes inevitable.
APUS's ultimate mission is to differentiate content and services for all users, moving from common services to personalized services. APUS user system as a high-frequency application, is committed to improving the user experience of mobile phones, one of the important points is that APUS advertising is exclusive to each user. For example, APUS Know, the APUS user system, is essentially based on the user portrait and the user's current scene, to predict what the user's next action is, when they need to push the user their needs of relevant information, services, goods, advertising information just right into it, so that users fall in love with advertising.
Thus, APUS does not take advertising as an independent marketing push means, deeply understand the user's own behavior habits and scenario patterns and other "big data" configuration, further emphasize the importance of personalized experience, advertising as a message to meet the needs of users.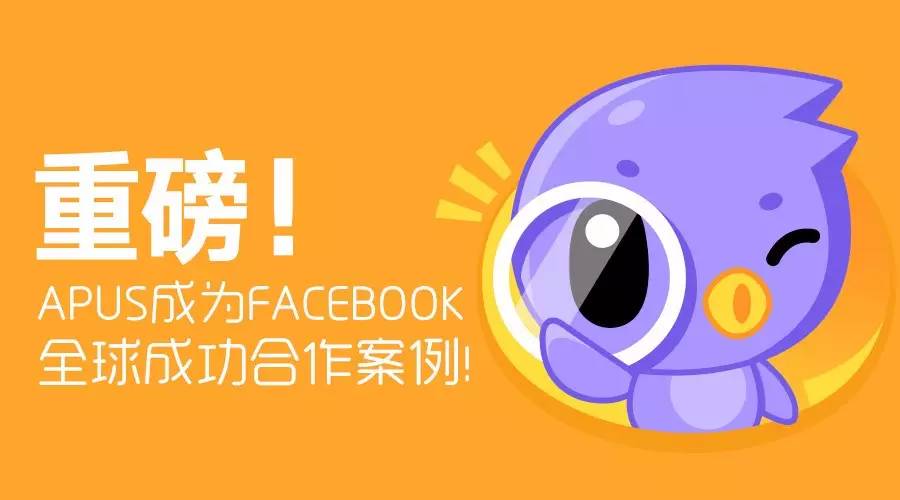 APUS's original "Discovery Moment" ushers in a new era of mobile advertising
Based on Facebook's audience network and ad system, APUS has added native ad units that are consistent with its app design and usage, combined with the benefits of Facebook's precision ad system, to target and create high-quality personalized ad experiences. This makes ALUS advertising more efficient and ensures that the user's experience and processes are not interrupted by harsh or unrelated ads, making it a typical leader in the Internet advertising revolution with precision delivery at its core.
In addition, mobile advertising is based on large-scale active users on mobile phones. APUS Group was founded in June 2014 and the product was launched on July 2, 2014. By the end of September 2015, the total number of users of APUS user systems had exceeded 250 million, and the total number of users of APUS product clusters had exceeded 510 million. At the same time, APUS has more than 3.8 million followers on Facebook, a very active mobile internet brand on Facebook.
Based on the large number of users, high-quality ad content and form, accurate user delivery, coupled with setting the user's focus on the ad location, APUS mobile advertising performance, regardless of click-through rate or advertiser's cost of delivery, has shown a unique advantage.

APUS user system is committed to providing the perfect mobile Internet experience for smartphone users worldwide, as of the end of September 2015, the number of APUS user system users exceeded 250 million, the total number of APUS product cluster users exceeded 510 million. APUS's products include:

Please copy the link below to open yo!

APUS User System Download address:
http://icon.apuscn.com/apk/apus.apk
APUS Message Center Download Address:
http://icon.apuscn.com/apk/apus_msg_center.apk
APUS Browser Download Address:
http://icon.apuscn.com/apk/apus_browser.apk
APUS Booster Plus Download Address:
http://icon.apuscn.com/apk/apus_booster.apk
Scan QR code to download AUS user system: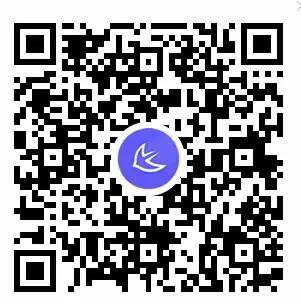 The APUS team takes your feedback very seriously. If you have any questions or suggestions, please feel free to contact us and the APUS team will respond to your feedback as soon as possible.
Business: BD@apusapps.com
Recruitment email: jobs@apusapps.com
APUS Global Mobile Internet IncubationBase.Email: incubator@apusapps.com
For more product information, please click here

Read the original text

Know!
---