What to do with Facebook ads that attract a lot of customers to order
Learn cross-border e-commerce operations with Hi Class
Here are three important points you need to know before you play with Facebook ads:
1. Facebook's ad status: About 2 billion people use Facebook every month, and for every five minutes of mobile device use, U.S. users spend about one minute on Facebook or Instagram.
2. The premise of advertising must be "product for the king", otherwise the clever woman is also difficult to cook without rice.
3. Advertising is not immediately effective, it requires long-term patience and thinking.
1. Read Facebook's advertising policy, be sure to carefully study every word in it, this does not need to be explained, link here: https://www.Facebook.com/policies/ads, if this reason causes the account to close, the probability of the account back is almost zero.
2. The personal account belonging to the advertising account itself must be real name, once the need to review, as long as you can provide clear documents can be easily unsealed, the passport in the document is better than the identity card. This regulation is based on article 1.
3. Hardware package: holder, login IP, account owner three consistent, IP do not change easily.
4. Advertising expenses: you can create your own ads, you can also register your business advertising account through a third-party agent, you can pay advertising fees on demand. In general, the personal account security factor is not high, if there is a problem, it is difficult to appeal back, so it is recommended to choose the official agent to register, if there is a problem, the official agent will help to get the account back, and the success rate is much greater than the individual registered account. Crucially, it saves time and effort, and is highly professional.
5. Basic function normal operation: after the creation of the account to carry out daily maintenance and operation of the account, can not be the account for a long time idle, nor should the new account has done a centralized, high density operation.
1.Analyze your ad goals
Advertising objectives are basically divided into three major sectors: brand awareness, purchase intention, action transformation. Here's a look at what we're going to do under each ad goal:
(1) Brand awareness
Brand communication to stimulate audience interest in goods or services, including brand awareness, reach, etc.
(2) Purchase intention
Engage your audience to start thinking about your business and learn more about your business, including visits, app installs, engagements, video views, lead development, message interactions, and more.
(3) Action transformation
Attract people interested in your business to buy or use your goods or services. Specifically, including conversion volume, catalog promotions, store visits and so on.
2.How do I target an ad?
(1) If the goal is to increase business visibility, you need to inform potential consumers of business value, so the general choice of advertising objectives are:
A: Reaching people (reaching people around the business): Show ads to people who live near or around a store.
B: Engagement (push posts): Use ads to reach as many users as possible and increase engagement.
(2) If you are hoping to find potential customers who have the opportunity to sell goods, you can choose to target your ads as:
A: Conversions (increases conversions on your site): Create ads that engage people to corporate sites.
B: Lead development (developing leads for business): Create ads to collect user information, including e-newsletter subscriptions.
C: Engagement (increase the number of event participants): Create ads to promote the campaign.
D: Message engagement (communicating with potential customers): Create ads to engage customers.
(3) If you have found a customer, in order to track the behavior of consumers to increase service or merchandise sales, you can choose the following advertising objectives:
A: Engagement (attracting users to get offers): Create ads that provide coupons, discounts, or other special offers to users.
B: App installs (increase app installs): Engage users to install mobile apps.
C: Conversions (increase app usage): Engage existing app users with your app.
D: Message interactions (find eligible customers, increase transaction volume): Create ads, communicate with customers, and drive them to translate their purchase intentions into action.
3.Create an ad
Ad creation can be done in Ads Manager or PowerEditor.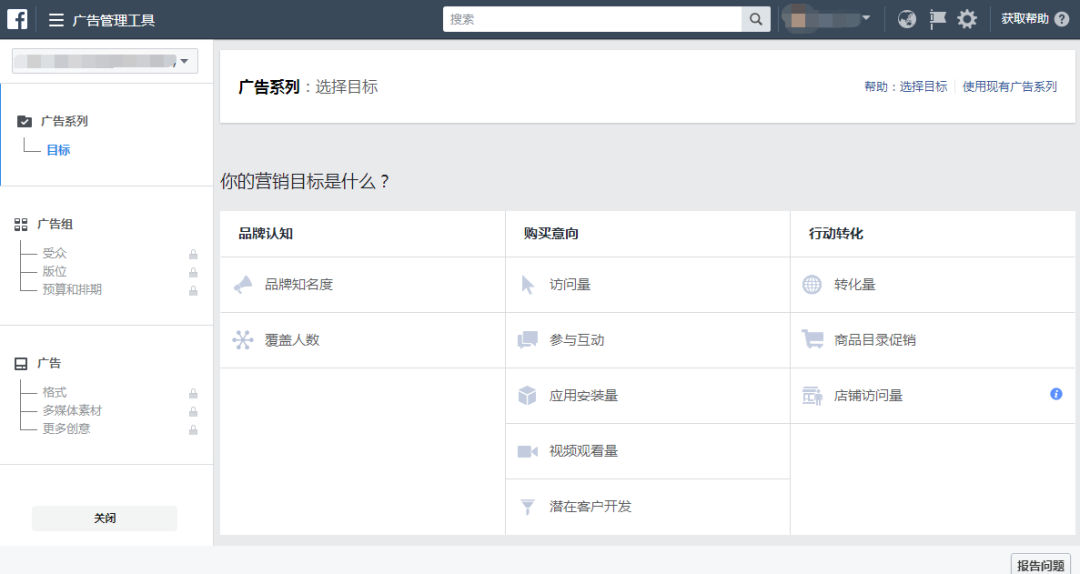 ThreeDo a good job of Facebook ads
How can I make Facebook ads more effective? Give us a few practical suggestions for what to do:
(1) Add Facebook ad pixels (short links) to track user behavior and get accurate user data through short chains. Using data helps us better understand and understand our users and helps us better analyze and meet their needs.
(2) Use ad data and audience analysis to obtain "Custom Audience" data, conduct secondary analysis, and then conduct another ad marketing. That is, each ad is not a one-time, and the data report obtained after the ad is your ultimate goal and is used as the basis for the accurate delivery of subsequent ads. Strengthen data analytics to guide our advertising efforts on an ongoing basis.
(3) Use Business Management Platform: Business Management Platform is a free Facebook tool for organizing and managing your business. Recommended if your business has a marketing team, manages multiple Facebook or Instagram assets, uses a vendor, needs control over access and operational rights, or needs access to someone else's account. Can facilitate our multi-account, multi-staff, multi-resource management.
(4) Please do not enter your personal email account when you register in order to separate your personal and work accounts. Try to manage your ad account as many people as possible to prevent account security issues.
(5) Advertising content needs to remain creative, so that users have the desire to click in. Different ad content settings can be made according to seasonal elements, holiday elements, and different people.
(6) Linked to other SNS, Red Man, SEO, EMAIL and even Facebook itself has group functions, home page functions and so on. Take a domestic event as an example: "double eleven" to come, when we open the mobile phone, the major apps are showing double eleven ads, when we open the computer, QQ, browser, and even jump out of the information box are also double eleven ads, open chat software between people's words are Tmall's "torch red envelope", although such a "bully screen" is not every enterprise can do, but their advertising means reflect the multi-channel linkage, is we should learn.
(7) Necessary moment, the use of official agency advertising, although optimization or do their own, operation should also be on their own, but the security is relatively more secure, professionalism is generally stronger.
If you need to learn Facebook's practical skills from the ground up, here's a Facebook Live Map online course, which is divided into 29 topics, which describes the integration of Facebook with cross-border e-commerce platforms and Facebook's global social e-commerce game, allowing us to quickly build a new cross-border e-commerce system with Facebook.
Let's take a look first!
 (Click on the image below to enter the small program to watch the video for free)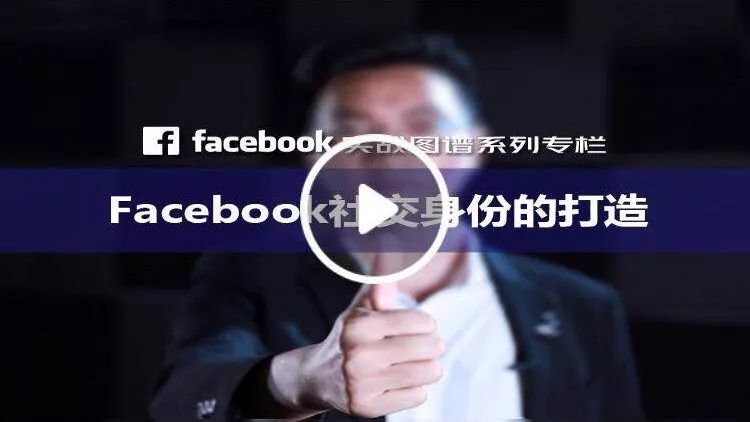 As you learn the whole course, you will:
1. Understand the properties of Facebook's platform and how it operates;
2. Master the basic platform knowledge and basic operation practices;
3. Master and operate the core operational ideas of the Facebook platform;
4. Master and operate the integration and development of the Facebook platform with other major platforms;
▌The syllabus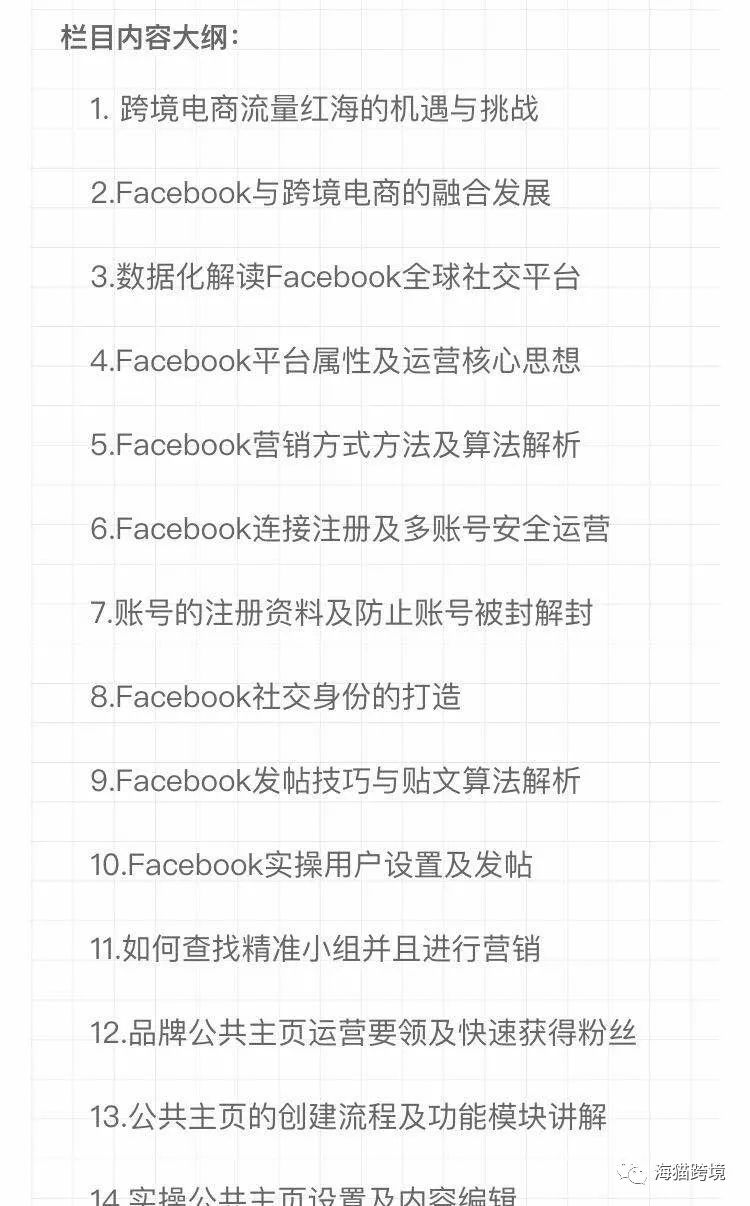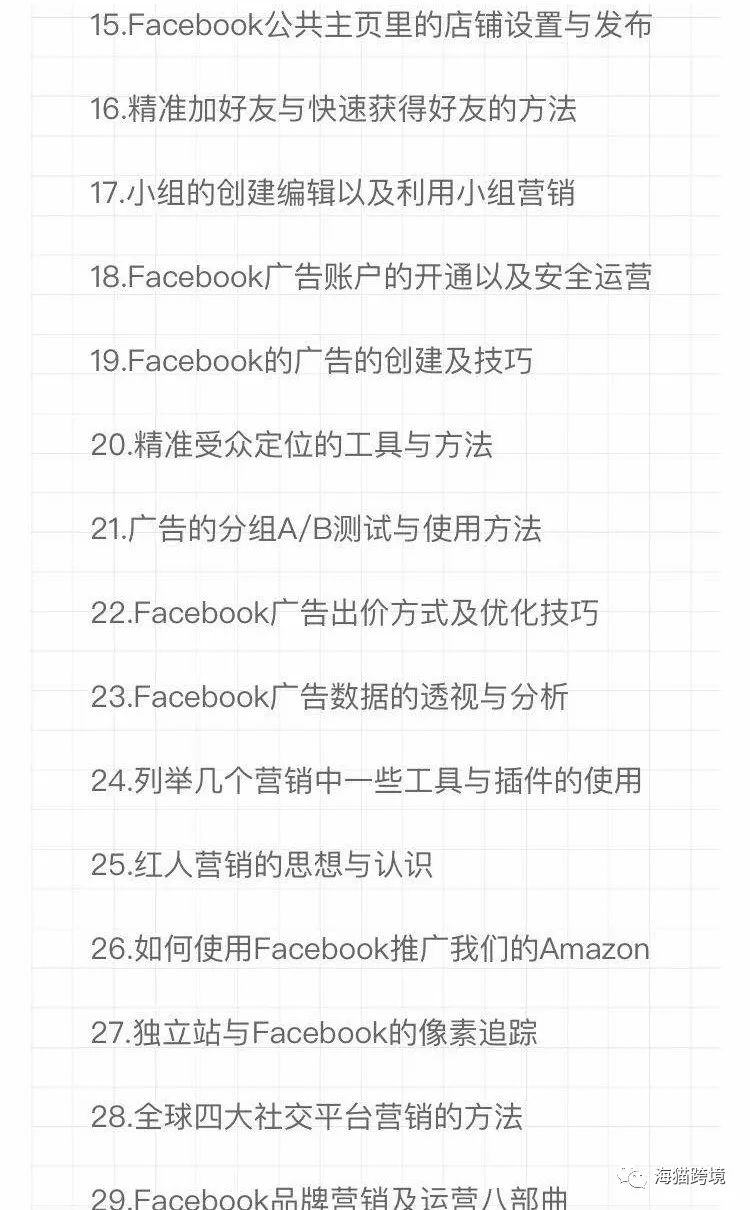 More exciting online courses, only in the sale of small sister, you sellers quickly click to go to it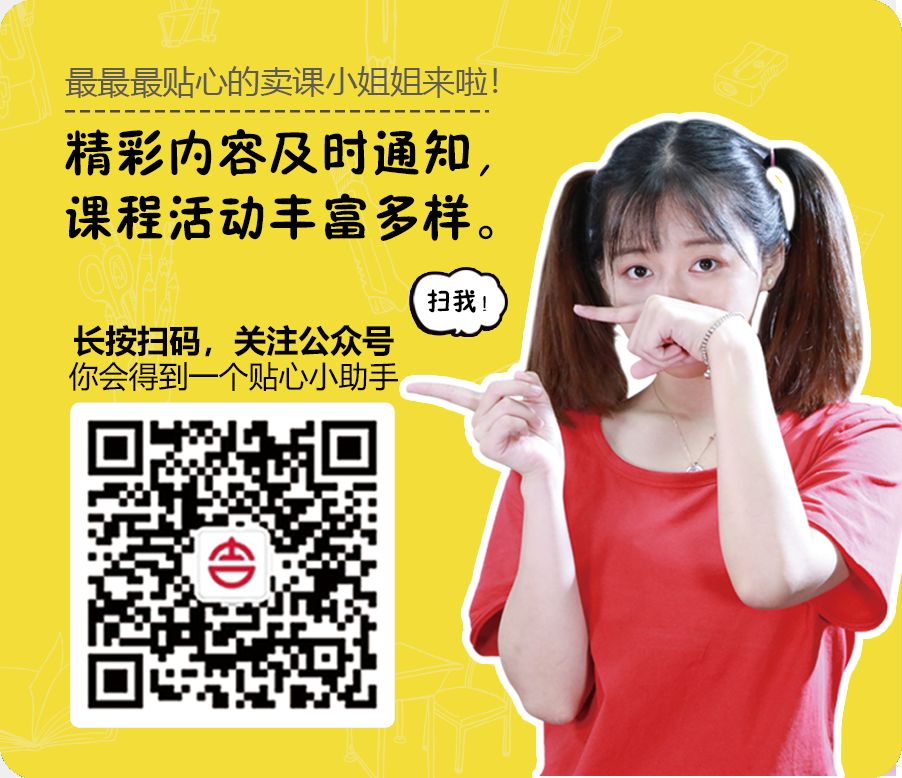 ---