How Middle Eastern e-commerce operators are advertising Facebook for Eid al-Fitr
Xiao Zhang is too big, the last article QR code was watermarked, resulting in a lot of people to come to me. If you're interested in that Kickstarter x Facebook event, you can sign up here https://bit.ly/2VERuLz)。 After correcting my mistake, let's get it right.
In addition to the Lunar New Year and Christmas, perhaps the hottest holiday in the world is Eid al-Fitr. How hot is it? A quarter of the world's population celebrates Eid al-Fitr, which is equivalent to about 1.9 billion people. Should e-commerce friends in the Middle East be in full swing? But in addition to the Middle East, there are many regions where fellow Muslims enjoy the festival. 
Insights we gained during Eid al-Fitr in 2018 include: 
1. The 280 million people have interacted 3 billion times on Facebook with Eid-related content 
2. 1.3 million people said on Facebook that they would take part in Eid-related activities, which have 350,000 related events on Facebook 
3. After Eid al-Fitr, about 150 million Facebook users expressed their wishes to friends and family on Facebook 
4. During Eid al-Fitr, Facebook's most popular hashtags for Eid include #رمضان(Ramadan), #ramadhan, #eid, #ramadan, #رمضان_كريم (Ramadan Kareem)  
If we're doing Facebook, how should we lay it out? Today Xiao Zhang with the actual 3 play to ensure that you can explode on this e-commerce explosion point. 
During this holiday, many people give gifts to family and friends. Ramadan Cluster is a core audience target we specific to Eid al-Fitr, and that includes all those who are interested in Eid al-Fitr. If we match the location and age, we can effectively serve ads to people who will buy gifts. 
If you're relatively new in the Middle East but already have very rich customer data in other markets, I'd suggest you use Custom Audiences to build a lookalike audience in the Middle East market. Whether it's data caught through our pixels, or a list you've manually uploaded, this allows us to quickly use historical data for accurate delivery. For example, Maria B, they are a cross-border e-commerce company in Pakistan. They managed to boost cross-border sales by 71 per cent by using the audience they had purchased in Pakistan to build a multinational lookalike audience, plus the labels of other big Pakistani clothing brands.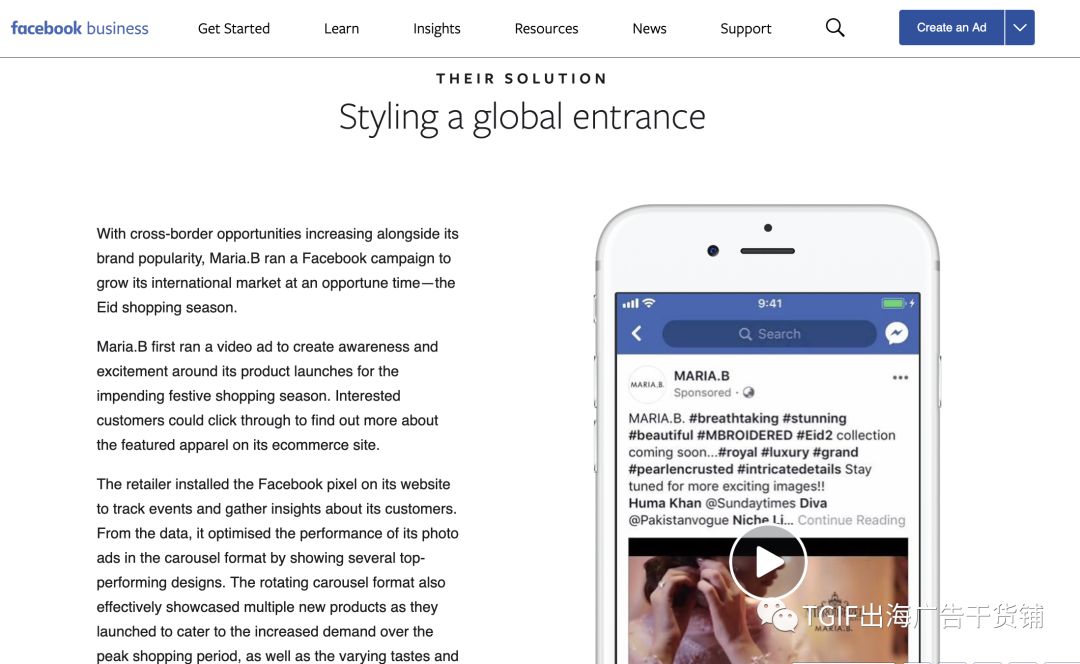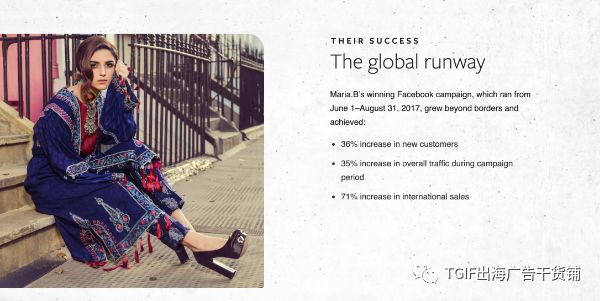 Every e-commerce peak, a lot of e-commerce friends will ask, why my ads do not run out, to spend money. To avoid the phenomenon of having money to spend, you should pay attention to two things during the holidays and holidays - inventory andbidding. 
Inventory is the inventory of Facebook ads. Whenever you limit the layout or manually adjust the ad group pre-selection, it means you don't let the system help you automatically optimize. Maybe it's ok, because there's enough advertising inventory. But at the peak of e-commerce, e-commerce you also limit advertising, advertising is likely to run out. At this point, it is recommended that you: 
1. Focus on a small number of advertising groups, so that the ad group study period is completed, at least 50 orders per week, the system should run smoothly 
2. The ad space is fully open, allowing you to show it in more stocked places such as Messenger or Stories, but rest assured that Facebook will help you automatically optimize and not blindly burn money in unrealted places 
3. Stretching the conversion window allows you to reduce conversion costs or increase the number of touches 
4. Accelerated delivery, which may really work well, is recommended because it can lead to a lot higher advertising costs 
Bidding is your bidding strategy. Of course, every e-commerce provider wants to get results at the lowest price, but this limits the opportunity for system optimization. By bidding for real conversion value, Facebook's system can deliver better long-term results, and Facebook prioritizes the lowest-cost opportunities. At this point, it is recommended that you: 
Increase the bid price - in addition to your home appliance manufacturers in the volume of other e-commerce is also up, in the environment CPM is bound to grow. But because of holidays, audiences are generally more willing to spend, so a lot of times conversion rates will improve, and we are most concerned about ROAS 

If you are bidding with the lowest ROAS, I would recommend that you set the minimum ROAS to the historical ROAS x 0.75. Why is this suggested? If we don't have a way to guarantee that the minimum ROAS will stop, it's a guarantee for you, but at the same time give our system enough space to reach an intended audience 

If you're using bid cap, I'd recommend that you get rid of the bid cap at this time, which is consistent with the above suggestion - this restriction can be a huge obstacle to your ad delivery when CPM doesn't rise 
Localization of advertising
Whenever Xiao Zhang travels abroad to find a place to eat to see the familiar Chinese (or English), I will feel very emotional, will be more willing to go there to spend (know what to eat). Everyone should feel the same way. The same is said of audiences abroad. The eid al-Fitr crowd has crossed at least 48 languages, and we also want to communicate with him in the voice most familiar to the audience. In countries such as Egypt and Indonesia, we can help automatically adjust your advertising budget to your ad and audience language. 
Localization of creative materials is something that everyone wants to do, but feels a lot of work to be done. If you want to find a model in the local advertising film, imagine the advertising cost must be very high. But can we use the existing creative secondary processing, let the material add language, festivals, scene elements. Nisnass's ads, for example, give their own material secondary processing, achieving a 5X ad return in the sand and a 7X ad return in the UAE.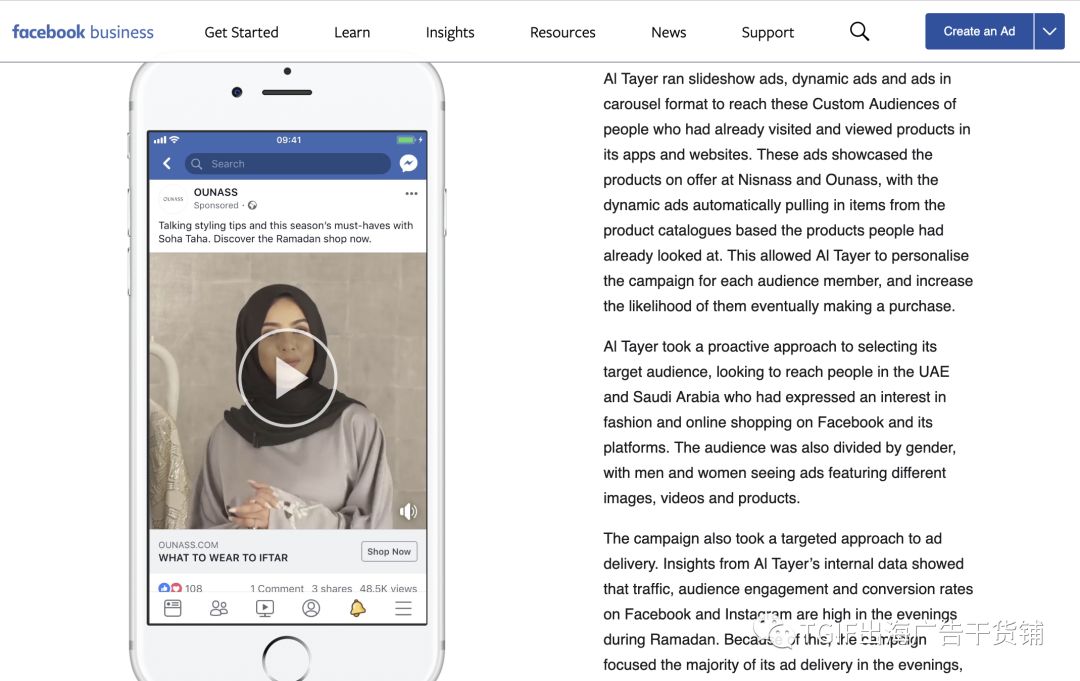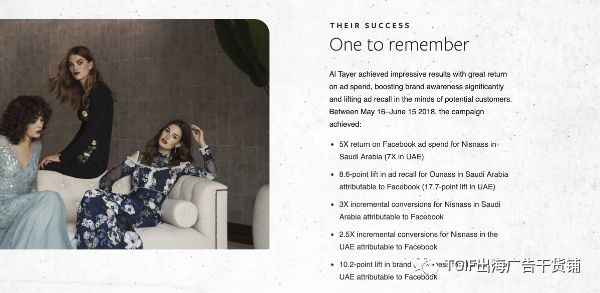 This ad operation more detailed article hope to help you make good use of the festival to find growth points. In the next issue, maybe I'll write some tips for the Shopify app, so be sure to keep an eye on it.
---