Facebook automatically marketes APK, and the underlying features have been updated
A lot has changed since this Facebook update.
Our marketing APK has also been updated, has passed the test, stable operation.
Add some suggestive, friendly interactive information to get to version 2.0.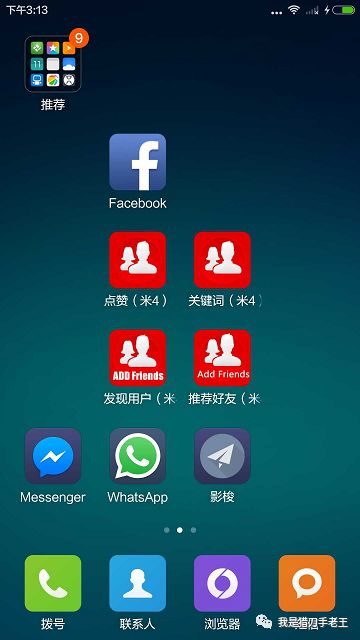 For likes:
In addition to too many likes later, which can lead to a limit on likes, or Facebook automatically cancels completed likes, there are no prompts, no selective likes, these are not quite in line with Facebook's rules. have made some changes.
For keyword features:
Keywords function, in addition to search relevance, there is also an important role is its relevance reading and browsing history, in addition to continuing to maintain the ability to focus on the home page, but also added posts, videos, groups of these content browsing function, such a benefit is more comprehensive to increase the future of the intersection of users.
At the same time more suitable for hang-up operation.
Recommended friend features:
Because the Facebook version has removed the shortcut button, the received friend request is placed with the recommended friend, so at the beginning of the feature, the received friend request is deleted. This is the biggest difference in the update, if you want to keep, then you can manually switch back to the original recommended user interface, so that separate, received friend requests will be retained, their own filtering. Also re-enable previous priority plus users with mutual friends. Interactive interface changes, intervals, return interface, random parameters increase, everything is to make this function more suitable for hang-up operation.
Discover user features:
This feature change is mainly reflected in strangers to add friends, increase likes and browsing functions, plus users in addition to can receive friend requests, but also will receive you to his posts like and follow the information, which is conducive to increasing the pass rate of friend requests.
At the same time, all ideas remain the same, goals do not change.
All functions are actually to solve the cumbersome daily operation of the problem, the current full development of the fully automatic nourishment function, has been tested more than half, all the new number, small white number, automatic no-care number, no human intervention, without a seal situation. See the article from the previous two days, followed by a detailed tutorial.
Our goal is not a thousand, but you have to have so a dozen stable numbers, there has been a number, there is food at home to not panic. A stable number: not 5,000 friends, but 50,000, 500,000 influence. Believing in the power of the day, what we have to do is make the process easier and simpler for the general public.
Okay, the download address for the newer version:
www.liedaoshou.com/download/
Please choose your own mobile phone model, corresponding to use. After installing the updated apk, you need to re-open the program permissions inside your phone, don't forget this.
Additional features will be updated soon, keeping an eye out for public notices.

---