Facebook ad trilogy (III)
I'm so sorry, everyone! The last article dragged on for so long before the draft, recently busy work can not, understanding ha! Also received feedback from friends that the article was too long to be viewed in piecemeal time. This, in order to maintain the consistency of the series, or with a long text. At the beginning of the next article I'll try to be as short as possible, even with voice. In short, what advice, feedback, or content you want to see, be sure to tell me Oh!
The first two articles talk about how to make your sister pay attention to you (attracting the attention of the customer) and how to make your sister interested in you (to stimulate the customer's desire). In this finale, let's talk about how to catch up with my sister (transfer order deal).
Say you successfully asked your sister to go to the restaurant to eat, in the meal, you put their best side to the sister, but also understand the sister's character and interests. Next, from time to time in the circle of friends with sister interested in the topic of postings, and then from time to time about sister out to eat, until sister's statement to you more and more obvious, for example: your post she began to praise, you almost every time you ask her will go to the appointment, you can make a confession; )。
After a few ups and downs in your relationship, you begin to learn the rationale for diversification and figure out a systematic approach to developing multiple fronts at once. For example, according to the first contact to know sister's interests, and then according to different interests of sister divided into different circles of friends, different groups of sister hair different types of circle of friends. For example:
For Kim's sister:'Belongs to my Singles' Day, send a ride to comfort yourself';
For Wen Qing's sister:'Life is not only in front of you, but also poetry and distance...';
For wild sisters:'I am who I am, never nostalgic, unstoppable';
For the sister at home:'That familiar and warm feeling, called the harbor';
For a career-strong sister:'The night view of the city is used to overlook'。 

In addition, for administrative convenience, you have developed a database that records each sister's name, contact information, height and weight, when and which restaurants she has been to, how much money she has spent, how many times she has liked it, etc... Finally, because you have too much experience, this database is so powerful that you can intelligently analyze the sister for these groups, go to what restaurant and save money and effective, go to several restaurants after confession, how to make a confession, or be rejected a few times after giving up, and so on, and will automatically remind you of this sister, what to do next. Thus, your feeling of 1 to 1 sister-in-law became a programd automation large-scale sister-in-law: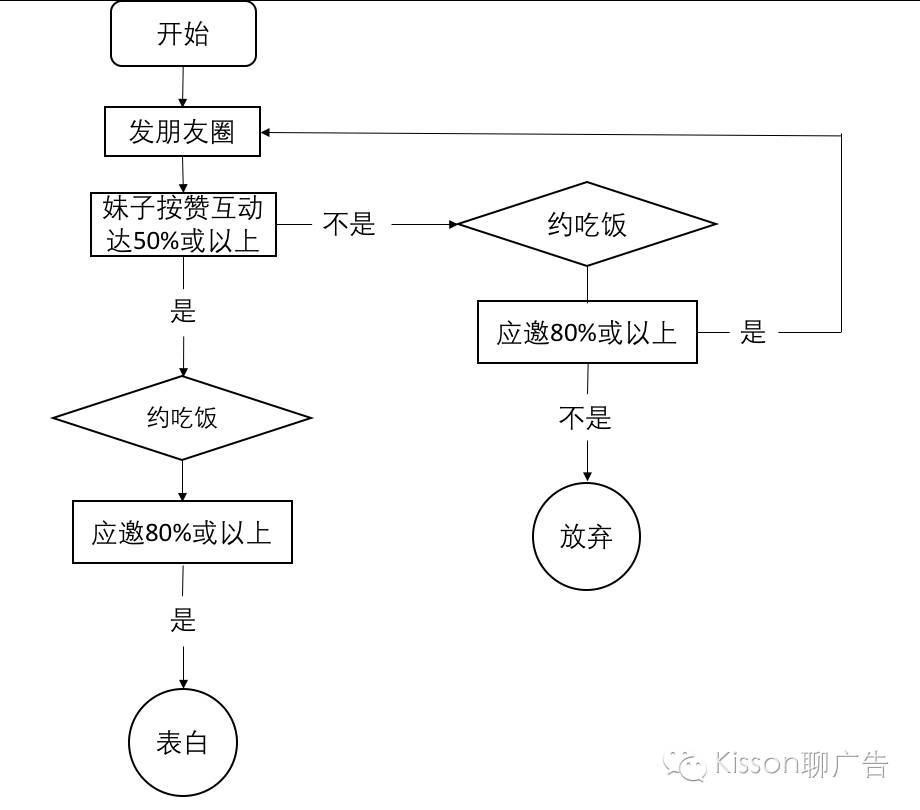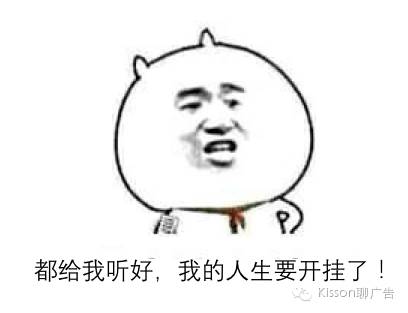 In the world of e-commerce, this database can be built by pixels (also known as tracking codes). A Facebook pixel is a piece of code placed in your site code that looks like this:
Never worry about what it does with each word, in short, just put it on all your pages. Then it will start automatically recording the user's browsing behavior on your site, and then pair this browsing behavior with the user's profile, allowing you to pinpoint your sisters - ah, and crooked, I mean, customers. How is this code recorded? That is, when someone visits a web page with code installed, the code is activated, and then call the Facebook server, which pairs the user with the user profile it owns, finds out which user it is, and then adds a record to the user's profile, which page you visit at what time, similar to when you record when and which sister went to which restaurant.
Please note that when you just talk about two events, when someone visits a page, the code is activated, whether that person is a Facebook user or not, not through Facebook, and pairing this visitor with a Facebook user and profile is premised on the fact that the visitor is a Facebook user and logs on to Facebook on the same device, or the same browser - For example, if you install a Facebook app on the same iPhone and log in, you can pair it by visiting the website on the phone's browser. What are the benefits of pairing? Just as you have profiles of your sisters, backstage on Facebook, the system automatically helps you store these visitors, so you can group users by which pages they visit, when they visit, and when. Also, if the user profile records that he clicked on one of your ads within 28 days, the system can trace the conversion to the ad, so you can see detailed reports in the ad manager background to analyze which ad is best performing.
See the following diagram for tracking how pixels work (no need to go into depth): 

When it's installed, it's ready to go. But pixels are just records, really want to become an automated program, to see the numbers, to group, you also need to set some instructions in the facebook background. For example:
1. Define different conversion events via web links:To the shopping cart that URL, it is called 'shopping cart', the purchase confirmation of the URL, is called 'deal'. The role of doing so is that you can see in the background how many conversion events, such as from the shopping cart to the actual transaction only 1%, indicating that your product is actually OK, but the transaction process is too complex, perhaps users need to re-enter the receiving address payment information every time, or from browsing the product to join the shopping cart only 1%, you can check to see if your product is not the same as described in the advertisement (some people advertise with product pictures, landing page to the website home page, etc.; As soon as the user goes in and can't see the same product, he's forced to do so. Role two, is later talked about the advertising optimization inside, you can instruct the system to optimize the conversion events at different levels, the simplest is to let the system optimize the conversion of the most re-deal, then the system will deliver your ads to the most easy to pay for the deal of the proud customers.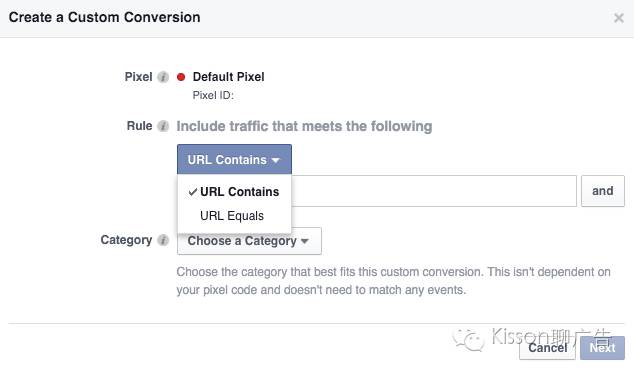 The freedom to define different conversion events is very high and there is a lot of room to play. Here's a common definition, distinguished by the purchase funnel:
In addition to using simple web link definition conversion, you can also modify the conversion code, in some pages of the code to add standard conversion events, which is better programd, systematic, a certain size of the site if only through links is not enough, you can try this standard conversion events, or even a combination of the two, for small and medium-sized e-commerce, the need to modify the code may not be so strong.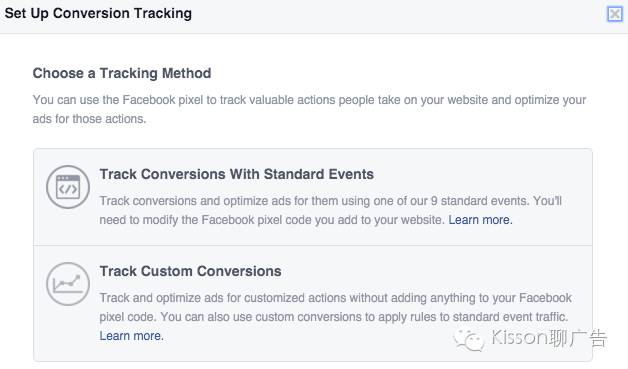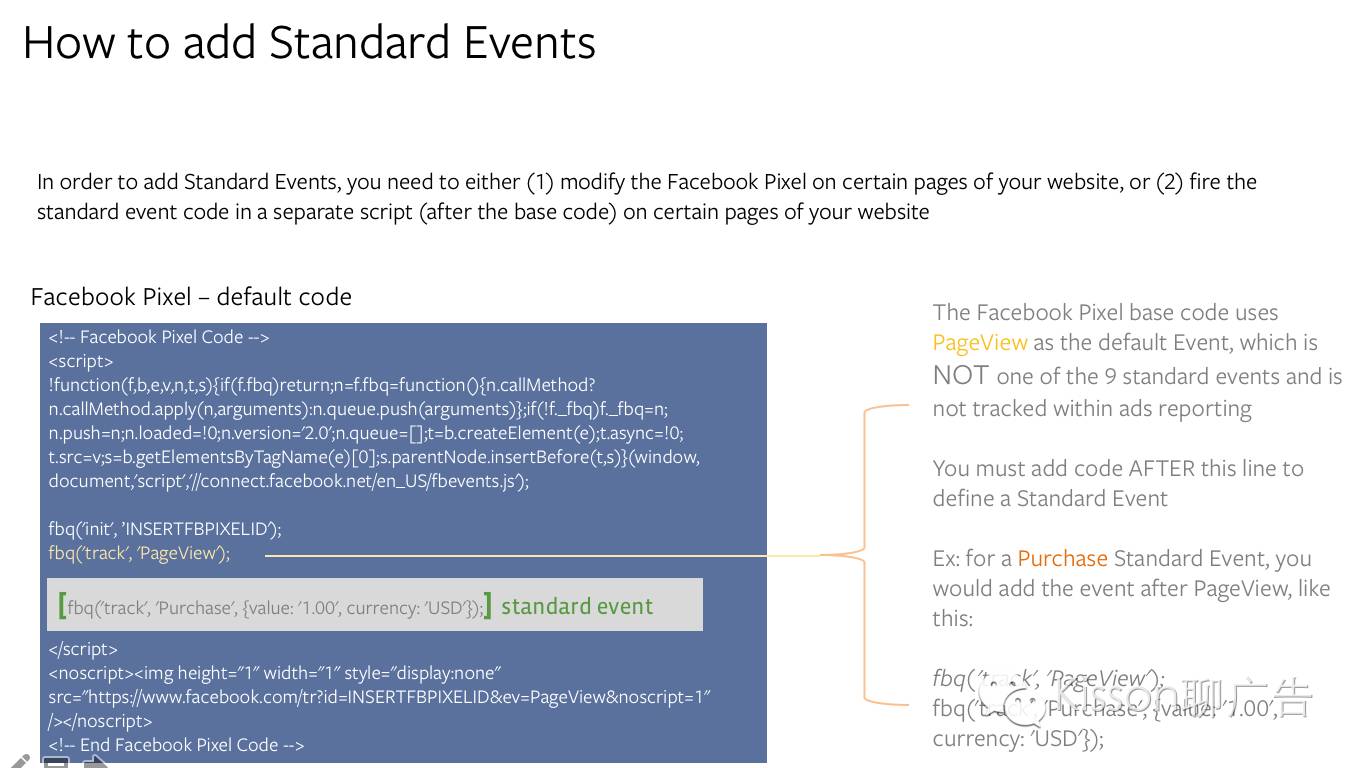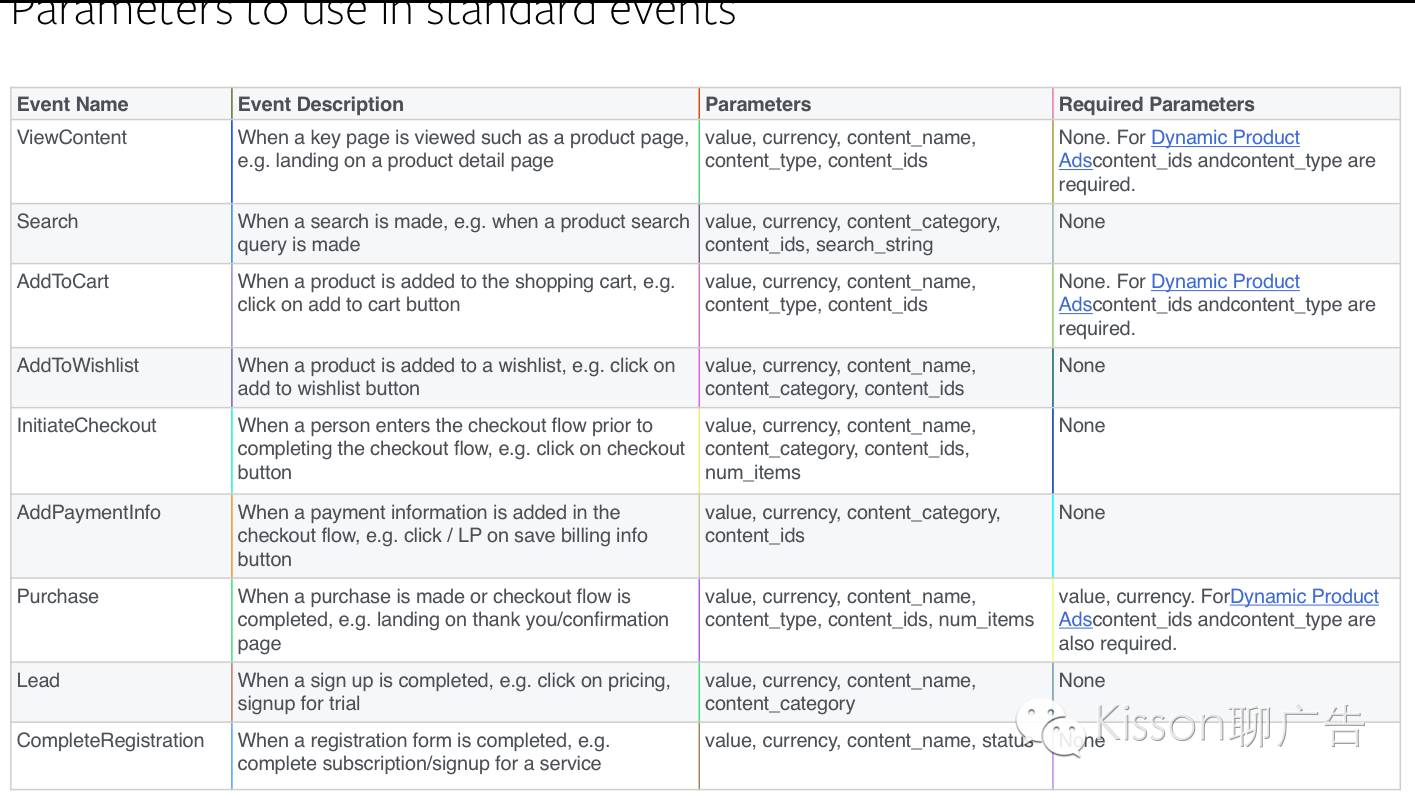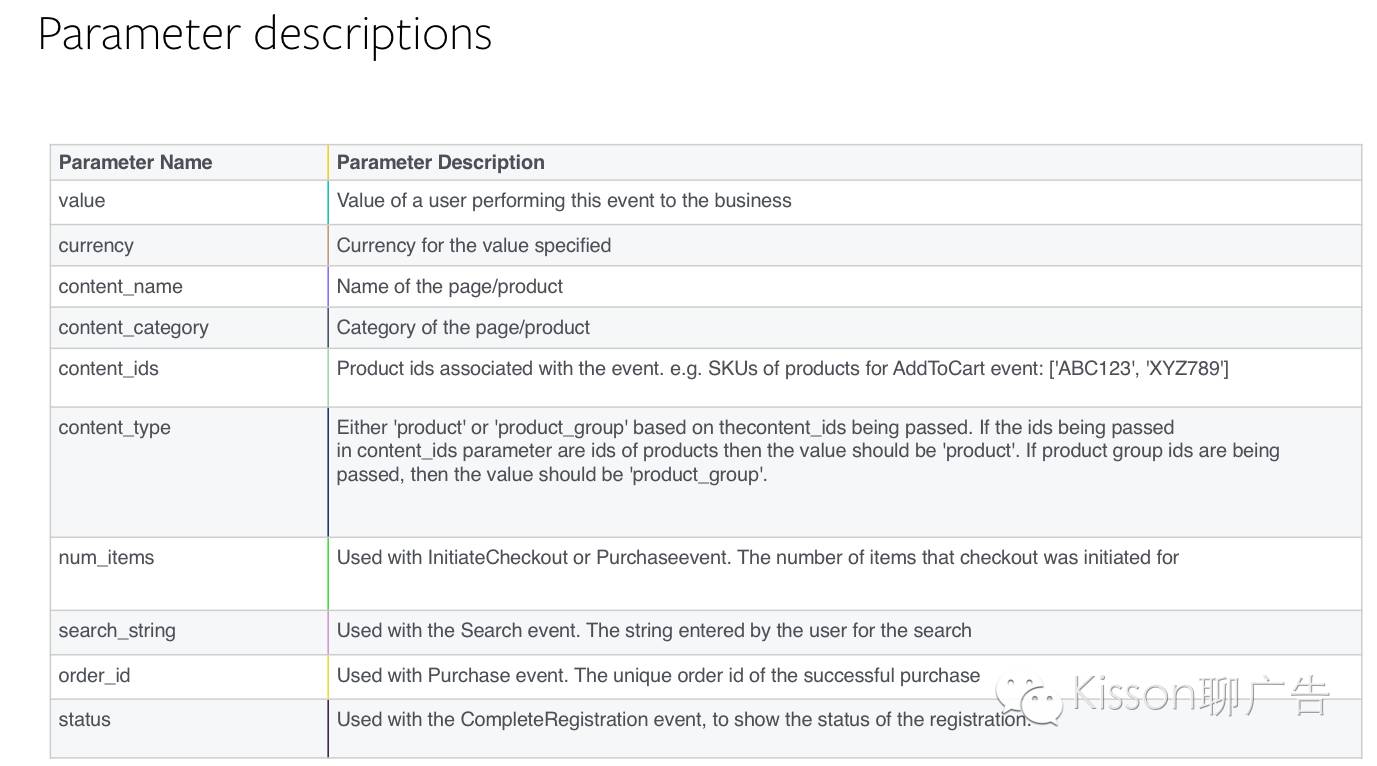 2. Divide custom audiences by web links, access events, frequency of visits, etc.:For example, in the past 30 days, 'deal' more than 3 times customers, can be included in the 'VIP' group, in the small fresh series of products on the web page for a particularly long stay, can be included in the Wenqing group, or once a week to see the special price area, can be included in the price sensitive group, and so on. Website Custom Audiences can also be freely combined with hobby ages, etc., and can be excluded from advertising without them (e.g., people who have purchased within 3 days do not have to advertise to them).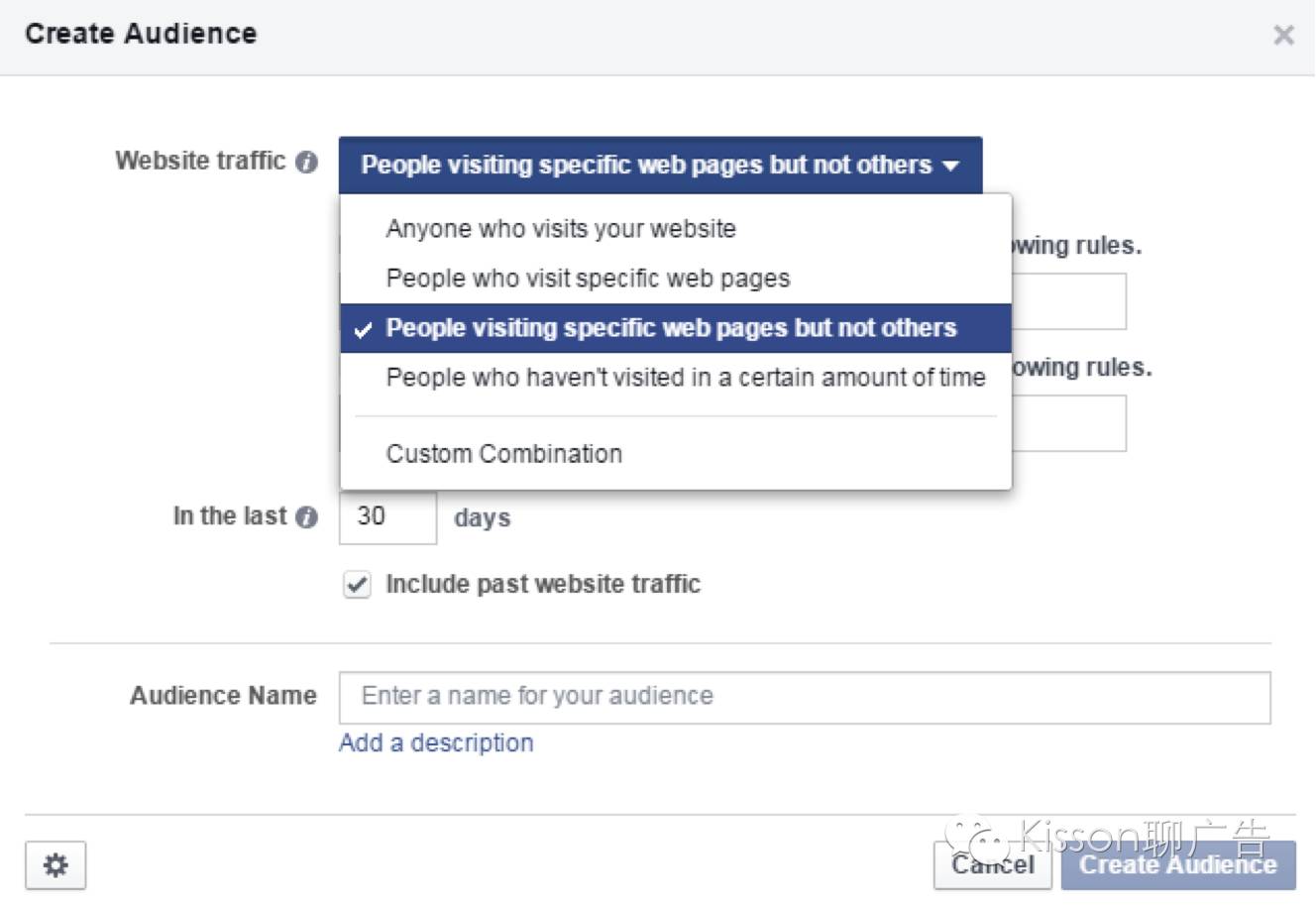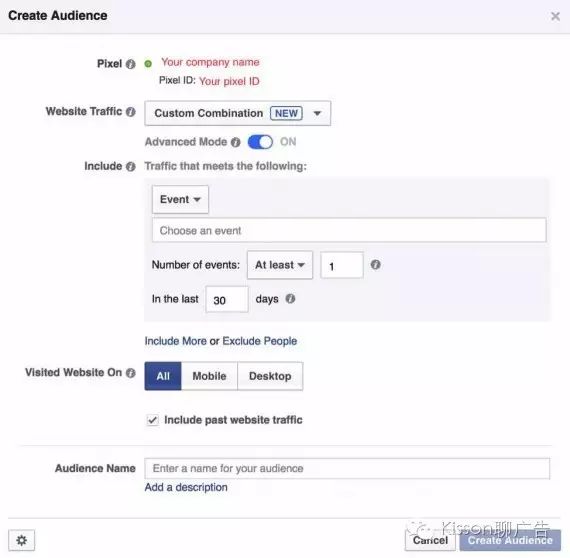 With group classification, you can easily run different products, different ads, just like to send different types of sisters without posting, attract them back to the site to buy. Take the example we just said, change the file, or change the picture, you can use it on the product: 

Just mentioned that you can use a website link (e.g. to a shopping cart but haven't checked out yet), visit time (last 7 days/30 days...) 180 days), and this year more divisions have been introduced: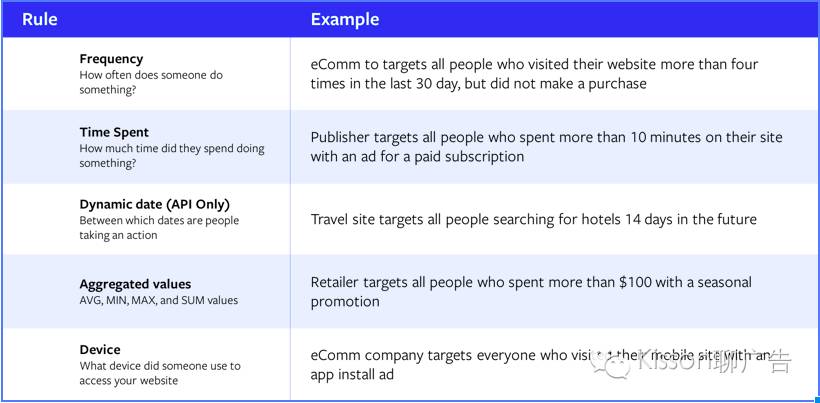 Well, aren't pixels useful? Take you to hang up and fly with you, and it's up to you. In fact, there are many uses, because the space relationship can not be described one by one, the following to give you a summary, you can try: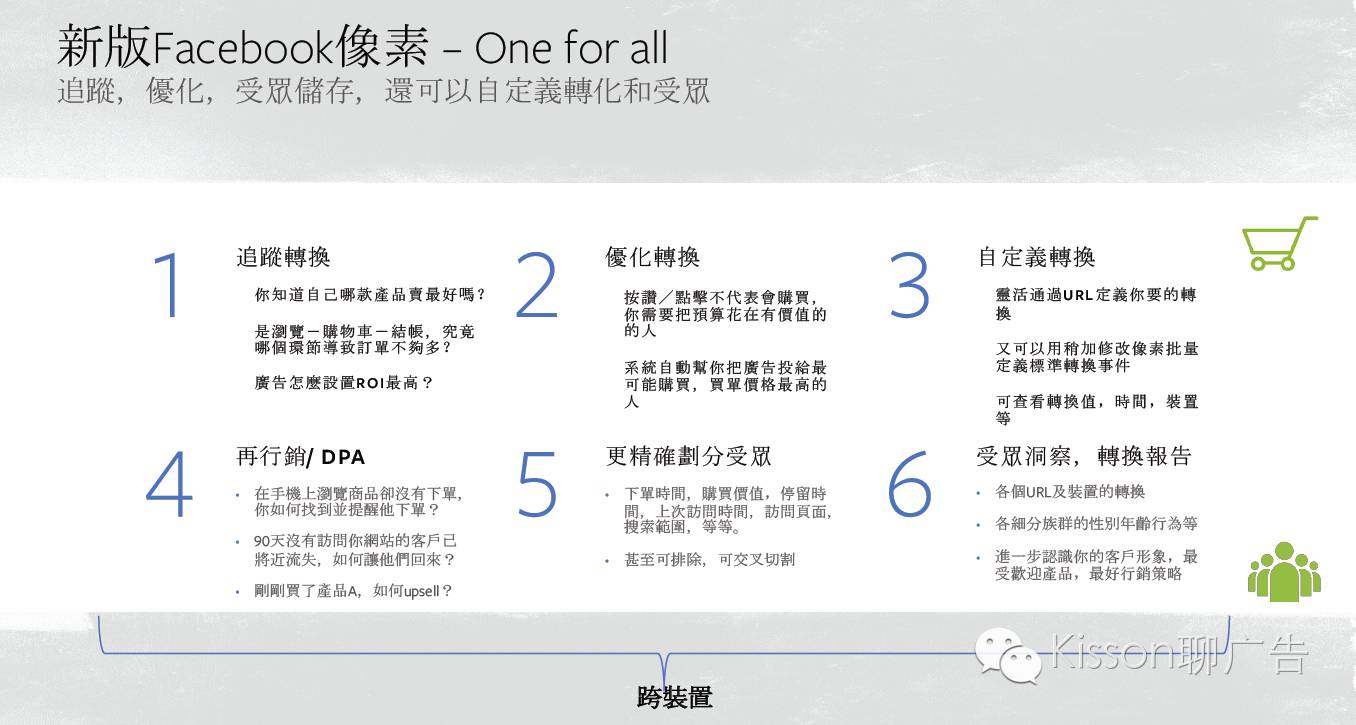 Bury the pixels, define the conversion, distinguish the audience, we can prepare the ads. The first is the purpose of advertising, since it is e-commerce transfer orders, of course, the first consideration of conversion rate, that is, website conversion ads: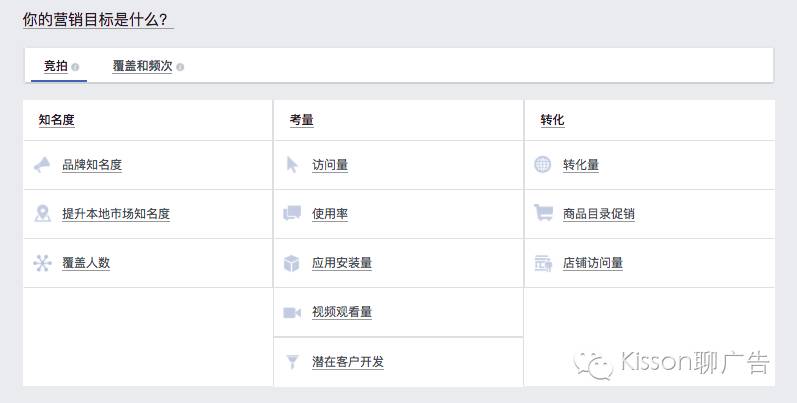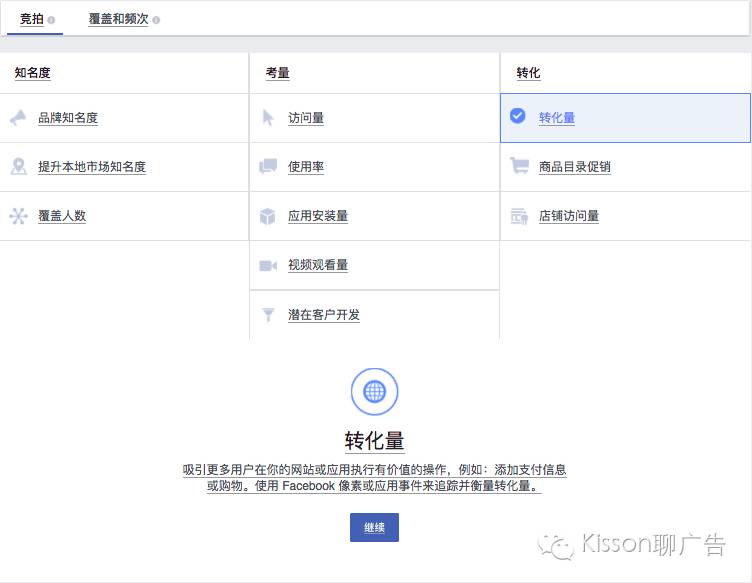 Website conversion ads and site click ads all look the same at first glance, you can use a single image, multi-figure, video, but also added a call to action button to the site or APP Mall.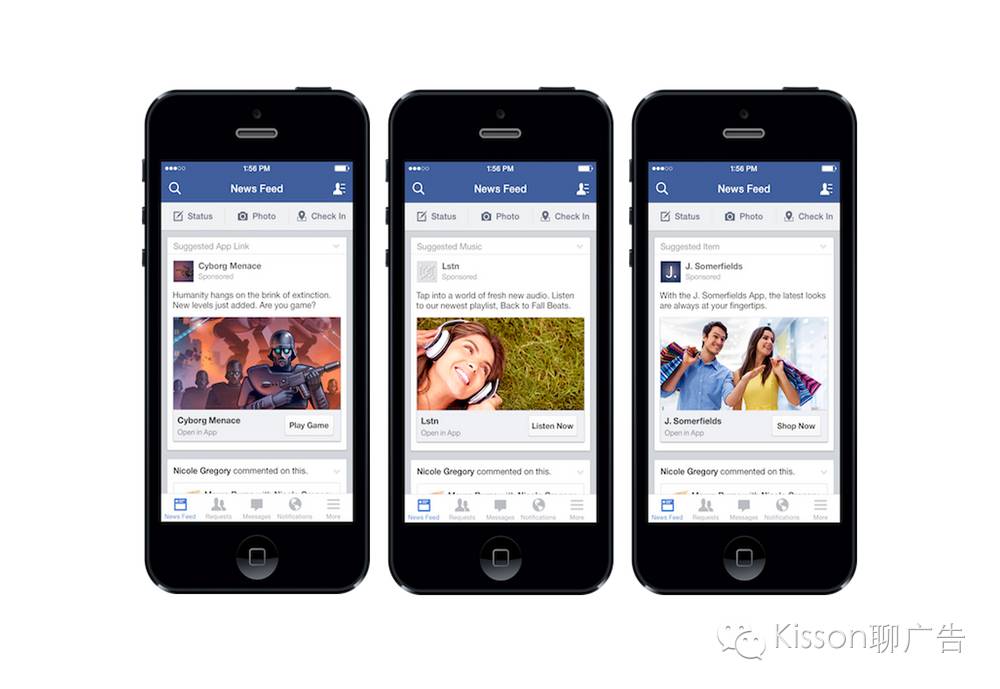 The difference is what you can't see: the delivery mechanism. As mentioned in the previous article, website click ads to serve CPC is cheaper people, these people are more likely to click into your site, as the initial accumulation of website traffic (that is, to build a large enough sister database), has a certain role. But after accumulating traffic to cash out, rely on those who read ads or click on ads, it is easier to pay. When you run a website conversion ad, you'll be asked to define which conversion you need to optimize, and then run your ad to customers who are more likely to make such conversions.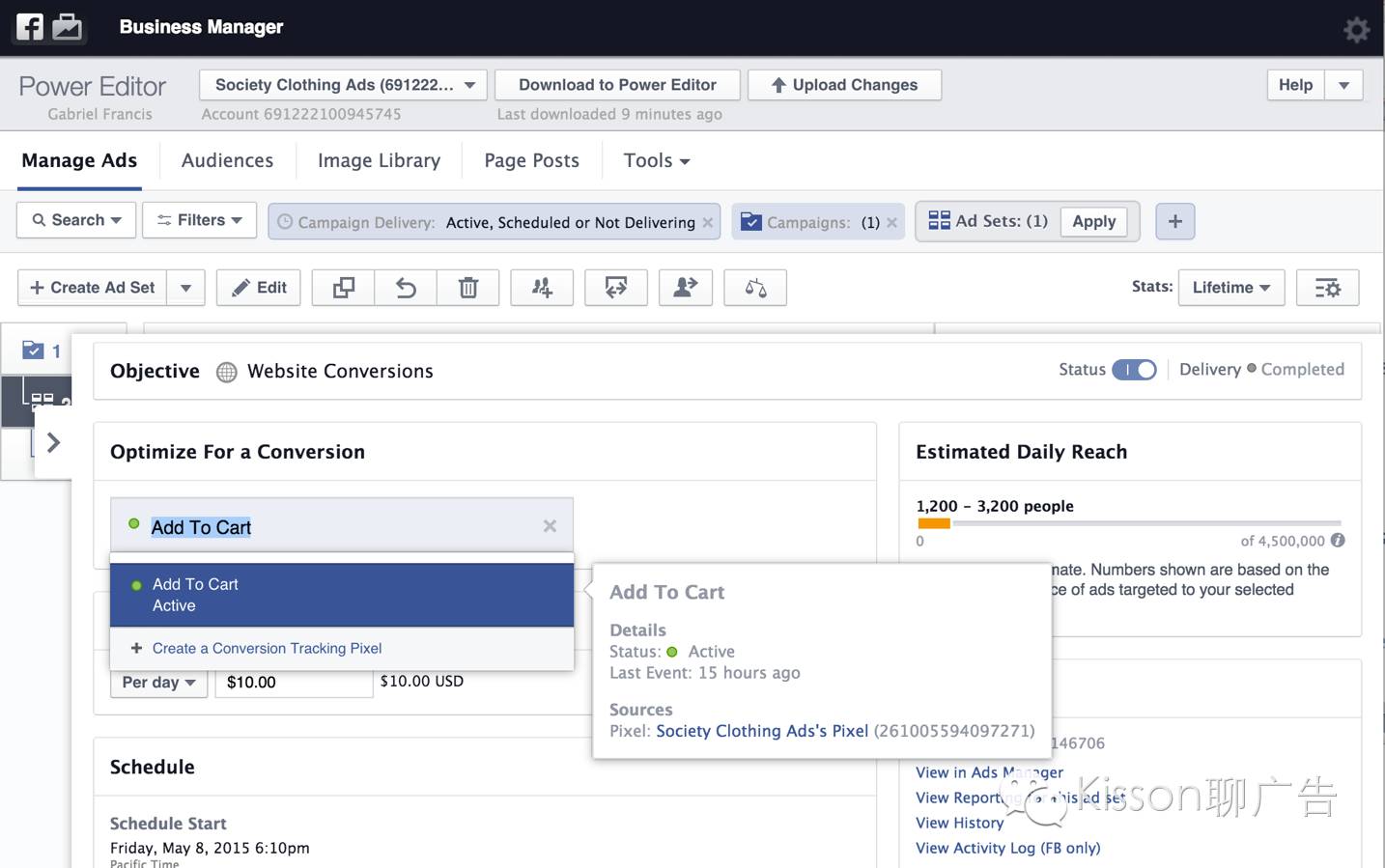 Since you can instruct yourself which conversion to optimize, of course, the final bill is the most important ah, still need to choose? That's right, that's not right. The theoretical basis for pixel optimization is to be introduced here. Remember when pixels only worked when visitors were activated to collect audiences? If you want to optimize the conversion of page A, then pixels start to collect the audience it collects, that is, the group of users who have been to page A, to analyze to see what they have in common features, and then instruct the system, the next ads are also delivered to people with the same characteristics. Therefore, this optimization process is actually a process of collecting and analyzing learning applications. To be accurate in systematic analysis, the larger the audience, the better, which is the same as a few more love experiences. So, if your ad portfolio is optimized for the final pay,but this ad mix runs down, not many people pay, then the system will not get enough data analysis, it will not be able to optimize well, resulting in the final cost will not come down. At this point, you can move the conversion events you want to optimize up, for example, from optimizing the final purchase to optimizing the addition of a shopping cart. This will allow you to have more data and the system will be at its best faster, allowing costs to fall more quickly.Generally speaking, each ad mix (note, it's an ad mix) requires at least 25 conversions before you can start optimizing. Of course, it's just generally speaking, the speed of optimization depends on the time you get on this scale, 30 days to get 25 conversions, learning effect certainly not in a day to get 25 conversions good, so centralized budget is critical. In addition, if you often switch on and off ad combinations, it can also affect system learning, because each time you reopen an ad combination, the system warms up again, although the warm-up process is short. The best practice is to maintain the ad portfolio settings for a period of time, do not change every day, by changing creatives to keep users fresh.
There are many tips to optimize the conversion, because space relationships cannot be explained one by one. I'll cover it in more detail in a later article. 
Finally, share with you the basic division of custom audience, and different groups of customers to what kind of ads to achieve what effect, that is, we said at the beginning of the open-hang sister program, for your reference, there is also a beginning and end of it.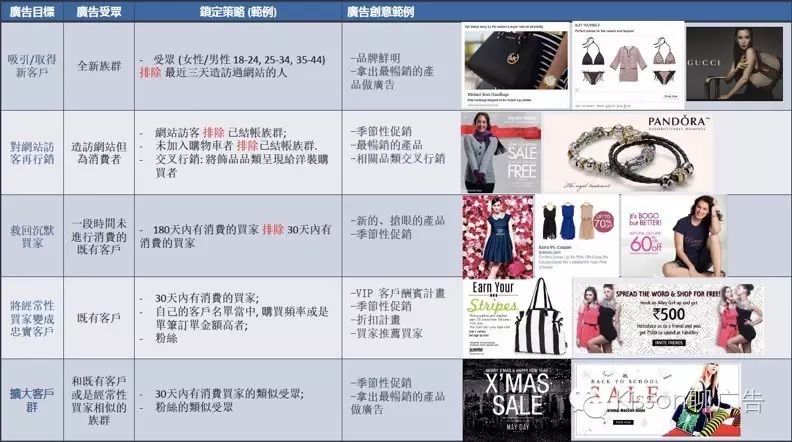 So far the Facebook ad trilogy has come to an end, but because of its length and because the series is only an enlightenment, many interesting tips and topics can't be studied in this series. In the future article, I will be through the form of short articles, with you to share one by one. Remember to press and hold the QR code below to pay attention to your baby's public number!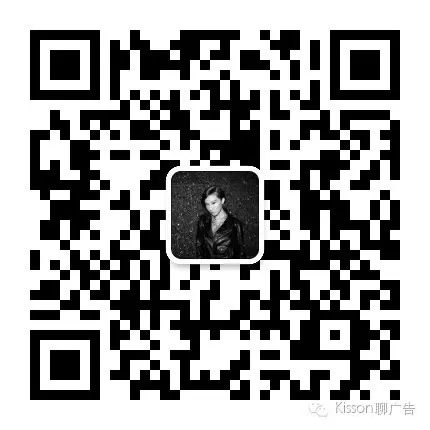 ---