4 powerful features that can improve your Facebook ads

Facebook's ad platform has many useful features that can be used as an effective way to promote your business. Like other digital marketing channels, carelessness can waste large budgets and potentially lose money.
But don't cast a mousetrap! Here are some of the less common Facebook features that can greatly improve your ad performance when they reach their full potential.
Understanding how to use Facebook's Audience Insights feature to segment your targeting may improve your ad performance.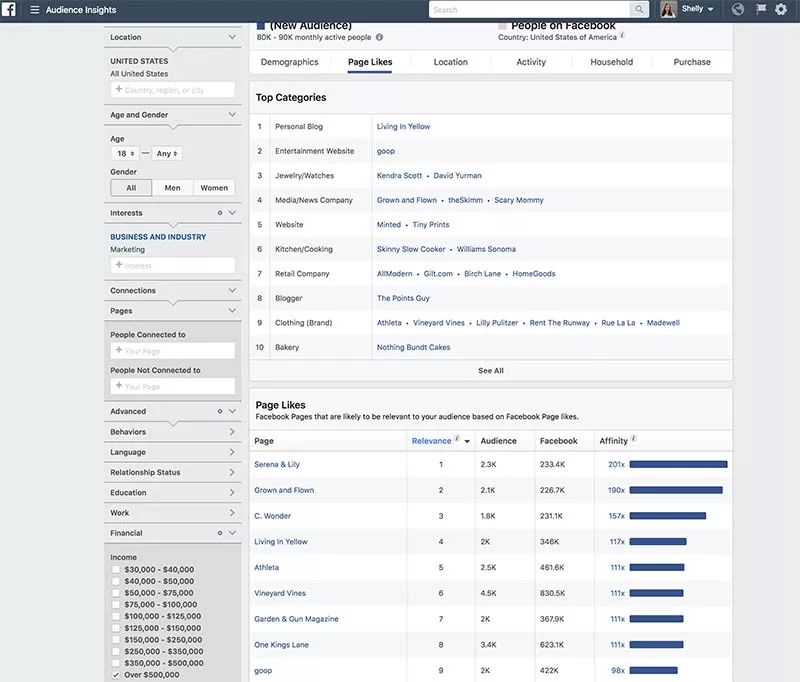 For example, revenue ranges are one of the most common features that marketers use when setting up ad targeting. But because people don't tell Facebook about their revenue, the data is purchased from third-party data providers. Every time you use data that relies on data from third parties, it costs extra money. In addition, you compete with others who use revenue targeting, which can also increase advertising costs.
Let's take a closer look at Facebook's own Audience Insights feature to see if we can see what people in our target income groups usually like.
In the Audience Insights panel, you can start by targeting the following:
1, all Facebook.
2. The person associated with your page.
3, you have built a custom audience.
For example, if you're a retail brand with a new, more expensive product, let's start with a Custom Audience that we purchased from you in the past.
Click on the top and left"Page Likes"tab, expanded"Advanced tab"(Advanced tab), and then click"Financial"(Finance).
Next, select the income or net worth rating you want, and Facebook will return the list of the most common likes for that rating.
It is highly recommended that you select at least 3-5 from this list and layer it to build the positioning, which becomes more precise when you start layering like it.
The Audience Insights you've created can be saved and used later as a template, which can be quickly adopted when you re-establish your campaign.
Many times, the page you want to use as a target interest cannot be used as an option. So what do you do? Try Facebook's image search feature.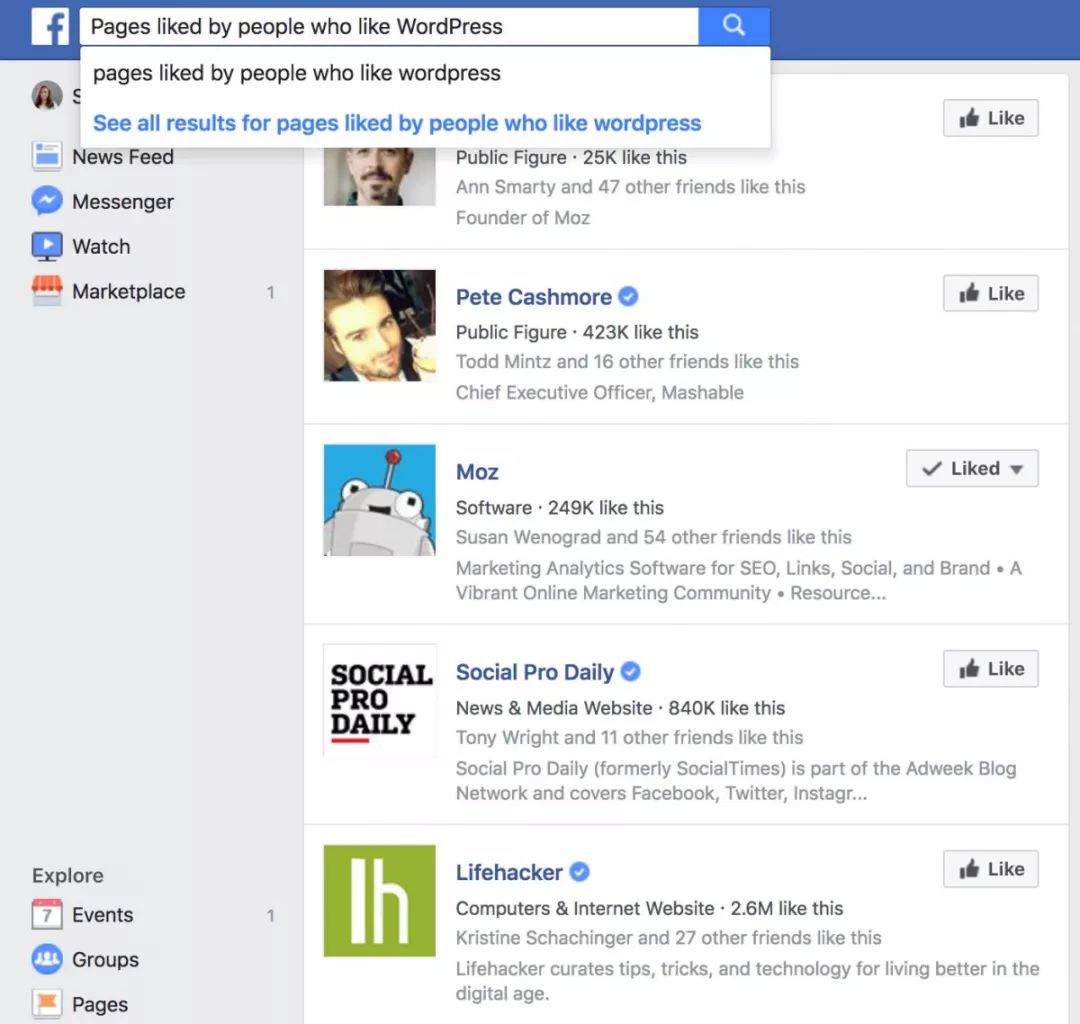 Quit yours"business manager"(Business Manager), go to your personal Facebook account and search in the search box"A page liked by people who like to insert a page here"As the beginning.
Facebook will return a list of the other pages you've searched for that share the most likes, most of which can be directed.
You may find that some of these layers will further refine your goals and optimize your positioning, especially if you see a very broad page.
For example, if you search for Oprah," the audience is too general, but if you layer oprah with Shopify, an e-commerce platform, and Mashable, an Internet news blog, the audience results are closer to your original audience goals.
When you target your ads, Facebook selects an option by default that prompts you: "When you expand your interest, you may increase the number of link clicks at a lower cost per link clone." "

For new accounts, we recommend that youCancel this option。
If you're targeting a particular segment, it's especially important to cancel this option because your audience is too broad and will increase your ad budget.
Instead, you should target a potential user base between 50K and 250K to enrich your "pixel season."
When your ads run to the segments you define, you build transformation data on pixels. Once your pixels have adapted to transforming data, you can extend your goals, and Then Facebook's algorithms will start self-optimizing to be more accurate in their goals.
4Monitor by delivering insights
In your ad account, if you hover over a single ad, you should see about itDeliver insights(Delivery Insights) link.
Of course, not every ad has an insight that you can use to serve,Facebook's requirement is that ads run for at least five days in a row and have at least 500 impressions to display the option.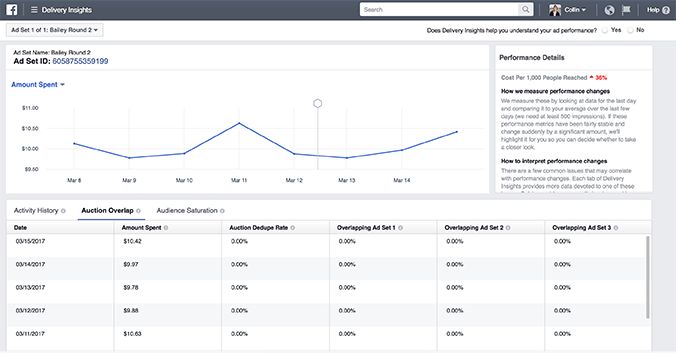 · affectedcrowd saturation
Delivering insights will help you understand the successes and failures of your ad sets.
Did your ad fail? Has your idea become stale? Has your target audience run out?
· First impression ratio
This percentage represents the number of new users who see your ad for the first time, and you need to pay close attention to that number.
If the ratio starts high but continues to decline and does not reach equilibrium, you are likely to start to notice an increase in costs per transaction.
You typically want this percentage to stay around 50%, especially for conversion campaigns.
If you see this data start sliding down, you'll need to go in and refresh your creatives.
Every time your ads are shown to the same audience over and over again, they become less efficient, your creatives become stale, and your CPL grows.
Ads will become less effective, and eventually, campaigns will stagnate and not even reach all of their target audiences.
· The ratio reached by the audience
The rate reached by your audience will tell you exactly how much influence your audience has reached.
The percentages you see here will tell you if there are still a lot of people who can't reach your target audience, or if your reach has been maximized and your audience will run out.
· Users overlap
Another huge waste of money is when your audience overlaps with the audience of another ad;
When there is too much overlap, Facebook pauses your ads, usually the one that performs poorly in both ads, and viewers start to overlap by about 50 percent or more.
You can also access itaudiencepage, select two or more (up to 5) audience and clickActions > Show audience Overlapto see the audience overlap.
Facebook gives you a nice chart that you can use to diagnose user overlaps.
Facebook suggests that if your audience overlaps too much, you should consider integrating your ads.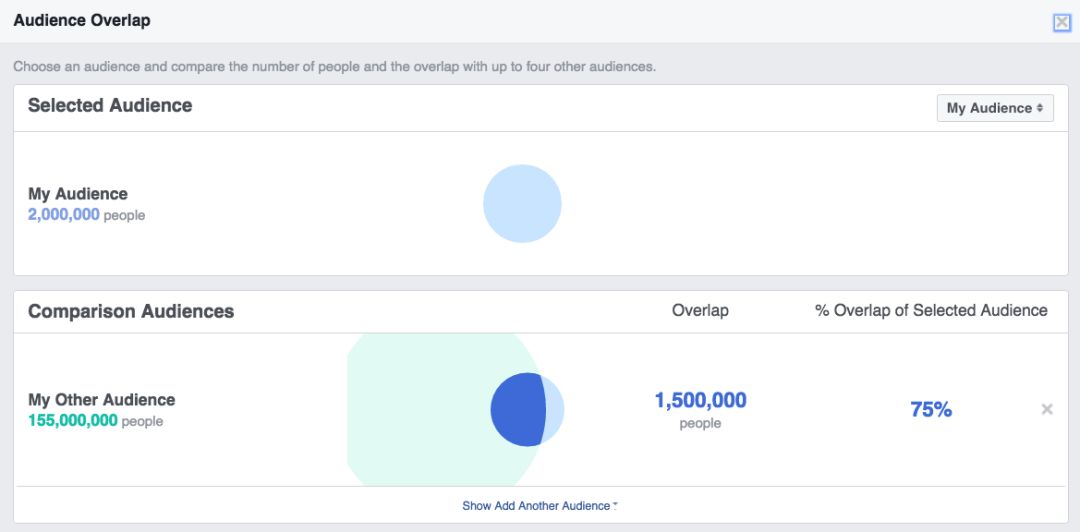 Facebook has a lot of useful resources and tools built in that you can use to dramatically improve your ad campaign.
If you haven't used these powerful tools to optimize your activities, now is the right time to start.
It's important to remember that it's important to test what's best for each of your ads. No two methods are the same, make good use of these tools.
(Compiled Global Search/Little Stay)
---