Detonate the power of 600 million Weibo users - FanCom, a magical social advertising platform
First of all, when it comes to advertising platforms, what do you think of?
TV ads? Big outdoors? The bus stop? Movie implants? These are our traditional forms of advertising, and in today's social media "sweeping", the magic of viral transmission is believed to no longer need titanium platinum new media to repeat, so for the two major social media platforms - Weibo, WeChat ads how much do you know?
Social advertising platform has been a small cost of large dissemination of exponential influence and by the eyes of advertisers, friends circle advertising has been for the big enterprises, and micro-blogging advertising with its precise flip marketing effect to attract advertisers from all walks of life.
Fan Pass is a marketing platform for microblogging social advertising, supporting the promotion of advertising blogs, apps, micro-blogging accounts, that is, a new tweet, a new app product, an account to increase influence, if you want to get greater dissemination, fan communication at this time can highlight its vast.
How did you do that? Let's lift the veil of mystery step by step.
In what scenarios would you see a fan-pass ad?
(1) Blog promotion
Waiting for the bus on the road is so boring, brush a microblog! Hey, the number one car is doing activities. Try it. (But I don't seem to be paying attention to the No. 1 car)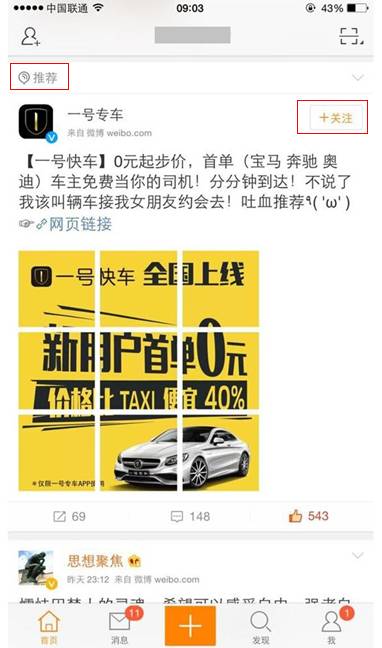 (2) Recommended application
Brush Weibo, sing songs, think of sister happy! Hey, how did these apps appear so coincidentally? Download it now!
(3) Recommended attention
I'm not satisfied with my appearance, but is it really good to recommend such a precise recommendation to pay attention to plastic surgery?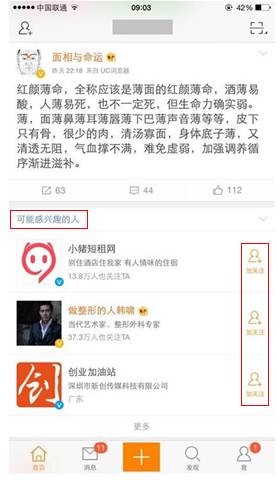 How does using Fan Pass detonate the power of fans?
This is the ordinary microblogging and fan-thuming blog promotion comparison map, we come to find, found that there is no different place?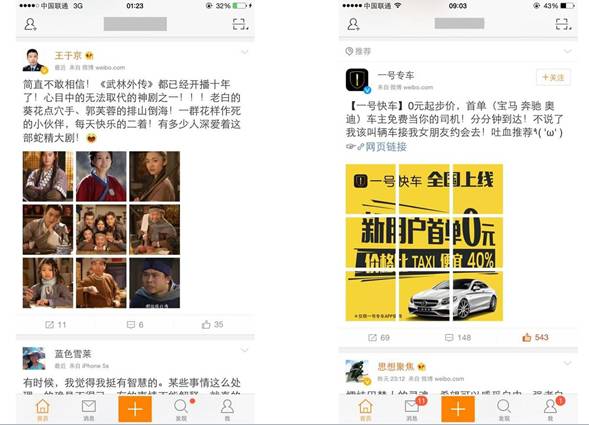 As you can see, Weibo fans will unannsuingly appear in the microblogging stream!
Micro-blogging precision advertising engine will control the number and frequency of users to see the micro-blogging "fan pass" every day, that is, if it is often swiped micro-blogging does not exclude ads, fans will recommend a few more tweets.
And fan-blog promotion in the use of "promote to the target user's fans" function, the target user's forwarding, comments, likes, attention behavior will have the possibility to trigger and promote the native ads to the target user's fans, based on the social relationship effect flip, the impact will be doubled!
Product benefits:
Mass reach: Weibo registered users reached more than 600 million, daily active households reached 93 million, monthly active households reached 212 million, can be completely brand information widely transmitted to fans and potential fans, covering hundreds of millions of weibo users.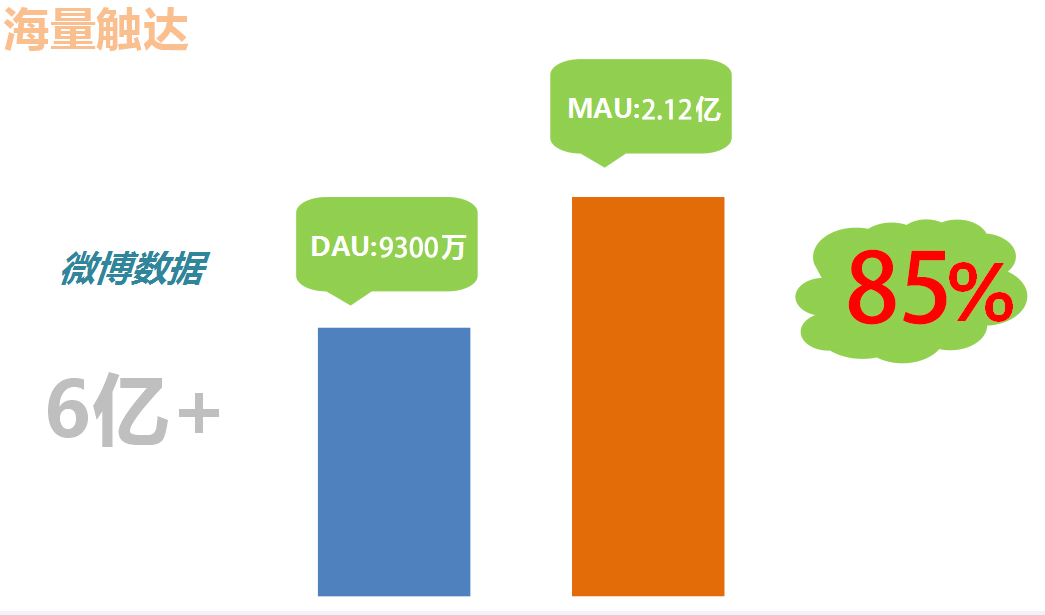 Precise orientation:User attributes, custom uploads, and third-party data markets reach target populations more accurately from multiple angles.
This means that this feature can be used to tailor the reach of the target population to the needs of advertisers for accurate communication.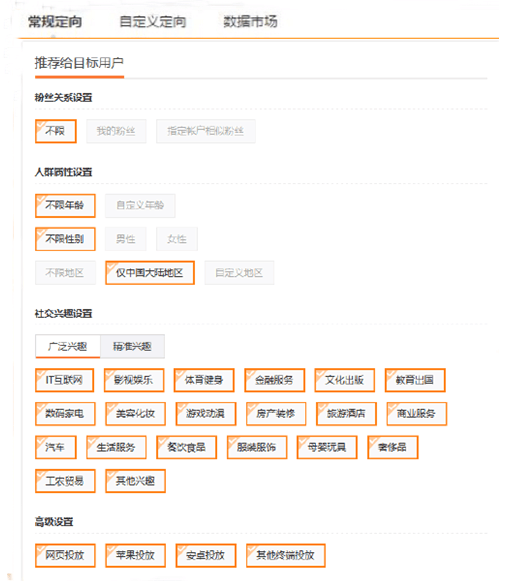 Multi-dimensional propagation:After the microblog is delivered to the target user, if the target user likes, comments or retweets it, the target user's fans will see the microblog, thus creating multi-dimensional communication to maximize the effectiveness of your ads.
In the following image, you'll also see the account's tweets based on social recommendations, as your friends follow him.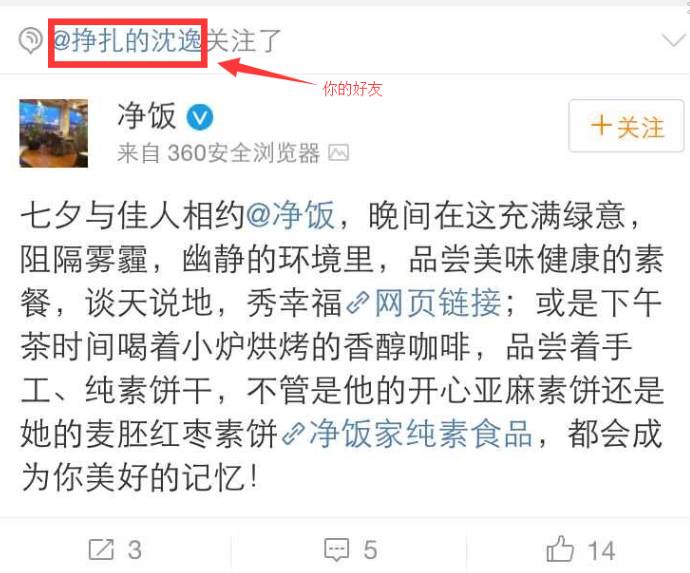 APP content to do no one to download is also the same, want users to download APP first is to increase exposure, and then through the current social marketing to increase downloads, so as to gain benefits. And fan pass - the application promotion of the three major product characteristics, for the application of promotion to create a walk of fame.

New showcase:In order to cooperate with the promotion of the application, Weibo launched a new form of display, one-click download, for users to bring a new experience.

Exclusive orientation: Keep all the targeting conditions of the original fan pass, but also add the network environment and other targeted conditions specifically for app download, to provide users with a more intimate experience.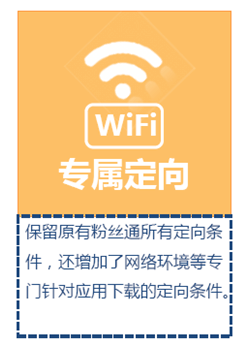 Social recommendations:Improve social attributes, strengthen social connections, and make promotions friendlier.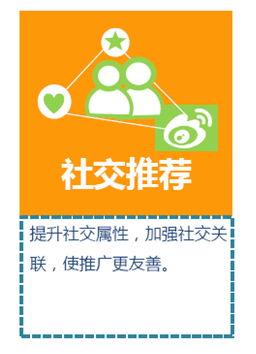 Fan Pass - Account Promotion
Say it's the fan economy now, so how do you quickly increase your active fans and build up your social assets? Fans come and help you!

On the mobile side, FanCom has set up three account ad spaces to help you get exposure.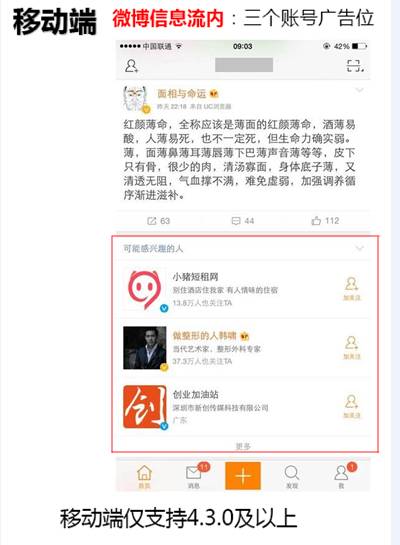 On the PC side, Weibo's discovery page has a display bit, and when Weibo users click to see more special recommendations, there are three bits.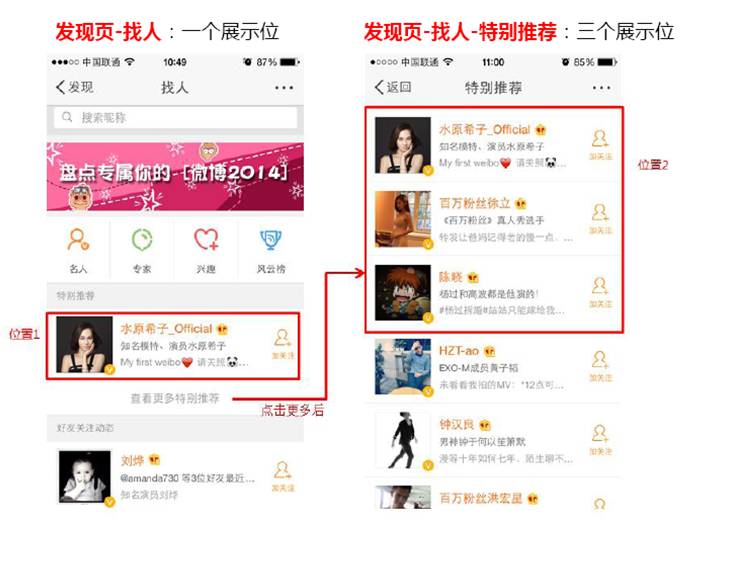 Comparison of the above three product features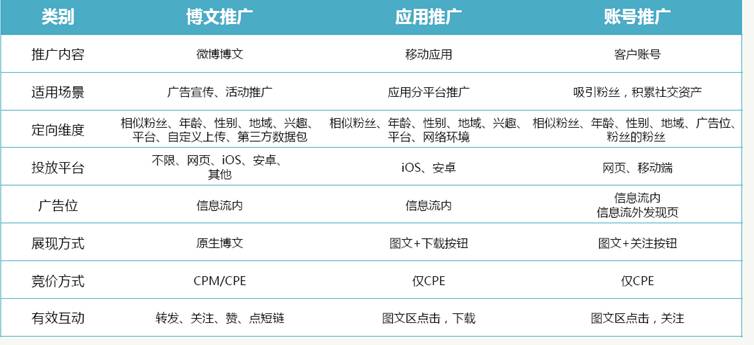 Fan-based micro-blogging accounts, can occur attention, comments, retweets, private messages, clicks, searches, topics and other interactive ways, can precipitate a large amount of data to meet advertisers' expectations for social media marketing realization.
And the total number of users of the microblogging platform has exceeded 600 million, daily active users reached 93 million, the impact is still not small!Everyone has any questions about fan communication welcome to leave a message in the comments area, you can also leave a message directly behind the scenes.At presentTitanium platinum new media has been a micro-blogging fan-to-people partners, we have business needs welcome to harass at any time!
Or familiar with the taste, the original Shang Dao micro-marketing officially named titanium platinum new media!
Click directlyCheck out the great articles
Titanium Platinum New Media / iTable

(Original Shang Dao Micromarketing)

ID:shangdao999

The world's leading new media marketing planning agency

Provincial Guang shares (002400) member enterprises

For dozens of listed companies to provide new media marketing services

Tencent Wide Point Pass . . Official Certification of Weibo . . Micro-merchant partners




Shenzhen . . Guangzhou Beijing Shanghai . . Changsha Hong Kong Singapore.
---