Big War 2.0: Google, Facebook and Amazon are all eyeing the field
Perhaps it should be said that the war between the giants never ceased.

Google-owned YouTube recently began asking creators to use YouTube software to tag and track products in their videos, according to Sina Technology. The data will then be linked to Google's analytics and shopping tools.
As you can see,Google's goal is to turn a large number of videos on YouTube into a vast catalog where viewers can browse, click and buy directly.
For months, Google executives have said YouTube will be at the heart of their e-commerce strategy. In a recent earnings conference call, Google CEO Sandal Pichay said a flood of popular "unboxing" videos on YouTube could be turned into a shopping opportunity.
For Google, the high-quality internet reds and their own brands that have gathered on the YouTube platform have built a complete business chain. Super Net-a-Go's PwDie Pie, for example, accounts for about 85 percent of his $8 million monthly income.
Also in May, Facebook launched a new e-shopping platform, Facebook Shops.
Mark Zuckerberg, Facebook's chief executive, launched the new software in a live broadcast. He believes the platform is effective in helping businesses struggling during the outbreak. "Our goal is to help them improve customer viscosity, whether it's micro-stores or global brands, and connect with their customers through our APPS."
Facebook has an unlimited vision for the AI market for the future of shopping. Manohar Paruri, the company's AI director, says some giant retailers are now able to offer customers 360-degree panoramic views and detailed catalog information online, while Facebook Shops aims to provide technical support to vulnerable small businesses so they can do the same.
All of this seems to have touched the cake of e-commerce giant Amazon.
But the reality is that Amazon has long seen the potential of live shipping. In April 2019, Amazon Live launched its live service and announced that it would be available on all sites around the world this year.
Google, Facebook, the former advertising giantsOne big logic to follow is that video traffic can be converted into deals.At this point, Chinese companies did it earlier.
Back in 2014, Alibaba had not yet acquired Youku, which introduced a "buy while watching" model similar to youTube today. At that time, the news is that Ali's marketing platform Ali mother will be through data and technology, to support Youku "watch while buying" and potatoes "play" and other new video marketing models, while helping merchants to carry out data operations, reduce video delivery costs.
Since then, after Alibaba's full acquisition of Youku, continue to promote the buy-to-see model, but the sales effect is not obvious. There are two reasons: first, mobile payment infrastructure has not yet been completed, and second, some people think that the e-commerce scene is not suitable for embedding in long video.
But Alibaba has not given up. In Alibaba's strategy, investment in entertainment is aimed at pursuing longer-term goals. In fact, Youku and Ali e-commerce platform has been in the process of open. According to the 2019 Alibaba Global Investor Conference revealed that the overlapping users of Taobao buyers and Youku paid members, accounting for 12% of Taobao buyers, this part of the overlapping users of Taobao customer unit price, is 2.1 times the non-overlapping users, Ali Entertainment has been Alibaba digital economy merchants precision marketing important position.
If Alibaba's buy-to-let is a long-term plan, then live-streaming, such as Shake It Off and Fast Hands, is an important business for the two companies.
According to a report in September, In the first half of 2020, China's live e-commerce transactions amounted to 456.12 billion yuan, and the full-year trading scale is expected to reach 971.23 billion yuan, pushing the trillion mark.
In June this year, Byte Beats set up a division named after "E-commerce" to fully enter the e-commerce business to address the next step in commercialization after Byte Beats all product streaming advertising and live-streaming revenue reached the ceiling.
And because of live e-commerce, byte beats are touching Alibaba's most sensitive nerves. On October 9th, only small-store items will be supported in the jitter room, and items from third-party sources will no longer be supported to enter the live room. That is to say, Jiyin will not bring their own traffic to Taobao, JD.com and other platforms.
Whether it's Google, Facebook or byte-beating,They're not content with the advertising revenue at the information layer, and they're going to spare no effort to get their tentacles down to the trading floor.And this moved Amazon, JD.com, Alibaba so-called traditional e-commerce companies, it can be expected that the future of this war will continue for a long time. (Fortune Chinese.com)
At Fortune Plus, netizens have published many deep and thoughtful opinions about this article. Let's see. You are also welcome to join us and talk about your thoughts (swipe the QR code below to download Fortune Plus).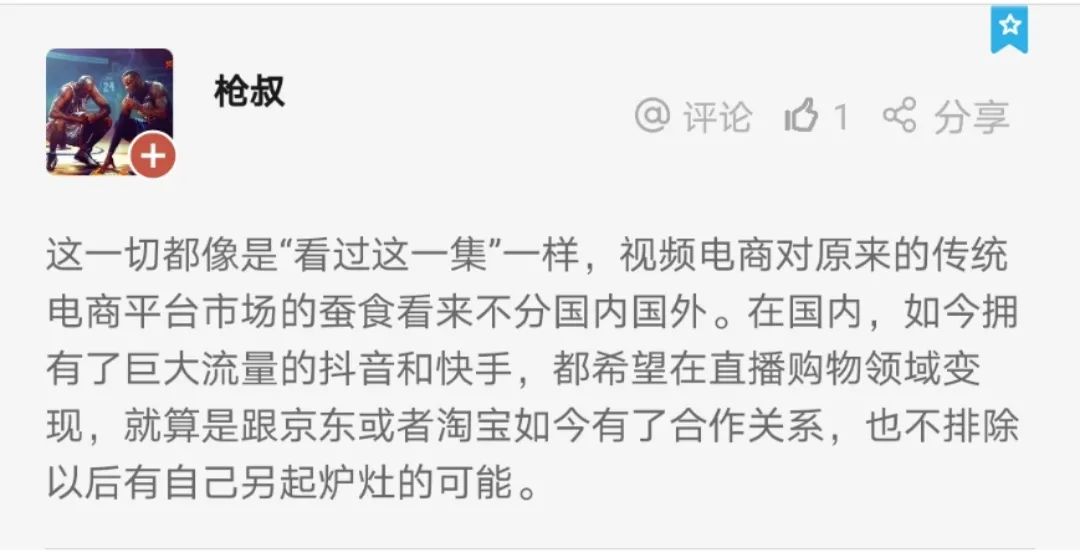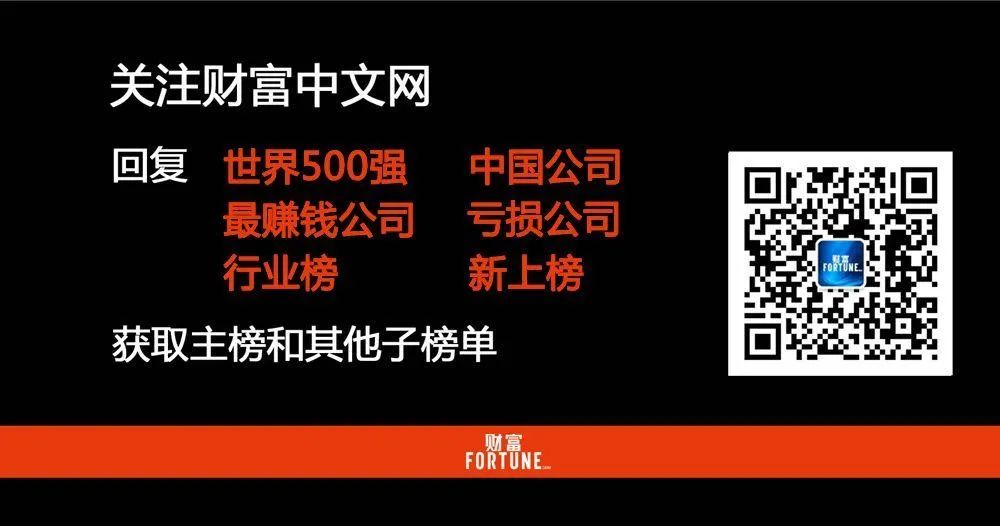 ---