7 mistakes that Facebook ads often make
Click on the top"Shenzhen Topology"Follow us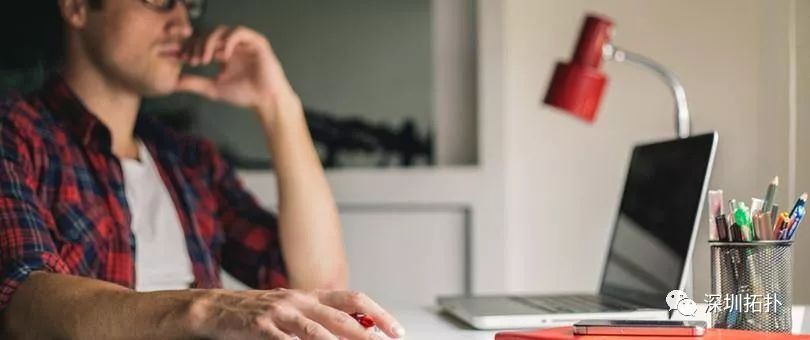 Facebook is known to provide the largest and strongest advertising platform for businesses of all sizes, allowing them to target their target audience.But as a self-made entrepreneur, you'll find that companies start with a lot of experiments, all sorts of mistakes, and a lot of learning, which is more or less frustrating, especially when you're throwing real money at actual output.
Fortunately, most of us make the same mistake, especially at the beginning.Whether your money on Facebook is watered down or you can't make ends meet, we're here to give you Facebook ads that are common (and sometimes expensive)Seven errorsand the corresponding resolution measures.

1. The audience was not studied before the investment
Which do you think works better in advertising?
Ads in front of the wrong audience?
Play a general ad in front of a target audience?
I'll probably put the money in the right audience first.Facebook is a place where diverse audiences gather。 Your audience depends on what you sell. It may be a little bigger, or smaller, or even completely different than your goal. Before you can test specific content, such as ad documents or formats, you must test some audiences at the beginning. But that doesn't mean you can't give yourself a first-hand edge through some well-founded guesswork. A good way to tell if you're targeting your audience is: Don't you bet that those people are willing to pay for your product? (Because that's what you advertise on Facebook)
For example, you might think that people on Facebook who like to drink Starbucks will be willing to buy your specialty coffee, perhaps some will, but the rest of the people who like to drink Starbucks (in fact, more than 3,300,000 Facebook users like to drink Starbucks) will need you to find a market that is consistent with your product.
If you choose a segment product (such as a T-shirt for someone with a harba dog), you're much easier than the owner of a product that doesn't have a specific audience.
The best way to find the points of interest you can target is to think of him as long as you think he's your client:
What will they search for?
Which Facebook page will they like?
What influential people will they follow?
Which apps do they use?
What publications/blogs do they read?
What competitive products have they purchased?
·What do they browse on Reddit?
Explore more and see how much you know about the points of interest that make your product different.If you find a page on Facebook that's relevant to your survey results, like it under your personal account. Facebook will recommend the interfaces that will give you the points of interest you want to target. However, you need to ignore pages that don't have much to do with your purchase intent.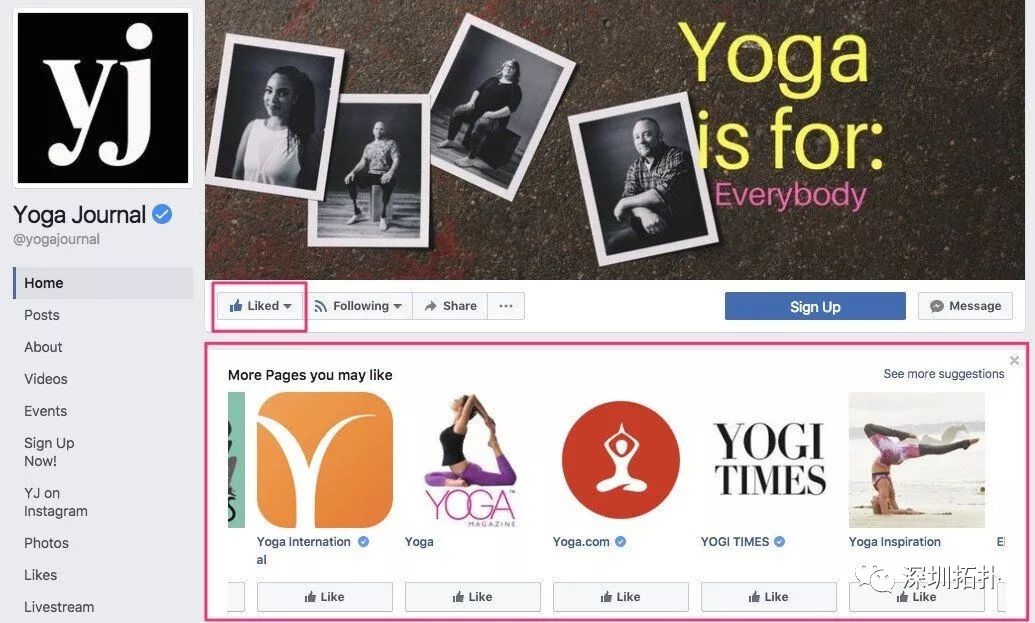 If you're interested, you can also use Facebook's Audience Insights tool to brainstorm your interests and qualities, and if you're interested, you can use it to gain insight into how your audience behaves, sells, and more.
2. The target audience is too large
Regardless of the platform, paid advertising has a common mistake: the target audience is too large.
You might think everyone is a potential customer, but you pay for them by the number of people you reach, so why spend your money on non-potential customers?
For many e-commerce companies, if the audience can reach it500000To.1500000between already on a good scale.
If your audience is too large, you can try to narrow it down based on "must match" interests. If your audience is too small, you can try adding interest to create a larger user base until you can find the perfect balance.
3. No patience
For any type of paid ad, if you don't get a certain result right away, you'll feel like your money is floating. There are times when you have to control your ads and make adjustments to optimize them so that they get better results as quickly as possible.
But collecting user data and gaining insight into the nature of the customer is the most critical thing, especially in the early days of advertising.
That's why you need to know clearly.How much do you really want to spend to get a customer?"The reason."
Now let's say your product costs $17 and you sell it for $50. This gives you about $33 in your hand to acquire customers and achieve the goal of making a good money. In the beginning, even if you're over budget, you'll be willing to spend money on test audiences and ads.
Try not to suspend your ads, change them, or make any other decisions until your audience reaches 1,000。 Because by this time, you already have enough data to at least get some information from the performance of your ads, even if they don't bring you any sales.
In addition, another impatient form is that you don't give Facebook a chance to keep up with the situation. This can ultimately have a bad effect on the performance of your ads. If you didn't install the Pixel for Facebook (this one in yours).Shopify The store is very good to operate) you must install. Facebook's advertising platform will be usedPixelto track and understand the situation, and change targeting based on the performance of your ads.
For example, if you set your campaign's goals to be optimized from the start based on purchases, Facebook might not know the characteristics of the "buying" customer when your sales are 0. But when you have more sales, your data becomes more intuitive.
4. The elements you want to test are not stripped from the other elements
In marketing, we often underestimate the importance of in-depth knowledge of our customers in pursuit of results. While we strongly recommend experimenting and testing with your ads, you can only really learn if you control variables.
Test different audiences at different times, and each audience looks at different ads, and even if you occasionally find something that will make your ads work better, you won't be able to measure much. Is it because of the audience? Is it because of the ads? Is it because of the timing of the launch? Or are several factors together?
Try to control the variables as much as possible, testing only one factor at a time, so that you can conduct the next experiment according to your guidelines after one experiment. Especially at the beginning, you should test the customers you're targeting at the ad set stage.
You have to rememberAd management system accountYou can change and test the content at each level of :
Campaigns:You have to be optimized for the goal. Facebook will optimize your goals based on your purchases, depending on how you add to your shopping cart.
Ad groups:The audience you're targeting, where you're looking, your ad schedule, how you're optimizing it, and more
Ads:Creative formats, papers, links, parameters, etc
5. It doesn't drain the value of the ads you run
Even if your primary goal is to get sales, it's not the only reward you get from advertising. In fact, you can get more value from a "failed" ad to attract customers.
You can:
Collect e-mail from your site's visitors
Get more likes and comments on your posts and create social proofs for your ads.
Interact directly with those who comment on your ads to help them make purchases.
Reposition your site visitors as future "hot traffic" for your site
Set up an e-mail sequence so you can recover any shopping carts that are not checked out.
Invite people who like or interact with your page's posts to "like your Facebook page, too"(Just click on the interaction on the post.)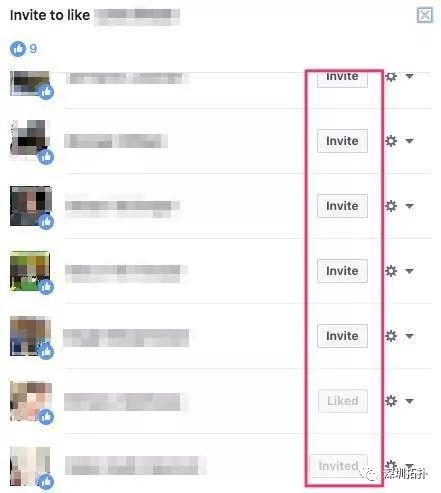 You can also get a clear understanding of the customer from paid traffic, which is how much money can not be exchanged.
We strongly recommend that you set up Google Analytics and Hot Jar (both free) and understand what traffic is really doing on your site. This helps you determine what the problem is, your audience, page layout, or other reasons.
Hot Jar, in particular, is really useful because it gives you a visual idea of how traffic behaves on your site: how much information visitors have viewed the page before leaving the site, what content they clicked on, and actual personal visit history.
6. Don't optimize your ad creative elements to get more views and attention
Once you've identified your audience, a good creative element of advertising can help you change the way your ads work. Good ads may vary, but here are some great ways to help.
Each picture, each copy has a highlight, or a thumbnail of the video to catch the eye.
Try using some emojis to add a little personalization and visualization to your copy.
Each.Serve adsTime to collect some social proof (likes, comments, shares) that will make your ads better and better.
You can use links to increase visitors' chances of clicking on the page by adding product tags. (You need to create a Facebook store, which you can do with shopify)
Try different ad formats in one ad set. As we all know, Facebook has an advantage in the video ad section, so you can try video ads more.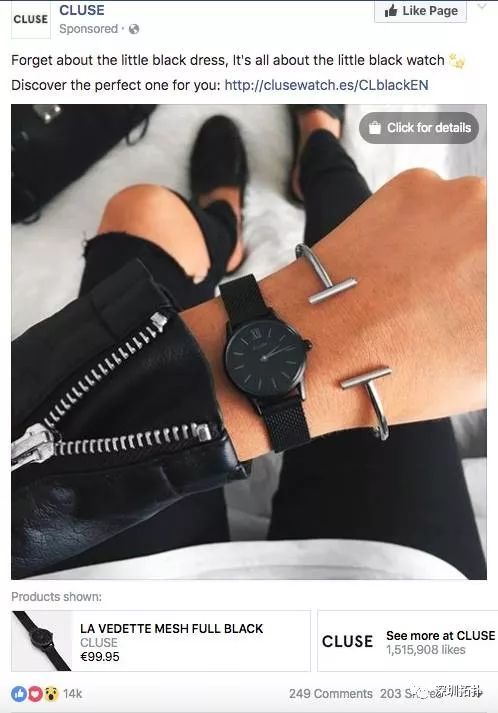 If you want more advertising inspiration, be sure to check Adicted.io ad gallery.
7. I didn't give everything you knew
Facebook's ad manager is so complicated that many features are lost. This is especially true when you want to find out how well your ads are performing to gather comprehensive information about your visitors.
For example, in your ad manager's default bar, you don't see information that's really useful to you, so you'll want to customize one column to get additional information.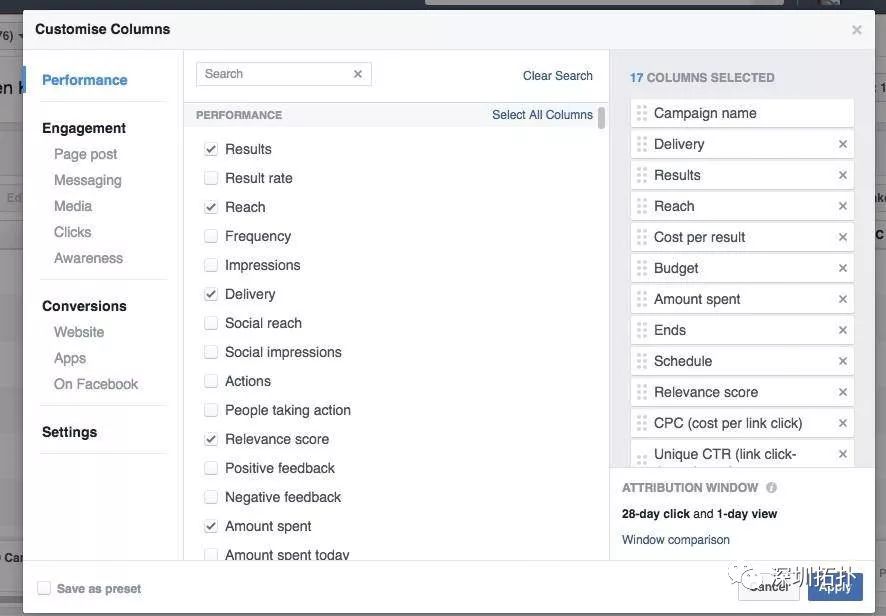 You can try adding these, or you can try adding other things that you find helpful. This way you can better understand how your ads are doing.
Here are the Facebook ad data metrics, which you should back up with all the data metrics and what they mean:
· CTR (click-through rate.)): The percentage of people who click on an ad when they see it.
·Cost-per-click(Cost per click): How much did you spend on each click?
·Website Purchases(Web purchase.)): The ad brought several payments
·Website Purchase Conversion Value(Total value of web purchases): The total value of the purchase brought about by the advertisement
· Frequency (Frequency): The average person can see several ads. Sometimes you'll find that your ads are significantly less effective because Facebook just gives a person the same ads several times.
· Reach (Coverage): How many different people (no duplicates) have seen your ads.
·Relevance Score(Relevance score): From your first 500 ad impressions, how relevant your ads are to your target audience. (This has a big impact on your advertising costs)
· Budget (Budget): The amount you put into your ad collection every day or in full
· Cost per Result (cost per result): How much did you spend to achieve your campaign's goals?
· CPM: Thousands of costs。 How much do you spend for every 1,000 ad impressions you make?
You can also use the Segment option to analyze ad performance based on a variety of factors, such as the devices sold and the impact of gender on ad results.
You can also standardize, effective naming conventions for ad management accounts at each level, which is simple but useful.
In this way, you can see at a glance your target audience and what you're testing.

What did you learn?
It may take a while to really master Facebook ads, but Facebook ads are, after all, one of the most effective ways to spread the message, and it's worth it to invest in them and learn from other people's experiences.
So what did you learn from your ad? Share it with us in the message area!
Click on "Read the original text", check the original dry goods
---