Dry goods . . Practical tips for solving the three common problems of Facebook advertising
Facebook is one of the most advanced ad management platforms in self-service PPC (pay-per-click advertising). There are many campaign goals, each with its own best practices to follow. This provides incredible specificity. But for new marketers or people who don't visit Facebook's business management platform very often, it's going to be overwhelmed.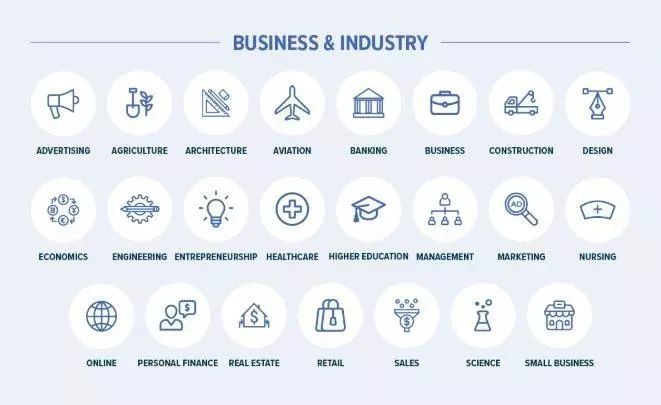 Just choose the industry will start to be overwhelmed!
To alleviate these problems, we'll list the three most common issues advertisers have on Facebook and provide effective response strategies:
Facebook ad schedules or slots

Ad-turn settings

Campaign Budget Optimization (CBO)
1. Facebook ad schedule (time slot)
As marketers, we all know that we need to pull all the levers to the best position to maximize campaign performance. Searching for the best time period is a simple and effective way to leverage. But in Facebook ads, it's not easy.
Your ability to schedule ads on Facebook is actually directly influenced by budget choices - daily budgets and lifetime budgets.
If you want to set your ad delivery time, you'll need to select a total budget. Advertising is not allowed on a daily budget. Once an ad is published, you cannot change from a daily budget to a total budget. So if you need to schedule ads by schedule or time, you'll have to create a new campaign with the entire total budget.
When you select the total budget option in the ad group builder, you'll select the ad delivery time option below.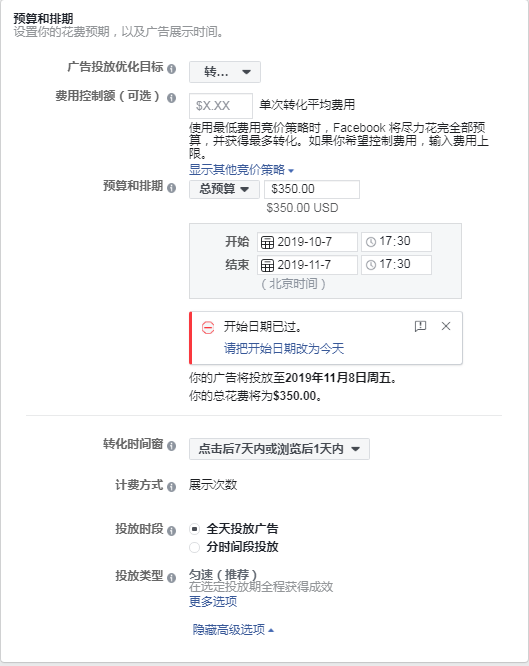 Then, a builder opens where you can click on the desired ad run time. The time your campaign is running will be displayed in blue.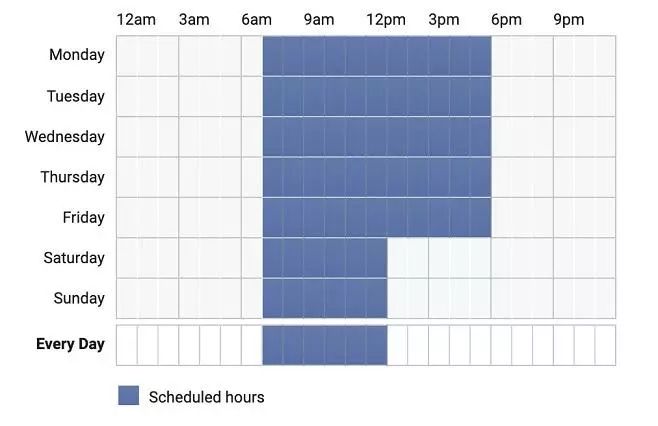 Here are some quick steps. If you want your ad to appear every day for the same hour, click the daily line. In addition, if you want to select a time period, you can press and hold Shift to tap one space and then another (at least on Mac).
2. Ad rotation settings
The first thing I heard from Facebook advertisers was that the ad rotation was uneven. In most cases, social advertisers have a search experience, so we're used to using the following options in campaign settings:

On Facebook, we're constantly testing ads like this:
Facebook determines early in the test which ad it thinks works best, and it shows better ads than other ads, regardless of how well the ads actually translate. The image above is not the worst example I've ever encountered, and there are serious problems:Facebook doesn't choose the ads that I think have the best results with higher click-through rates and lower cost per conversion.
So, in this case, what can we do? Enter the split test.
The Setup of the Facebook Creative Split Test is simple and similar to the Google Ads Campaign experiment. We set up our campaigns in all normal ways, making only changes to our creatives. At this stage, we can select up to five ad variants and test them on average in Facebook ads.
In the campaign creation step, select Create a split test, and then select Creative as the variable to test.

Next, normally create ad group settings. Set up each ad as needed. Each ad appears in its own ad group. You can test up to five ad variants per ad test, so ads will be named from Ad A to Ad E.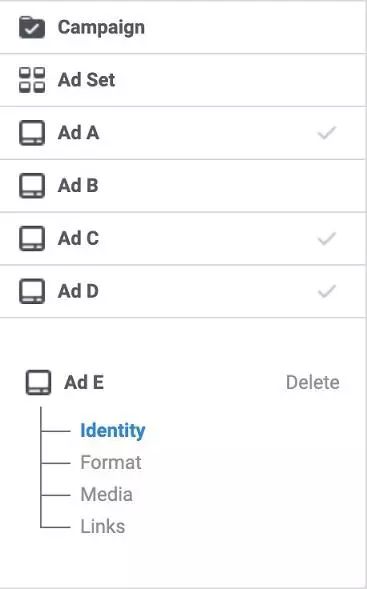 However, Facebook grouping testing is not a long-term solution to this rotation problem, as a campaign can only run for a period of time, which can be a stop-loss point if it is found that it is difficult to count significant winning groups.
3. Campaign Budget Optimization (CBO)
Starting in September 2019, all advertisers will be forced to use Campaign Optimization Budget (CBO) on Facebook.
The main problem advertisers encounter in this update is the fear that an ad group is always allocated the largest share of the budget and ignores a smaller number of ad groups. This is a reasonable claim, but there isThere are two ways to solve the problem: structure and settings.


(1) The restructuring of advertising activities
Adjusting from the structure is the easiest solution, but it's not very elegant.
In Facebook, the budget is at the ad set level. Similar to other platforms, with CBO, budgets will rise to campaign level and ad sets will be harder to control.
If we change the structure of our campaigns, we can easily resolve this issue. This is what a set of three basic ad sets look like:

Now, we have three campaigns, not one, and each campaign has an ad set to ensure that the budget is evenly distributed. Although this solution works and is a good choice for you, for some reason I personally don't like it.
First, it will enrich your Facebook account with a large number of individual ad collection campaigns. Second, CBO aims to real-time adjust your budget share to the best-performing ad set, not just the largest number.
Now, as described in the ad testing section above, Facebook doesn't always choose the "best performing" ads we choose, but CBO has a machine learning component that we'll miss if we adopt a structured strategy.
(2) Budget lower and upper limits
The second option (which I think most advertisers should try first) is to use the minimum and maximum ad group levels in CBO campaigns.
When you set up your ad group settings, scroll down to the Creator's Budget and Schedule section. There, you'll need to click the show advanced options blue text.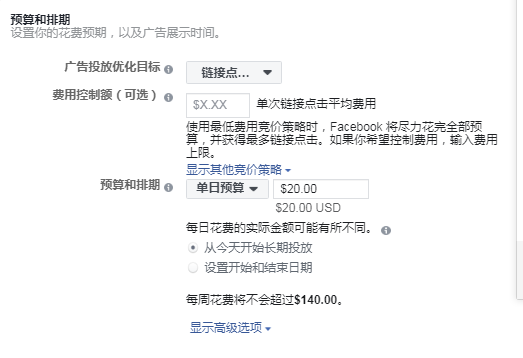 This opens more settings, the first of which is Ad Group Spending Limits. Click the blue "Add spending limits to this ad set" text, which opens the editor below: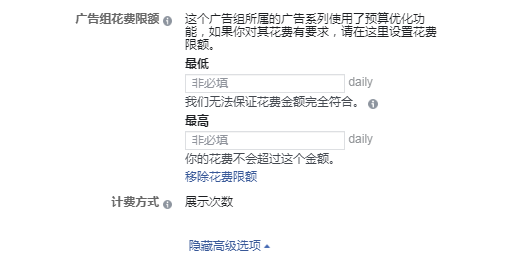 Now we can set a minimum or maximum daily spend for that single ad set. There are several ways you can use these settings to achieve balanced spending in your ad set.
Here are two examples, but before I get here, I'd like to add a disclaimer: Overall, I caution you not to use the minimum and maximum values to indicate where 100% of your campaign budget will go. Instead, I recommend that you spend 75 percent of your spending on these rules and let Facebook choose the other 25 percent to balance your control while still allowing Facebook to optimize in real time to some extent.
(3) Now let's look at an example:
Let's say you want all three ad groups in a to run evenly (or as closely or evenly as possible). In this case, you can divide the total budget of your campaign by three, and then set the minimum amount for each ad group to that amount to ensure that you spend evenly each day.

You may be most concerned that one specific ad group will take up all of your budget, but other ad groups will keep their balance. For one ad group, perhaps you set a cap on a portion of your campaign's budget, and then let all other ads run at the rate set by Facebook.
If setting a minimum and maximum value doesn't produce the results you want, and you still see ads being spent in the wrong ad group, you can turn to the campaign structure changes above to achieve your goals.
(4) CBO crawl
CBO has one drawback: it cannot be used with split testing.

At the moment, we have to keep ad testing and budget optimization separate, but I'm guessing that in the next few weeks and months, Facebook will find a way for advertisers to continue using both tools.
Let these Facebook advertising strategies work for you
Facebook is a great advertising platform, but it can be confusing and frustrating if it doesn't do what you want. Hopefully, these three strategies will help ease some of the common annoyances and re-focus on optimizing your campaign, not just doing the basics.
---
Source: WordStream
By Michelle Morgan
Translation: Shenzhen Topology
---