4 powerful Facebook ads

Little Welfare: Follow WeChat Public Number and reply on WeChat Public NumberDry."Two words, you can get CCMO carefully prepared for you a number of sets of Internet marketing dry goods and industry reports.
CCMO Information Team Translator: Ma Xianhua Reviewer:Yuan Shuai 
FacebookSome problems have been solved: many times, we can not leave this platform.
As users spend more time in the information flow,FacebookContinue to expand into new areas, which will open up a whole new and targeted behavioral ecosystem.
This trend has been participatory from now onof theRemarketing begins.
Unfortunately, this data is still greatly underestimated on many accounts. They canIs.A gold mine that can be used not only for marketing, but also to create similar audiences and mobile users through sales channels.
You can target them before they visit your site.
This is very effective for brands that have a lot of social interaction, as well as those that don't micro-convert on their sites, don't meet standards, or any other target page that challenges real-time or similar audiences.
Let's take a look at some of the most powerful features you can use from now on.
Where to find engagement options
These options are all located in the audience portion of your ad management system.
Create a new Custom Audience, and then select"Participate" as your option: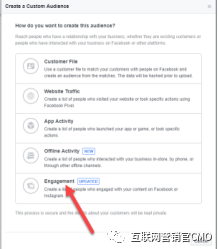 Click on this and you'll find that you have to be based on themFacebookAction to lock in your choices.
Option 1: Video behavioral re-marketing
In.In the Participate option, selecting Video gives you a small screen with a down-and-down list to choose from: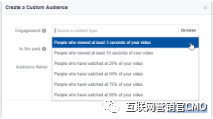 Once you've selected the behavior you want to create an audience for, you can also choose the length of time you want to include, and then select itSpecified.video。
Why thisThat's great? Because you can create content based on what users seeList.。
Suppose you create a user that they are inCreate ideas25% of the action videos were viewed. You can then track it using the wheeled ads of the tools shown in the video. Or, if you want to advertise more, you can show No2and then present according to the sales focus.
When you build the audience of your choice, you can also create a similar person。 That way, when you give Facebook more data, it finds other users in your target presentation who are most likely to watch your video, making the goal more accurate.
Option 2: Direct your ad engagement
Guided advertising is a great way to do it at a relatively low costEstablish.Your e-mail list.
These ad elements allow users to submit their names, emails, and many other content without having to leave and log in.
There are several options based on interaction with your ads:
This may lead to some scenarios.
You can open the form to the userTwiceMarketing, but not submitting, or you want to test a re-marketing ad for people who open and submit more sales-oriented promotions.
It's also an excellent opportunity to create more like you canguide with him: Create a similar oneAudienceOpen and submit the form from the userthe user of the user.
Option 3: Page participation
This name is a bit misleading, it references your page, but it actually applies to ads you create or messages sent to your page:
If you tend to socialize a lot in your articles, this is a great way to continue to communicate with people who spend time with you. The option to interact with the user who sends the message to the page is also attractive because it happens to have the option to drive the ad to the user to start the conversation.
One of the most important things on my wish list is associated with this particular option, which you can read further.
Option 4: InstagramBrief introduction.Interaction.
This option is a good crossover, especially for those who may have healthInstagramFans of the business, but inFacebookit's hard to replicate.
It's likeFacebookThe page options on are the same, which allows you to base onFacebookbehavior to create an ad.
It's also very effective for brands that focus on pictures, such as clothing, to allow them to be thereInstagramuse their fan base to drive their messaging and targetingFacebookon.
Coupled with other interests, you can combine goals, such as a lookSimilar.of theThe audience's interestsplus makeup brand ads.For example.
The right to choose
Here's what I want fromFacebookThe three options you see above!
Ability to choose which part of the content/Which position you want to create a custom audience when it comes to posts/Advertising. Now it's only available for every post, but if advertisers can choose what people have already watched, there's a lot of potential for content targeting. We can select specific videos and we want to create an audience around us, so I hope this option will be extended to posts/Advertising.
Based on the user andpostOr.adthe ability to interact. Do they like it??Do you like it??Any comments on this?Many screenshots are based on users sharing your contentbetaTest, so I think they're making this choice, but it's going to be a very cool choice!
 An interface that categorizes or tags content, so you can create larger groups. So you might tag things based on "how to serve" or "sales messages," and then you can easily send messages that you know what consumers will be interested in.
Overview
In factFacebookAll the data show that the sky is limited. The options listed here(and other options)It's already powerful.
Test them, find the best approach for you, and be ready for new iterations that will certainly appear!
Introduction to Translators
Ma Xianhua, has been engaged in heavy industry machinery industry Internet marketing work, good at Google SEO, content marketing, content marketing and SEO hands-on practitioners, data analysis enthusiasts.
Introduction to Review
Yuan Shuai, network marketing, search engine marketing operation origin, CEAC national information computer education certification: network marketer, SEM search engine marketer, SEO engineer, focused on Internet data analysis and operation, is now the network business partner, operations leader, trade promotion association - today's exhibition membership alliance VIP personal member, Friday coffee media club launch partner, Internet data officer iCDO original author, Internet marketing officer CMO original author.
About Internet Marketing Officer CMO
Internet Marketing Officer CMO is a non-profit organization, committed to building the leading Internet marketing field talent exchange and discussion platform, located in the field of Internet marketing to help each other, and jointly grow into the Chief Internet Marketing Officer (Chief Marketing Officer).For the future Internet marketing officer CMO to provide the Internet marketing industry's latest cutting-edge marketing dry goods and industry information, covering the field of Internet marketing SEO, SEM, PPC, Net-a-League marketing, EDM marketing, Red Man marketing, big data marketing, scene marketing, O2O marketing, event marketing, viral marketing, word-of-mouth marketing and many other Internet marketing methods and means.
Internet marketing officer CMO is currently growing, welcome to the Internet interested in small partners to join this warm and loving family, to understand the registration stamp:Internet Marketing Officer CMO recruits volunteers
---