Zero Basics How to Self-Learn Google Adwords (Google Ads)
Zero Basics How to Self-Learn Google Adwords (Google Ads)
Make up for a tweet you owe today. Document how I've been forced by life to self-tinged Google ads for months.
The first thing most people hear about search engine advertising is to learn to write code. Search engine ads, don't write code! It's the equivalent of google developing a platform to advertise to you, you just have to use it. As for how the algorithm shows your ads, how you review ads in the background, and so on, that's what Google's internal engineers do. In fact, think about it differently and you'll understand. If you're the boss of Google, and 90% of your company's revenue comes from search engine ads, you're sure you shouldn't design the platform for advertising for three-year-olds. So Google Adwords' platform is constantly being re-versioned, with the goal of becoming more and more user-friendly. Forced code optimization ads are also useful, the kind of high-level game to deal with a large number of ads. And really not with code optimization ads can have better results, Google algorithm changes from time to time, your fate is likely to be in the hands of Google programmers.
How does XiaoBai tring himself into search engine advertising? As far as I'm concerned, I mainly watch the net class to learn. There are two recommended online lessons:
Google's official teaching - Academy for Ads
Yes, Google has come up with its own set of tutorials for search engine advertising. It's all free. Not to watch the video pure listening class kind, but directly in a simulation interface hand-in-hand guidance, afraid you can not learn. You can also get Google's official certification certificate when you finish your studies. Really, Google doesn't make money who makes money. Since it is official, it also means that the advice he gives you is very authoritative. It allows you to take fewer detours and avoid being fooled by various agency and nonconforming tutorials.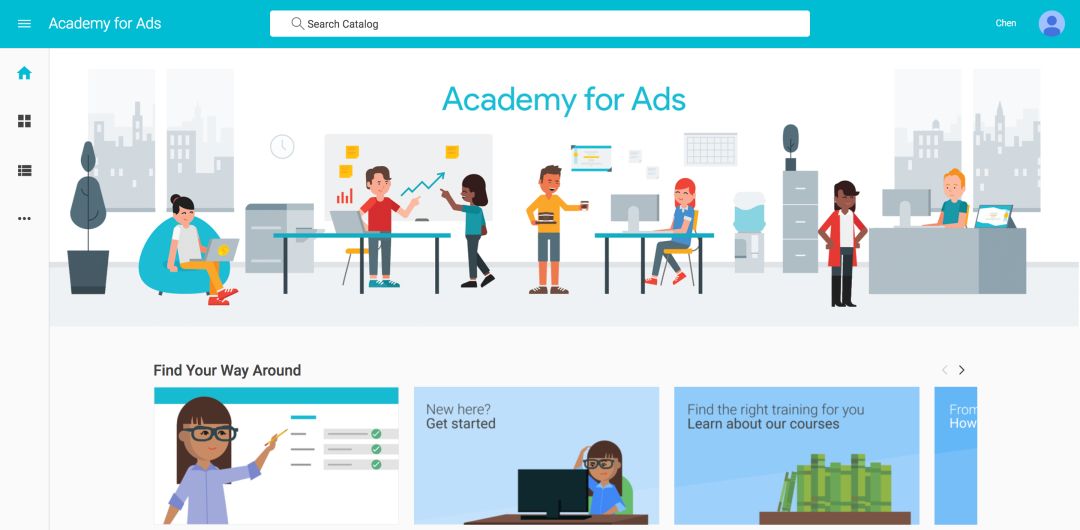 Udemy Web Class -Ultimate Google AdWords Course 2017–Stop SEO & Win With PPC!》




Look at a lot of Udemy online classes, this course is my favorite one! No one! This teacher is super charming, look at the net class will be the kind of mouth up. A lot of times want to learn a skill knowledge to a variety of resources to see a lot of online lessons to piece together a perfect knowledge plate, for example, I have seen several sessions of social media marketing. But to learn PPC, really only need to see this course is enough. This teacher really didn't give me advertising fees haha. (Ps: PPC is an acronym for price per click, and search ads are essentially pay-per-click) But because the content is very all in one, the online class is also very long. And the best way is to follow the net class a little bit of real practice digestion, anxious to pull the progress bar to finish the class is actually anxious to eat hot tofu. I was learning for more than two weeks, and now there are some questions to think about whether to go back to review this net class.
The whole lesson is shallow and deep, so the last little chapter will cover a little bit of code. Google ads do a good job, very core is keywords. So the All about keyword and the Nagetive Keyword chapters are very detailed. Google's ranking algorithm-related content is also easy to understand. In short, this course official website full score can only give five stars, score I really want to give ten stars.
When the theory is finished, it's in practice. At this stage, you can feel what a perverted google is. Google: I not only to develop the best use of advertising platform, I not only to provide you with free of charge a variety of online teaching, I also want to directly door-to-door to you to do advertising optimization! Is it a face of ???
As long as you sign up on Google Adwords to start running ads, you'll be able to get a call from a Google website advisor in a few days. Of course, I also registered on a station director platform, the result is a bunch of inexplicable intermediary agents to call me to sell products, so just started to receive the phone call I am very calm.
When I first picked up the phone: Did Google's official staff call the agent? Well, I guess it's just selling products under Google's name. Later on the phone opposite the little sister said, account some to adjust the problem needs to help me get, let me from the background recognition to add administrator rights. Me: It's a bit of a push, it's really Google officials who can get backstage to the program.
Granted permission after the little sister looked at my set of ads, directly gave a piece of advice, this keyword bar, this area of the scope of it, a list, put me directly listen to the dragonfly. This product is not sold, just give me advertising optimization advice? It became clear later that the first three months of using Google Adwords for the new account, there would be a dedicated consultant to guide you on how to create search ads step by step and give advice. You can also send e-mail questions at any time after the e-mail interview. And within three months, as long as your daily budget reaches more than $26, that is, about $780 a month, there will be Google's professional search engine optimizer to give you free search ads optimization. So start-ups don't be fooled by all kinds of agents to advertise a bunch of money! Google's official free service for three months! This company, really no temper, do not accept can not.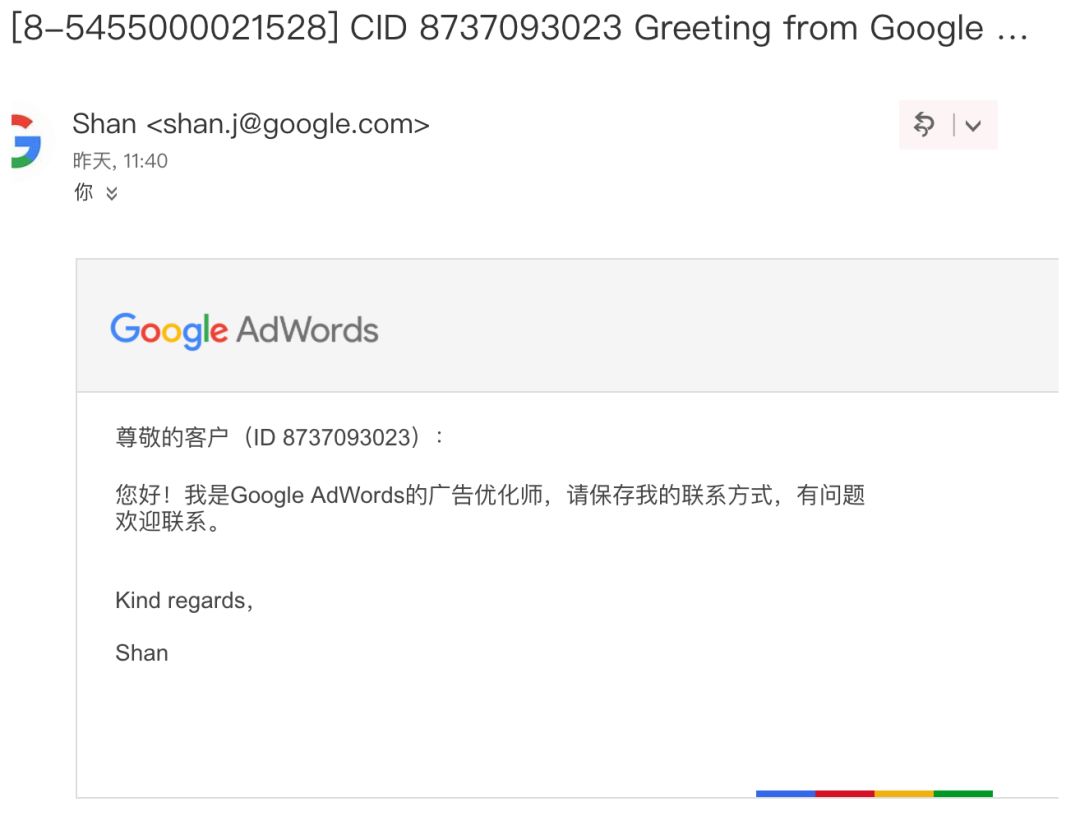 Basically, after the network class multi-operation, do exercises, have the opportunity to communicate with Google ad optimizers, Google paid click ads is really not difficult to learn the same skills. Finally attach some tips to count the pits I've learned PPC to step on over the years.
Regional and currency selection is important when Google Adwords registers!
Google Adwords needs to submit options such as website URL, region and currency before registering for the first time. The first time I looked at the Internet class just want to operate casually, when the scientific Internet tool (everyone understands) is using Japanese nodes, so Google's default address is Japan, the currency is yen. I made a direct confirmation that I didn't care. Results into the interface only to find that these two settings can not be changed! The direct transaction failed after the credit card verification charge was deducted and my number was sealed. The complaint was invalid on several occasions. Only one number can be reopened. In fact, theoretically reopening the number can not be used, or there will be records will be found out. So the Google consultant mentioned earlier came into my interface from the background to solve the problem. She asked me what happened to my previous account, and I said I was using a scientific Internet tool, and she knew hahaha in seconds.
Once the ad is new, it needs a learning cycle
An ad Google's algorithm takes about a week to learn. The new ad will probably take about two weeks to see some data trends analyzed. So every new ad needs an opening cost! That is to say, in the first week, Google's algorithm has not learned your ads well, the cost per paid click will be very high, very unstable. Chances are, you'll only get a few dozen clicks, and a few tens of dollars will be gone. That's all in your cost, google withholding money from your account. Don't be square at this time, after a week of stability will be much cheaper! So say an advertisement run up since not easily turned off, every re-open, need to learn again, very wasteful money.
Generally a country a campaign; small ads ad group 10-15 keywords
This is the advice given to me by the advertising optimizer I know. Google ads have three levels, the campaign below the ad group, the ad group below the ads, as well as the keyword settings inside and so on. General long-term stable advertising group suggested that a country divided into one, later data on better analysis. 10 to 15 keyword settings in each ad group is enough. At first I set up dozens of them and was advised by the ad optimizer to correct them. There are a lot of keywords in the case of the udemy lesson mentioned above, but that's a big ad with a big budget. A small ad with 10-15 keywords is enough. It's like you're only giving dozens of dollars a day to Google your brain to learn, but you give a list of knowledge that's been around the earth for a week to learn, and the end result is that you don't learn anything well, and you're going to run ads indiscriminately.
That's pretty much the learning history of search engine paid clicks. This article is a record of the journey. Does not contain any knowledge-based teaching. Really want to learn friends or start from the net class, step by step. Just read this article, pack you can't learn Oh.

---