Your WeChat was monitored? Official disinformation! That's how personalized ads appear in the circle of friends
Just sent a message to a friend to discuss want to buy a car, in a blink of an eye on the APP saw the sale of car ads, I think many people have encountered a similar situation. Therefore, some people worry about whether the developers of mobile APP are monitoring the user's chat history, otherwise how can we do accurate push?
Recently, there was a short video claiming that "WeChat is listening to your chat history" and teaching the so-called "one-minute off" trick in the video. So will WeChat really listen in on users' chat history and push related ads?

WeChat disinformation: users' chat history will not be monitored

On June 1st, Tencent's WeChat team said that the chat content belonged to the user's communication secrets and personal privacy, according to weChat's official rumor-filtering platform.WeChat does not monitor users' chat history, and Tencent does not push ads by monitoring users' chat history.
Tencent's WeChat team noted that there was a short video claiming that "WeChat is listening to your chat history" and teaching the so-called "one-minute shutdown" trick in the video.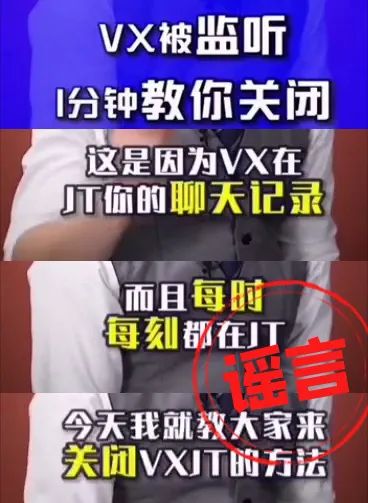 Tencent's WeChat team says the so-called "push ads based on chat content" is a typical "graft" rumor that Tencent's ad serving tags are aimed at user groups rather than individual users, and that all ads are encrypted. Ads on WeChat are based on the user's legal authorization and Tencent's data technology support, which can protect the privacy of users.
Tencent WeChat team also said that listening to, monitoring users chat and push ads, WeChat is never done, in general, advertisers will choose to put ads to the target audience, usually a very wide range of people,Therefore, it is easy to see that the ads received by users "just happen" and their daily chat / browsing content similar coincidence, this is not "listening, monitoring" user chat, but a normal probability event.

How personalized ads appear in your APP

It is understood that personalized advertising is a common mode of Internet advertising, that is, the platform for users' browsing preferences, usage records, etc. to collect and mark, form a portrait of users, and accordingly for advertising.
So, is that how personalized ads appear on your APP?
According to Tencent WeChat's "How Tencent Advertising Works", in the usual delivery process, advertisers provide advertising content and select the target audience they want to reach, such as a mobile game advertiser who may be targeting the "male, game-loving" group.Advertisers can't see or get any user's personal information, they can only select the type of group they want to reach, and Tencent's advertising system finds the target audience that meets the advertiser's needs based on the user's image and shows the target audience.
"How Tencent Advertising Works" reads that user portraits usually include information that the advertising system fills out when users sign up for WeChat services (such as gender information when they sign up for WeChat) and behavioral data generated when using Tencent services (such as reading information articles) to speculate about the user's possible interests and hobbies. For example, if a user has a gender of "male" when registering for WeChat and has logged into a mobile gaming account with WeChat authorization, Tencent's advertising system may determine that the user belongs to the group of "male users who like to play games". Tencent will only use the resulting user portraits for automatic matching of advertising systems and will not provide personal user portraits to any third party.
The picture has nothing to do with it. Photo credit: Photo.com

According to the Southern Metropolis Daily, experts have said that Internet companies in order to legal compliance, to avoid user portraits and real personal correspondence, all the tags will be hit to a mobile device ID, rather than mobile phone number or ID number can identify the real ID, and users with the same tag will be divided into the same category. When running ads, Internet companies target ads to specific target audiences, not specific individuals, based on their mobile device IDs.
It is worth noting, however, that in the process of forming user portraits, users often do not know which of their actions are extracted labels and have no control over them.

Because personalized ads
Google has been fined 50 million euros

In fact, as early as 2019, Google, the US internet giant, was fined 50m euros for personalised advertising.
France's National Committee on Information and Freedom of Information triggered Google becauseGoogle does not properly disclose how it collects data through services such as its search engine, Google Maps and YouTube to display personalized ads.
This is in violation of the data privacy provisions of the EU General Data Protection Regulation, which came into force on 25 May 2018.
This penalty should attract the attention of domestic Internet companies - too precise advertising push, not necessarily a good thing.When organizations use advanced big data and algorithmic technologies to try to "understand" you more, it's important to consider whether such precision services exceed the user's legitimate expectations and make them uncomfortable and disturbed.
The Security Code for Personal Information in Information Security Technology stipulates that where a personal information controller uses personalized display in the process of providing business functions to users, it is advisable to establish an autonomous control mechanism for the personal information (such as labels, portrait dimensions, etc.) on which the user relies for personalized display, so as to ensure the user's ability to regulate the relevance of personalized display.
EditHe Xiaotao Xiaoyong

Daily Economic News Integrated Microsal "Rumor Filter",
Southern Metropolis Daily, News, etc

---