Xiaomi was scolded on Japan's Twitter hot list for talking about the rollovers.
Domestic just because a senior executive on social media posted "can shoot the opposite goddess dormitory" this kind of vulgar marketing controversy Xiaomi, and in the Japanese market accident!
Xiaomi Japan video ad controversy (VIDEO)
Recently, in order to promote the Redmi Note 9 series of fast-charging performance, a new video ad, because the mushroom cloud elementcause of the Japanese netizens caused a huge discomfort, it is insinuated the Hiroshima nuclear explosion. The promotional material caused Xiaomi, who had just entered Japan, to face a larger cultural conflict, and Xiaomi had to publicly apologize on Twitter.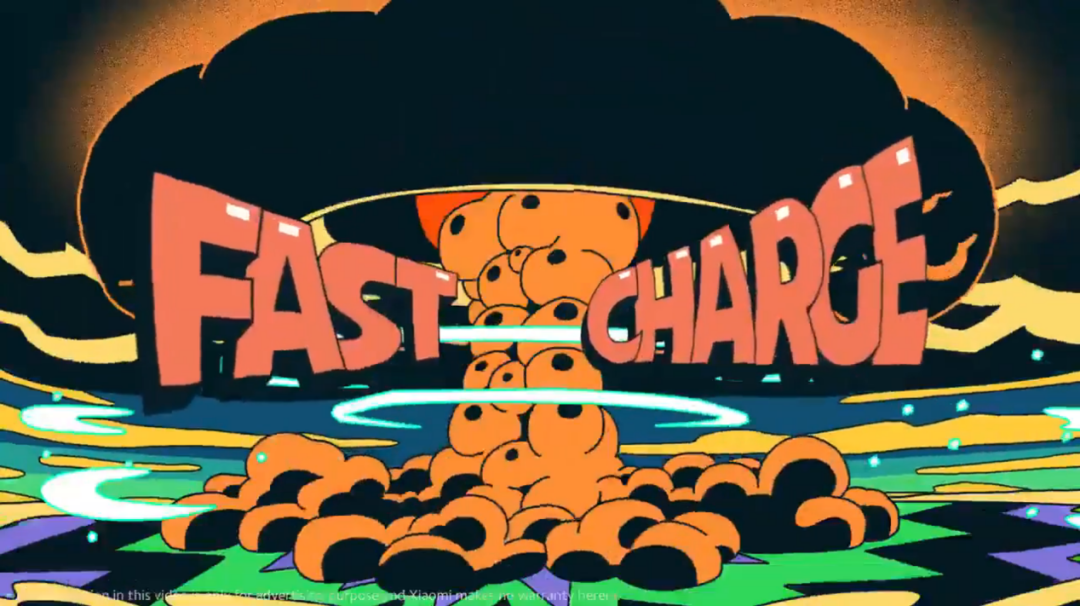 Mushroom cloud elements spark Japanese netizens to reverie.
You can see in this ad there is Japan's asshima temple, nuclear explosion mushroom cloud and other material, the content is presented as "a white man eats a sushi immediately like an inflatable fat, and then rushed out of the roof, in the sky tree, shallow grass minegate over Tokyo explosion, after the explosion appeared a mushroom cloud, mushroom cloud next to the words FAST CHARGE (fast charging), and then appeared a humanized arm out of the earth, dot a".
On the afternoon of May 6, Xiaomi tweeted an apology: The promotional video for overseas markets contained something that had not been carefully considered, and sincerely apologized for its efforts to prevent this from happening again in the future.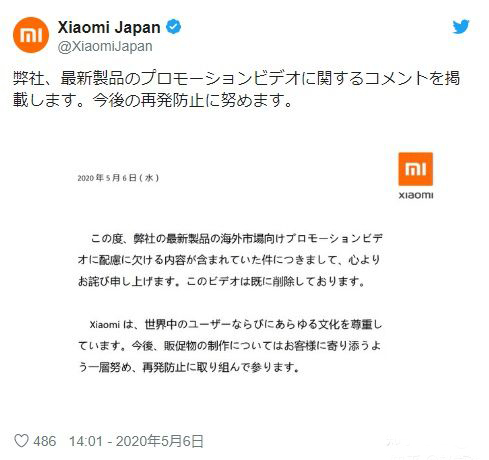 Xiaomi's official Twitter account was quick to apologize for the public outrage.
Xiaomi's rollover of the ad is a no-mad one for the Japanese market, which is difficult to exploit in itself. According to Xiaomi marketing department to explain to the outside media, this is the overseas suppliers produced video, Xiaomi overseas colleagues have a duty to the material censorship is not strict. But no matter how apologetic, Xiaomi's film for the Japanese people's psychological damage, for the Xiaomi brand in Japan's local word-of-mouth loss is immeasurable.
It's not just the little rice that flipped over, it's also a loss.
Uniquely, the current overseas development of a very good one-plus mobile phone, in the sea to Europe and the United States, also once turned over the car. Just a while ago a plus 8 release, Liu Zuohu dialogue Luo Yonghao, but also recalled this episode, said overseas marketing localization, can not take it for granted, must be true and true localization. In addition, he especially emphasizes values!
(Video) Liu Zuhu talks about a mobile phone out to sea pit.

In 2014, when a mobile phone went to the u.S. and Europe, a women's-first marketing campaign was conducted, which caused outrage among U.S. consumers. US technology blog The Verge reports that One Canada has held a "terrible and sexist" campaign that allows female buyers to step in first. As long as they are willing to "show" out and let their netizens vote for the top 50 "show girl" i like, they will get the right to buy their phones first and free T-shirts. The campaign asks women to paint a logo on their body (or on paper) and upload selfies to the forum.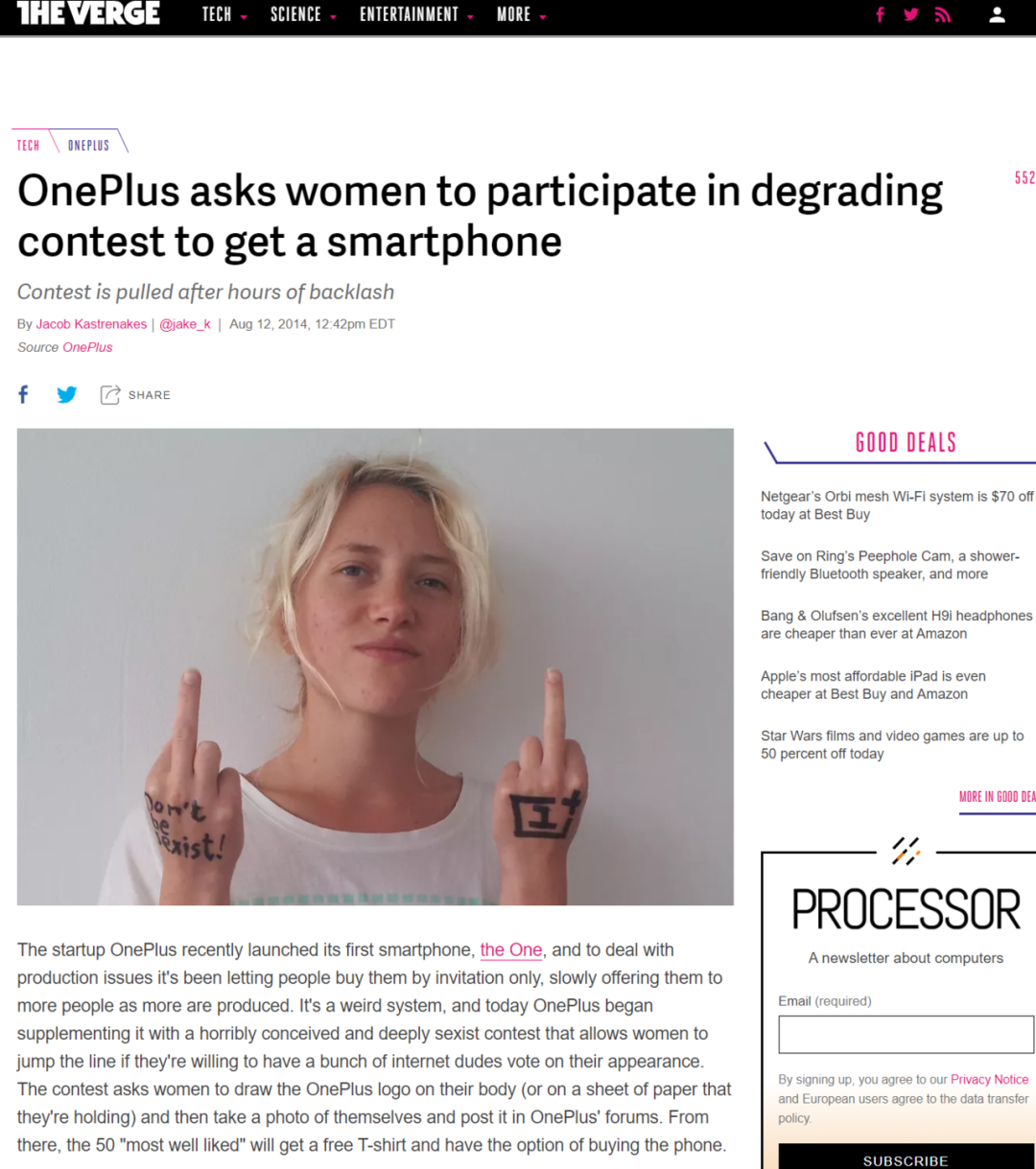 (Picture) A plus mobile phone that year in the United States marketing rollover incident.
"Because of the gentlemanly manners and the undeadness of chivalry, we give lovely female fans a chance to skip the queue to buy," a staff member said. "We just want to shout for the few but beautiful female fans in the forum." It's what officially calls "ladies first, but the essence is a "bad show that tricks women into performing for them," The Verge commented. While It's not the only tech company that has a lack of respect for women, the Us media sees it as a very vulgar and funny marketing case.
In the face of widespread media attention and strong opposition from women, One Canada has cancelled its "Ladies First" campaign. In a subsequent response to inquiry media, One Gag expressed regret for the promotion, describing it as "very wrong" and "a typical one that will never be forgiven."
After talking about mobile phones, for the mobile Internet there are some local rollover incidents, the most ridiculous is APUS out of the Middle East Arab countries encountered things.
Apps go out to sea, and they're also a pit.
360 former vice president.Li Tao.APUS, a mobile phone user system created in the summer of 2014, has made its way through overseas markets, but when it enters the Arab world. The APUS team has also encountered something that makes people laugh, because Arabic is written from right to left, which raises a thorny question.GooglePlay's rating system, five stars is the highest rated, but Arabic-speaking countries agree that one star is the highest, so once the other person thinks your product is good, they rate "very good" below and then hit one star.
This in that year can be said to be one of the small problems that everyone went out to sea in the region headache, not APUS unique "treatment", almost all companies entering the Arab countries will encounter this problem, and we have no good way to completely solve.
Bigo Live, for example, has encountered a crisis in Southeast Asia.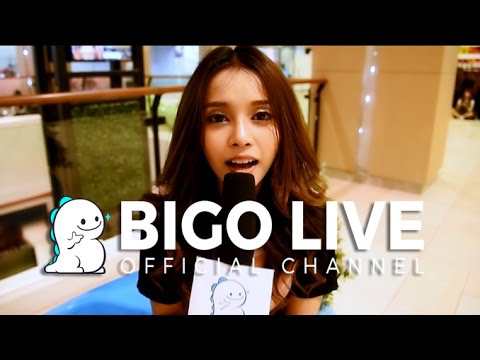 In Southeast Asia, Thailand, as a monarchy, has a special royal status, and the content of the broadcast involving the king or royal family needs to be handled with particular caution. Bigo Live designed a banner to pray with Thais when the Thai king was seriously ill in October 2016. Shortly after the results came, the news of king's death came and Bigo Live made an urgent condolence page. After the king's death, Thailand banned the country for three days and Bigo Live shut down its servers for three days. Three days later, Bigo Live opened a channel with no anchors and a loop ingress about the life story of the King.
Real localization, in order to do a good job of going out to sea this matter.
Chinese Internet companies go out to sea, and once they do localization, they can't avoid stepping on these pits. Therefore, there is a need for local team to cooperate, basically doing a better job of the company's standard. Cultural and religious taboos vary from region to region. In India, where the locals regard cattle as "sacred things", the game can not appear any words related to cattle;
Especially in Islamic areas, religion, folklore, etc. is the first thing to do with all activities. In most Arab countries, regulations, from the media to the Internet, are fairly strict. Taboos are particularly numerous, and in the field of advertising alone, there are many special itys that other countries do not have: things with sexual and romantic overtones are also absolutely prohibited in a broad sense; merchandise logos cannot use cross-shaped patterns and shapes, let alone hexagonal stars (similar to Israeli flag patterns); and cameras that drive too fast or leap, crawl or pass through the water are also prohibited.
For example, the current hot live software into the Arab region of the App, must be the content of the platform in real-time review, to ensure that it conforms to religious norms and folk traditions, the most typical is the beauty live here, if it is the formal platform is strictly prohibited "dew meat."
>>>5G Fengkou Factory To Accelerate Layout Cloud Game! In addition to Google, NetEase/Giant/Perfect/37 are all cut in.
---