Three steps to fix Google's ad run and detonate a stand-alone station.
Only when you spend money on a knife edge can you reach out efficiently.
in the consumer.
As one of the most important platforms for advertising, Google has more than 246 million daily visitors, 3.5 billion daily interactions, and a return on investment of about 700 percent.
In the guide, shopmakers will take you into google Ads and the tips for running ads on Google.
Beginner, Intermediate, Advanced.
Three-stage hands-on teach you how to optimize your ads so that you can get a great value for money on your ad investments.
Google Ads is a pay-per-click fee-based ad delivery platform. Advertisers pay for clicks or thousands of impressions (CPRs) in the Google Ads channel.
Google Ads reach potential consumers more precisely than other ad delivery platforms. When a target user looks for related products and services through Google Search or Google Maps, the advertiser's business appears on the Search Engine Results page (SERP), which appeals to the target audience.
Is Google ads really necessary?
The storemaker gives you three reasons to run ads on Google:
-Google is the most commonly used search engine, receiving 3.5 billion search queries a day. The Google Ads platform, which has been in its name for nearly 20 years, is big brother in paid advertising.

-According to Google Data, advertisers earn $8 for every $1 they spend on Google Ads.
-When other competitors in the industry are using Google Ads, this means that if you don't take action, your search results will be crowded to the end of the page by competitors, making it harder to attract consumers.
New Experience of Primary Knowledge:

Google Vocabulary Science.
Before the official start,
Shop makers tell you about the common terms of doing Google's delivery, and by understanding the rules of the game, we can make advertising more effective within the rules.
Ad Rank
- Decide where your ad will appear. AdRank is determined by the highest bid by Quality Score.
Tender.
-There are three bidding options for advertisers based on the price that the bidding system is willing to pay for ads.
    Cost-per-click (CPC) is the cost of paying for ad's click-per-click;
    The cost per thousand impressions (CPM) is the cost of one thousand ad impressions;
    The cost per interaction (CPE) is the amount you pay when a user takes action on an ad.

The type of ad.
-There are three types of ads you need to choose when running your ads.
    Search ads are text ads that appear on Google search results pages;
    ○
Display ads are usually in the form of images that appear on the pages of Google Display Ads;
    The video ad is available on YouTube for between 6 and 15 seconds.
Click-through Rate (CTR)
-Ad gets clicks as a percentage of views. The higher the click-through rate, the higher the quality of your ad.
Conversion rate (CVR)
-Form submission as a percentage of the total number of landing pages visited.
Google Display Network.
-Google ads can appear on the search results page or on the Google Multimedia Ad Network (GDN). GDN allows ads for Google text or images to appear on their pages.
Additional information.
- As a supplementary advertisement information. There are five categories of this additional information, which we will cover more later.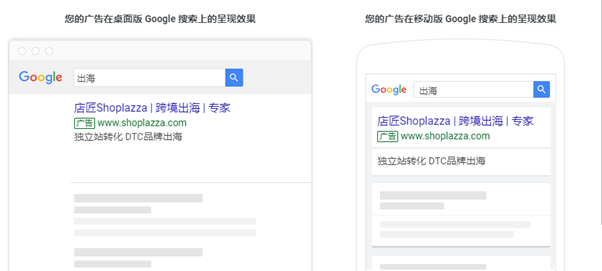 Keywords.
-When the user queries in the search field, Google will respond to the results that the searcher intended to match. A keyword is a word or phrase that matches the searcher's needs and meets his or her query requirements.
- Negative keywords. Negative keywords prevent ads from appearing for specific keyword phrases, and Google pulls ads out of their bids for those keywords. Usually negative keywords are related to the keywords they want, but they are not provided by advertisers or do not want to participate in their rankings.
Pay-per-click (PPC)
-Refers to a common type of ad (not just for Google Ads).
Quality Score (QS)
-The score is related to click-through rate (CTR), relevance of keywords, quality of jump pages, past performance on SERP. It is also a determinant of AdRank.
Intermediate Small TIPS:

Try feedback to summarize.

There are also friends to the shop owner feedback, the initial attempt to Google Ads but the effect is not significant, shop maker analysis may be one of the following reasons:
Keywords are not accurate enough.
Keywords are a very fine, focused part of the delivery process. At the same time, keywords need to be tested and constantly adjusted, and if the keywords are too general, Google will show ads in front of an audience that is not accurate enough. Shop makers suggest that you keep trying to adjust and choose the best solution.

Ads are not strong enough.
If the ad doesn't match the searcher's intentions, the number of clicks is naturally low. The title and ad copy must match the keyword, and the ad content must address some of the claims that the searcher is experiencing. The store maker suggests that you can create multiple ads for each campaign, and split up to test which works best.
The quality score is not high.
Your Quality Score (QS) is how Google ranks ads. The higher the ranking, the better the position. If your quality score is low, you have fewer opportunities for traffic and conversions. Google tells you the quality score, so you can see if you need to optimize the quality of your content.
The landing page experience is poor.
We shouldn't just focus on ads, and the post-click user experience is part of the conversion. What do people see when they click on an ad? Is the target page optimized for conversion goals? Does the page address the user's pain points?
Advanced Express Dry:
How does Google Ads get the best results?
There are a number of factors that affect the effectiveness of Google Ads, and the following store makers detail these factors, and the ads give more energy.
Factor 1: Optimize Ad Rank and quality score.
Ad Rank determines the location of the ad, and Ad Rank is determined by the quality score and bid amount, and the quality score we can grasp depends on the quality and relevance of the ad.
Google measures these criteria based on the click-through rate of your ad, which depends on how well the ad matches the searcher's intent, so the store's small maker sits on three points:
    The relevance of the keyword.

    The degree to which searchers, such as advertisement copy, expect to match.
    The user experience of jumping web pages.
The shop maker suggests spending a lot of energy on improving the quality score. The higher the quality score, the lower the cost of delivery, and the better the placement position, why not?
Factor two:

Use the type of advertising reasonably.
A search ad is a text ad that appears on a Google results page.
Search ads let searchers see ads where Google finds information, and it's appropriate to see and click on results.
For example, searching for "pocket squares" will provide feedback as follows:
Search ads also have a special category, Responsive Search Ads. You can enter multiple versions of the title and ad copy, and Google automatically matches to the right ad to the user.
Google has a website that covers content across industries, and it has a large audience, known as the Google Display Network. Images are often used to host ads and then draw the user's attention to the content of the page.
Video ads appear in YouTube videos, under videos, or on sidebars. Because YouTube is also a search engine, precise keywords still matter.
Factor three:

Choose the right geographic region.
The geographic region in which you display your ads is selected the first time you set up your Google ads. If there is a brick-and-mortar store, the shop owner recommends that you choose a reasonable range based on your actual location. If you are an online store, you should set up an area near the shipping location.
Geographic regions also play a role in ad serving. Our services in Area A are generally not placed in front of people searching for the same services in Area B. Google has always wanted to show the content most relevant to the searcher's request.
Factor 4:

Accurate keywords.
Keywords are important for both ad delivery and natural search, and they need to be as consistent as possible with the searcher's intent. Google matches ads to search queries based on the keywords it chooses, and it's better to create one to five ad keywords.
Match types give you some leeway in keyword selection, and there are four types where you can choose whether Google wants to match search queries exactly:
    ○
Broad matching is the default setting, and any word in any order using a keyword phrase can match each other.
    The optimized broad match allows advertisers to identify certain words in the keyword by representing the keyword by "plus". The match type will contain at least some of the words that locking must appear.
    Phrase matches match queries that contain keyword groups in exact order, but may contain other words before and after them.
    The exact match is matched in the correct order and content of the keywords.
If you're just getting started and don't know the type to match, shopmakers suggest you can switch from broad matches to more precise types to test how to produce the best results.
Factor six:

Title and description.
Your ad copy may prompt people to click on your ad instead of a competitor's ad, so pay attention to the title and description. Keep in mind, however, that the ad copy should be consistent with the searcher's intent, consistent with the target keyword, and actually address the user's pain points.
The shop's little man raised a chestnut,
Search for "Baby Swim Lesson" to get the following results. The content is concise and witty in the limited space to express the connection with the target audience.

"Swim Revolution" is a keyword on the title, so your audience can see that the ad matches the content you're looking for. The description is reinforced with words such as "skills," "fun," "confidence" and "comfort in the water" to prove what you want from the course.
Using Google Ads should use ad extensions. Not only do they provide users with more information for free, but they also engage audiences with users. There are five categories of these extensions: links, calls, locations, offers or apps.
Other links to the site can be pointed to to attract more clicks.
Can be put into the advertising phone number, through such timely information can contact the user.
If you have a customer service team, this approach can appeal to and convert your ad's audience.
Additional address information.
Include location information in your ads, so searchers can easily find you through Google Maps.
This option is ideal for businesses with brick-and-mortar stores, for search queries " ... Nearby"'s keywords are very effective.
If there is a certain offer at present, you can attach the offer information.
Searchers find that you're better than your competitors, and it's tempting them to click on your ads.
Provides mobile users with a link to the app download. Reduce the steps to re-search in the AppStore.
On Google.
Set up paid ads.
It's convenient, and if you've created an ad copy or image, the setup process can take up to 10 minutes.
But there are some small details that need our attention, and the shop maker gives you a look at how to set up Google Ads.
Get on with Google Analytics.
You can. 
The Analytics account is linked to Google Ads.
, so you can see the data you're running from anywhere, making it easier to track and analyze.
Google uses the Urchin Tracking Module (UTM) to track user behavior related to specific links. The UTM code tells you which ad contributed to the conversion, and tracks the most effective parts of your ads to make it easier to optimize Google Ads.
Set up a tracking conversion device.
Conversion tracking tells you exactly how many customers or prospects you've got from your campaign. Settings aren't mandatory, but without it, you can only guess the return on your ads.
Integrate Google Ads with CRM.
This way all the data is stored in a place that can be tracked and analyzed.
You.
You can see which ads are working and take action.
Google Ads' strongest bid strategy.
Once you've set up your ad and tracked it, it's time to start bidding. Previously, the storemaker had an introduction to the rankings in Google Ads depending on your bid. Although the bid amount depends on your budget and goals, you should know some strategies and bid settings when you start serving your ads.
Automatic bids with manual bids.
There are two options for keyword bids - automatic and manual. Automatic bidding is Google's dominance, allowing it to adjust your bids based on competitors. You can set the highest budget or other limit, and Google produces results within the limits. Manual bidding sets bid amounts for ads and keywords, giving you a better chance of spending less on underperforming ads.
Bid for brand search terms.
A brand word is a word that has a unique identity of your company name or product name.
There is a lot of debate about whether to bid with a brand as a keyword. Some people think it's a waste of money, others think these words can help reach a wider range of potential customers. For example, shop makers in the study of chat tools, a simple search "WeChat" can accurately find the results found, without scrolling.
You can consider it in combination with yourself, and of course you need to recognize that if you don't bid, competitors may bid, thereby taking up resources that belong to you.
Cost per conversion (CPA)
If you don't think you're thinking about spending money to convert potential customers, you can also set a cost per conversion and pay only when a user converts to a customer. Such a bid strategy may cost more, but it can justify ad spending.
Shop makers are willing to be in the uncertain future,
Discuss with you.
DTC 
Brand out to sea.
Policies and methods.
。
👇 added.
Shop maker,
Reply.

"Into the group"

,
Explore the way to start now!
Stamp the original text and apply for a free trial.
---