With the re-emergence of stand-alone stations, how does Facebook's advertising game match the new trends of 2019?
Keep up with Facebook's changing pace!
Facebook is constantly making changes to accommodate its growing popularity as an advertising platform, and as an advertiser, you have to adjust and change your strategy accordingly. In response, here are some of Facebook's recent changes and predictions for the future to help you keep up with the changes in Facebook ads in 2019.
Facebook's ad images and video sizes are changing
Facebook typically has a 1.91:1 ratio (usually 1200 x 628 pixels), but it is relaxing this rule and allowing for more flexible image ratios from 9:16 to 16:9. If you want to use square pictures (1:1 ratio) on Instagram and Facebook to reduce design work, that's good news for you. As shown in the image below, the large images look more comfortable on the phone and are more eye-catching on Facebook's News Feed.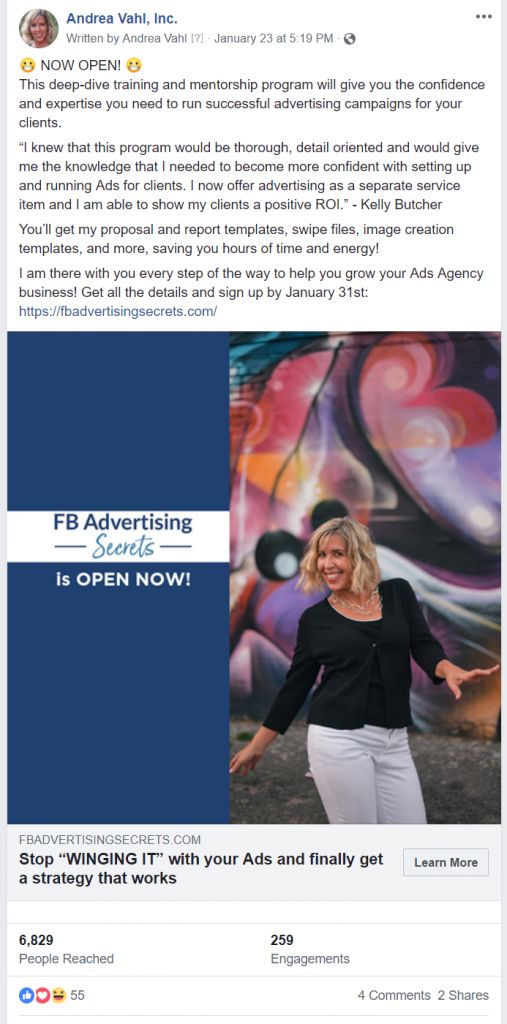 In addition, facebook videos have undergone some size changes (see chart below).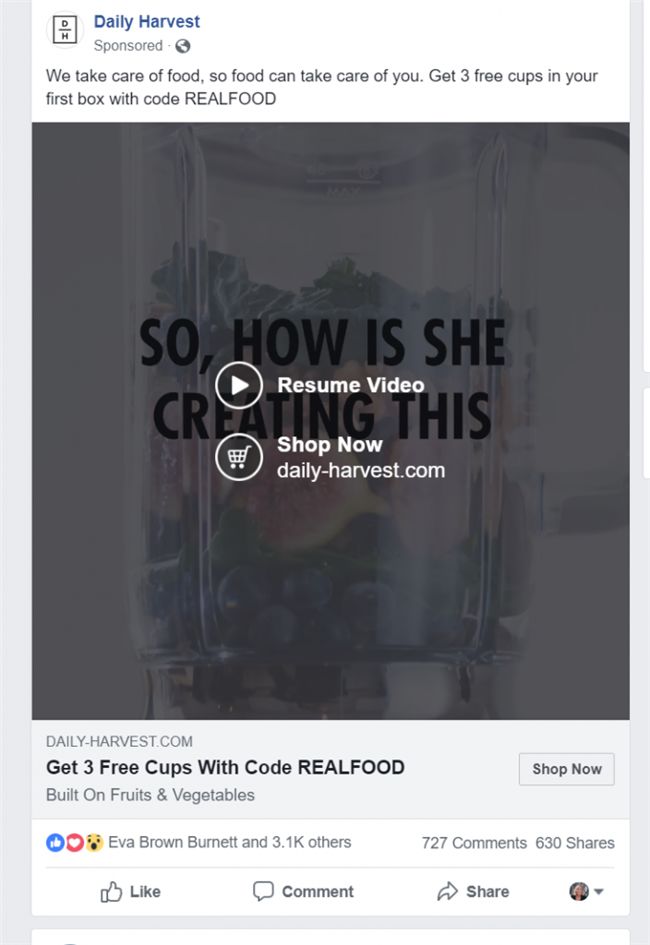 Facebook Pixel unveils new standard event code
Facebook Pixel can help you track website visitors and conversion rates, and its recently introduced new standard event code will help you track more information. And the change is basically superficial and doesn't require any adjustments.
As the following illustration shows, Facebook also groups standard event codes by industry type to provide recommendations on which code you might want to use, but your use isn't limited to those groups. You can use any standard event code you want.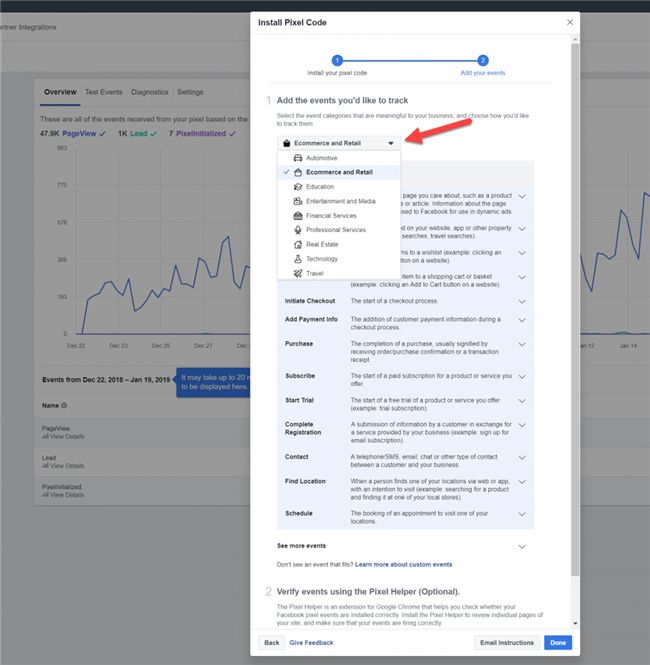 Facebook Business Manager is becoming more important
Facebook will continue to push marketers to use Business Manager. Last year, the platform changed its use of the Custom Audience Email list to open only to users of Business Manager. As the following illustration shows, they also automatically create Business Managers accounts for many marketers.

Changes to Facebook's advertising terms
Facebook's terms are constantly evolving, so it's important to know what content you can promote and what you can't, and to stay aware of those changes. You should periodically review Facebook's advertising policies and look at examples of "do's" (what should be done) and "don'ts" (what shouldn't be done) in the Common Points of Confusion section at the top of the page.
Facebook's policy can basically be divided into four parts:
1, what you promoteFacebook does restrict and ban some content (fair or not, it's their rule), including gambling, tobacco, commonly sensitive issues, and opportunities for MLM and home-based work.
2. The language you use in your adsDon't use content with "personal qualities" in your ads, and when you use the word "You," Facebook will manually review your ads. "You" is not a disabled word, but statements like "Are You a..." are content with a "personal trait" tinge.
3, your landing page and websiteFacebook is keeping a close eye on sites that traffic ads to monitor sites that violate its policies.
4. Use Facebook or its brand assets in adsYou can't show Facebook's brand in the screen sharing of ads, and your use of words like Facebook and Instagram (including abbreviations like FB) is limited.
When it comes to advertising bans, content with "personal qualities" is still a problem. Becoming specific in your ads is a great way to get attention, but some of them are right and some are wrong. As the figure below shows, with regard to age, Facebook considers terms such as "Meet Seniors" (for the elderly) and "service for teens" (services for young people) to be compliant, while terms such as "Meet other Seniors" (for other seniors) and "Car insurance for 18-24 years old" This usage is wrong (for car insurance for people aged 18-24).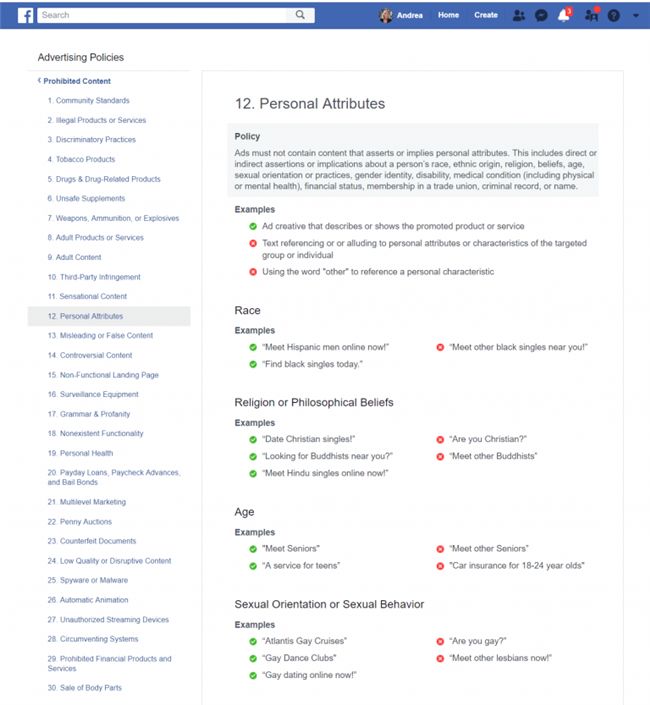 Ads run on Facebook, Instagram Stories and Messenger
As Stories and Messenger grow, you can try this type of ad serving location. To distinguish them, you can create a specific budget for the creation of these new ads. The current coverage of such ads may still be low, but growth is expected to begin in 2019.
Competition in advertising will continue to push up prices in 2019, and Facebook will continue to add more ad locations on platforms such as Marketplace and Messenger, so keep in mind which ad locations are most effective for you. In general, mobile news feeds perform better than those ad locations above.
Facebook is looking for ways to protect the user experience, so you should learn more about their policies, including some restrictions and ad conditions.
You can expand your reach and then run re-marketing ads to find the right leads. In addition, a series of video ads can help you warm up and develop leads. To appeal to audiences, writing compelling essays and creating eye-catching images will be even more important in the future. All in all, you should stay at the forefront of your ads and make them look different, which will help you stand out from the competition.
Wen/Hugo.com Chen Xiaoru
Please indicate the source of the reprint
---