U.S. and Chinese tech giants perform big PK, Apple has the highest profit, Google advertising revenue is the first, the worst is Baidu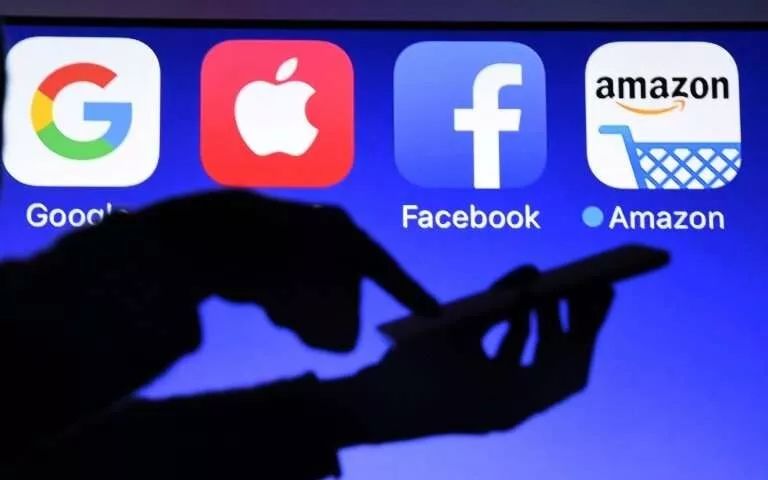 Text . . Li Dan
Edit the . . DuBage
In recent years, as China's Internet companies have grown in strength, their market capitalization has begun to align with that of FAANG, the top five U.S. technology giants. Alibaba ranks in the top five in global Internet companies in terms of market capitalisation, behind Apple and Alphabet, Google's parent company, in terms of profits.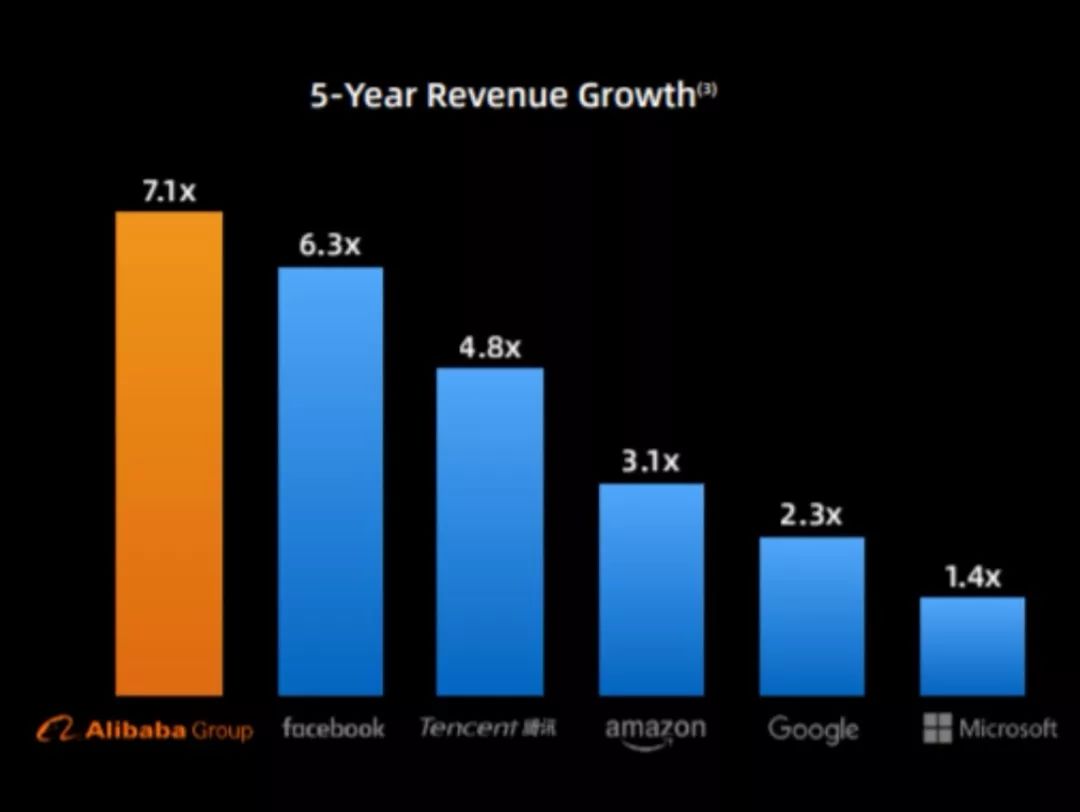 FAANG is the benchmark for the global scientific and technological community. The so-called FAANG refers to social networking giants Facebook, Apple Apple, online retail giant Amazon, streaming video services giant Netflix and Google parent Alphabet.
Corresponding to FAANG, the acronyms commonly used to sum up Chinese Internet giants are BAT (Baidu/Byte Beats, Ali, Tencent), BATJ (Baidu, Ali, Tencent, JD.com), or ATMs (Ali, Tencent, Mei group). Of these, only byte beats have not yet been listed. Alibaba is the only Chinese company to outperform FAANG for the fifth year in a row.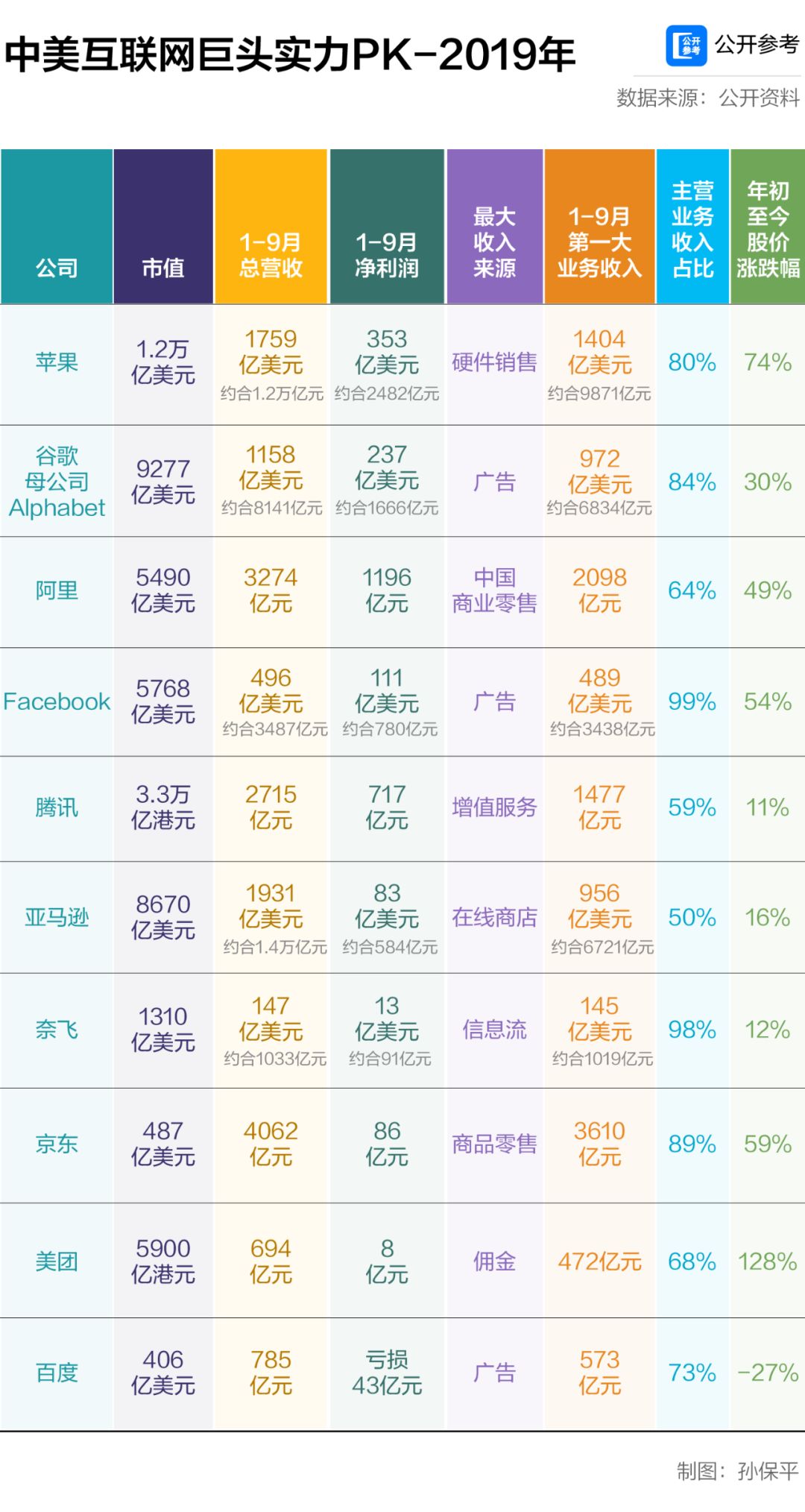 In terms of revenue and profit, Apple deserves to be number one. Revenue and profit reached 1.2 trillion yuan and 248.2 billion yuan, respectively, in the first three quarters of this year.Eighty percent of Apple's revenue comes from hardware。 Apple, which wants more revenue from software services, is aggressively optimizing its revenue structure.
Advertising has always been an important source of revenue for Internet companies, with Zuckerberg's Facebook the most typical. Facebook's advertising revenue for the January-September 2019 period was $48.9 billion ($343.8 billion), or 99% of its total revenue.
Google is the world's most advertising-earning Internet company. In the January-September period, Google's advertising revenue was $97.2 billion, close to the $100 billion mark.
Advertising dependence has even become a common disease between Internet companies. Today, relying heavily on advertising means a certain amount of risk. Baidu is a lesson in the front car. In the first three quarters of this year, Baidu received more than 70% of its revenue from advertising. Among China's Internet giants, Baidu has the highest proportion of advertising. Baidu, however, is the only company in the table that will lose money in 2019.
From January to September this year,Baidu earned 57.3 billion yuan in advertising revenue, but lost 4.3 billion yuan。 The byte beat of the outburst is Baidu's number one enemy. This year's revenue target is 120 billion yuan, which is likely to surpass Baidu's, Reuters reported.
Amazon, which currently generates less than $10 billion in advertising revenue, is beginning to pose a threat to Google and Facebook, which rely heavily on advertising for revenue. Facebook said in its annual regulatory filing with the Securities and Exchange Commission that it competes with Amazon in advertising.
In addition, fires in countries such as the U.S. and India have also posed a significant threat to Facebook.
Facebook has had a long way to go this year. Virtual currencies and e-commerce are the direction Zuckerberg is trying. This year, for example, Whatsapp, Facebook's messaging app, and Instagram, a photo-sharing app, added shopping features that allow users to place orders directly on the app.
In addition to advertising, tech giants have their own unique lifebloodGames, commissions, hardware, and fees。
Gaming and social-related value-added services are Tencent's biggest source of revenue, accounting for about 60% of its total revenue, reaching 147.7 billion yuan in the first three quarters of this year. The largest source of revenue for the Group is the commissions charged to merchants, which amounted to $47.2 billion in January-September this year, accounting for nearly 70% of the total.Net profit for the first three quarters was only 800 million yuanNinety-eight percent of Nayfei's revenue comes from fees paid by 160 million paid subscribers worldwide. JD.com's retail revenue was 361 billion yuan, but its net profit for the first three quarters was only 8.6 billion yuan.
Shares of Chinese Internet companies fluctuate more than FAANG.The group is the only one that has doubled, while Baidu is the only one that has fallen, down 27% so far this year.Alibaba's shares rose 49 per cent, Tencent's 11 per cent and JD.com's 59 per cent.
Focus on Internet listed companies and unicorn analysis report;

A one-stop street for business news that ordinary people can read.
---