Should Google ads be done? Compare Google Adwords with Amazon CPC ads horizontally
This year's festival season is sure to be another carnival for bezos, the world's new richest man! However, faced with the potential capital and inventory risks behind the huge sales, almost all sellers began to use off-site promotion as Amazon's only way to increase sales and balance the risks. Because off-site promotion contains too much content, today's vera network is mainly aimed at sharing a topic - Google ads should not do?
Part 1: A clear understanding of "out-of-station promotion"
Today Amazon sellers get together, almost no one outside the station, if we look at the reasons, we can actually see a few points:
First of all, Amazon has developed to today, the available resources within the station and the space to play flexibly has become smaller and smaller, it seems that the core of off-site promotion can only be around the evaluation, but in order to evaluate the risk of a large number of test loss profits is worth it?

Second, everyone wants to get more orders from Amazon, but the real orders are getting up and they're scared every day because everything they've got turned into goods in Amazon warehouses. In order to balance the risk, selling more urgently than small and medium-sized sellers to do off-site promotion;

Once again, the U.S.-China trade war has officially begun, with Alibaba and JD.com becoming the world's second-largest company with a market capitalisation of more than $1 trillion, while Alibaba and JD.com have become the world's richest companies. This is bound to make more and more B2B factory sellers have to start to see Amazon as a few safe havens, but accustomed to large single shipments of manufacturers, perhaps unsymloy to do Amazon, but more hope that through Amazon to get more off-site wholesaler resources;
Perhaps the vast majority of sellers will think that off-site promotion is to import off-site traffic to Amazon, and then get more orders from Amazon. But from a vera-net point of view, to get higher profits, balance Amazon's risk, develop overseas distributor resources, everyone'sOut-of-site promotion is not to import traffic into Amazon to form a transformation, but should be to import traffic to any platform other than AmazonThis includes platforms other than eBay, ETSY, Shopify and more.
Part II: Start with "CPC Advertising"
Why start with a CPC ad? The reason is simple: first of all, we all know that sales come from the traffic of the truth, the greater the traffic, sales will be greater (except for conversion factors);

This month (September 6th), Amazon merged several of its advertising platforms into Amazon Advertising. According to the latest U.S. market statistics, Amazon's advertising revenue will soar during this year's holiday season, surpassing Verizon and Microsoft's Bing as the nation's third-largest advertiser after Google and Facebook, as efforts to crack down on illegal off-site reviews and swipes have allowed almost all sellers to spend more on Amazon ads.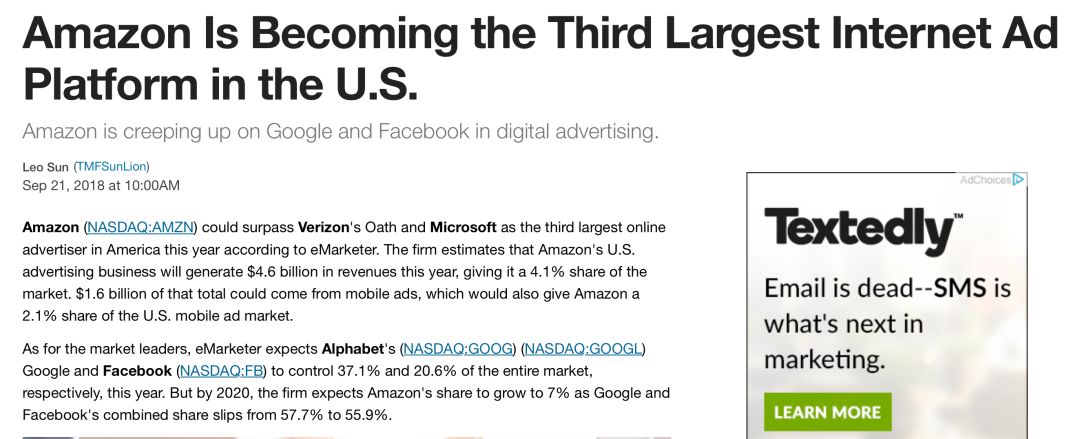 See here, you should be more aware of why we put CPC advertising as the focus of our analysis, because the largest traffic portal in the United States comes from Google (advertising market share: 37%), Facebook (advertising market share: 21%), Amazon (advertising market share 4%)!
Since Facebook ads are searched only for people and interest characteristics and do not fall within the scope of CPC keyword ads, let's get rid of Facebook ads for the time being, and compare them with Google and Amazon keyword ads during the holiday season, which begins next month, hoping to give you some inspiration.
Part III: Google Adwords and Amazon Advertising
Vera.com has conducted several trainings for Google this year, and we have 1 month or more to push our industry's two-word high-competitive words through SEO-Adwords to Google's natural search home page, so we also take this opportunity to use our own experience to compare 2 advertising platforms horizontally with you:
Comparison 1: Page search results
Google in recent years has made more changes to the search results page, first of all, Google will be based on the customer search itself keywords to judge the results of exposure content, if you search for products, such as: cctv camera, then the search results are likely to appear 6 ads, 6 natural search results, YouTube videos, as well as the nearest business (mostly ads), and each user search results are likely to be different;

By contrast, Amazon's search results are much simpler, typically nearly 30 search results, which are likely to contain nine ads, as well as other ads in different parts of the page, and each user searches for essentially the same results.

From this, we can see that Google's calculation and exposure is much more complex than Amazon's;
Comparison 2: Exposure
While both Amazon and Google expose your products through customer search keywords, Google sends users to your own pages or landing pages, while Amazon exposes your products in a uniform way with similar products from other competitors;
Comparison 3: Conversion factors
Seeing the difference in exposure, everyone should know: Google's conversion rate comes more from the "content" of your target page, while Amazon's conversion rate comes more from: images, titles, reviews, prices (train content on the web);
Comparison 4: How to match
Amazon and Google basically touch the same, although Google seems to have a called modification broad match, but the basic two platforms are the same, that is: broad, phrase, precision three;
Comparison 5: Bid type
The two platforms are basically the same, manual, automatic, plus a bid, Amazon called Bid Plus, Google called Enhanced CPC
Comparison 6: Ranking rules
There are many factors involved, but Vera.com gives a summary here: Google relyes on CTR (click-through rate), Amazon on conversion rates and total sales
Comparison 7: Order conversion rate
This question has been explained in previous articles, because the vast majority of people use Google to understand the product, and users enter Amazon is to buy goods, so Amazon's CPC ads are far higher click-through rate or conversion rate than Google Adwords, this ratio is Amazon is Google 5-10 times!
See here, I believe you can guide today's article title answer, that is: Google advertising investment may be 5-10 times Amazon in exchange for the same conversion rate as Amazon.
However, the vera network needs to be supplemented by:Google's "conversion rate" is lower than Amazon's, but the amount of conversions is much higher than Amazon's.Amazon's gold price range has fallen from $50 three years ago to about $20, in the face of intense competitionAmazon can only bring in an average of $20 per conversion, but Google's conversion is likely to bring a deep sense of identity to the buyer's heart, it brings more profits, higher orders and more sustained repeat purchases!
As the end of the article, vera network in our own experience, relying on the seller from the Amazon platform to get the proceeds to run Google keyword ads is a very painful process, first of all, we will find that Google keyword investment is very high, at the same time we must be able to withstand loneliness.
That's why Vera is building off-site promotion and web-wide marketing platforms for vera through Shopify.Last week, Vera.com's new stand-alone station for vera (the front desk has been built for 10 days) has begun to sell on a daily level, while the products available on Instagram's Popular Promotions and Fancy.com platforms have now been posted to Vera's Shopify platform and have been reviewed by Google Shopping.
Vera Network is taking the day as a unit to promote everyone's products through Google keyword advertising, SEO, blogs, forums, more platforms outside the station. While the challenge for Vera.com this time is to promote a full category of thousands of keyword stand-alone stations, so that each product can be fully exposed need to invest more efforts, but we hope to help Vera in more off-site orders, alsoHope you have a full harvest of the holiday season!
---
Free video reviews and multi-platform release

In order to help you create more content, Vera Network has hired the United States evaluator in Shenzhen to record product video evaluation as a weekly unit, vera can bring their own products and evaluator face-to-face communication product selling points and record product video evaluation;

We will also record video reviews of vera products that have previously submitted "Instagram Red People Promotions" and call you this week;

All videos are recorded and posted to YouTube and promoted through a web-wide marketing platform.At this stage all costs borne by the vera network, vera staff can be submitted free of charge, we will try our best to help vera network products record more wonderful video;
---
Free product description video clip/production
The after-sales service platform and overseas customer service center for the vera network will be put into use in October 2018 (the specific date will be announced in October)

To help veras perform steadily during the holiday season, Vera.com will start setting up a free after-sales platform for each Vera from October, when you'll have your own branded service page, software or instructions download URL, Amazon links, and video descriptions

Video descriptions are particularly important because the English grammar of paper instructions is often a problem, and because overseas buyers are more accustomed to learning how products are installed and used via video. In order to help vera staff reduce product return rate and improve product repurchase rate, vera network is now helping vera staff to produce free product description video(Clip only, no recording included)
---
Source: Shenzhen Vera.com

In the article related issues please consult vera network Xiaomei
WeChat/Mobile: 134 2898 1950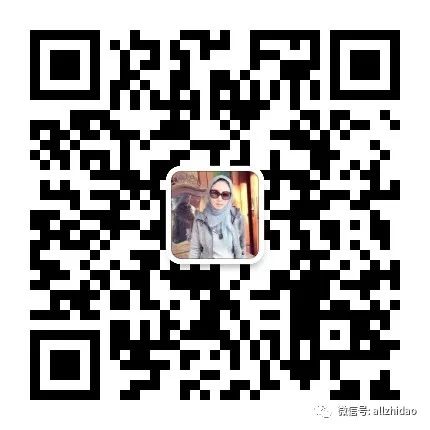 ---
Follow the subscription number Check out the previous article There are a lot of new sellers to learn

1、Send you the perfect alternative to a brush list! The amazon brushing era is over!
2、Amazon Review's new play: Boost Amazon reviews with Facebook's new features
3、Can you still make money doing Amazon in 2018?
4、How Amazon picks products under tariffs, consumption taxes, reviews, and trade wars
5、How much money is needed to operate amazon stores?
6、22 reasons for Amazon's decline in sales
7、The use of Amazon's main chart to sell $100,000 a month has been called off, and Instagram feeds are quietly on the rise
8、Amazon's interpretation of various nouns
9、Amazon Australia registration flowcharts and fees
10、Ways to increase Amazon sales

11、Amazon seller's suggestion to boost sales

12、Amazon's big seller's selection experience is shared

---
It is recommended to collect this article, readily consult, shareTo the circle of friends, improve the sense of existence!

Welcome to share this article, reprint please reserve the source
Source . . Ah, you absolutely don't know (ID:allzhidao) cross-border e-commerce platform dynamic research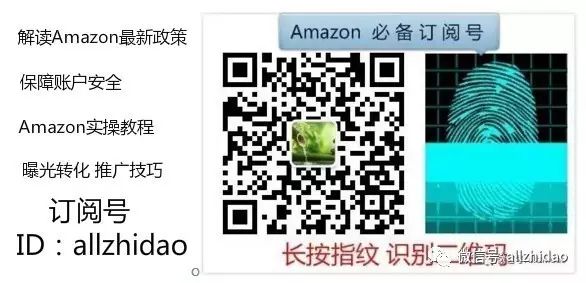 ---