Transozi CEO: The Ultimate Interpretation of FACEBOOK Content Marketing (I-II)
The author introduces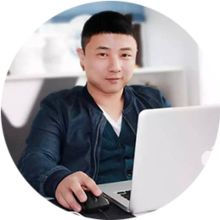 TONY GU
Across the ocean/United States.SAILING MARKETING INCFounder.&CEO
Independent venture capital investor
Overseas brand marketing strategy experts
Member of the 50-member Forum on Cross-Border E-commerce in China
President of the Los Angeles chapter of the American Chinese Expert Association
PayPal's big customer marketing partner
Committed to cultural exchanges between China and the United States, the United States local brand marketing and cross-sea project capital operation, proficient in the entire set of overseas brand strategic plans and media channels, Good at marketing content overseas localization planning and execution.Clients include Nike, Estee Lauder, Land Rover, Jaguar, etc.;
This article for Tony Gu for social media content marketing write marketing detoxification, divided into the base and upgrade the upper and lower parts of the article, for the convenience of everyone to read, specially organized for one article, hoping to bring help to everyone
Body:
The basics of social media content marketing
The accumulation of market resources in the country for nearly four years, coupled with the "overseas marketing" four words of natural search ranking first fact, really let the cross-ocean inquiry constantly, for China's small and medium-sized cross-border enterprises, FACEBOOK marketing has been a hot thing, there are some relatively successful enterprises, but the vast majority, still in the groping stage, each inquiry, we have repeated a lot of words, said a lot of ideas and truths, on the cross-ocean culture website, There are many free tutorial videos and blog posts on FACEBOOK, which can be found at the links below if you are interested.
FACEBOOK Blog:
http://51kuayang.com/academy/category/facebook/
FACEBOOK Video:

http://51kuayang.com/academy/courses/facebook/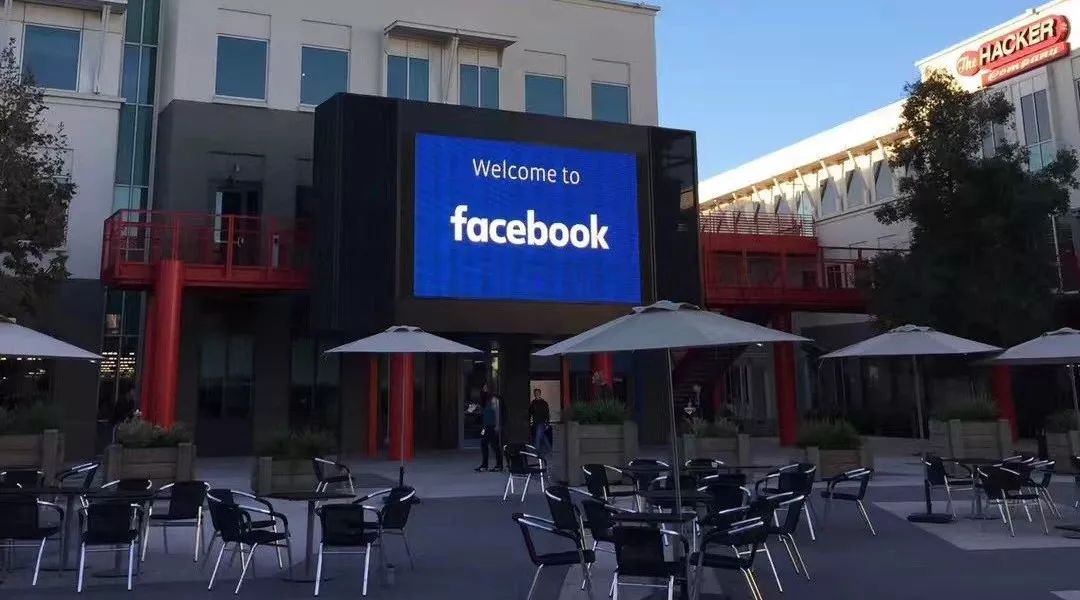 Cross-ocean FACEBOOK live shot

I have also explained in public numerous times some of FACEBOOK's so-called dry goods, but in order to help you better understand FACEBOOK, I decided to organize again, on the one hand, I hope to reduce our duplication of labor, of course, on the other hand, we also hope that many enterprises can really understand how to use FACEBOOK, and only so, whether it is to choose their own, or choose a third party to help you do, are very efficient.
FACEBOOK just started at home, the vast majority of people are still watching, about 3 years ago, people remain skeptical, in fact, any new things, tools appear, there will be such a stage, such as IPHONE out, experienced 1 and 2, in fact, at that time no one asked, until 3 began to slowly replace Nokia's status, I thinkAny change is due to the birth of new tools, but people accept new things at different times and acceptance, the famous DIFFUSION OF INNOVATION curve is this reason。

Generally can accept the new thing is that 2.5%, if apple phone now belongs to LATE MAJORITY, then the correct use of FACEBOOK, at present in China should also belong to EARLY ADOPTERS, and in the United States, any ONE, regardless of size of SIZE, it should be said that there is no company, enterprises, including restaurants, in addition to Chinese restaurants, I think basically have their own FACEBOOK BUSINESS PAGE, in fact, just like the current domestic WeChat public number, want to do something for the enterprise, should have such a PAGE.
BTW, by the way, when you have a new IDEA, if no one accepts it at first, remember this curve, remember,The birth of any new tool will bring about a revolutionSuch as the 1914 Ford-driven pipeline; circuit boards from World War II that drove radios and later home appliances; the Internet caused by pc computers that later emerged, to the smartphone-driven 3G, 4G and even today's 5G.
All the great changes you can say are due to the birth of a new tool.Social media, then, has been around for decades, but it's still a relatively new tool because of the presence of some kind of cross-border channel in the country that controls voice and is blocked.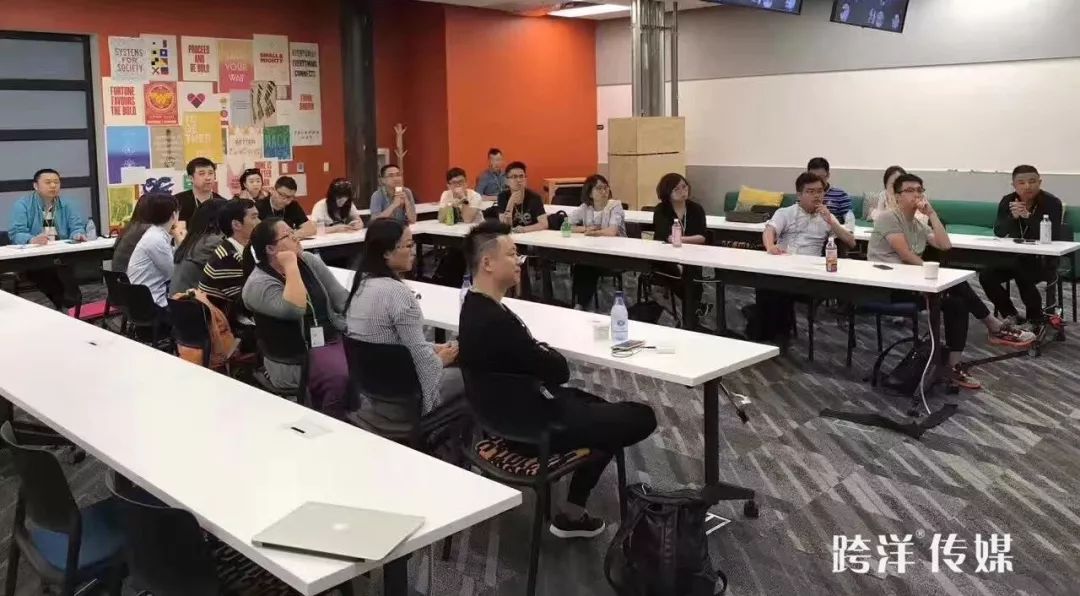 Cross-ocean FACEBOOK live shot
At least in the cross-border industry, at first is not accepted, wait and see, and then found that there are people around through FACEBOOK to make money, began to go around to class, learn how FACEBOOK how to operate, some of the domestic so-called big curry, start all kinds of courses are out, anyway, you want fans, traffic, they can meet your kind, I am also curious, these big curry than FACEBOOK's internal staff more cattle.
I remember one time I took more than 20 domestic cross-border business owners inside FACEBOOK, where their FACEBOOK and INSTAGRAM marketing directors each spoke for 30-40 minutes.Many business owners feel uncomfortable because there is no "dry goods" because they don't think they're talking about how to drain.
Actually, I sometimes think we're stupid, really,FACEBOOK is just a platform, how can it drain itself?Just as you asked a person who really learns English well to tell you how to learn English, describe half a day is to ask yourself to practice hard every day, but this kind of course, such a sincere words, in fact, is not welcome, because we would like to hear, 30 days can speak fluent English, but also want to pay for the kind of 10 days thin 20 pounds of drugs. Although I do marketing myself, but really, such advertising words, I really can not write out.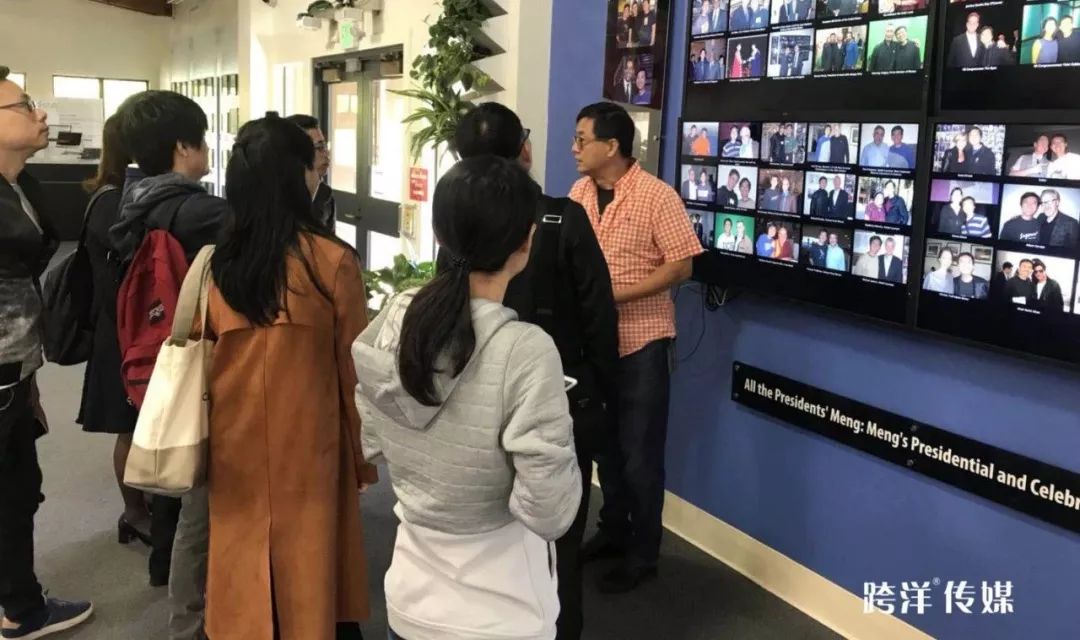 Cross-ocean FACEBOOK live shot

In other words, if there is such a shortcut, believe us, we must have known before you, FACEBOOK marketing is also very willing to share with you, but he did not, we do not have such a shortcut.
Later, the development, we went to these big curry to find dry goods, go back and start copying, also believe that those so-called FACEBOOK agents, began advertising, until now, found that these methods are not working, perhaps in a short period of time there is a little effect, but these methods are not effective.
In fact, in this process, cross-ocean attitude to this has never changed, but, people's mentality changed, she went to eat a month of drugs found no thin, just heart rate accelerated, so, later no way, and began to find fitness instructors, slowly also understand, in fact,There's no shortcut to anything of value,I used to think that this was a very simple truth that an adult could understand. I think this has an important relationship with the impetuous atmosphere of our society as a whole.
ANYWAYS, talk about dry goods.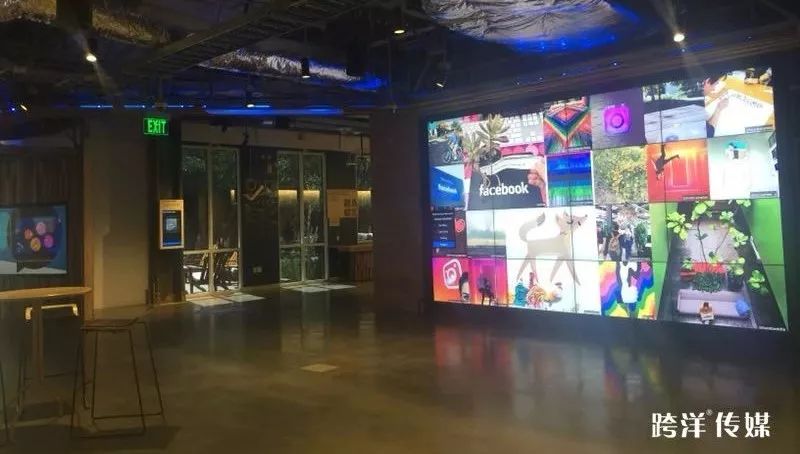 Cross-ocean FACEBOOK live shot

How exactly do you use FACEBOOK?
First you want toDrainage.Is that right? FACEBOOK is also good, other social media is also good, how many people in the above, these users of DEMOGRAPHICS, I suggest you go to cross-ocean sites directly to find related articles, I have no interest in repeating.
But the best part about FACEBOOK is not the drain.
For example, you know a potential customer at any store, including the show,First meeting traffic, do you think he immediately place an order? This is unlikely, and it is getting smaller and smaller, because of product homogenization and price competition reasons, more and more impossible, but this market demand is still there, you are selling underwear, even if you choose underwear to wear outside, but panties are still to wear, the key question is why they choose you to buy, I would like to say, traffic is need to be cultivated, then please ask, you in the world of the Internet,Where do you cultivate this relationship when there is no way to face each other?
On your WeChat? WHATSAPP? Youtube? TWITTER or FACEBOOK? I think, yes, but your financial, human and material resources are limited, the boss to do is to improve ROI, so you can not ALL OVER THE PLACE, also not suitable, if you can only choose the same, I suggest you choose FACEBOOK.
Almost, so to speak, your potential customers, both individuals and businesses, are on FACEBOOK, that is,The best place to reach out to and develop your target customers is FACEBOOK.
That said, that's what I think facebook is best for, a "social place" where Chinese companies can build and maintain relationships without having to go a foreign country and make phone calls.
This place, and let you use it for free, the point is, what's the best place for FACEBOOK? In fact, it's the root of his life, advertising!Is it can use its DIY advertising tool to help you target your target group, a lot of friends on it advertising, selling goods, although ROI is very low, but the truth is this truth,It can quickly help you target groups, and as for this ad, I think it's the icing on the cake, how big a budget you have, how much you do,There's nothing to say, if you're going to say, what skills do ads have, brothers and sisters, FACEBOOK ads are fools, if it's very difficult to use, who else uses them? No, FACEBOOK is closed. Tips, FACEBOOK official website is the most, the most authoritative.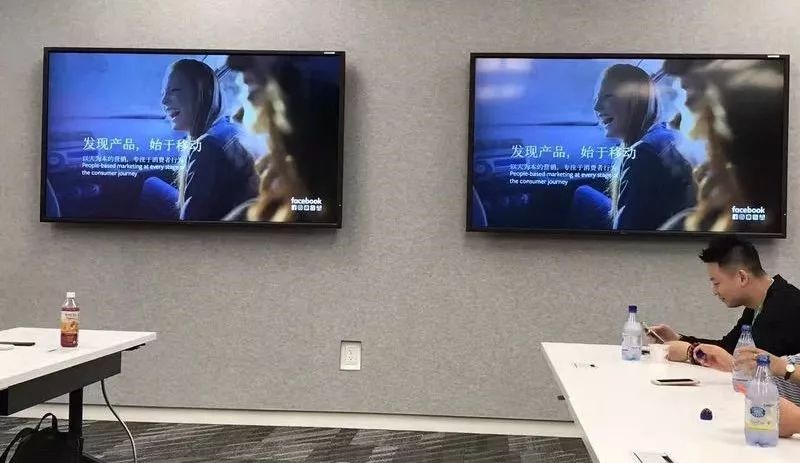 Cross-ocean FACEBOOK live shot

From a marketing perspective, I just want to say two more points about FACEBOOK marketing:
1, advertising most need to be concerned about the target group of the target groupThe question here is, do you really know your target group, including how long and how long they spend online, and simply say, do you understand the life of Americans? Do you know how often they take out the highest frequency of FACEBOOK on their phones every day? Do you know what information they are interested in, that is,The time and content of your ads need to target your target group.If you're just a rough, self-righteous understanding of your target group, then, in the way you lock in, I don't think FACEBOOK's technicians can help you achieve any so-called diversion conversion.
Regarding the target customer's lockout, I should have recorded a video a few years ago and can take a closer look:
Tools are useful only if the person using them is powerful
2,The second question to think about, I just said, FACEBOOK in addition to advertising REACH target traffic, now even if you advertise a lot of traffic in, I said, 100 traffic, the first time to know you, the person who buys your things may be 1-2, then please ask, the remaining 98, how to do? Whether it's you from the Internet, amazon stores, or the show, or FB ads directly call, please ask, there are 98 traffic how to do? Did you lose it like this? You're concerned about how to improve traffic conversion, right? In fact, the source of traffic is not difficult, all channels can come to traffic, as long as you are willing to spend money, you can go
Offline, the United States, Europe, any country offline promotional activities, such as schools, supermarkets at the door of the kind

NASDAQ advertises for a week

Internet red people every day ask them to help you do publicity

If you have an independent website, you can blog every day, Google likes it very much, it can certainly bring you traffic

If you're richer, you can go to Hollywood movies and do an ad

Sponsorship of a concert, or a celebrity party

It's good to have a magazine like the New York Times

Or find big names to work togetherCROSS MARKETING, of course, the key question is willingness to cooperate
These marketing channels, in fact, are the specific services currently provided across the ocean (with pictures attached to the end of the text)
http://www.51kuayang.com/?page_id=4593
But in cross-border industries, we rarely mention why? The promotion of these channels, in fact, is generally only suitable for the following situations:
Is already a multinational enterprise, the most representative is China's chinese car, cross-oceanMore than 2 years of customers, they do not need to cross the ocean to help them comb what brand concept, they just need to spread, then these channels are enough, according to the budget, time, match completion can, do not exist, do this spread, can help me sell a few more trains.

 


Have a certain size budget, decided to do overseas brandsB2B or B2C enterprises, then, this cost, the requirements are relatively high, and is a long-term strategy, the above is only a tactical channel, is in line with the strategy to achieve the goal, not any one, independent can achieve the goal.
So for the vast majority of small and medium-sized cross-border enterprises, the first thing to do is what is the basic work?
Many friends asked us about the network red people, the network red people are very strange? You want Hollywood stars we can help you find a whole lot, the question here is, no matter what channel comes in traffic, where you let this traffic go, and then how to convert, how much process you go through, you want to understand.
Just said, the best place is FACEBOOK, this truth is very simple, then, please ask, how much process a traffic goes through. Not excluding the first time you know a small partner who has a deal with you, it shows that it is also for some reason that the existence of trust is promoted.
So in general,An unfamiliar traffic goes through the following stages
 REACH Stranger

 ATTRACT interested people

 CONVERT pays the customer

 ENVANGALIZE fans
Basically, it's four steps, first to show up where your customers appear, and then to slowly attract, transform, and so on when they have enough to buy, naturally ask you to buy. In fact, this passage is the definition of real digital marketing!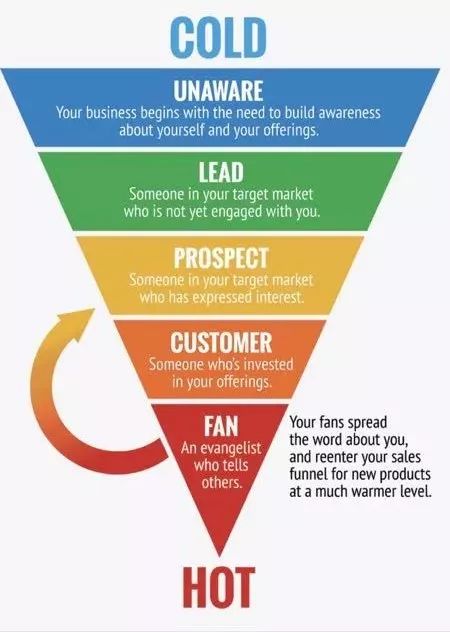 sales funnel (marketing funnel)

So these four steps,By what to achieve, just like the sales funnel, we all understand that from top to below PUSH, every stage of PUSH, need reasonable content to promote, of course, every stage, there are matching KPIs, KPIs are called KPIs, not called SALES is justified, if KPI is SALES, then KPIs have no meaning.
Specifically this so-called sales SALES FUNNLE and marketing steps, a long time ago also recorded a video, haha, you can listen carefully.
What overseas marketing should do
I'm sure you'll have more ideas if you read it carefully.
So simply put, what I said in the video, order, KPI, are a FACEBOOK to do the basic state, so that you above the so-called fans, will slowly convert, this transformation not only takes time, but also you need to constantly inject content, I speak in the video is basically regular content, the continuity of these content, on the surface is not timely return, but to a point, this return is inevitable, if you read here, feel that this is not what you want, You're going to make a quick return, then, please leave.
Here, I can tell you reseedingly,There are no shortcuts in this world,Because we are already in the center of digital marketing in the world, the United States. What I said to these staff members is what I and you said, we are professionals, not Jianghu Lang! You can't like it, but you can't disrespect it.
ANYWAYS, for half a day, my focus is on maintaining a healthy, vibrant "social page" that needs to constantly increase the precipitation of content and time, and you can't use FACEBOOK as a simple diversion tool to advertise, so that your return on investment, your expectations, will produce errors and even misunderstandings. This is also the purpose of this article, who want to buy cross-ocean FACEBOOK services, first read this article, thoroughly understand, agree, we talk again, otherwise, no talk, not that we do not want MAKE MONEY, but we want to work with people with the same thinking. We collect money and work, and we have the right to refuse to provide services.
Back to the point, when your page maintenance for 3 months, 6 months, or even a year, accumulated a certain amount of fans, then we say that the basic fans have, and the above should have the content, around the product, or enterprise, you hope that your customers need to until the content, help the sales process content, have, then come in the target customers, as long as you go to this online "will living room", you can save a lot of oral communication right?
We see clearly, is not professional enough, this will be living room is not a person to take care of, content is not enough to have entrepreneurship, visual effects, etc., is a person, the same can be clear, so FACEBOOK, more role is an online living room, exhibition hall, communication center.

When you have a more active FACEBOOK PAGE, think again...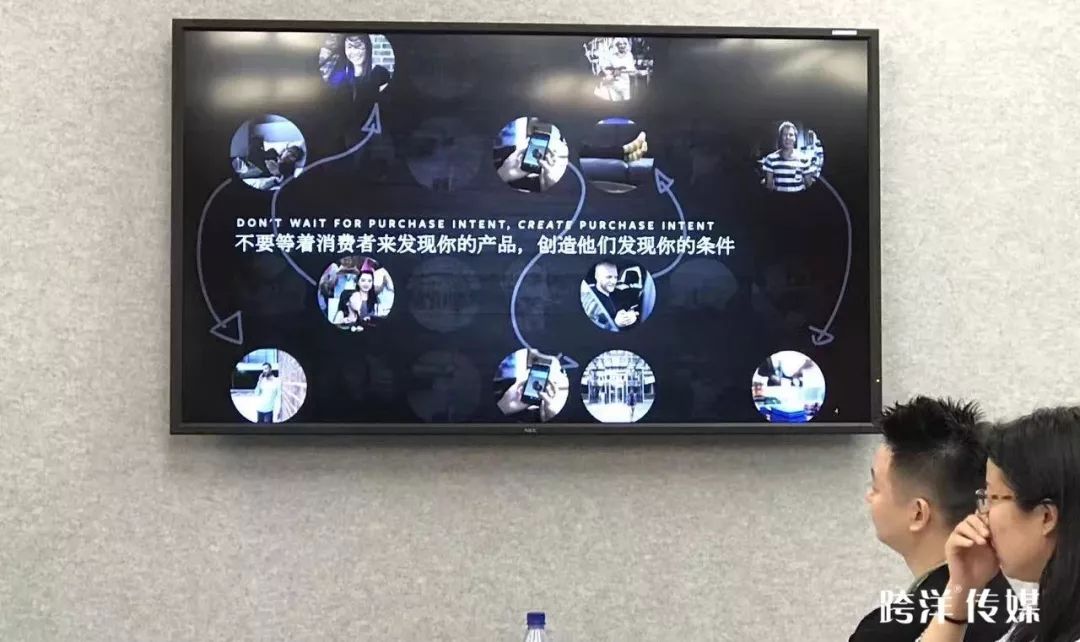 Cross-ocean FACEBOOK live shot

Red people are also good, offline promotion activities are also good, even the above I mentioned the larger channel promotion, cross-ocean actually can help you, but from our point of view, customers look for us, ask red people, ask offline promotion, ask this, I feel is a waste of money, and we are afraid to do, why, because traffic conversion is the need for time, you even a basic conversion space, how do we help you do, do "effect" is not good, the so-called effect is, if we plan a successful activity, But a lot of people to your home a look, the site looked at nothing new to go, FACEBOOK a little attractive content also did not, look away, KOL to help you find the right, after doing, said SALES did not improve, you say this is who's wrong?
So, at the end of the day,For the vast majority of cross-border SMEs we meet, do a good job of a dynamic FACEBOOK page, in order to do marketing in the future, do brand to lay a solid foundation.
When you have a good flow reservoir, you want to be creative and incorporate more ideas and even values into your own, then, then, we will choose to calm down with you and talk about how to help you do a good job of brand marketing. At that time, our value is reflected.
SoTo use FACEBOOK to work for your BUSINESS, the first step is to create a more popular online living room, the arrangement to be arranged, the decoration to be renovated. That's what it means. You say decorate your own wall, make your own floor, can you? Of course, and at the beginning of the article, I said, cross-ocean free textbooks Oh, but, we don't need to hide the so-called content, on the contrary, we use these content to tell the market that we are professional, but we can never do everyone's FACEBOOK PAGE,
This service, is the most basic social media content marketing services provided across the ocean, if you want to know the specific service content, please click on the original text to fill out our social media marketing needs form, after receiving the form information, we will have staff and you to contact to introduce the specific service content.
https://kuayang.typeform.com/to/Daa1kD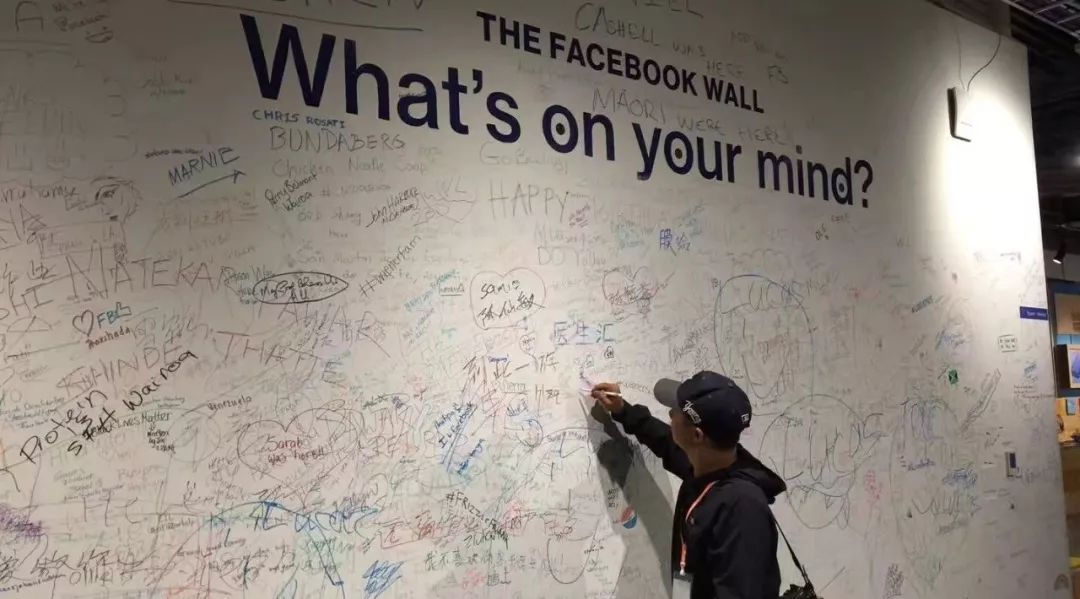 Cross-ocean FACEBOOK live shot

This article is a basic popularity, convenient for you, but also convenient for us and your communication, this is the basis of marketing detoxification, we also have an upgrade about the correct use of FACEBOOK, that is, when you have a good PAGE, how to play its strength through offline activities? Emotional communication? Or some other way?
If you have more needs for social media content marketing, read on and I'll read it more deeply.
---
Social media content marketing upgrades
In the previous basic article, we probably described the correct understanding of FACEBOOK and the direction of content, as well as the importance of maintaining a basic FACEBOOK page, at present, many enterprises, in fact, do not do a bad job, but if you want to go to another step, it always seems that you can not find the direction. So, in this text, we'll focus on how to make our FACEBOOK take off.
The core of any social media is actually SHARE, no matter what you send, people are willing to interact with you, including likes, shares, comments, then you are successful, in addition to the need for a certain number of basic fans, the importance of its content is indignant. So the question becomes very simple, what content is everyone willing to interact with you?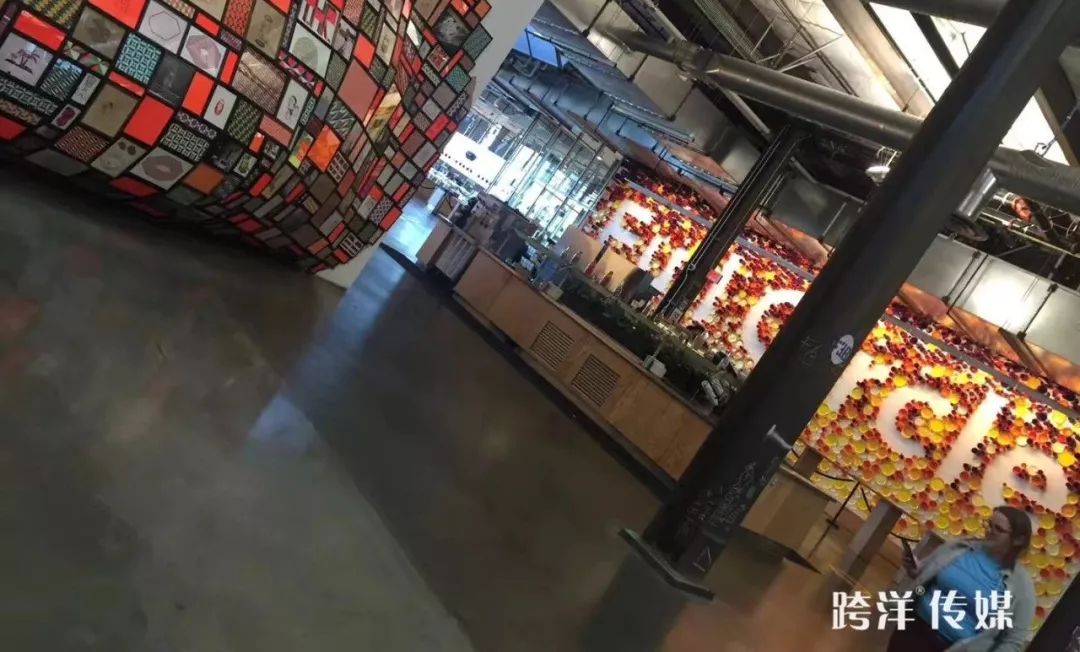 Cross-ocean FACEBOOK live shot
In fact, this question is very good answer, you ask yourself, you usually most willing to share what content? In general, what you share represents, in a sense, what you believe, what you like, or that resonates with you, and a product picture generally doesn't resonate with youPeople must resonate with someone who has some kind of emotional connection, either inspiring, or loving, or full of hatred,These emotions, will be spread, if you look at youTUBE video, can spread quickly, not necessarily big production, but, those real, simple, emotional resonance of things are easy to spread.
I keep saying,Forget what you're doing is B2B and B2C, what you're doing is H2H, that's HUMAN TO HUMAN, whether your potential customers are B or C users, first of all they're people, not emotionless objects.
So what emotions are easiest to spread, especially on FACEBOOK? Let's look at a data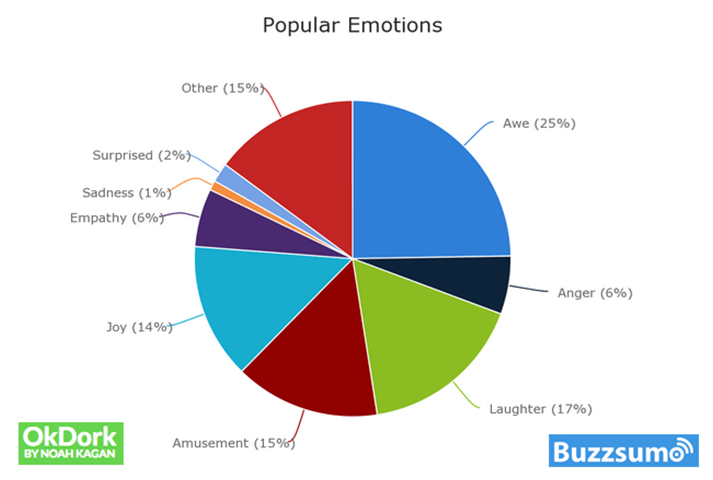 This data tells us that what can be disseminated is basically positive,Positive is not chicken blood, positive represents some kind of beautyEven if the world is not beautiful, but this does not affect people's pursuit of good aspirations and yearning, from the perspective of human social development, no matter how the world develops, people's yearning for a better life will not change, so if you stand in this perspective to think about the problem, you will certainly expand their social media can spread the content category, not just limited to their own products or business.
So when it to social media marketing content, you just have to remember,Either INTERESTING, or INSPIRE!
The essence of social media is socializing, so you need itPUT SOCIAL IN YOUR SOCIAL MEDIAand not simply roughPUT YOUR PRODUCT IN YOUR SOCIAL MEDIA。
Just like your own WeChat circle, you can't like people who sell in your circle of friends every day, the more she sends, the more likely she is to be blocked, so is FACEBOOK, even if you have a lot of so-called fans who might stay there, but she can choose to block all your messages.
Since the essence of social media is socializing, you can think about who you usually like to socialize with. Simply simply, it's a chat. If the chat is just a greeting SAY HI, then basically is nodding, ON SPEAKING TERMS, there will be no so-called resonance, generally two people chat, to put it simply is the same view of certain things, you like a person, or like to chat with a person, it is because she said and you have resonance, perhaps you can not express, but you agree and understand what she said, this time,Nature resonates and nature likes。
Cross-ocean FACEBOOK live shot
One thing highlighted in the basics is thatThe importance of the target groupBecause you want to resonate with each other, you first have to get to know her, understand her, and know that she has TOIN POINTS. Because different people, for different content, will produce different reactions, you and a person who likes to play mahjong to talk about struggle, estimated that it is difficult to resonate, you and a person who does not believe in ideals to talk about ideals is a waste of time, this truth I think is very simple.
Here I do not repeat, suggest a good look at the previous content, and then put their target groups a good comb, if you are difficult to correctly analyze your target groups, suggest you find a professional organization to do a more comprehensive analysis, in fact, this is not a waste of money, because, you do in the future all the marketing input, not to show me, nor to see themselves, but to your target groups to see,All your marketing investments want to transform them, and you don't know much about them.
If you really want to increase your return on investment ratio ROI, I recommend that you do a target group and market analysis, including your competitor analysis, if you are interested, you can fill out this information form and then help you do a complete market analysis:
https://kuayang.typeform.com/to/Lv2slJ
Of course, if you want trans-ocean to help you take care of your FACEBOOK, we will first analyze your users, then you can save this money.
All right, back to the point, content!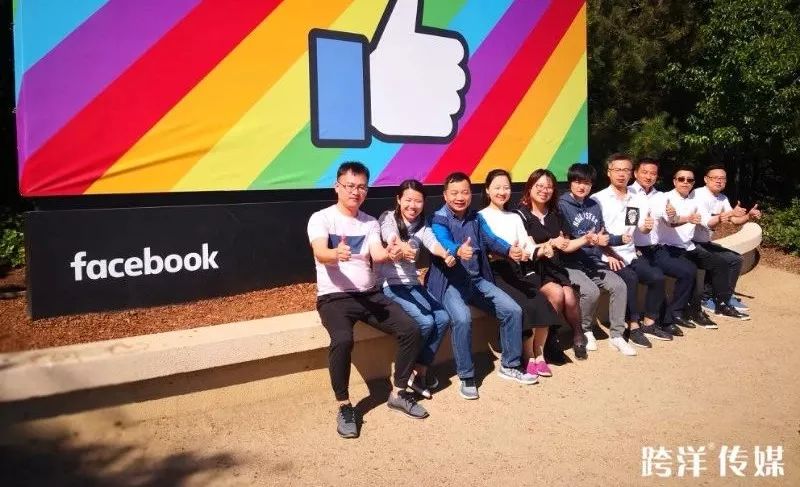 Cross-ocean FACEBOOK live shot
Just described above,General emotional resonance is the easiest to spread, but to achieve emotional resonance, content is certainly very importantHere, I give an example of a real customer appeal.
Anyone looking for a small partner in cross-ocean co-operation FACEBOOK marketing who has made a contact knows that first we need you to fill out a form:
https://kuayang.typeform.com/to/Daa1kD
If you open this form, you will find that there are a lot of questions, some questions many customers say never considered, or even at first do not know why we need him to fill out these content, this form 12 questions are actually key. I'll show it with a screenshot filled out by a customer.
The question is what brand value you want to deliver on social media.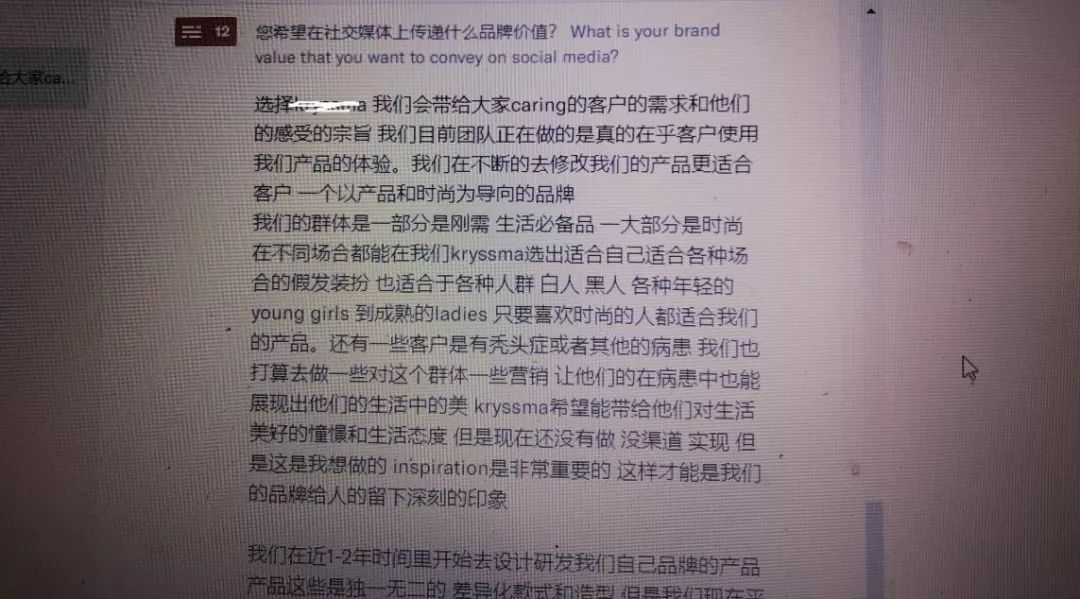 This customer filled in so much, one of her key words is CARE.
Because this client took part in an American study tour across the ocean, I met with her to talk about it, and her direction was yes, but it was hard for her to know how to pass on the brand's value. Her situation is that her team is also maintaining FACEBOOK, the basic content is also spreading, but feel that there is always something missing, then, her situation is actually a lot of friends doing FACEBOOK marketing problems, of course, this is also an important reason for us to write this upgrade.
That's rightAnything that can be spread must have something to do with emotion, and CARE is certainly a good emotionWhen I talked to her deeply, I asked her if you liked a person because you liked that person, or because you liked who you were when you were with this person, but the answer was obviously easy to see, and the main reason you liked to interact, communicate, and be together was that you liked who you were at the time.
On the contrary, you don't like a person, the main reason is that you don't like yourself when you're with her, if you're with someone and always compromise yourself for some reason, can you be happy? It's been a long time, and you'll be out of it.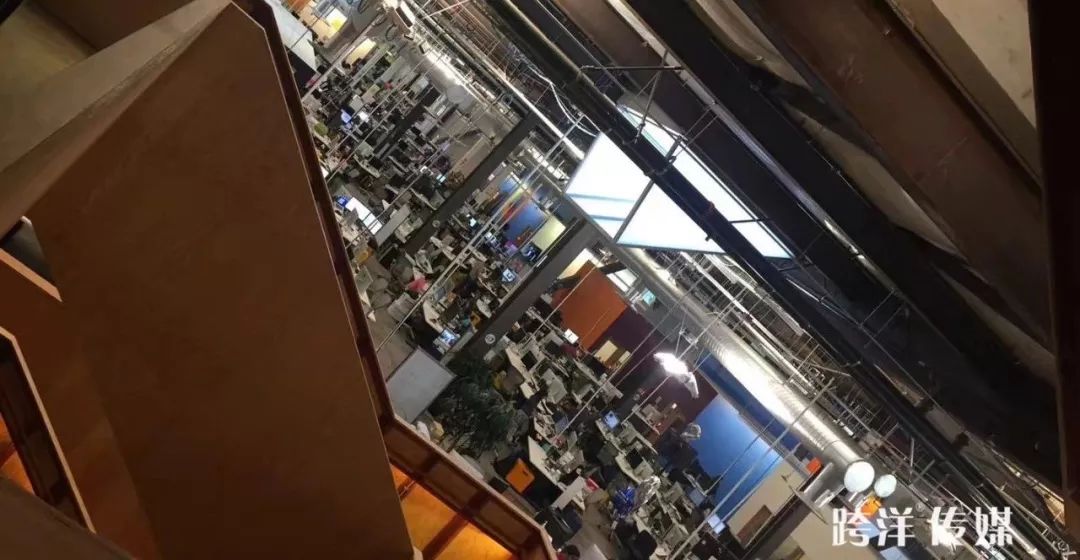 Cross-ocean FACEBOOK live shot
So, if you think of your BUSINSS as a person, it means that you want your FACEBOOK fans to like you, trust you, it must be because you interact with them, they like the content, they like to listen to you, like to interact with you, all these like, because these content and they resonate, arouse some good feelings, of course, humor is like, so the wording is very important, the same sentence, different people say, the effect is different, of course, Because a good English Chinese, it is difficult to achieve this state, so, the person who publishes the content, is also very important, she should be very emotional, know how to say, say what, can let everyone interact. Many enterprises, just casually called a few foreign trade staff and with doing FACEBOOK maintenance, is our basic article said the content, also did not do a good job. Sometimes, if you don't have the right people, I suggest you don't do it, because every word your staff says, every word, is a double-edged sword. It only takes 10 seconds to make people like it, it's annoying, sometimes it only takes one look.
Looking back, CARE, care, is the customer's emotional appeal, is what she wants to pass on to her target group, she found her own value orientation, but the current problem is:
What should she do to convey her value orientation and be sustainable?

By the way, what is continuity? CONSISTENT is very important, such as a person's speech table is different, talk upside down four, are INCONSISTENT, so, once determined their own value-oriented, can not be casually changed, value-oriented is the value that business owners believe, to be clear is the three views.
ANYWAYS, so how do we deliver care like this?
That day we chatted, I said, I give you a HOMEWORK, go back to your company, quiet down, and then write a LIST, write 20 things that you can now care about your employees, from morning to night, from all the contacts you have with employees to start thinking about things, such as morning to company, meetings, lunch, off-duty, including any mail, WeChat and all the communication contacts, not with your head thinking, but with your heart to think that those contact with them can be integrated into more CARE. Why do I emphasize the use of "heart" to think, because the brain out is not necessarily what you believe, but only thinking out of the heart, must be what you believe, if you do not believe what you publish, you also expect others to believe? Are you sure?
You may read this, curious, what does this have to do with FACEBOOK content? Of course, it has a lot to do with it. Because any enterprise's brand, in fact, is the business owner from the inside out value, the more people you influence, the more successful your brand, I often say, cattle B marketing is a positive impact, your products can be copied, the price can be defeated, only your value is unique.
Employees are actually your first seed customers, they believe what you believe, they can deliver what you believe, they can reach out to customers in every detail, to convey that power and valueIf you are familiar with underwater fishing, such as you often chat starBUCKS, starbucks founder, father is an ordinary worker, once work injury, the company did not take care of him, young Howard Schultz think this is wrong, he thinks the enterprise should care for employees. This sentence is very simple, he just did it, and many of our business owners think so, but the vast majority of just talk, really how much, they are very clear.
I also told her that many domestic business owners, the concern is how much profit they can make from the shoes they produce, and do not really care about those who make shoes for you workers, those people are the heroes behind the scenes, perhaps they need your love more? Specific how to care, you know better than I do, why should I guide her in this direction, because a lot of business owners and I said, TONY ah, I this FACEBOOK no content, do not know what to send, send to send the old three. I actually know why, the answer is that your thinking limits your imagination, if you just invite a few recent college graduates, then the effect may be even worse, a person who has no experience, it is difficult, or it is impossible to think about this direction.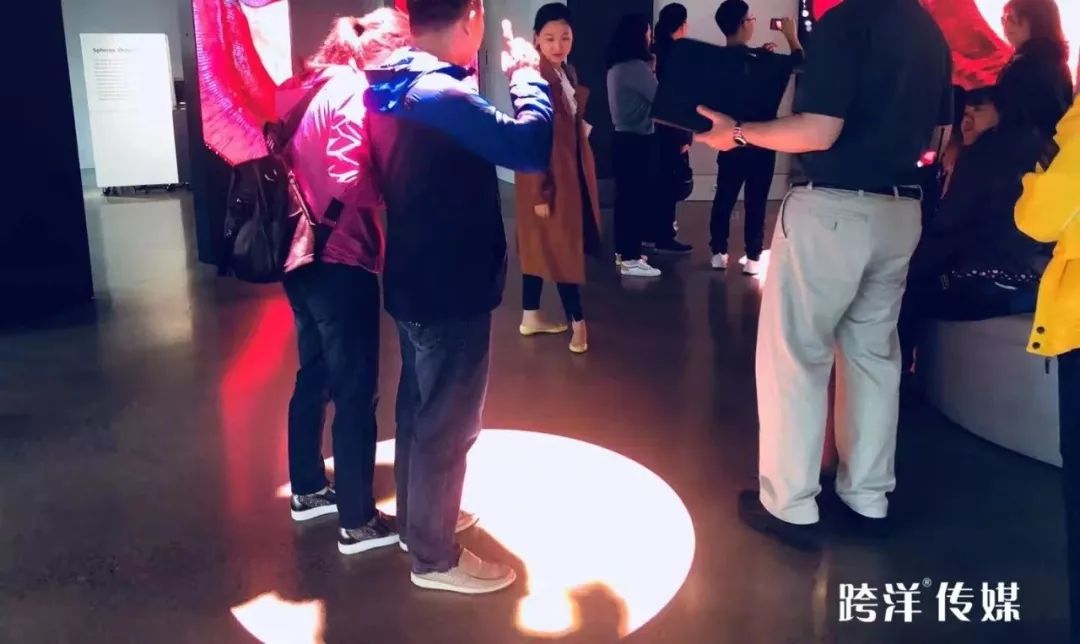 Cross-ocean FACEBOOK live shot
To give a simple example, you are a trader, industry and trade as a whole, or say cross-border e-commerce bar, no matter how your products come from, there are always workers, you celebrate their birthdays? And that birthday photo and why you want to give her a birthday is to share the best content on FACEBOOK. Is this content expensive to make? If you use money to answer this question, I think it is very cheap, if the heart to answer, really expensive, because many people, do not have such a heart.
If your product is innovative and original, like MP3 becoming an IPOD, you can fire it on social media. If you don't, then you need the so-called innovative, is your marketing content;
You might say this is a walk-in, this is a show, this is XXX, you know, I have no interest in convincing you, but sooner or later, you will return to the essence of things, that is to spread the good.
If I were your prospect, if I saw something like this, please, do you think I'd feel that way? Do I feel the emotion behind this emotion-esthy FACEBOOK page? I would have thought, this business boss must be a caring person, such a person to treat workers so, then the product should not be bad, if your customers also have their own customers and workers, she will not because of this simple content resonate and began to think, how should she treat their employees and workers better?
So, if such an emotion happens, are you spreading the good? If this happens, don't you start to have a positive impact?
The real positive impact is silent, no need to shout slogans, not to cry, she is not playing chicken blood, not brainwashing, but the washing of the mind and spiritual sublimation, these subtle changes, only a simple word, a kind smile.
As someone said, please keep the light in your heart, because you don't know who will come out of the darkness.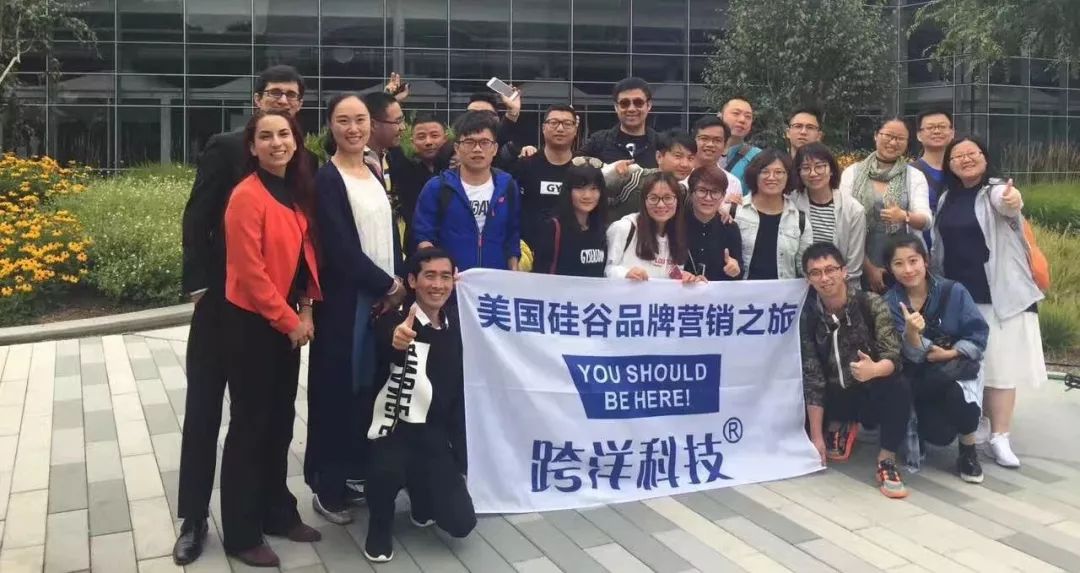 Cross-ocean travel to learn to shoot
If you can really make a positive impact on your employees and customers, believe me, they will be your loyal fans and ask you to buy products, services, that, just by the way. The goal of marketing is not the quantity of goods sold, but the person sells 5 pieces, you sell 7 pieces, someone buys for you, when this happens, you are successful in marketing.
Of course, there are many ways to convey a beautiful emotion, and there are many ways of content itself, and you can:
Write a blog

You can also make a picture, such as the above-mentioned photos and text

You can also make a video

You can also plan events across the ocean, such as street interviews, creative videos, or anything on your budget
So, in addition to the basic daily maintenance described in the basic article, then, additional, large content, the direction here to give you an example, of course, every BUSINESS to convey the emotional value is different, I just give an example here, I would like to say,Large pieces of content are content that makes your FACEBOOK take off, and the planning and production of this content is based on the corporate budget.
If you have a smaller budget, you'll get the basics right first.Such as daily maintenance is almost, with a certain base of fans, then think about how to let these fans participate, not only in the online event planning, but also to the line to carry out more content planning, and then put these well-made content on social media again, and fan interaction, discussion and secondary dissemination。 If the budget is higher, then these content can be widely promoted, the higher the budget, the wider the audience, then the effect is certainly completely different.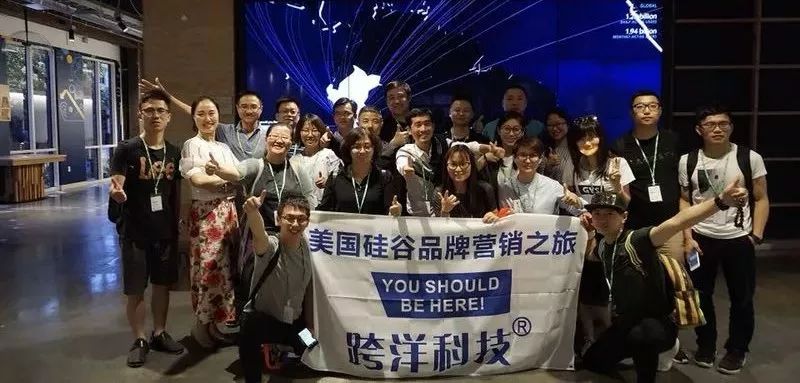 Cross-ocean FACEBOOK live shot
A lot of friends asked us to plan activities, of course, the biggest advantage in the United States is to be able to content planning localization, closer to your target group, you create content is also easier to make your target customers resonate, if you only do some content at home, it is difficult to resonate with foreign customers. The truth is actually very simple.
So in order to better help you understand what I call planning content to convey your value, putFACEBOOK secondary sharing spread, here, I give you an example of a real case.
This customer background is, the traditional B2B, to do a certain industry boss, to maintain the original B2B model, and then create B2C model, they are doing cosmetics, the boss's values are relatively clear, is true and beautiful.
Then we say that the product you create is to make everyone more beautiful, that is just the beauty of appearance, but we all know that true beauty is from the inside out. BEAUTY STARTS WITHIN, the three words that eventually became the entire brand of SLOGAN, were also posted on the 10th floor of the new office building, once I went to their company, startled, this SALOGAN is the first time I and they METING suddenly came to mind. In any case, I'm glad they agree with this value orientation.
So in order to export this value orientation, to get more target groups, to attract resonant customers to come in, we did a simple plan, here, I would like to introduce you to the general details:
Content planning:
Quite simply, we went to the street to interview passers-by, prepared 4 questions, mainly want to passers-by's mouth, say, their definition of beauty, and then recorded, edited, and then put on FACEBOOK for fans to see, of course, through FACEBOOK ads, but more people come in to participate in the discussion, their views on these issues, because the views of passers-by in the video is only a guide to this topic.
Content production:
Cost of production:30,000 USDs

Team members:5 staff, 2 cameras

Content production:4 simple videos, asked 4 questions, each collecting about 10 answers

Production time:3 days, because we need to find the right LOCATION as well as the right interview crowd, excluding post-editing time

Location: Los Angeles
Start spreading and promoting:
Choose to put it on social media at the right time, get more people to discuss it, and start being aware of your brand values. It's called BRAND AWARENESS, brand awareness. No one knows you as soon as they come up, like you, ask you to buy something.
So at this point, you probably understand that large pieces of content, from planning, production, and promotion, are required to provide customers with a certain amount of budget support. And the support of these content, will let your social media, step by step to another, in fact, this is also a process of building a brand.
Share Across the Ocean here3 minutes to tell you what social media marketing really is all aboutI hope to give you inspiration.
Many friends like to ask is the network red people what, I have said in the article about the network red people.
Network red people are good, advertising is good, the core problem is not these channelsOf course, if you just want to promote their products through advertising ah, red people ah, that is no problem, we are willing to help you to do, but, if you want to slowly build their own brand in the long run, then I suggest you, at least 6-10 times a year to plan such content to spread, let the market hear you, understand you, love you.
What we can do to help you is simple:
1. With regard to FACEBOOK, or what we call routine maintenance in PART ONE, basic maintenance;
2. If your FACEBOOK already has a foundation and you have a budget that says I want to be able to plan more marketing content, then this is the time to help. We will help you find your value UVP, and plan content to deliver your value, and ultimately achieve links with your target groups to truly transform them!
Well, just write it here, I hope you can read the article and then consider whether to do FACEBOOK. Instead of asking about prices and cases as soon as you come up, each enterprise has a different situation, and Transolantic hopes to give the best solution for everyone.
Interested friends can click on "Read the original text"Learn about our social media marketing services.

TONY

---
Across the oceanThrough an international team of professionals to enter the global market for Chinese and American enterprises to provide international standards of overseas marketing digital channels, as well as planning and content production services, a full range of cross-border enterprises to help enter the international market, to build their own world brand.
The main services across the ocean are thereLocal marketing of Chinese and American enterprises,Overseas brand marketingoverseas cultural exchanges and the operation of capital projects.
Scan QR codes for cross-ocean brand marketing services

Professional team focused on overseas marketing to give you professional guidance and advice

For advice/cooperation, please contact:   
400 675 5517
 www.51kuayang.com  
Service@51kuayang.com

Click to read the original article to learn about social media marketing
The article has been publishedModify.
---