Facebook Marketing . . How do I create quality content and publish it correctly?
About the author: Han Xijun, a special lecturer at Focus Business School and an 8-year practitioner in the foreign trade industry, has been trying to solve various problems in foreign trade with the idea of technology and human nature. Has been the 2013 Shanghai-Soviet hui e-commerce title, currently focused on foreign trade mail and foreign trade SNS, SEO field of practice.
More and more foreign trade people are using various social media to expand their overseas business. In the process, one of the questions that puzzles many people is:What should I send?Another question that has also been asked many times is:How do I publish these?




Based on these two questions, the series will focus on three interrelated topics: what is premium content in overseas social media marketing, how to manufacture and publish premium content, and black technology and tools to increase efficiency.




Overseas social media is a wide range, with this article focusing on mainstream Facebook and Twitter, and other platforms mentioned in the middle, but only by one.




Related links:Sign up for Facebook, but what should I send?
How to make quality content and publish it correctly
As the name implies, it is to develop your own theme, and then create completely original articles and content, including articles written by writers looking for outsourcing.
Because it's completely original, the quality is the highest for both readers and search engines.If you don't have the time or writing skills to meet the requirements, you can go to Fiverr, Elance and other websites to look for outsourcing authors, an article from $5 to $10, not only the language is authentic, but also in line with the search engine for keywords and other requirements of norms, cost-effective.
A large part of what's popular on the web today isn't original, but is made through Curation, which is a compilation.It's also popular to provide readers with a one-stop set of content by pooling material from a topic.Many excellent Curation articles, even more than the original article, became popular articles.
For example, a specific article, such as:"How to talk to customers in Germany about price" may only attract 10,000 people to read, but if you put together 10 similar articles, it becomes: "How to talk to customers in these 10 countries around the world about prices"will no doubt attract more reading.
The goal of compiling content: It's enough for readers to see it, and there's no need to read any other relevant articles.This goal is very difficult, but the method of its upper, their own requirements are still higher, only fine.
Summary compilation process: Lock in high-quality content sources (listed below) - filter content footage—》Organize and re-codify new content—》Publish the content—》Share content to multiple platforms.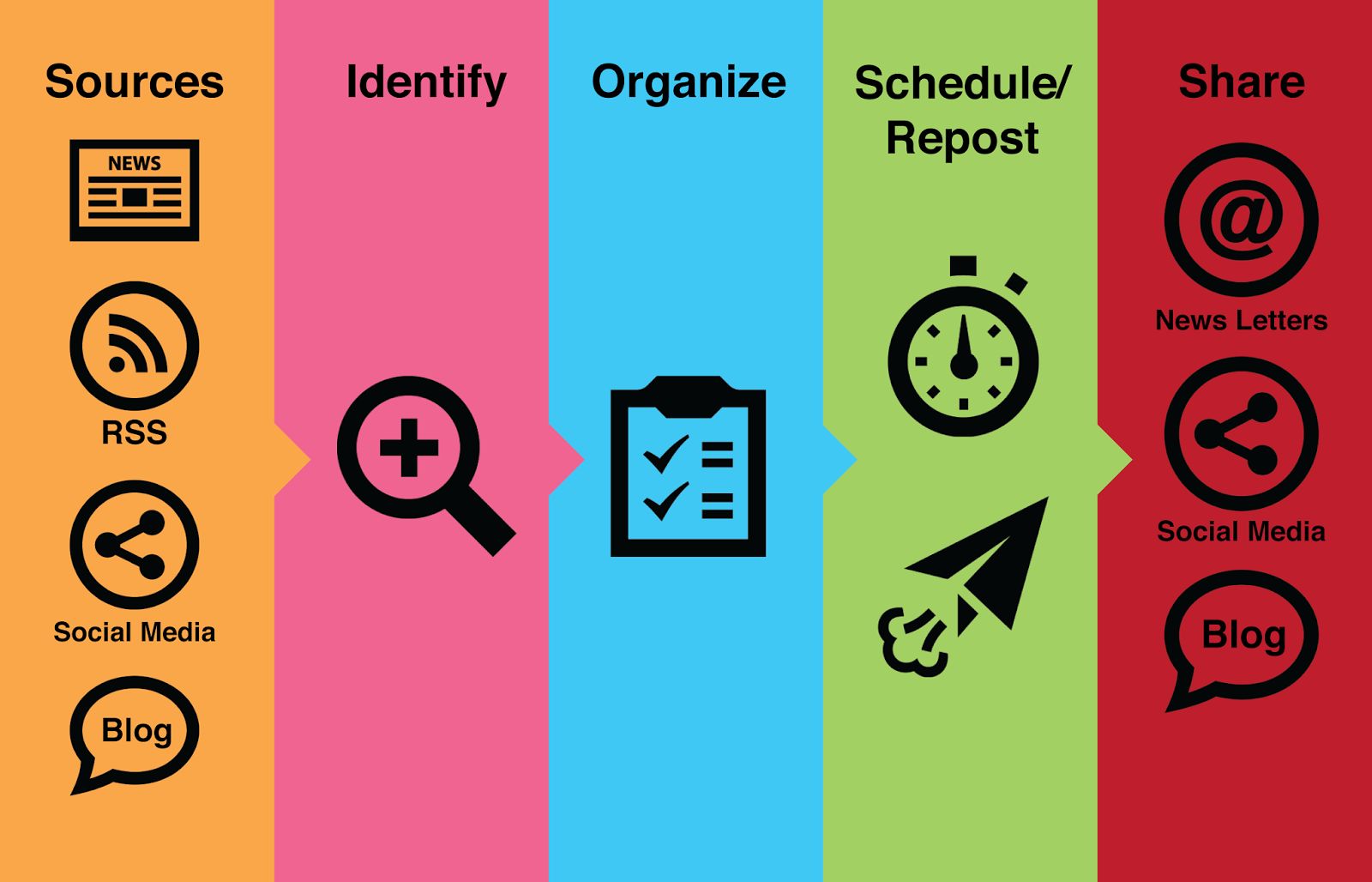 Curation - Summary compilation method flowchart
Share - Share premium content
The internet has a saying that Is caring, which is enough to show that sharing is a positive behavior. On days when you don't have your own content, you can visit other people's pages, look at their tweets, see great, content relevant to your fans, comment on it, and retweet it to your timeline.
If you often interact with some big V, comment and reprint their content, you can also establish some kind of connection, the brand's marketing exposure, there is no harm.
How to find fresh, high-quality content
A lot of people also know to make good content, and they know what their fans like, but they can't find good content material. Here we recommend a number of useful content search engines (Content Search Engine) to collect content material for original or Curation.Although most of them are paid tools, they offer a free trial. Just replace one mailbox and you can continue with the trial.
BuzzSumo –www.buzzsumo.com The most famous content search engine, through a keyword, can find a large number of related articles, and each article has been shared on various platforms the number of times data. If you're going to share with Facebook, it's easy to lock in the posts that you've shared the most on Facebook.
Epictions –www.epictions.com Very similar to BuzzSumo, but with better built-in article quality and data analysis.
AllTop –alltop.com Completely free content engine. Once you've signed up for your account for free, you can subscribe to your own topic, log in every day to see the latest and most popular content on the topic, and forward it.
Zest –zest.is Completely free Chrome browser plug-in. Using Google Chrome, visit the nest.is installation plug-in and open any new window to display the most popular and popular content on the network today.
Feedly –feedly.com The content engine of the partial tech house. It brings together a lot of high-quality blogs, through keyword search to find relevant bloggers, view Ta's latest content, you can also contact bloggers to cooperate.
SocialAnimal –socialanimal.io Another platform similar to BuzzSumo is free to sign up for.
Specific processes that can be operated directly
If you still don't know how to get started, you can start manufacturing and publishing content by following the simple process below:
1. Look at the 10 best brands of its kind on Facebook and see what they post, when and how often.
2. Find 10 sources where you can get new content every day, such as BuzzSumo, a big V, a website, taking pictures of yourself, and more. Channels are unlimited, but to be highly relevant, easy to read, good dissemination.
3. Make detailed daily plans, such as a picture on Monday, a text on Tuesday, a video shared on Wednesday, an original release on Thursday, and more. Publish at least 1 article per day.
4. Post during the time period when your target fans are active and get the most reading and interaction. You can use tools like Buffer or HotSuite for scheduled sending.
5. Stick to and cycle through this process, constantly optimizing the reading volume and interaction ratio of the content. Form a benign closed loop, that is, you can play more and more space, can create / share more content, readership and interaction gradually increased.
Different purposes and diverse formats
According to different purposes, there are many forms of content, in addition to familiarIn addition to text, pictures, motion pictures, videos, slide show, poll, E-Book, app, Contest, Sweepstakes, Live Video, Webinar, and more.
Form exists for service purposes. Don't cling to a certain type of content, choose the most appropriate form to maximize marketing effectiveness in different scenarios and needs.
Echoing the last one, we can think of each content manufacturing as a stand-alone project. Text content is only the core of the content, with text content, to be integrated into a specific scene, to play the maximum value of the content. The re-use of content has two dimensions:
Multi-form re-use
For example: You made an article about"How to talk to customers in these ten countries about price" content, it is perfectly possible to turn it from an article into an informative PPT uploaded to SlideShare, or record a video explaining the concepts and operations uploaded to YouTube, or hold a prize-winning competition, set up a few questions like "Which country's customers re-price, which country's customers like to check the factory" to get fans involved.
An article, as long as a change of form, after being reused, the value can be further excavated, but also no longer have to spend on the content itself, but also to achieve the purpose of interaction.
Multi-platform re-use
Good articles don't just put on one page and go to the platforms you can reach. This is done not only to maximize exposure, but also to test the preferences of fans across platforms for different content.
The data shows that fan preferences for content can be as high as 70 per cent across platforms. Try different combinations to measure the difference between reading and propagation more easily than static.
Great content has now been released, distributed across multiple platforms, and read well. But after a while, you find that the number of fans has dropped, or that your fans are not so active. The most likely reason is that you don't interact with your fans in a timely and appropriate manner.
There's no need for timeliness,To each platform account to maintain attention, with fans like, message, forward, immediately interact, thank you. If you ask the relevant questions, make a professional answer.
The so-called appropriate answer, there is no fixed mode, you can bring their own personal style. For example, once saw a fan message that said: "I just place an order for the pad, can wait to see it.", the account manager replied to her in humorous style: "We are so excited we will not sleep tonight."
(This article appears in the 57th issue of Focus Vision magazine)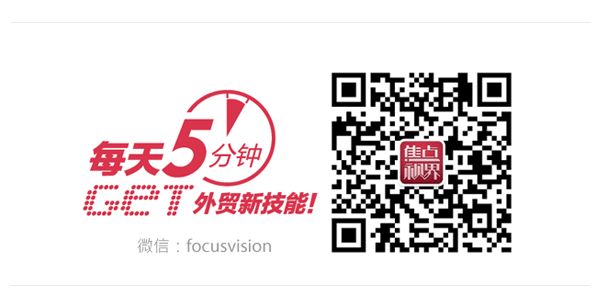 ---