Facebook's marketing must master the aids of black technology
About the author: Han Xijun, a special lecturer at Focus Business School and an 8-year practitioner in the foreign trade industry, has been trying to solve various problems in foreign trade with the idea of technology and human nature. Has been the 2013 Shanghai-Soviet hui e-commerce title, currently focused on foreign trade mail and foreign trade SNS, SEO field of practice.
More and more foreign trade people are using various social media to expand their overseas business. In the process, one of the questions that puzzles many people is:What should I send?Another question that has also been asked many times is:How do I publish these?




Based on these two questions, the series will focus on three interrelated topics: what is premium content in overseas social media marketing, how to manufacture and publish premium content, and black technology and tools to increase efficiency.




Overseas social media is a wide range, with this article focusing on mainstream Facebook and Twitter, and other platforms mentioned in the middle, but only by one.




The previous review:




Sign up for Facebook, but what should I send?
Assistive Tools and Black Technology
Knowing goals and methods, along with supporting tools, resources, and black technology, can give your social media more exposure and attention.
Outsourcing Services - Outreach
The methods mentioned above all require the operator to practice them step by step. In this process, there are two parts that are more difficult,The first is that English is not our first language, it is difficult to ensure the language quality of the article;, with good content, it can't be distributed to many channels. At this time, consider using outsourcing to complete.
There are countless outsourcing teams, and here are a few larger, more used part-time platforms.
Fiverr –www.fiverr.com Provide a variety of full-time, part-time, outsourcing services. Prices start at $5. Through keywords such as social marketing, article writing, you can find a lot of people to do it. The website itself also provides a complete seller scoring system, you can see the number of historical services, buyer messages and other information.
FreeLancer –www.freelancer.com Similar to Fiverr, the price is slightly higher, with many famous designers and website engineers stationed.
Elance –www.elance.com One-to-one outsourcing is more expensive than Fiverr, but the quality of service is also relatively good.
One of the charms of social media is that it has a large crowd that allows each operator to use his or her imagination to organize creative events.
One of our cases:In December, before a new product was released, we held an interactive raffle on Facebook.In this event post, take out 30 products as prizes, let everyone who sees like, comment, retweet. The rule is to randomly draw 30 winners from among those involved on the day of the end. The effect of this activity exceeded expectations.It has reached 130,000 views on Facebook, received more than 4,300 comments and added 4,000 followers.
Bring fans into your marketing plan and get them really involved. It's the ultimate goal of our operations to generate User Generated Content content in a variety of ways and spread among our fan base. What really limits us is not technology and platform, but imagination.
If you want to do good, you must first take the necessary necessary examples. Social media operations are trivial and workload is small. In this case, using some good tool aids will save manpower and improve efficiency and effectiveness.
Buffer –app.buffer.comSocial media publishing tools that set up scheduled tasks to publish information to various SNS platforms. The free version can bind to 5 accounts. Once bound, you can manage publishing tasks in Buffer, publish to multiple platforms at once, and support scheduled sending.
HootSuite –hootsuite.com Similar to Buffer, but more powerful, with a lot of fine-grained services built in. The free version can bind 3 accounts, one per platform.
IFTTT –www.iftt.com Completely free intelligent responsive marketing automation platform, yesOne of my personal favorite tools. Bind your platform account numbers on TOPT (currently supports more than 300 platforms) and you can then set trigger conditions for IFTT to automate various tasks for you.
For example, you can ask IFTT to do the following: If I post a post on Facebook, automatically forward it to my Twitter and Pinterest. There can be countless similar tasks.
KingPoster:Post content in bulk to multiple groups on multiple Facebook accounts for $25 lifetime. Facebook's groups are an important feature. One user can join 6,000 groups, which is enough to show that Facebook is very supportive of group operations.
When an account joins too many groups, it can be painful to post messages to a group. At this point, you can manage your group's bulk publishing tasks with tools like KingPoster.
SEO Power Suite –www.seopowersuite.com A complete set of desktop tools was originally used to optimize the website SEO, but one of the components, BuzzBudle, provides the ability to manage multi-platform accounts in one place.
In SEO Power Suite's BuzzBudle component, it's easy to manage accounts from multiple platforms in the same interface.
The last topic to discuss is advertising. All social media platforms have advertising mechanisms and are their main source of revenue. It's enough to see that advertising is an important part of marketing.
Many people or companies feel that advertising is an unappealing act of burning money, but this is not the case, or rather,The use of advertising means is an important complement to the marketing link. In some cases, it is not possible to achieve this through simple technology and operation, and advertising must be relied upon.
For example, if you only have 3,000 followers, you can't get 5,000 people to see your posts on Facebook in any way that grows naturally. At this point, simply open a push post, spend $3 a day, you can let 6000 people see your content. Today's Internet world, the cost of access is so high, such a choice is already very cost-effective.
Another misconception about advertising is:These things, with some time, we can still do human resources, so it is not necessary to open advertising. The error of this statement is that the time node of human execution is much greater than the immediate effect of advertising.Indeed, after three months of hard work, an account's fans may have risen to 6000, and the post could naturally be seen by 6,000 people. But don't forget, the competitor who advertised, but on the first day you achieved the results of your three months of hard work. How should the time cost in the middle be calculated?
Of course, the author is not encouraging everyone to do advertising, but in communication with many teams and individuals, feel that there is a great misunderstanding of this, so wrote so much to explain their views. I hope you can look at advertising rationally, in line with the goals and budget premise, try a variety of three-dimensional operating options, can bring better results.
Through this article, I hope you can learn the basic principles of overseas social media content manufacturing, master the search for and manufacture of high-quality content, contact and familiar with can enhance the workAuxiliary methods and tools for efficiency effect.Released through Continuous Manufacturing—》Feedback.—》Optimization.—》By creating such a closed-loop process, I believe that everyone's social media operations can be taken to the next level.All the kings work together!
(This article appears in the 57th issue of Focus Vision magazine)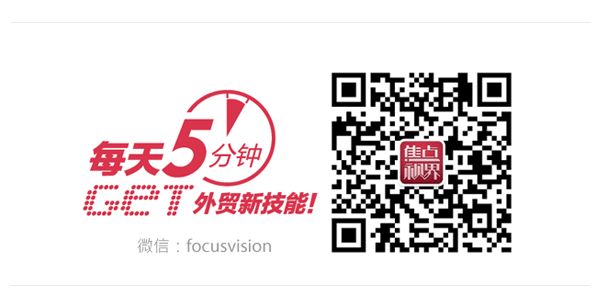 ---