The core idea of Facebook marketing that you may not yet know? (Full of dry goods, easy to read good text!) )
Click on the blue letter to follow more tips for Philippine e-commerce sales!

If you search Facebook marketing on Google, you'll find that there are too many blogs and videos that teach you how to do Facebook marketing, but the question is, which one works?
Please enter the title abcdefg
If you look at the businesses that do the promotion on Facebook, you'll find that their methods are almost the same.Post articles, pictures, videos, links, etc. on Facebook, and then you see how many people like, how many people review and retweet。

And then you think it's not hard, so you create a facebook page and start posting articles, links, and pictures,You'll find that there are not many people browsing because you don't have fans.

So you start to find a way to get more fans, the most direct way is to advertise, in the background to create ads is not difficult, how to make ads to bring you more fans....

So eventually your Facebook marketing efforts change in two parts, advertising to get fans, and then send articles, links and pictures, so that more people click on the link to your site, consult you or order.

However, you persist for a period of time to find that nothing works, your time and energy is already limited, if you can not see the effect in the short term, it is difficult for you to persist.
Responsible to say that although these businesses are promoted in similar ways, but they get very different results, the root cause is that the ideas behind them are different todayKai YajunI want to share with you how to do Facebook marketing from this perspective.

Because once you've figured it out, your Facebook marketing efforts will be very clear, and you'll know what to do every step of the way, how to do it, and even how you can estimate the rate of return.

The first step in Facebook's marketing thinking:

Why choose to promote it on Facebook

You might think it's an idiotic problem, but in fact a lot of people still don't know that for big brands, they're for branding, but for the vast majority of small and medium-sized businesses, it's about getting more consistent and accurate traffic to their websites.

If you're a professional network marketer, you're sure to understand that what really determines the success or failure of your marketing efforts is whether you can create a channel that can consistently and steadily get accurate traffic, not just traffic.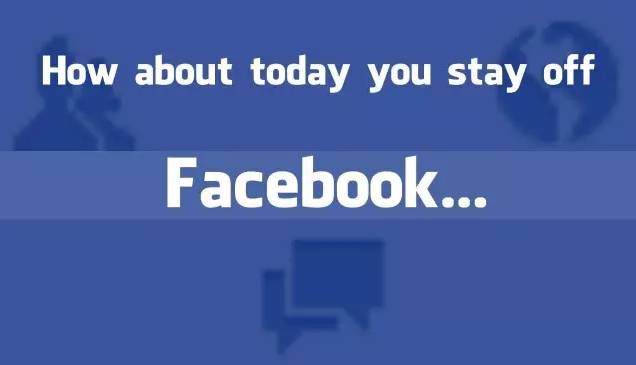 Because it is not difficult to get traffic alone, the key to solving this problem is to choose the right channel to promote, this channel must have the following four points:

1. The user base is large enough:Facebook had 1.86 billion users on February 1, 2018.

2. Be able to retain users: Facebook has a fan function, as long as follow your account, you later update the content he can see, the purpose of the retention function is to ensure stable traffic, think about you do google adwords promotion, visitors to your site, after closing how do you push information to him? It's hard, but Facebook makes it easy.


3. Positioning function:For example, if you're doing language training in Kuala Lumpur, you can target people through geographic locations, you're selling women's clothes, you can target ads to reach customers by age, gender, hobbies, and that's important to make sure you get accurate enough traffic. Imagine 100 people coming to your site, 50 people placeing orders and 100 people coming to your site, what's the fundamental difference between one person placeing an order? It's the accuracy of the traffic, and Facebook has it all.

4. Recommended featuresThis is the key to the growth of leads, such as when you get 100 followers or friends through Facebook ads in the early days, then Facebook will recommend you to those 100 people's friends, and when you send an update that is retweeted by these fans, you can get more recommendations, which is an advantage that google adwords can't reach.
Now that you understand why we're promoting it on Facebook, our goal is not just to get traffic, but to create a channel that continues to deliver precision and growing traffic, which is the key to breaking through 100,000 or even millions of traffic later on.

The second step in Facebook's marketing thinking:
Develop a promotion plan

Anything you not only need to do fine to produce results, you also need to make it into a standard system, and then persistent follow-up, those fans hundreds of thousands, or even tens of millions of large numbers behind a relatively perfect promotion workflow, even if the change of personnel, will not affect the promotion work, these need us to set in the beginning.

So whether it's a big business or a personal entrepreneur, we follow a core principle when we make a Facebook promotion plan, which is very simple, as follows:


Ways to get accurate fans:

1. Use Facebook paid ads for accurate crowd reach;

2. Import to facebook account through the original customer email, get seed fans, and get relevant recommendations;
3. Intersection field large FB to help forward;
4. Through article publishing, interactive access to new fans;
5. Get more new fans through other channels, such as instagram, website, email signature, etc.

How to get fan recommendations and retweets:

1. The length of the published article: the length of the article in 2000 to 3000 words is the easiest to forward;
2. The type of article published: The problem article has the highest forwarding rate, followed by the type of picture;
3. Content update point: 10 p.m. to 12 p.m. release can get more interaction;
4. How often content is published: Generally, the higher the frequency, the more recommendations and forwards you get, but you have to master it yourself.
It is worth noting that different industries apply different methods, which is why I rarely emphasize specific methods of operation, but more attention to the method behind the core ideas. For example, one is a Chinese foreign trade company, one is a local law firm in the United States, do you think the two companies on Facebook to promote the same approach? It's almost impossible.

Even two companies in the same industry, because of their different characteristics, their Facebook marketing methods will be different, so don't die to promote methods, it may lead you to the end.
The third step in Facebook's marketing thinking:
How to improve your productivity

The above two steps you have mastered the core idea of Facebook marketing, and how to develop a promotion plan, here is the implementation phase.

At this stage, we must strictly quality and quantity of the work done, adhere to a period of time naturally see the effect, but in fact not as simple as we think, because you will find that marketing promotion things are very trivial, you simply do not have enough time and energy to deal with the work.

This is when we learn to use some off-the-job software that can greatly improve our productivity and even be used for performance management.

Search facebook management tools on gogole and you'll find a whole bunch of software that's basically about the same, with several key features, such as regularly releasing updates, counting fan interactions, marketing team collaboration, and more.

Hootsuite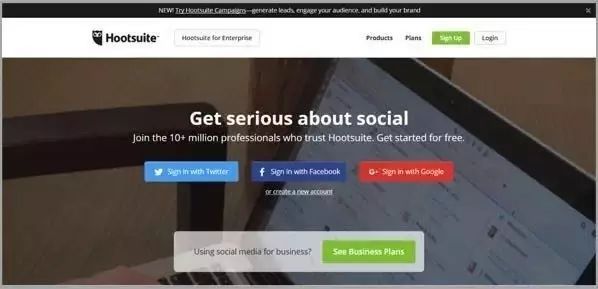 It's an enterprise-oriented social management software that includes almost mainstream social networking site management and has 10 million users, primarily for planning and analyzing social outreach.
Agora Pulse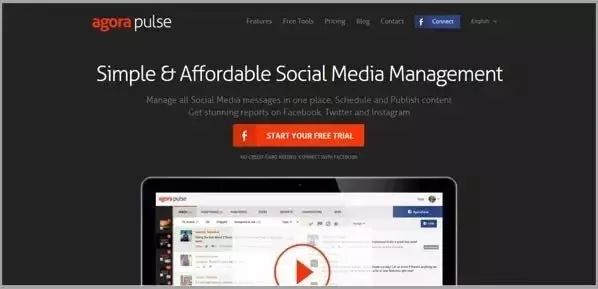 The software helps Twitter, Facebook and Instagram all get their content in one place for unified management and analysis, and it also provides content and advertising capabilities.
Sprout Social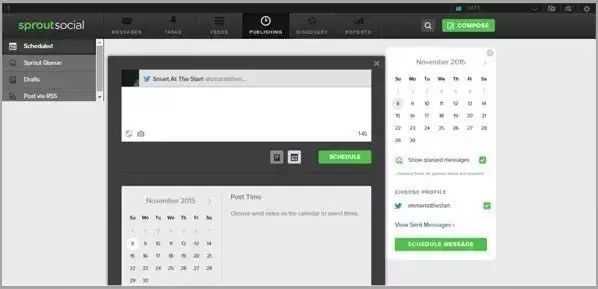 This social management software is built specifically for marketing intermediaries, because it can manage multiple Facebook, twitter and other accounts, separate management and statistics.

Edgerank Checker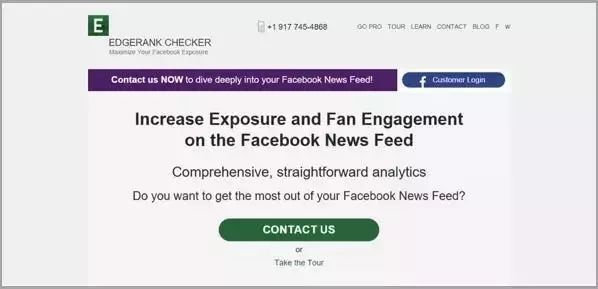 The software helps you find the best way to promote Facebook posts, which is important for increasing fan engagement, as well as responding to fan comments in the software.
Kai Yajun summary:

Facebook marketing is actually the lowest threshold and the fastest way to be effective.
Real marketing bull to do promotion, many people only do Facebook, when your marketing experience accumulated to a certain extent, your love of Facebook marketing will only increase, especially if you need to attract to the site, cultivate a group of loyal fans, do not ignore Facebook, it is really can bring you return, as long as you have mastered the above three steps, I believe that even if you are new to, you can quickly see the effect!
For more exciting content, please check the subscription number history message!
I am Kai Yajun, will e-commerce essence content to share with you, remember to keep an eye on us!
                                                                                                                             Content comes from the network, intrusively deleted
Follow the subscription number
E-commerce solutions expert

A selection of professional information
Fast beach Philippine e-commerce market
---