The 2017 Mobile Social Advertising Report was released, with more than 50% of advertisers endorsing small app ads
The following articles are from the Micro-League Research Institute The author lets you know more about WeChat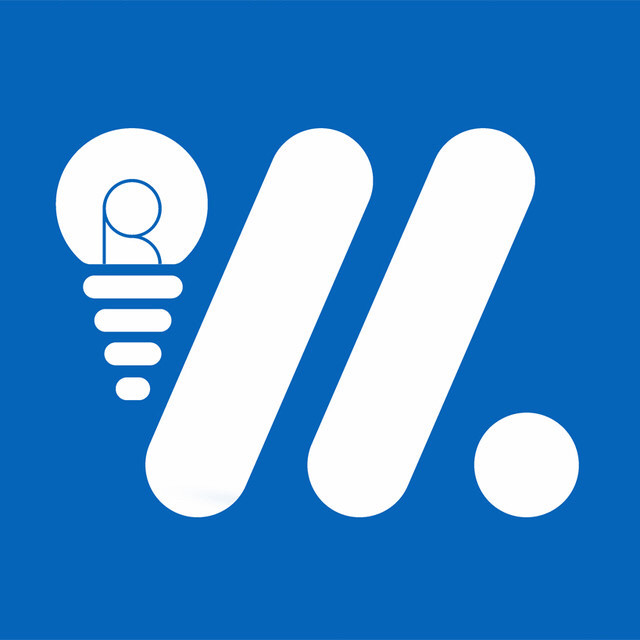 Micro-League Research Institute
Micro-League Research Institute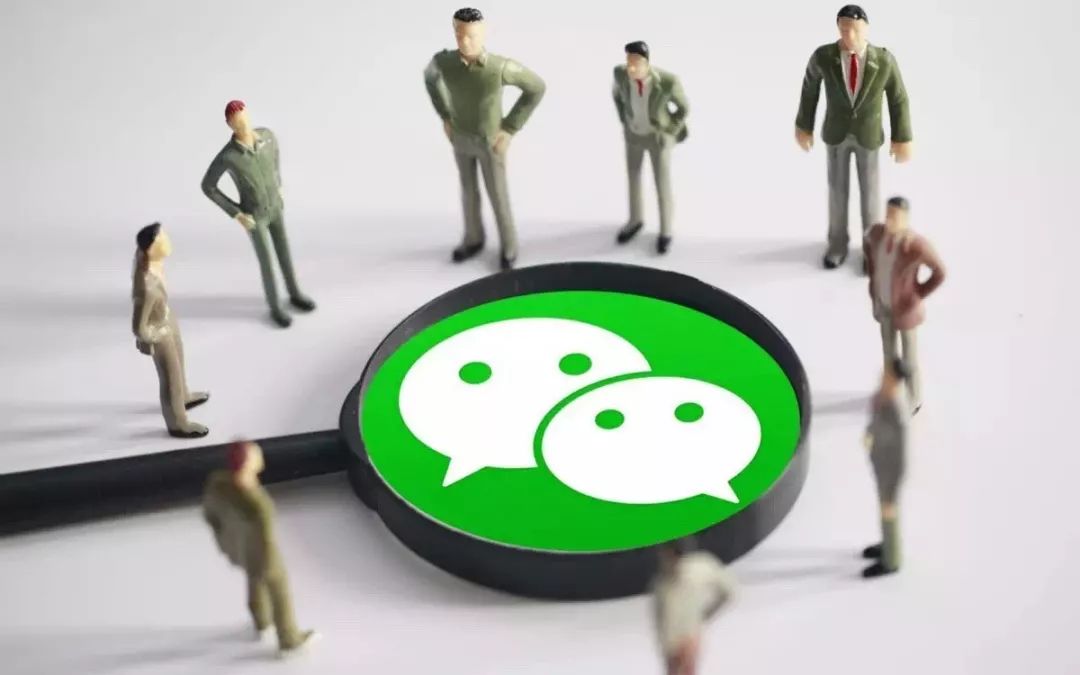 75% of advertisers tend to run friends circle ads, 60% of advertisers tend to service providers advertising on behalf of the investment, small program advertising advantage by more than half of advertisers recognized.
Recently, micro-alliance, an intelligent business service provider, released the 2017 Mobile Social Advertising Industry Report. The report argues that with the spread of social applications and the growth of user size,Mobile social advertising has become one of the most popular ways for advertisers to promote, with life service advertisers being the most active.And through third-party advertising service providers to fine-tune advertising delivery and operation management will be the first choice for enterprise promotion.
Report data shows that as a new style of social advertising,The advantages of small program advertising are recognized by more than half of advertisers, and there is huge room for future development.
Follow "
Know the program
WeChat backstage reply "
Advertising.
Get it

Report.

Full HD version

。
Friends circle ads are favored, 60% of advertisers tend to service providers advertising on behalf of the cast
The data show thatMobile social users reached 670 million by 2017.Thanks to its large user base, mobile social advertising has demonstrated the advantages of wide reach, with reporting data showing that more than 60% of advertisers value this advantage when serving mobile social advertising. At the same time, because WeChat users are far ahead of other social applications, WeChat ads represented by friends circle ads are the most popular with advertisers.75% of advertisers tend to run friends circle ads.
However, from the actual delivery point of view, due to the lack of experience, lack of skills and other factors, advertisers face many problems, the most prominent problem is the conversion effect, 70% of advertisers think that the advertising performance is not ideal. As a result, fine-grained ad delivery is the primary demand of advertisers, and the data show thatAdvertisers have the highest demand for ad-writing and image design, at 69.9%.
A survey by the Micro Alliance Research Institute found that 60.4% of advertisers prefer the mobile social ad delivery that service providers cast on their behalf because they are able to provide advertisers with more professional and efficient ad serving. This phenomenon has also led to the rise of the domestic third-party mobile advertising platform market,Between 2010 and 2016, the market size increased nearly 100-fold from 120 million to 11.74 billion.
According to the Micro-League Institute,Advertising service providers will be the main way to deliver mobile social advertising in the future.Fine-grained ad delivery services will be accepted by more advertisers, who can help advertisers achieve complete solutions from planning, delivery to closing, and achieve deeper branding and user transformation.
Life service industry put active, wedding wedding industry put high budget
In terms of sub-sectors, mobile social advertising is widely used in all walks of life.Among them, life services, furniture and home furnishings, food and beverage, automobiles, education and training, wedding wedding seven major industries are the most active.The report focuses on the seven major industries using friend circle advertising as an example.
Typical branding industries include real estate, department stores, consumer goods, digital brands and automotive brands, with 63.9%, 57.1%, 56.3%, 50.1%, 45.5% of advertisers in demand; Effect conversion industry includes games, wedding photography, e-commerce, home furnishings and education and training industry, the proportion of advertisers in demand is 76.9%, 74.6%, 65.9%, 57.1%, 56.3%, respectively.
For enterprises with effective transformation needs, immersive native promotion page is the most popular, wedding wedding, furniture home furnishings, local life service industry application native promotion page advertisers accounted for 52.8%, 43.6%, 42.1%, respectively. Because it can display the service and information of the merchant in all aspects, it is more used in the catering industry, accounting for 51.5%.
In terms of advertising budgets,The wedding industry is affected by the promotion cycle and so on need to be repeatedly placed, 44.85 percent of advertisers spend more than 200,000 yuan a year on social advertising budget.Education and training, catering industry, small and medium-sized merchants are more, so the budget is relatively low, the proportion of advertisers under 50,000 yuan is 52.2%, 64.1%, respectively.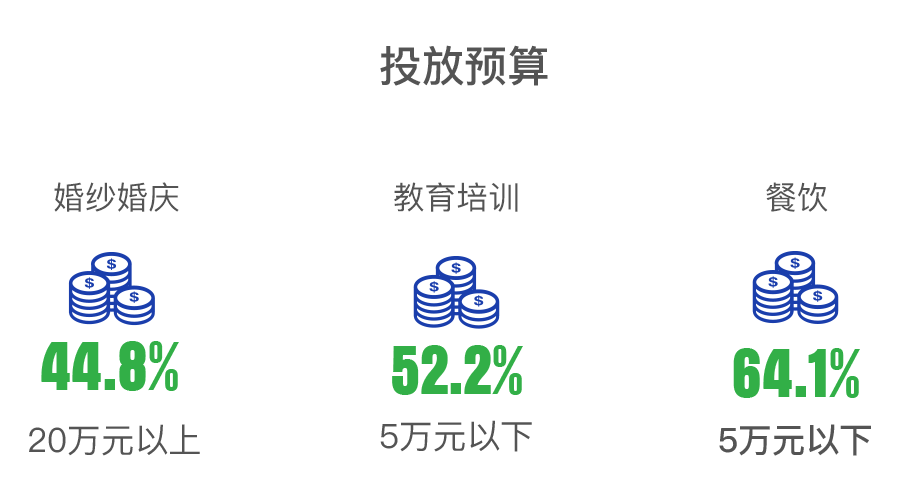 Micro-League Research Institute believes that different industries correspond to different promotional needs, so the promotion methods, strategies are not the same, advertising is mainly based on their own industry combined with advertising display form and characteristics of delivery. In this regard, the segmented advertiser industry has also become the focus of advertising service providers. With more than 20,000 advertisers, micro-alliances and mobile social advertising platforms offer targeted ad delivery solutions for different industries, combining industry insights and rich delivery experience to maximize optimized advertising performance.
More than half of advertisers recognize the advantages of small program advertising performance
Mobile social advertising has a rich representation and is constantly adding new presentation styles.One year after it was online, WeChat's small-program ads with more than 400 million users were the most watched.With the friends circle, the public number and the bottom support small program landing page delivery and small program advertising space has been opened, WeChat small program officially into the mobile social advertising ecology.
Survey results show that the advantages of small program advertising focus on the performance, conversion effect, fission transmission and other aspects,Of these, 58% of advertisers agreed with the small program's reach, and 51.4% agreed with the small program's performance advantage.
Micro-League Research Institute believes that the birth of small programs marks the IT industry's technological innovation, because it has an excellent user experience and connect multiple online and offline entrances have been widely concerned, small programs meet the advertisers on advertising display and user coverage of the main needs, small programs and advertising behind the combination of a huge space for development, the future advertisers need to grasp the small program outbreak, the use of technology to achieve marketing promotion upgrades. In this regard,MicroConsort Alliance has pioneered an all-in-one solution called "Advertising and Small Programs" to help advertisers grab social traffic.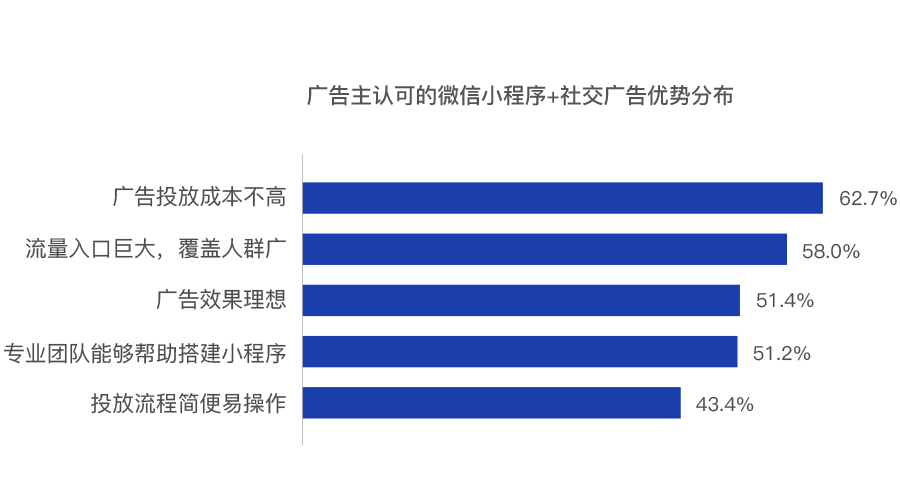 According to the Micro-League Institute,With the change of advertising technology and the upgrading of marketing means in the future, mobile social advertising will enter the era of content marketing.Ads with a high level of content will be more accepted by users, advertisers who serve video ads on social platforms will become more and more common, native ads, scene-based push can achieve precision marketing while ensuring user experience, and with the application of new technologies such as small programs, AR/VR, AI, mobile social advertising can not only be upgraded in terms of communication, experience, for advertisers, smarter delivery, more accurate performance prediction and better advertising interaction is also gradually realized.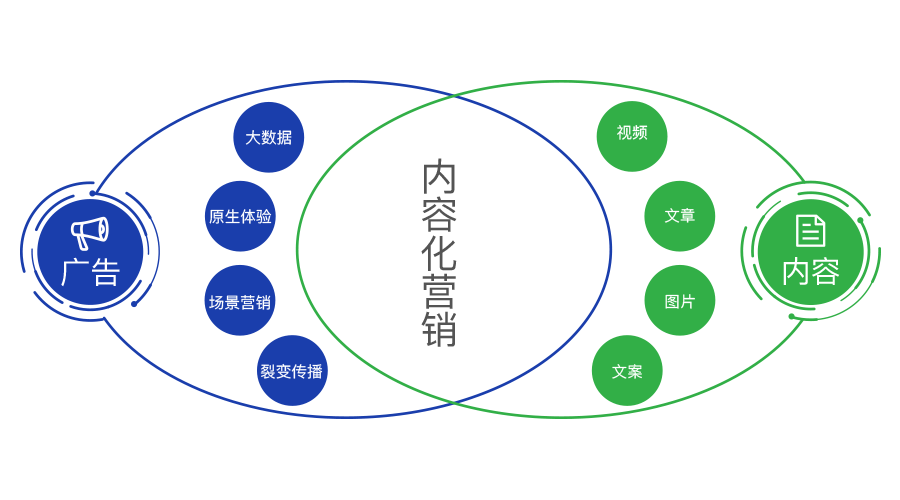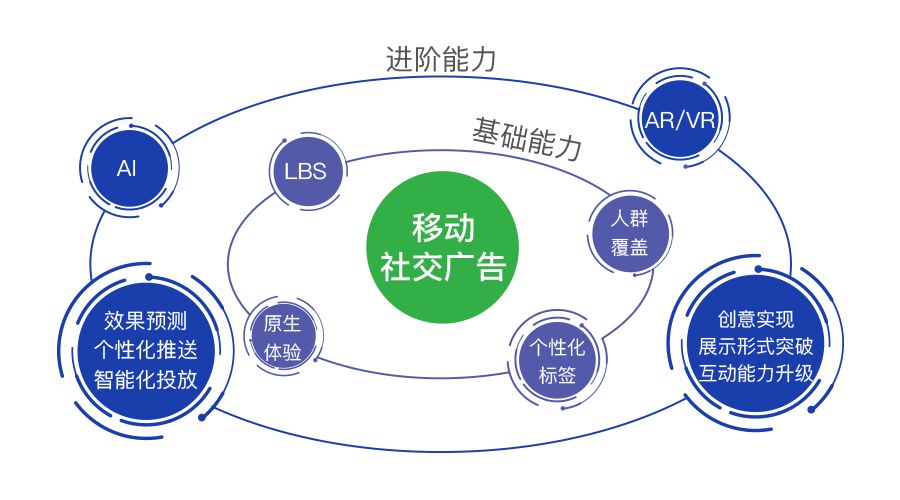 In the future, the boundaries between advertising, socializing, and gaming will be blurred, and ads that combine social and gaming will more easily reach out to and connect with users.Whether it's in-game ads in small-game games or more forms of ad presentation will become a new trend in social advertising.Mobile social advertising in the future will no longer be a mere display, but a new model of content marketing, scene marketing, technical capabilities, and interactive entertainment.
Follow "
Know the program
Public number, reply backstage on WeChat "
Advertising.
Get the full HD version of the report.

Click on ""Read the original textLet your little program develop one step faster.
---