Elevator advertising spending growth of more than 30% Which categories hold the budget?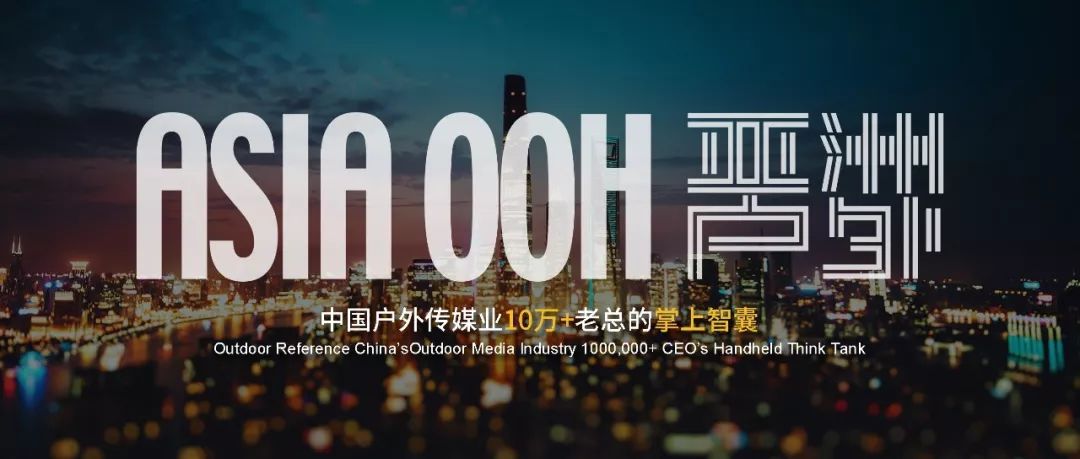 According to CTR Media Intelligence, overall advertising market spending increased by 5.8% month-on-month in August 2020. From the performance of various advertising channels, television, newspapers, radio, elevator advertising have further increased month-on-month, elevator advertising spending increased by more than 30% year-on-year. The three major sectors of television, radio and outdoor will be interpreted in detail below.
In August 2020, the year-on-year decline in TV advertising expenses narrowed further to 7.1%, while advertising spending continued to grow by 6.3% month-on-month. In the head industry, advertising for beverages, food, activities and alcoholic beverages increased month-on-month, while advertising for food and events increased by 11.1% and 20.1% year-on-year.
The growth of the food industry is mainly due to the large increase in convenience food, snack candy, convenience food, canned food, cooked meat products, fast food, desserts and other advertising spending more than doubled year-on-year. As the largest industry, beverage advertising spending decreased by 10.1% YoY, while advertising spending on infant milk powder, special purpose beverages, yogurt, raw milk, and milk increased YoY, but decreased year-on-year in several of the larger categories of carbonated beverages, tea drinks, distilled water, fruit and vegetable juice.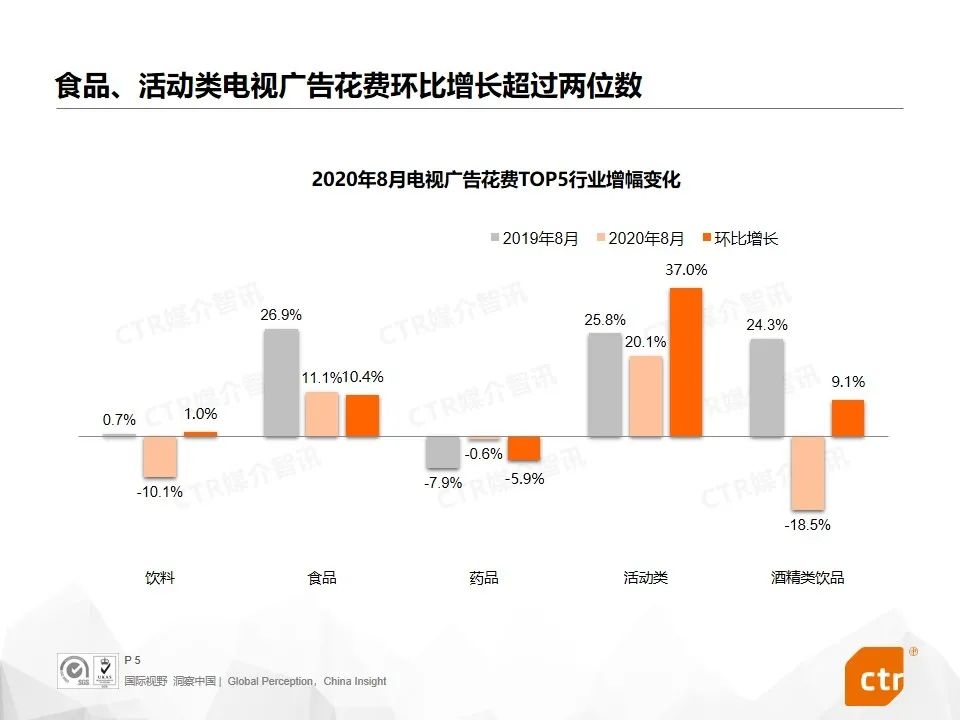 Provincial TV, the new day electric car exclusive title of the variety show "Let's sign up" broadcast, at the same time, the new day electric car ads also covered Jiangsu Satellite TV a number of popular varieties such as "masked singing will guess guess", "new dating conference", "insincere do not disturb" and so on.
Evergrande Group's automotive brandHengchi new energy vehicles,The six new models are mainly advertisedOriental TV and Guangdong TV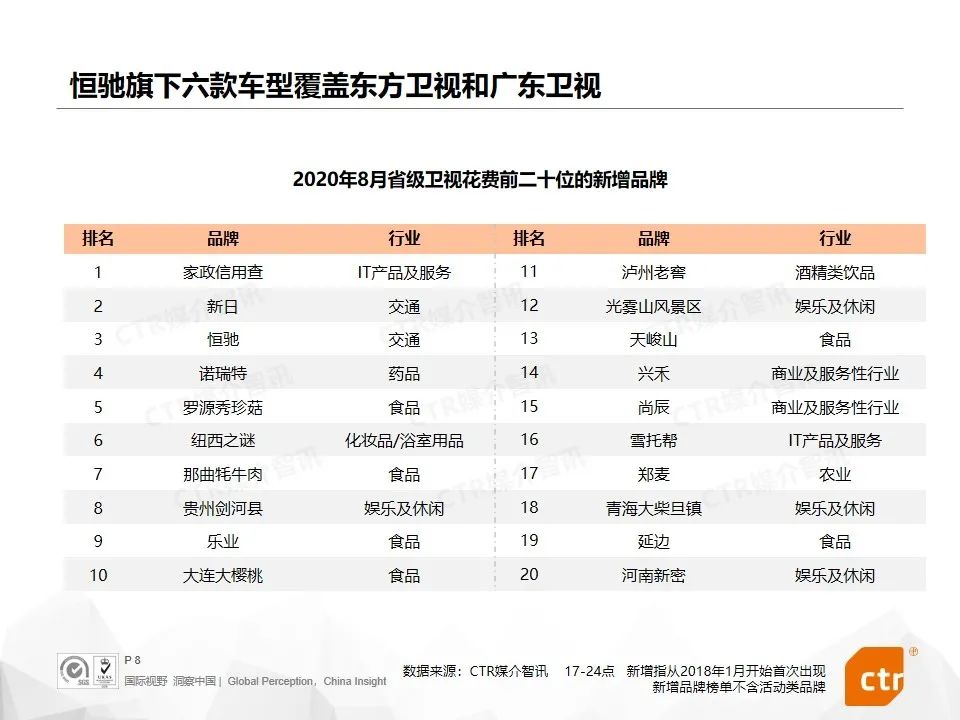 In terms of new products, Master Kang launched a new product in April this year, Master Kang drinking boiled water, inheriting the wisdom of "herb outline" Taihe soup, the main "moderate, safe, sweet", known as "contemporary Taihe soup", marking Master Kang's official entry into the mature water market. The new ads landed on nine provincial TV channels, including Oriental Satellite TV, Hunan Satellite TV and Jiangsu Satellite TV, in August.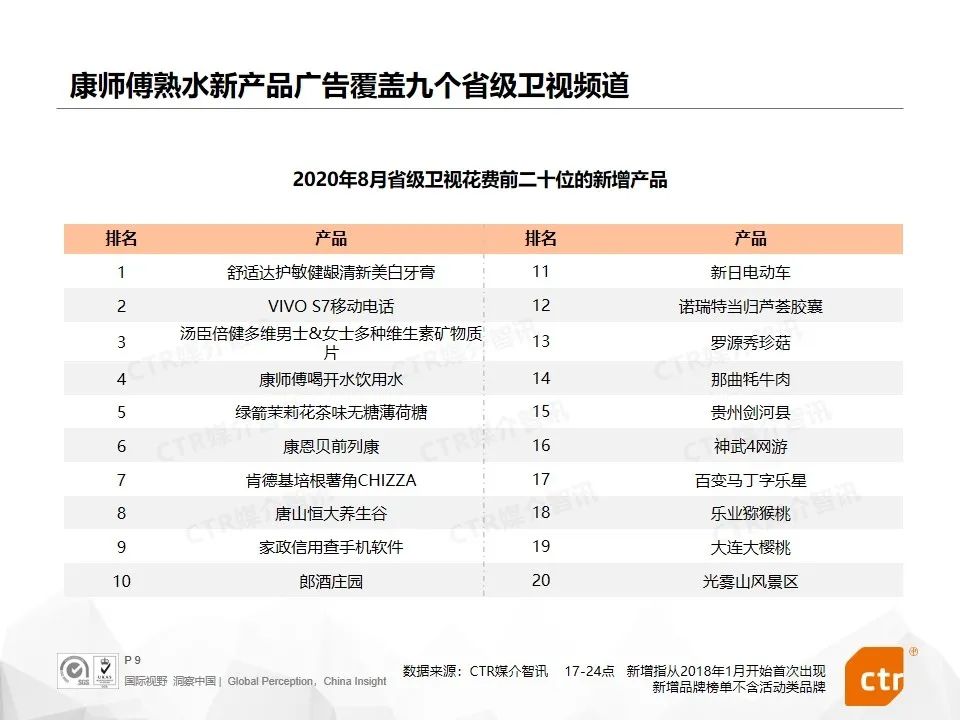 In August, spending and resources on radio advertising fell by 11.9% and 18.1%, respectively, year-on-year.
Among frequency types, the cost of sports advertising increased by 93.9% year-on-year, while the cost of news, information and cultural entertainment also increased by single digits, by 9.2% and 6.4%, respectively.
In the TOP10 industry list, the homewares and telecommunications sectors showed positive year-on-year growth of 5.4% and 12.6%, respectively, while other sectors showed negative growth to varying degrees;
The top five brands in the TOP10 list are the same as last month. Xiaoxian stew this year's radio advertising spending continued to grow rapidly year-on-year, this month's growth rate of 264.9%, home decoration service brand all-inclusive round this year for the third time in the list, up 47.2% year-on-year, advertising mainly in Beijing People's Radio and Tianjin People's Radio major frequencies; There is a small amount of delivery.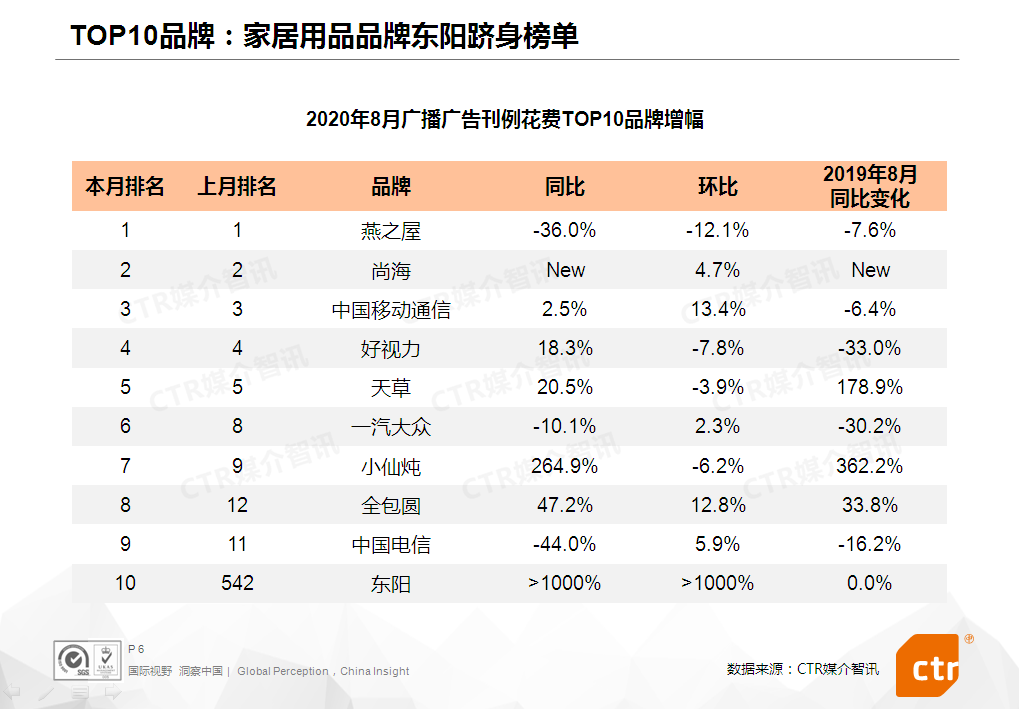 August radio advertising TOP10 new brands from five industries. Before the main elevator advertising enterprise information query platform to check the first broadcast advertising, mainly in Anhui, Jiangsu, Zhejiang, Hunan and Guangdong traffic frequency advertising; The main investment in the Central People's Radio set (China Voice FM106.1), the Central People's Radio three sets (The Sound of Music FM90.0) and Hunan People's Radio traffic frequency (FM91.8) three frequencies.
In August, spending on traditional outdoor advertising fell 2.6 per cent year-on-year.Elevator LCD and elevator poster advertising increased by double digits, by 33.2% and 59.4%, respectively.
Outdoor advertising TOP10 brand list appeared four new faces, personal financial decision-making platform JD.com Finance, the main elevator LCD ads, in the elevator posters and traditional outdoor channels have a small number of ads;
Last month's advertising volume of head brands such as ape tutoring, zebra AI classes, new oxygen, learning and thinking, etc. still maintain a high spending, but also benefit from JD.com Financial, Good Doctor Online and other brands to increase spending.
The beverage industry's spending on elevator LCDs and elevator posters rose 344.4 percent and 156.3 percent, respectively. From the breakdown category, the high increase in beverage LCD advertising in elevators and tea drinks and special-purpose beverages related to the large-scale increase in investment, head brand farmers mountain spring, Yuan気forestation, day plus manchu, etc. are new. In addition, tea drinks, plant protein drinks and special-purpose beverages in the elevator poster spending increased significantly, especially the farmer mountain spring increased rapidly, the main push farmer mountain spring oriental leaf series tea drinks.
The household goods industry in the elevator advertising growth is significant, its elevator LCD advertising spending increased by more than 1000% YoY, the three new brands Mousse, Sofia and the peak of the industry contributed 90% of the advertising spending, the main push products are Mouss mattress and bedding, Sofia wardrobe and its corporate image, industry peak decoration group image. The industry's spending on elevator posters increased by 153.2%, driven mainly by new brands such as Shuda, Peak, and Eight Yi, while Mousse's advertising spending more than doubled year-on-year.
Friends interested in the Shared Electric Car project
You can call 021-23560628 directly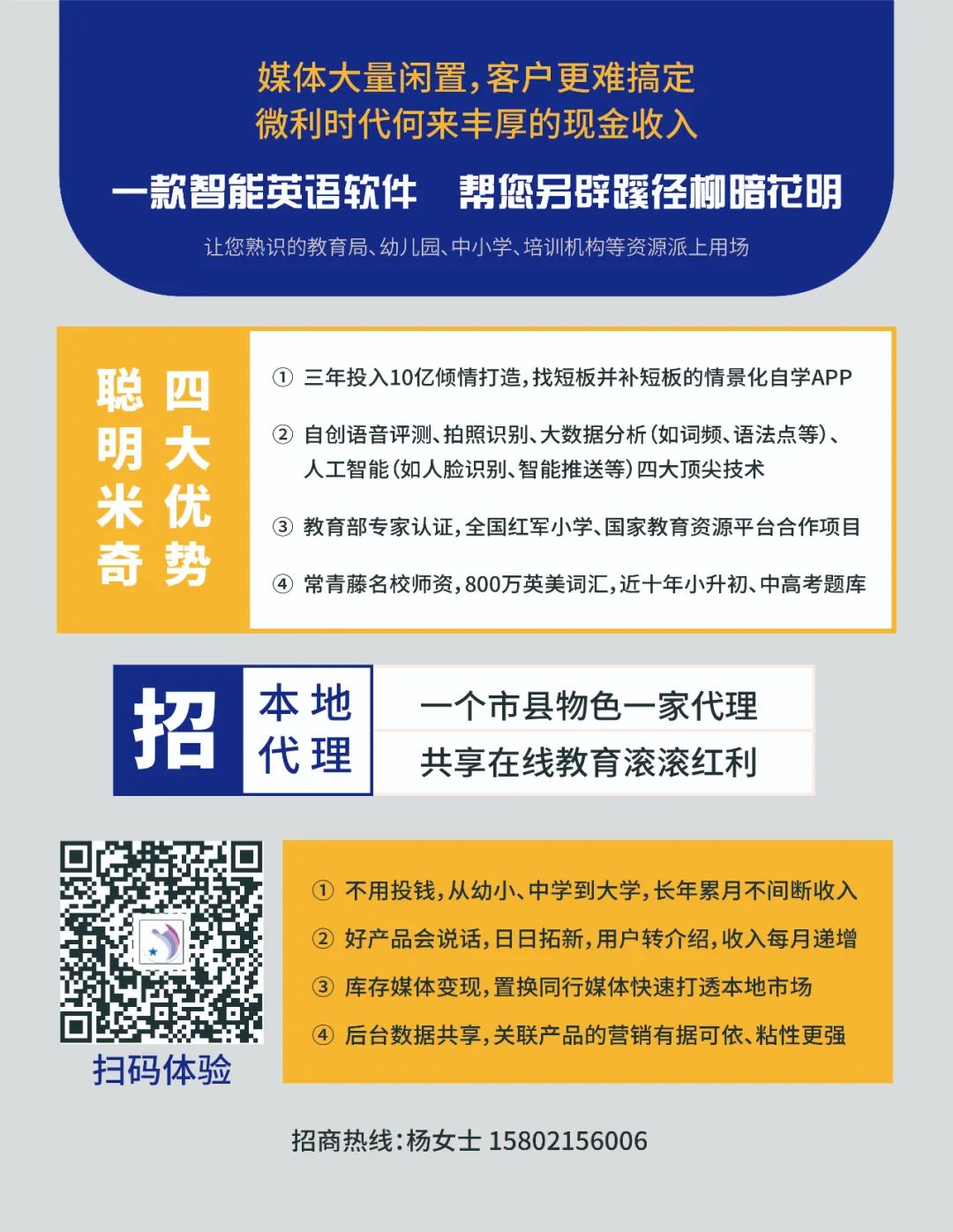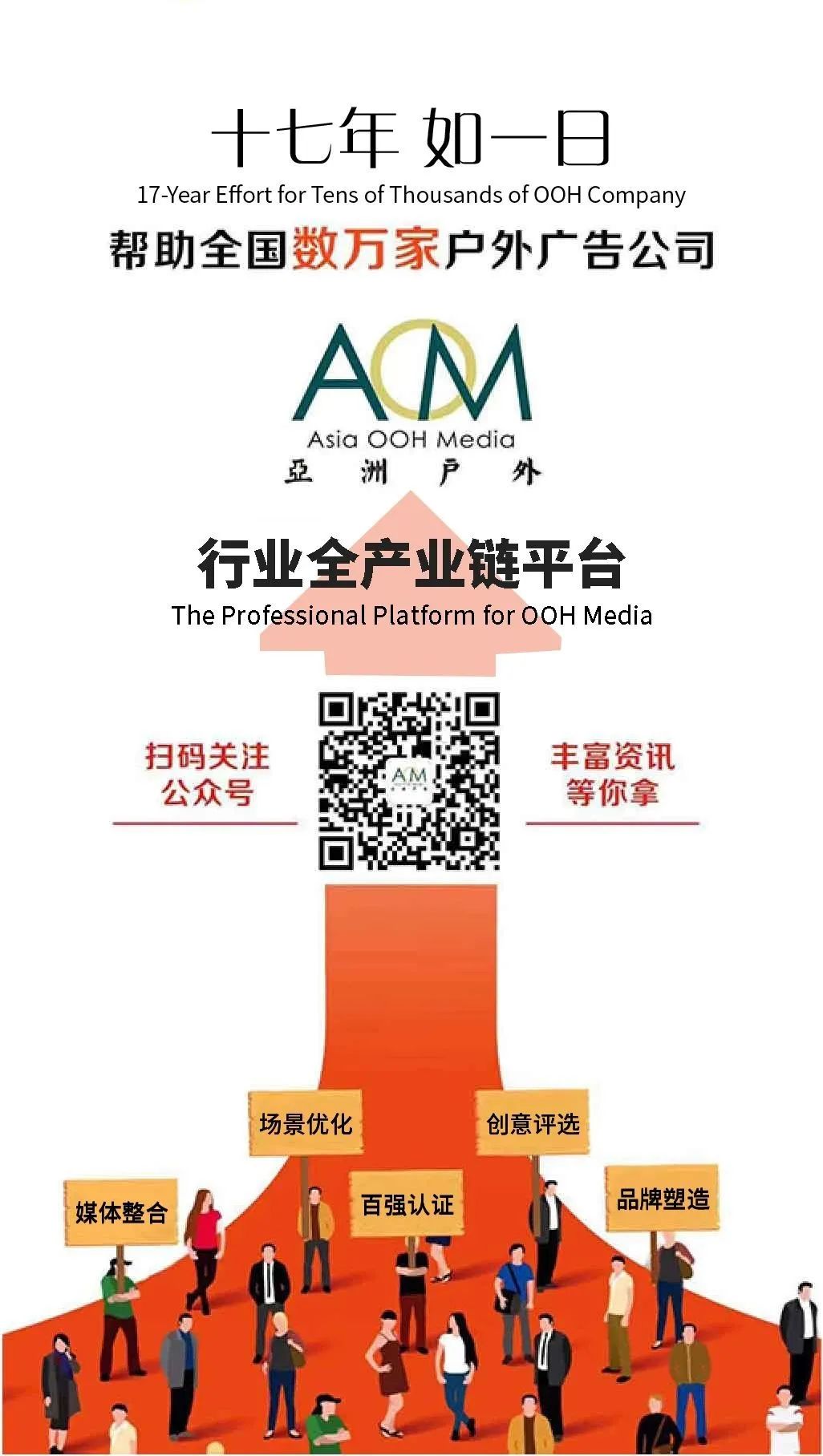 ---