Tencent accelerates the layout of social advertising Social Genes to unlock marketing value
On October 23, 2015, Tencent Global Partner Conference "Internet plus Marketing" sub-forum opened in Chongqing, Tencent Group Senior Executive Vice President Tang Daosheng, Tencent Group Vice President Lin Wei, Tencent Social Advertising Department General Manager Luo Zheng attended, Ansopa, Product Fair, 58 Tongcheng, Easy Car Group, Cheetah Mobile and other advertisers, institutional partners delivered keynote speeches. For digital marketing trends, pain points, solutions to carry out multi-dimensional discussion, the audience agreed that social advertising will become the main trend of digital marketing, not only to achieve personalized user insights, but also to meet the needs of product effectiveness, representing the future of the marketing industry.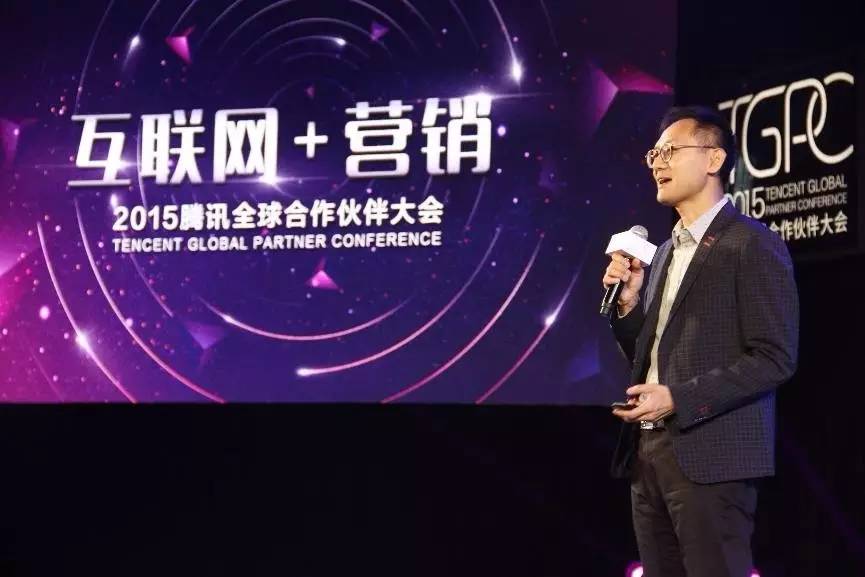 (Senior Executive Vice President, Tencent Group, Tang Daosheng)
Tencent, as a domestic social giant, is accelerating the layout of social advertising, Tang Daosheng opened his speech by saying: "Tencent's positioning is a connector: connecting people and people, connecting people and things, connecting people and content, services." Advertising is undoubtedly one of the most closely watched connections between people and content and services. Tencent's social advertising is working to make ads appear in the right time, in the right form, in front of the right people. Advertising will be a part of life. "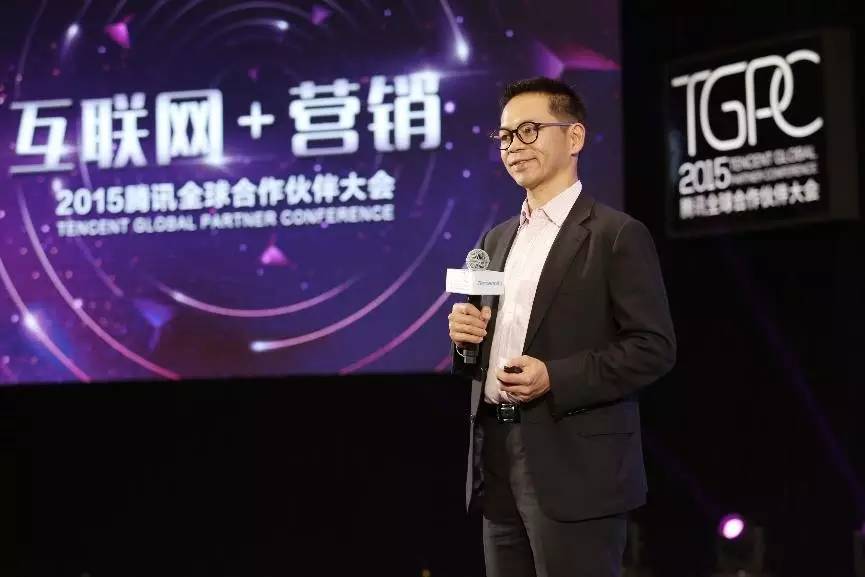 (Vice President of Tencent, Lin Wei)
Later, Lin yi delivered a keynote speech entitled "Social: The Best Connection between Marketing and People", in which he said: "Tencent Social Advertising will be committed to making a good connector of 'Internet plus Marketing', providing advertisers with a richer social advertising scene, creating more powerful forms of advertising interaction, and helping advertisers and industry partners cope with change and win a new era of winning marketing by building an open and win-win environment for users, advertisers and developers." "
Hit the marketing fault straight and socialize to get everything back to where it was
Looking back at the digital marketing process, from portals and search engines to the age of social media, advertisers are losing control of content, and users are becoming more powerful. In the late 1990s, in the era of portal advertising, a thousand people, the site determines what users see. As search engines appear, users begin to select content, but search engines can still determine the final display results through keyword optimization and ranking. In today's age of social media, users can customize content to their preferences, and the threshold for giving up content is getting lower and lower, challenging digital marketing.
According to Aerey Consulting statistics, The average Chinese user effective Internet access time of up to 3 hours a day, mobile devices have been equal to the PC, reached 90 minutes, in addition to sleep in each time period, users in various applications are active for a high period of time, the user's time is becoming more and more fragmented. In the social media environment, the user's perception and experience of the brand presents multi-scenario, grid, the advertiser's marketing means are still stuck in banner, network search, keywords, patches and other traditional forms, following the "brand brainwashing" type of linear content push, the user is full of changes and the advertiser strategy is relatively unchanged, marketing has a fault line, the brand experience mode urgently needs reform.
Luo Ying, head of brand strategy for Ansopa China, believes that in the Brand-Commerce era, solving marketing problems must combine brand, media, data, technology and creativity to create and continuously optimize the brand experience and create a path between brand and business. Social is a bridge to solve marketing problems. Socialization brings everything back to the user's origin, creating a multi-scene situation, building brand loyalty in continuous interaction with the user, and the brand and effect from split to fusion. As the traditional channel marketing dividend gradually dilutes, more and more advertisers are moving closer to social media to explore the transformation and upgrading of marketing.
From the heart to the brain, social scenes build the best connection between marketing and people
As a Chinese social giant, after more than ten years of accumulation and precipitation, Tencent has firmly occupied the dominant position in the three levels of "user coverage", "product usage time" and "life scene layout": Tencent has more than 10 billion traffic, covering 90% of China's Internet users, Tencent's second quarter 2015 financial results show that WeChat and WeChat have reached 600 million monthly active accounts, QQ, The number of active accounts in QQ Space reached 843 million and 659 million respectively, and the high user viscosity is another advantage of Tencent products, especially on the mobile side. According to Avery's horizontal comparison data, Tencent's mobile products lead by 42% in terms of user life (of which social products account for 29% and the other 13%), more than 8% in second place and five times as much; In terms of user scenarios, the latest Easy View think tank data shows that Tencent includes almost half of the top 20 popular apps on the mobile side (iOS and Android), and for most users, life is tied to Tencent's products from the time they get up. Tencent's social advertising provides advertisers with more efficient user touch and diverse scene choices.
Based on these advantages, Tencent Social Advertising provides more realistic insight into user needs. Take the 11th Golden Week as an example, compared with the report published by the industry based on travel destination data, Tencent social advertising gives a more in-depth interpretation: based on geographical location movement and residence type, Tencent social advertising not only knows the popular destinations for users to travel, but also found that only 30% of users travel, 70% of users return home, full of warm "home" is the real theme of Golden Week; After 90 busy socializing or getting married to a family, 50-70 people in the travel to enjoy life ... The more realistic and in-depth the user's understanding, the more efficient the marketing will be.
Social advertising is rapidly unleashing the marketing value that makes advertisers call it good. The film "Yang Guifei" through the circle of friends advertising to make the film flower a high click-through rate of 19%, 7% of users participated in the discussion interaction, Fan Bingbing public number added 500,000 fans. Entertainment star Wu Yifan endorsement of a game, to the circle of friends "Wu Yifan is about to enlist" interactive topics and H5 interactive screen, and finally detonated tens of millions of levels of exposure attention, successfully triggered a popular discussion of the phenomenon-level interactive events, the proportion of new user downloads 20% is affected by advertising after downloading. The traditional marketing model of using "TV/video plus spokesman" for brand exposure is now increasingly appearing in the circle of friends advertising.
Tencent Group Vice President Lin Wei made a deep analysis of social value, he pointed out that social advertising for marketing and users to provide the best emotional connection - it can gain insight into the user's personalized needs, in the multi-scene interaction to impress the user's inner emotional appeal;
For example, 21cake QQ space information flow ads, will be "kind birthday wishes" into the QQ space dynamics shared by family and friends, the harvest of 20% of the click-through rate, only the same day conversion ROI is 2 times higher than expected. Mushroom Street reduced app user activation costs by 30% by applying direct functionality. Infinity Circle of Friends advertising not only achieved 25% click-through rate, through online fill-in, successfully received 15,000 booking test drives, online appointments and offline experience, through the new form of social advertising interaction to promote brand exposure and effect transformation seamless, the formation of O2O closed loop and product efficiency. Based on the advantages of the scene and the innovation of advertising products, Tencent's social advertising is connected and driven from heart to brain.
Data release value, DMP three swords to promote the marketing effect upgrade
Beyond precise user insights, rich advertising scenarios, and innovative forms of advertising, big data technology is key to unlocking marketing value and maximizing marketing effectiveness. Tencent social advertising relies on Tencent's over 10 billion high-quality social traffic, while with JD.com, Sogou, easy car and other partners in the data to carry out in-depth cooperation, forming a rich data source, large-scale data, cross-screen cross-terminal big data advertising platform, can help advertisers more intelligent and accurate marketing results.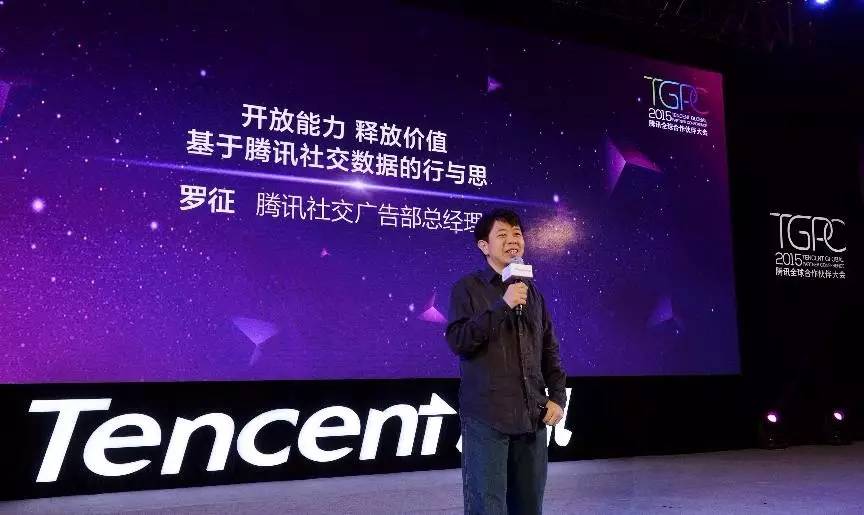 (Luo Zheng, General Manager, Tencent Social Advertising)
At the meeting, Luo Zheng, general manager of Tencent's social advertising department, introduced that in the big data technology dimension, in addition to the industry-leading six categories of targeting systems (basic attributes, media environment, user environment, user status, interests, user behavior), Tencent social advertising is constantly improving the data targeting mechanism: to the status of marriage and love orientation, for example, the recent cooperation between Tencent social advertising and Youtu team, can be more accurately directed to parenting, newlyweds. At the same time, the existing data targeting capabilities are continuously optimized: for example, new device targeting is optimized in device targeting, which can effectively help advertisers target user groups with new device consumption habits, and target potential demand user groups for new device-related products and applications.
Tencent's social advertising uses the ADX-DMP combination model service brand to make advertisers' delivery more accurate. As a data hub, Tencent's wide-point technology platform for social advertising, on the one hand, has a strong DMP collection, management and data mining capabilities, optimizing digital marketing effectiveness for advertisers to achieve data value-added and realization;
As one of the highlights of the meeting, Tencent Social Advertising announced three types of DMP features recently launched, divided into detailed portraits, tag customization, cross-screen recognition:
1, detailed portrait.Take a mobile phone manufacturer as an example, Tencent can use the track of mobile phone devices according to the user's history, to help customers identify loyal users, new users, lost users. Customers through the loss of users to analyze this "wind beacon", insight into user dynamics, adjust the direction of business.
2, label customization.Complete the integration of industry attribute label data by working with vertical industries. Taking the automotive industry as an example, Tencent has worked with an auto manufacturer to help it establish car category labels in addition to user-based attribute labels, complement the strength of connecting real people, and influence users' purchasing decisions.
3, cross-screen recognition.With Tencent's user identification system, Tencent can help partners extend and restore the life cycle of cookies to their permanent effect. This feature is mainly used in three types of scenarios: cross-screen cross-media recognition of the same user;
Tencent social advertising accumulated more than 800 million people 24-hour behavior hot chain, in terms of marketing intelligence, compared to users to email, IP or cookies and other technical means to track data, Tencent social advertising based on the user identification system to users and their social relations system to form a more effective management, continuous user portraits so that users identify and run more accurate, marketing effect is better.
With the help of LBS precision targeted delivery, is the advertisers use multi-form big data to achieve efficient marketing of one of the typical cases: Guangdong Shaoguan Guiyuan locked 20-50 years old Guangzhou Yuguan white-collar population, LBS information and interest labels combined, through education, home and other keywords to target the region's interested users of The Park property, advertisers feedback ads, successfully sold hundreds of sets. In addition, in the field of e-commerce, through Tencent social advertising, only products will achieve the dual value of brand marketing and effect promotion. Zhao Wei, senior marketing director of the Fair, told of the marketing secrets hidden behind "her economy": "Using Tencent's social advertising targeting technology to achieve product efficiency, in app downloads, activation of conversions and other performance indicators far ahead." "
Accelerate layout and openness to create a big data marketing ecosystem
With social advantages and data capabilities, Tencent is accelerating the layout of social advertising with an open mind.
Luo Zheng, general manager of Tencent's social advertising department, talked about opening up from the two levels of "Tencent's data capabilities and Tencent's social advertising capabilities". Luo Zheng said that in the data capacity dimension, through the platform ecology, vertical industry, brand advertisers and other multi-party partners, Tencent will continue to open up the data capacity, in building the data "cornerstone" at the same time, so that the data capacity to feed the industry, for the industry marketing "tricks." In the traffic partner dimension, Tencent Advertising Alliance will continue to open Up Tencent's advantages to a large amount of third-party traffic, from advertising style, advertising performance, advertising operations, advertising services four levels to help traffic parties, so that traffic parties in the realization while protecting the user experience. In other words, Tencent will open up its social advertising capabilities to more traffic owners, allowing everyone to achieve a virtuous circle and scale upgrade in the big data marketing ecosystem.
Tencent's social advertising is leading a digital marketing revolution, making e-commerce, O2O and more verticals, as well as traditional industry-related advertisers in the process of marketing transformation, the beneficiaries of social marketing. Zhu Jinsong, vice president of easy-to-car group, said Tencent's social advertising has become a data stewer for automotive companies, helping auto e-commerce companies to achieve sales transformation while creating multi-dimensional services and experiences for users in the "see, choose, buy and use" chain. Zhang Chuan, senior vice president of Tongcheng, said that on the O2O platform, social advertising has become a marketing booster for the commercial success of small and medium-sized businesses. Xu Ming, president of Cheetah Mobile, shared the marketing value of Tencent's advertising alliance to Cheetah Mobile in creating new value for mobile advertising under the theme "The Next Wind of Mobile Advertising".
Round-table forum session, Tencent social advertising with the micro-shadow era, Pepsi, ink weather, Periwick, Zhiyun and other industry partners to carry out dialogue, and agreed that: in the ×disclose" social ×marketing" equation, only make full use of every factor, through social advertising data and content and user scenarios to achieve perfect integration, is the best strategy to maximize marketing value. At present, Tencent Social Advertising is building an open and win-win big data marketing ecosystem through Tencent's advertising alliance, which will spread developers, advertisers and marketing agencies from dispersion to aggregation, gradually enrich data, share traffic advertising scenes within Tencent, Tencent and outside Tencent.
Tencent's social advertising layout is considered to be a valuable strategic choice, and its release of social potential, the promotion of the digital marketing ecosystem, will certainly benefit all parties in the industry, creating a new situation of social gene remodeling marketing.
---