May Mobile Social Ad Delivery Insights Report: Short video social is in the air, and stranger socializing is still a rigid demand

The core points of the report
1, mobile social users unprecedented scale
Mobile social users numbered 720 million, with a penetration rate of 95.6%.
2, mobile social advertising at a glance
Short video social is in the air, with the largest share of total delivery, mobile social industry advertisers prefer Tencent channels, big picture creatives hit users' inner needs directly, stranger social is still rigid demand, short video social apps run full-time, stranger social apps prefer free time delivery.
3. A brief analysis of short video social and stranger social creatives
Short video social creatives meet the needs of users, still have LBS attributes, stranger social creatives are mainly male users, containing a lot of sexual innuendo.
Overview of the development of the mobile social industry
In the age of mobile Internet, social is a just-needed product on which people depend. Data show that as of December 2017, China's mobile social users were 720 million people, with a penetration rate of 95.6%. Chinese netizens spend an average of 90 minutes a day on mobile socializing.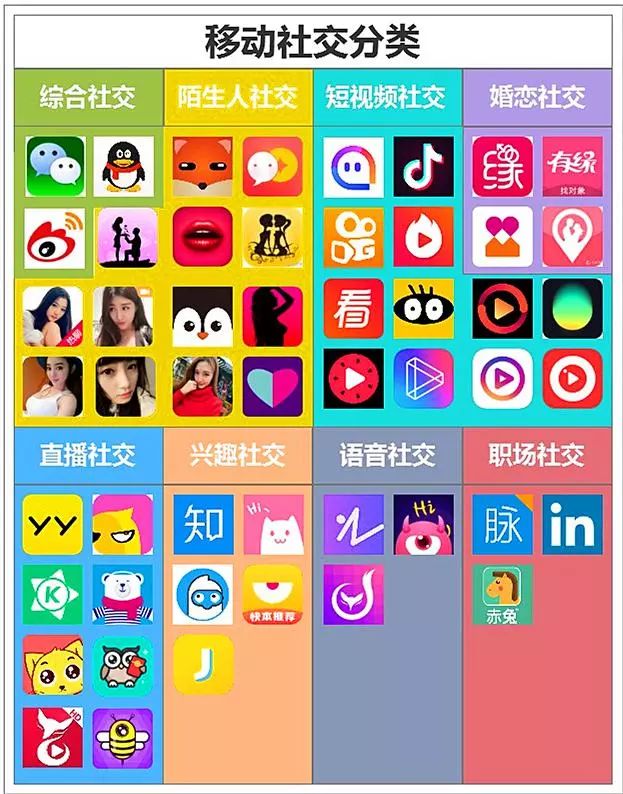 Due to the changing behavior and needs of users, a single social model can no longer fully meet the needs of users, nor can the mobile social platform have enough charm. Therefore, it is very important to realize the extension of the mobile social industry chain, the application model of "social plus" is also constantly innovating, based on integrated social, stranger social, short video social, marriage social, interest social and other multi-social types of extension of the value is also being amplified.
Mobile social ad serving at a glance
Short video social is in the air, with the largest share of total delivery
In May 2018, AD Insight monitored a total of 53 mobile social apps for advertising, accounting for 7.8% of all promotional apps. Mobile social app launch plans accounted for 11.7% of all launches in May.
Short video social apps, led by "fast hands," "shake-ups," "good-looking videos," "strangers" and "micro-vision," accounted for 71.2% of total social app launches. Data show that as of the first quarter of 2018, China's short video users have reached 410 million. At present, the domestic social short video market competition is very hot, Tencent push micro-vision, leading the fast hand; Ali layout potatoes, transformation of short video community; Baidu online good-looking video; today's headline hatched volcanic small video and jitter user scale growth is rapid, all prove that the social short video industry is in the wind. In this industry, all participants in the industrial chain have the opportunity to stand out, and in the current competitive market environment, the industry landscape is still in a state of change.
Advertisers in the mobile social industry prefer Tencent channels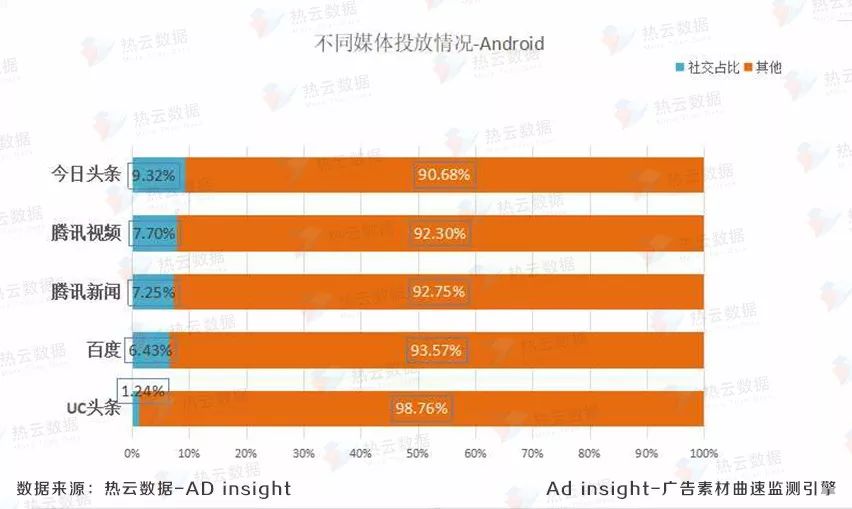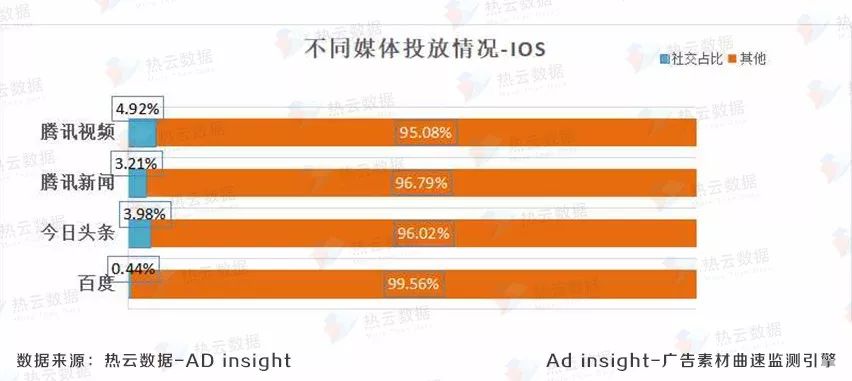 Of the five ad-traffic platforms tracked by AD Insight, mobile social apps dominate today's headlines, accounting for 9.32%, followed by Tencent Video and Tencent News, both at around 7%. Tengxun media channels in the IOS side by the mobile social application industry, Tencent Video and Tencent News accounted for 4.92% and 3.21% respectively, followed by today's headlines, accounting for 3.98 percent.
Tencent Video and Tencent News are traffic products that cover the core scenarios of social, mobile applications, and information, covering 90% of China's Internet users. As the largest traffic portal in the social world, popular with mobile social app advertisers, it is easier to win by volume in terms of ad delivery, so the percentage of delivery is relatively large. Mobile social applications demand more conversion and stickyness for users than in other industries, and therefore rely more on technology that delivers precise targeting to the platform population. Today's headlines mature crowd tags and targeted embodiment, Baidu's information flow of "AI-search interest", more popular with mobile social industry advertisers.
Use big picture creatives to hit the user's inner needs
Streaming ads account for 99% of mobile social ad delivery, mobile social ads based on big data to lock in user browsing habits and accurate targeting of people, info streaming ads can better achieve this, the results are better, very popular with advertisers.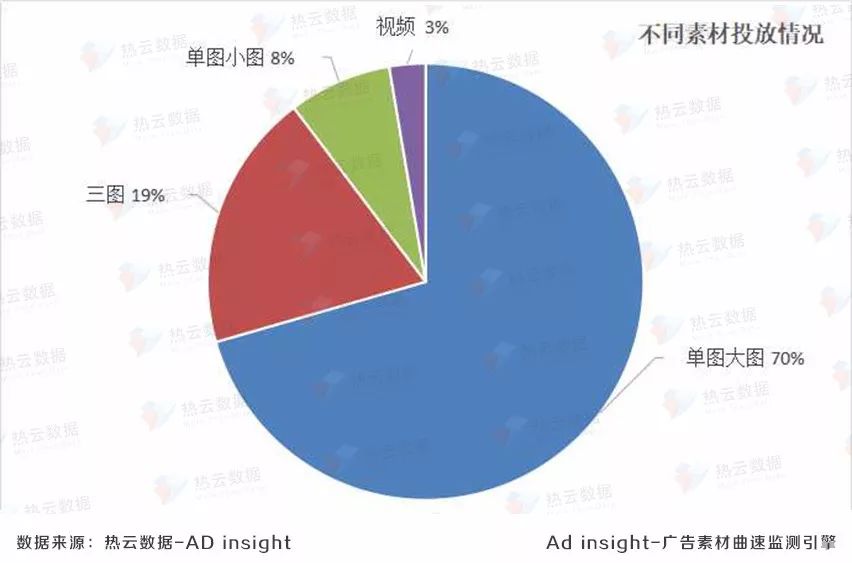 According to AD Insight, Big And Three are the most selective types of footage for mobile social ad servings, accounting for 89% of all volume in May, with short video social apps and stranger social apps accounting for the highest percentage of mobile social ad servings.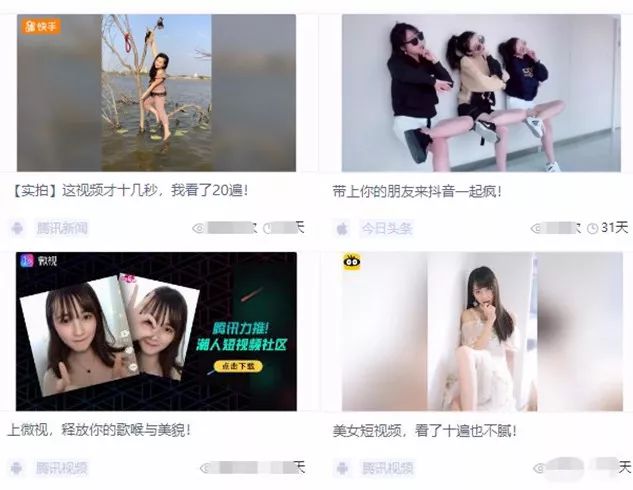 For example, the short video social app to show users the most intuitive creatives are "video a dozen seconds, I watched 20 times", emphasizing the fun and visibility of the video; "Hold on to the mentality that young people are happy to show themselves and are eager to be famous;" A short video of a lot of young friends playing, come on! "It's taking advantage of the young people's urgent group mentality . . .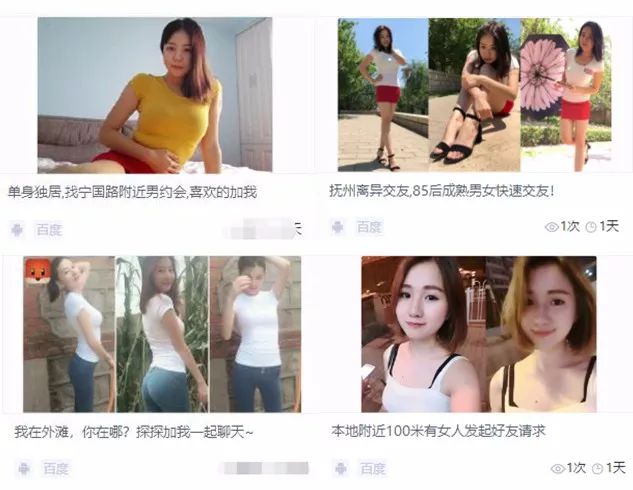 And stranger social advertising material is more simple and rough, directly one or more pictures of beautiful women, advertising models are mostly dressed in tights, body front and back, smile sweet expression ambiguous, with the text is mostly "in XX (place name) single person, hope to find someone who likes me!" "" Boring after work, local girls nearby are using XX (app name)!" XX (place name) near 500 meters someone launched a speed dating request", then directly use the male user's fast dating psychology.
Socializing with strangers is still a rigid requirement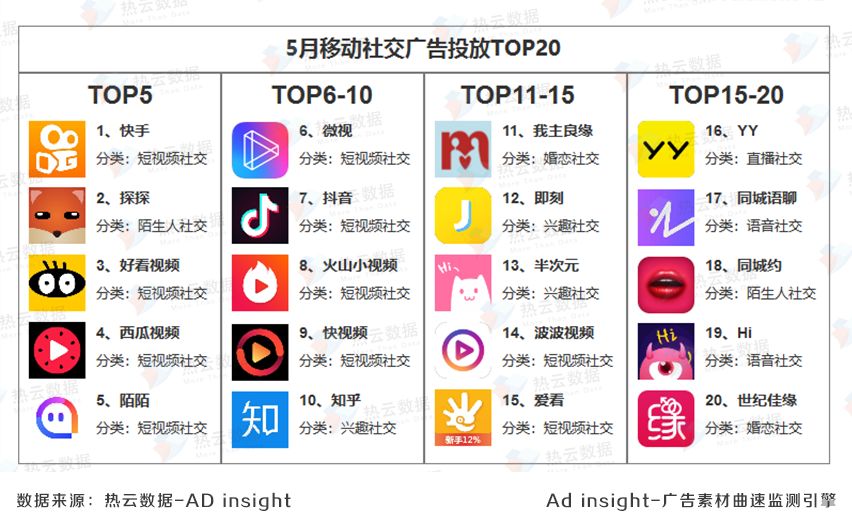 Top5, which topped the mobile social advertising launch charts in May, is short video social apps, with the exception of the second-ranked Profile. In TOP20, there were 10 short video social apps, accounting for 50%, stranger social apps, wedding social apps and voice social apps, each accounting for 10%, interest social apps 3, accounting for 15%, voice banking two, accounting for 10%, and live socializing one, accounting for 5%.
But according to data monitored by AD Insight, stranger socialization was the highest of all mobile social apps running ads, at 29.6 percent, short video social media, which accounted for the highest number of ad delivery plans, was second with 22.2 percent, and live social apps were third at 18.5 percent. It's worth noting that strangers with both the dual attributes of stranger socializing and short video socializing have the highest percentage of video footage in all mobile social apps, accounting for 11.9% of their total footage, and the main content is still the social attribute of strangers years ago.
Short video social apps are available all the time.
Stranger social apps prefer free time
According to AD Insight data, in the mobile social application launch Top20, only "half yuan" "same city about" two application launch cycle of less than 30 days, of which "same city about" is the first time in May, and 18 other apps launch cycle is longer, all from the beginning of 2018 to date.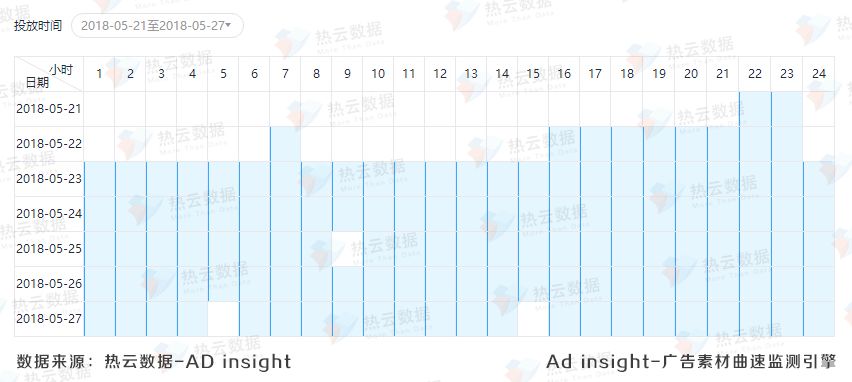 (A short video social app launch window)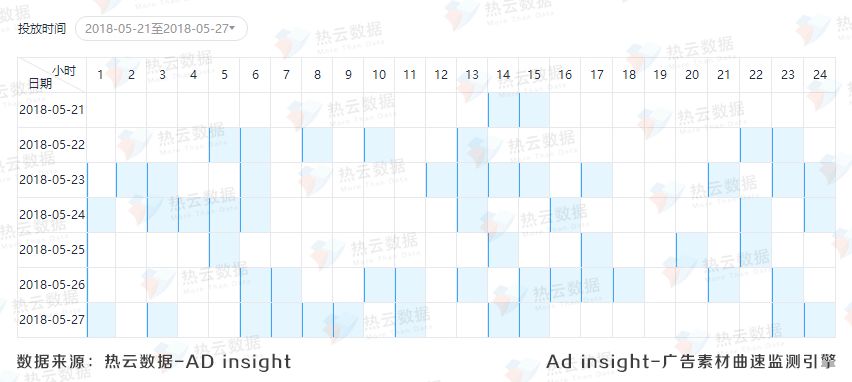 (When a stranger's social app is available)
In terms of delivery time, short video apps with a large delivery volume are available almost 24 hours a day, while user-specific stranger social delivery periods are mostly available from 20:00 p.m. on weekdays to 6:00 a.m. the next day, while public holidays such as weekends are available from the early hours of the morning, afternoon, and night.
A brief analysis of short video social apps and stranger social apps
The further maturity of Internet technology conditions provides opportunities for the development of short video social applications, short video and text, pictures than more intuitive and vivid, more in line with the user's social needs, a large number of UGC content in the short video platform emerged, but at present in the social short video platform content is mainly show nature, these content or Bo Jun smile, or spread life tips, or show talent dance, singing, martial arts, or expression of love and affection, Greatly improve the richness of short video content and user interaction.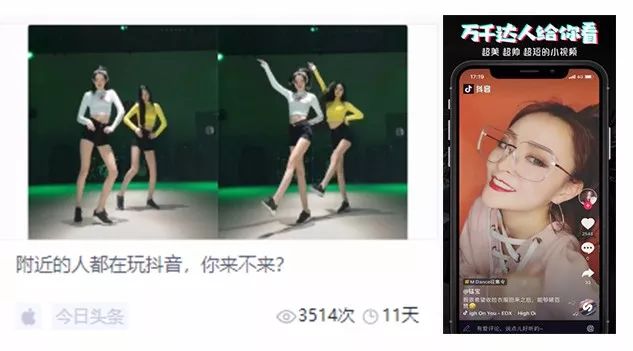 (Jiyin's creatives and landing pages)
For example, positioning the younger shaker, users are mostly after 90 or even 00 after the young group, this group is full of funny, teasing wind, in order to attract them, shake the sound as soon as the introduction of the main fun exaggerated visual effects, will make themselves into a funny than the artifact. In addition, in the shaker operation is easy to get started, the use of the threshold is very low, users do not even have to consider what script to use, record what program, as long as you want to "show", you can choose interesting material in the shake to shoot editing, reduce the cost of shooting, to meet people's inertia, self-expression desire and personality social needs. Target users may be able to download the app because of a dance in an ad, a song, a woman's funny photo, or a performance that has been a pet, and these apps also emphasize LBS attributes in their creatives.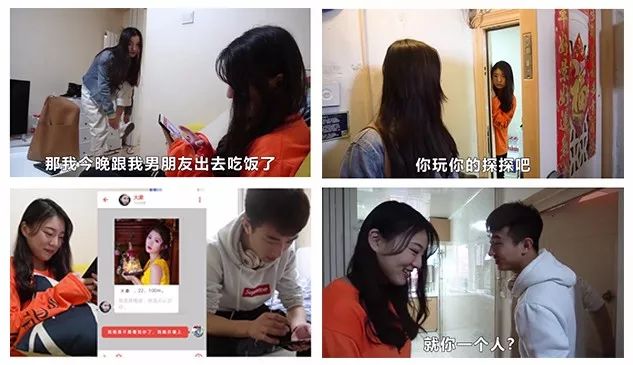 (Explore the video synth ad)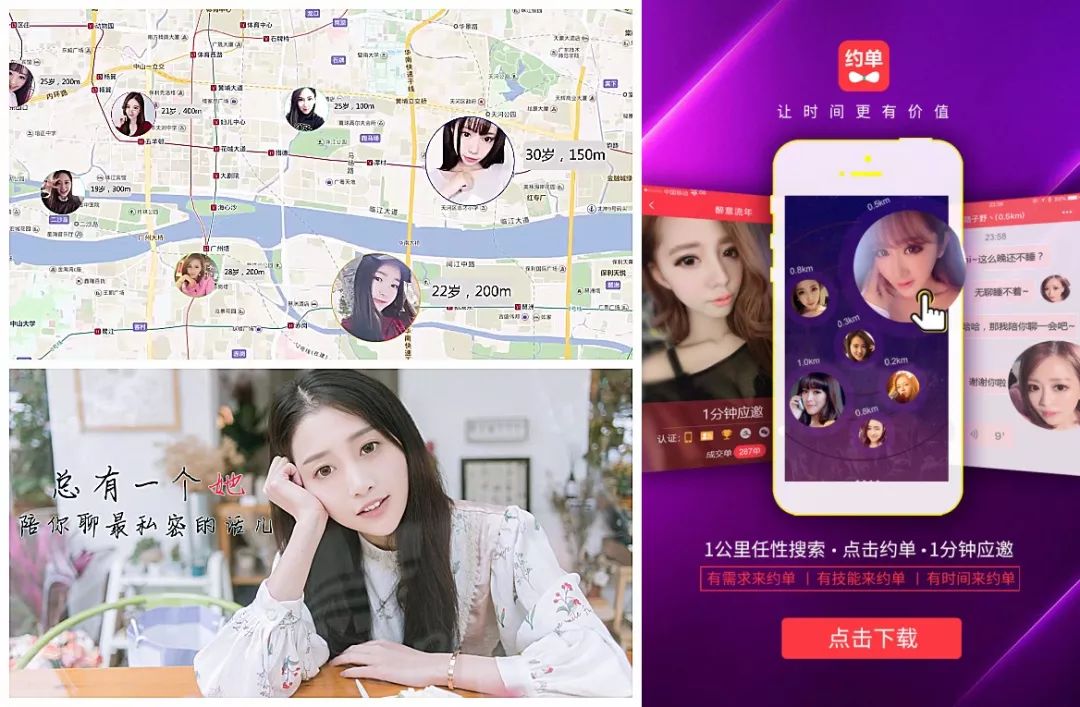 (Short video ads and landing pages in the same city)
Unlike the targeted social applications of marriage and love, such as "Relationship Network" and "The Good Edge of the Century", most strangers socialize with a strong focus on the attributes of "dating" and "about guns". Most of the scenes that strangers need for social products are: "I'm lonely, sad want to find someone to talk to" "I'm single in xx, I want to find someone who likes me" "Can't sleep, want to find a Suzhou boyfriend, can meet and chat!" ""There are women in the vicinity of 100 meters to initiate friend requests", from the monitoring results, the above-mentioned scenes of such applications are presented through the content of advertising material.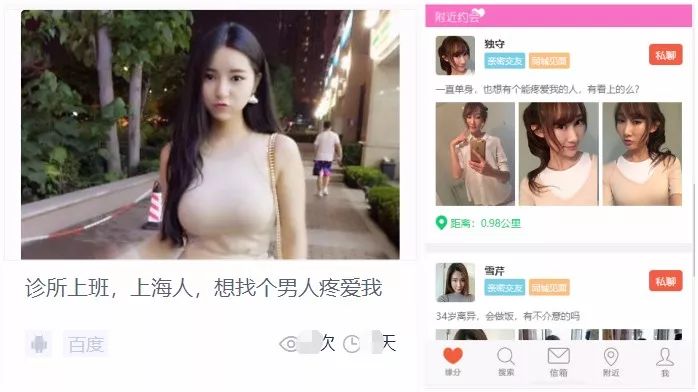 (Nearby dating creatives and landing pages)
These advertising materials without exception are women as the main character of the advertisement, their needs are looking for someone to chat, find someone to accompany, find someone to love, find someone to live (marriage), advertising are vigorously highlighted female physical characteristics, such as chest and thigh length, skin white beauty, older gold, single or divorced, and even in the form of video ads to interpret how to use this kind of software to hook up with nearby male users. There is no doubt that this type of app advertising for male users in the male and female social in the largest buyer's market characteristics, in the ads continue to render women's various advantages, and doped with a large number of sexual innuendo content, to attract male users to download the app, improve conversion, and thus achieve in-app payment behavior.
Social is the rigid demand of people's daily life, mobile social interaction makes social behavior more simple and convenient, but with the sharp decline of the demographic dividend, social attributes alone can not support the development of the platform for a long time. As a result, social platforms are also beginning to adapt to market trends, intersecting and integrating with other Internet industries, and are committed to the extension of the social industry chain, while improving their ability to cash in and how to cash in, while giving new vitality to social platforms.
Through AD Insight, you can get the trend of each APP serving in different media for a period of time in the future, keep up with the content of the industry or sub-sector advertising materials, evaluate the hotness of the creatives and user preferences, so as to understand the scale of the competition over a period of time, monitor the trend of mobile app serving in the industry or sub-sectors, and get a list of games, apps, media and branding and creatives over an optional period of time. Get a quick look at the magnitude of your current industry ad delivery.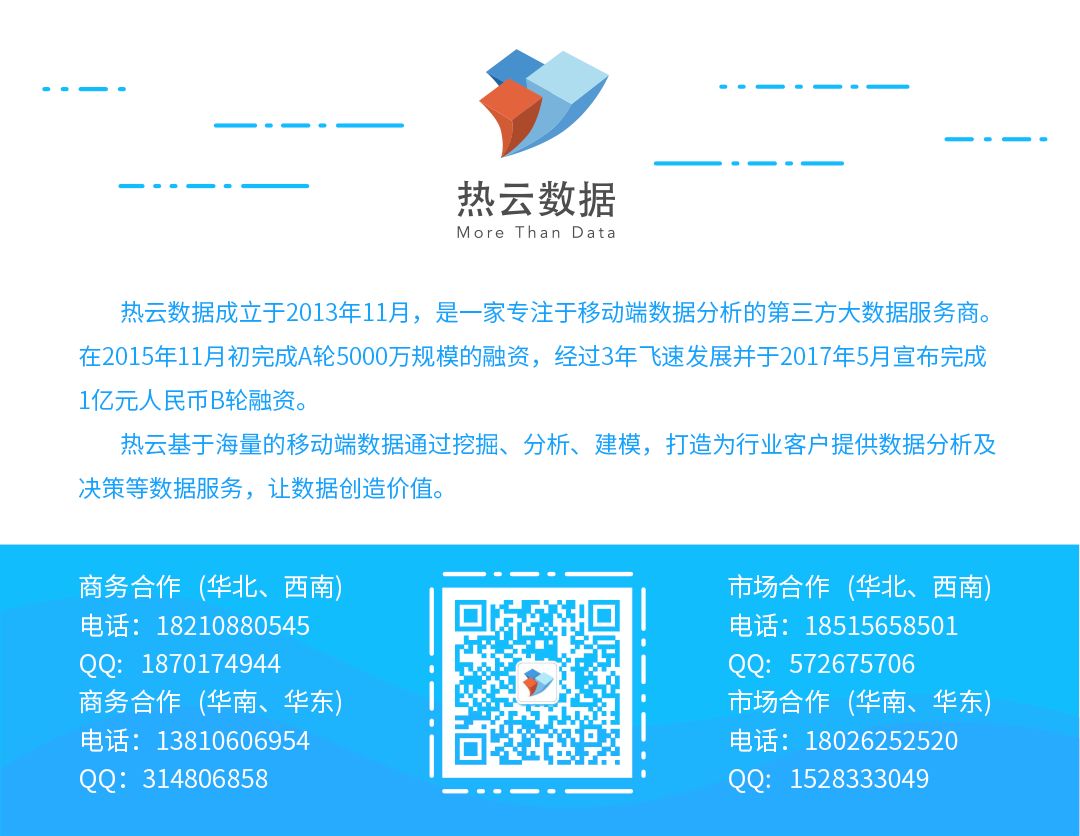 ---