To build the largest LBS social advertising platform, strangers with what?
Recently, strangers are holding "Mo and other business opportunities, touch the hair" commercial products national tour activities. For the first time, the vice president and head of commercial products revealed the stranger's ambition to build the country's largest LBS social advertising platform. In fact, the main reason strangers are so ambitious is that they grew significantly in mobile marketing revenue in the first quarter of 2016. According to stranger's first-quarter 2016 earnings, the company's total revenue reached $50.9 million in the first quarter, with mobile marketing revenue reaching $12.4 million, up 104 percent in tandes.
Tang Yan, chairman and CEO of Stranger, said: "We will continue to expand sales coverage, through innovative marketing solutions to enhance the return on investment of customers, as the leading LBS social advertising platform in China, through efforts to ensure that the company establishes a long-term competitive advantage." In fact, indirectly revealed that strangers will continue to promote mobile marketing revenue growth, to build the country's largest LBS social advertising platform ambitions. So, what is the bottom of strangers can become the largest LBS social advertising platform in China? To sum up, there are four main aspects:
First, strangers have a large and considerable user base, which is strangers can carry out large-scale commercialization, to attract brand manufacturers to advertising the basis.As early as August 2015, the number of strangers had exceeded 200 million, and as of March 31, 2016, the number of active users reached 72.3 million, making strangers the second-largest mobile social platform after Tencent, according to financial results released in the first quarter of 2016.
Not only that, strangers also have more young users. According to the China Social Application User Behavior Research Report (2015), released by the China Internet Information Center, strangers are the youngest compared to WeChat and Weibo, with more than 90% of users under the age of 39. In fact, these people are the most important consumer groups, but also the major consumer goods, mobile phone digital, cultural and entertainment brands such as manufacturers compete for the largest consumer groups.
Second, stranger users on the platform to spend the habit of good and strong will.This is thanks to the first set up revenue model, unlike most free mobile social software, strangers at an early stage to explore commercialization, and guide users to membership subscriptions, pay emoji and other business models, and make considerable income, which is an important reason for its ability to log on to the NASDAQ listing and investor recognition.
Just over a year ago, Stranger's biggest source of revenue came from membership payments, which in effect indirectly fostered the habit of users spending on the platform. Data from the China Social Application User Behavior Research Report (2015), released by the China Internet Information Center, show that 90% of strangers are under the age of 33, of which 17% earn more than 5,000 yuan a month, and the purchasing power of users is the highest in china's social applications. This means that brand manufacturers in strangers on social advertising, in addition to more than 200 million users can be brand advertising display, but also to maximize the purchase of conversion, to achieve a balance of product efficiency, by the brand manufacturers favor is not surprised.
Third, the current brand advertiser's delivery is accelerating the transition from PC advertising to mobile advertising, and is continuing to increase the proportion of mobile marketing investment, mobile marketing is ushering in a dividend period.Obviously, brand advertisers in the process of tilting to the proportion of investment in mobile marketing, WeChat, strangers and so on gathered the largest number of users, and the most active social advertising platform has become the first choice of brand manufacturers. This is evidenced by the 104% increase in mobile marketing revenue in the first quarter of 2016, and Tencent's growth in mobile social advertising, while slightly slower, was equally impressive. According to Tencent's first-quarter 2016 results, Tencent's performance advertising on social platforms based on Tencent Friends Circle, QQ Space and WeChat Public Account increased by 90%. Not only are domestic social platforms soaring in mobile marketing revenue, but Facebook, the largest overseas social platform, is on the same trend, with the latest figures showing that Facebook already accounts for more than 95 per cent of mobile marketing revenue. This means that brands are investing more in mobile social advertising marketing, which has clearly boosted the confidence of strangers in the commercialization process.
According to TalkData's just-released Mobile Advertising Industry Report 2015, Strangers have been ranked fourth in the 2015 Mobile Advertising Comprehensive Strength List, ahead of Tencent, Weibo and today's headlines, and behind them are InMobi, Baidu Search, Youku Video and many other mobile advertising industry leaders. This means that strangers are already the third-largest mobile social platforms if mobile social advertising platforms are alone. What's more, although in terms of online marketing advertising revenue, the gap between strangers and Tencent is not small. But in terms of location-based social advertising, strangers are likely to be anti-Tencent and Weibo. Strangers are known to be an interested social product based on geography, while Tencent's WeChat and mobile QQ are both news agency-based products based on acquaintances, which means that Tencent WeChat and mobile QQ users are far less likely to socialize based on geographical location, while LBS-based social advertising may be far less effective than strangers. In fact, according to the China Social Application User Behavior Research Report (2015), stranger users are the most involved in commercial products, reaching 51.1%, slightly higher than Weibo 49.7%, far more than WeChat 37.9%, and stranger users are most involved in LBS-based peripheral information search. Obviously, this is the stranger to build the country's largest LBS social advertising platform has objective advantages.
Fourth, Stranger is the first mobile social platform to explore commercialization, and because of this commercialization products are also more abundant, which also enables all types of brand customers to find a matching marketing method.Strangers currently have three main ways of advertising, the first is regular targeting, according to time, equipment, crowd, geography and other targeted delivery and comprehensive coverage, which is suitable for some large-scale brand advertisers to carry out large-scale advertising; Product efficiency. The third is POI (Point of Interest) targeting, can analyze the user's activity scene, active time, behavior tracking and other behavior, for brand advertisers to provide different groups of POI targeting packages, which means that brand advertisers can be different from scene to promote the corresponding products and services, more accurate delivery, conversion rate is higher, suitable for more marketing effects of brand manufacturers, and these three types of advertising has been enough to cover the needs of most brand customers. In fact, over the past year, strangers have helped many advertisers build success stories. BMW, Meizu, Keep, Xixuan beauty and other customers are stranger platform to obtain good marketing results. Among them, Meizu and Stranger's cross-border integrated marketing is the 2015 China Content Marketing Gold Award media group App category bronze award.
Overall, strangers in the user size, user consumption behavior and mobile social field of the unique positioning, can be said to accumulate the advantages of "the world and the people and" and so on. Moreover, the first commercialization exploration was launched to enrich its commercial products and to be able to eat the dividends of mobile marketing explosion. However, strangers still need to continue to maintain their own user growth, and in the process of accelerating commercialization, but also to avoid harm to user behavior, in order to ensure its position as the largest LBS social platform in the country.
This is the 475th original article from Riley's Point of View. Li Donglou, author of this article, Ruilai view columnist, well-known self-media person, well-known opinion leader in the scientific and technological circle, guest guest of Gansu Satellite TV's "New Wealth Night Talk", special commentator of China Radio International, and 30 domestic science and technology media columnists. Please indicate the author's name and "Source: Riley's Point of View";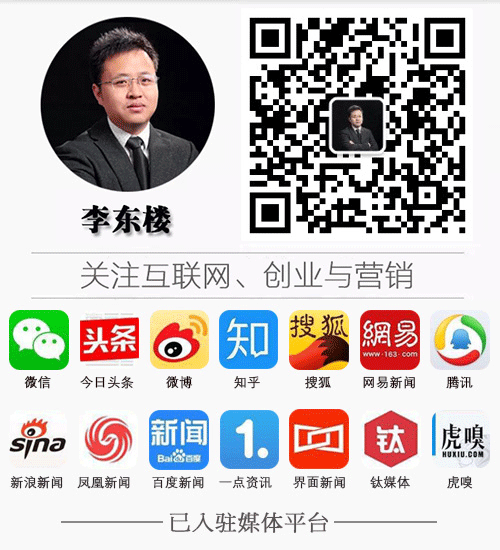 ---