After WeChat Friends Circle ads, there is a new definition of social advertising
The rise of WeChat's circle of friends this year has caused 10,000 stirs in the field of digital marketing.More and more advertisers are beginning to realize that social advertising, represented by WeChat's circle of friends, is becoming more and more important.
Users' attention and participation in social ads such as friends circle ads continues to heat up. On the one hand, this year8Month.20On the same day, WeChat Friends Circle advertising officially launched the official website, announced the cooperation process, WeChat Friends Circle advertising will further reduce the threshold of delivery. On the other hand, it also means that more and more advertisers are beginning to realize that social advertising, represented by WeChat's circle of friends, is becoming more and more important.
All along, users in addition to the friends under the circle of ads to see friends like and all kinds of comments, the outside world has been wondering, WeChat circle of friends advertising in the end how effective?
Recently, held in Chongqing2015Tencent Global Partner Conference "Internet+Marketing "sub-forum, the special e-commerce site will be the first to run WeChat friends circle ads e-commerce site, described the effect of this advertisement.
According to reports, this year4Month.20Day, only the product will test the water WeChat circle of friends advertising, users see any of the ads in this advertisement, can not buy, can only invite others to give you. "The effect of advertising like this is actually to take full advantage of the social chain or social relationships of the circle of friends, ingesting a sense of pride and comparation with such things." Zhao Wei, senior director of the Fair, said many users are very concerned about how many friends have given gifts.
"With ads running for about a day, we're overflowing with ad exposure200%Yes.400Tens of thousands of people came to the platform in the advertisement to participate in the interaction, placed an order to hope that friends to pay. "This makes the most of the social platform and magnifies the efficiency of a brand, Zhao said.After that10Month.1No., the only product will try the water again in WeChat's circle of friendsAPPDownload the ad, a free beauty ad for the day only product meetingAPPbrought in hundreds of thousands of downloads. At present, there will be more than one product22%Traffic comes from Tencent's entire social platform system and distribution system.
In addition to the fair, automobile manufacturers are also a typical case. Friends circle is currently doing dozens of car ads, Tencent Group Vice President Lin Wei said, on the one hand, auto manufacturers have achieved the benefits of brand promotion, on the other hand, it has brought some connections, the first connection is to pay attention to the public number, can produce the interaction between the brand and users and the actual consumption of the relationship, such as test drive, an advertising average to manufacturers1.5Millions of scheduled test drive data.
Judging from these data, Tencent's social advertising system has been effective in marketing.
Tencent's rise of social advertising
The so-called social advertising system has two main points, one is the number of users, the other is data.
According to Tencent2015Second-quarter earnings data, WeChat andWeChatThe number of consolidated monthly active accounts has reached6BillionQQ、QQThe number of active accounts for the space month was reached separately8.43Billions and millions6.59Billion. By horizontal comparison, Avery data show that Tencent isAPPThe length of time available to the user to occupy allAPPof the42%which29%It's socializing at TencentAPPOther than that.13%It's Tencent's otherAPP。 Tencent has formed a WeChat circle of friends advertising,QQSpace information flow advertising and Tencent advertising alliance, such as the core advertising scene matrix.
At the data level, Tencent is the departmentAPPand partners have contributed to Tencent's system6Big data modules, including underlying attributes, user status, media environment, interests, user behavior, and user environment. And Tencent social advertising is constantly improving the data targeting mechanism: to the status of marriage and love orientation, for example, the recent Tencent social advertising and Youtu team cooperation, can be more accurately directed to parenting, newly married people. In addition, Tencent launched Tencent this yearDMP(data management platform), while Tencent's social advertisingADX+DMP"Combined mode service brand.
The number of users and data, Tencent has basically no worries, the key question is how to cash out. Previously, Tencent's traffic in advertising is relatively single, this situation began to change in the past two years.
This.5In June, in order to promote the better development of Tencent's advertising business and platform ecology, Tencent made a restructuring of its advertising business, and Guangtong merged with WeChat's advertising department to set up a "Social and Performance Advertising Department". The move, now looking back, may have played a more systematic role in Tencent's traffic realization in social advertising.
According to Tencent's second-quarter results, Revenue from Tencent's online advertising business grew year-on-year97%To.40.73billion yuan, of which, brand display advertising revenue increased year-on-year47%To.20.16Billions of dollars,Performance ad revenue increased year-over-year196%To.20.57billions of yuan. Although the plate is still relatively small, but the growth of nearly tripled, the performance advertising growth is indeed remarkable, Tencent's second-quarter earnings report the most prominent growth of the business.
Data becomes critical
In digital marketing, data is gold. Tencent's data, around the core is Tencent's most important social platforms, WeChat,QQ、QQspace, and Tencent videos,QQMusic and other media. At this stage, simple ad delivery can no longer meet the needs of advertisers, and the above-mentioned product case, this is not just a single ad delivery.
Only the product will be expected at present80%Sales come from the mobile side. Its main is the special sale mode, so that only the product will80%The members are women, this part of women as brand control and quality control, re-purchase rate is super70%, contributed nearly to the materialism club90%sales. Advertising in WeChat's circle of friends, only products will look for is20To.35Women, these female users are characterized by the pursuit of quality, but also hope for relatively cheap prices.
Only through a wide range of network to reach all kinds of user groups, combined with WeChat and the circle of friends to make promotional needs and audience users between the precise information reach. Of these,Tencent.DMPTwo tools are provided: First, intelligent recommendation algorithms, through the user's behavioral data (ad clicks, e-commerce behavior,appBehavior, etc.) and attribute data (gender, age, region, education, occupation, etc.) filter users, and the other is to precisely target users through a variety of latitude orientations such as user environment, behavior, user attributes, and long-term hobbies.Combined with the demand for materialism, after Tencent's big data layer stripping, only the product will eventually run ads in front of the users it needs.
In the process, Tencent's big data has played a key role. Tencent launched this yearDMPSince then, data cooperation, data opening has become its most important core, Tencent will be used for internal capabilities open to partners, but also through partner data to improve their own data system.
A new phase of social advertising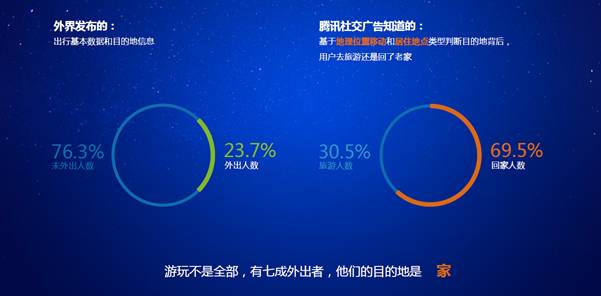 Eleven Golden Week, according to Tencent data, play is not the initial choice of all users, unexpectedly, 70% of the people choose to go home. And the interaction of the circle of friends makes76%The user's willingness to travel has significantly affected the user's travel choices;More than three-quarters of people actually come from their next destinationQQThe influence of space and circle of friends. Friends forward the experience of sharing, all the time permeated the user's side, affecting your behavior, decision-making. Among them, the data is no longer cold, more with real behavior and the human analysis behind the numbers combined.
Whether it's fan economics, social marketing, or brand advertising, digital marketing as a whole is at an inflection point. These marketings are no longer just about wondering how content explodes on social media, and keywords such as data and precision have become just as important. Because this involves not only the precise delivery of social advertising, but also the balance between advertising and the user experience.
Tencent is trying to change that. It is understood that in some important vertical industries, Tencent social advertising has a dedicated team to do some special data mining, through continuous data optimization, especially experience optimization, so that advertising into the content that users need. For now, Tencent is putting the past3To.5Share your experience in advertising with partners, especially advertisers in vertical industries, to build a near-perfect social advertising system.
"Tencent understands that social advertising can gain insight into the needs of users, arouse their real aspirations, and always understand the follow-up users, with the help of communication between friends, so that marketing becomes a human-to-human connection - connecting emotions, connecting effects," said Lin Wei, vice president of Tencent Group. "This is probably the characteristic that social advertising needs at this time node.
"There's a lot more we can do to move marketing from a cold show, from a last-minute search connection, a click to communication, to a new brand perception change, to a user's actual action." Lin said that unlimited creativity, unlimited connectivity, which has unlimited possibilities, look forward to partners with Tencent to do this more exploration.
---
After reading the article, what else do you want to communicate, you can pay attention to the wordhead WeChat public number. "The Birth of a Word" WeChat public number "ID: Zitou23" is a public number focused on the technology Internet. Whether or not I agree with my views, please safeguard my right to express my views, and I write only based on my knowledge of the industry and personal interests.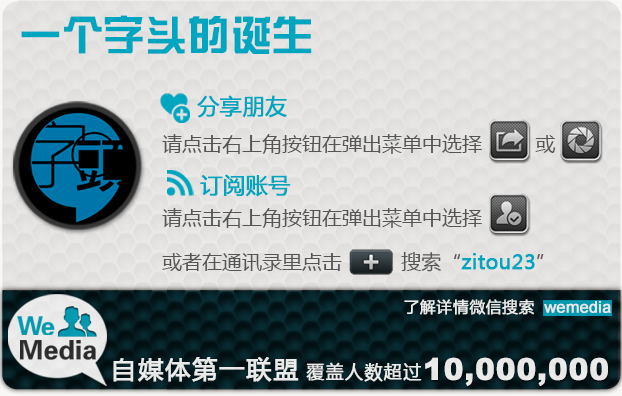 ---