Tencent Social Advertising Attends iDigital Brand Summit: Unleashing Social Power and Nova Marketing Opportunities

From 12 to 14 June, iDigital Brand Summit 2017, an influential brand summit in digital marketing, was held at Sofitel Sanya. Guo Weijun, national head of Tencent's social advertising brand Fast And Away, was invited to attend and deliver a speech on the theme of "Unleashing the Power of Socialism". In his speech, Guo Weijun showed the real-life guests how Tencent's social advertising is based on data insights, more accurate crowd portraits, more matching marketing scenarios, more exciting ideas, through personalized communication between brands and consumers, the release of social power, for marketing to bring new opportunities.

"Social plus Data" guides creative reach,
Build a natural connection between the brand and the consumer

Guo Weijun shared a series of intelligent marketing cases of Tencent's social advertising, giving advertisers data marketing capabilities at different stages of understanding, communicating, impressing and optimizing, realizing the natural connection between brands and consumers through social interaction, and ultimately achieving intelligent marketing with people and insights at its core.
Deeper understanding: to help the Beast "content consumption personality" mining, for content creativity to make decisions
Beasts have been exploring ways to create more effective content marketing, so they are very concerned about the direction of consumer interest in content. Based on TBI (Tencent Browsing Index) crowd insight technology, Tencent social advertising for the Beast to tap the exclusive target consumer "content consumption personality", multi-dimensional trace to its user base of food, travel, budding and other interests, as well as aesthetic tendencies, and ultimately realize the data empowerment brand creative decision-making, for the Beast to develop a precise user communication strategy in place. The Beast's Circle of Friends ad-clicked more than 7%, and the news client ad-click rate reached 9.28%.
▼ The Beast case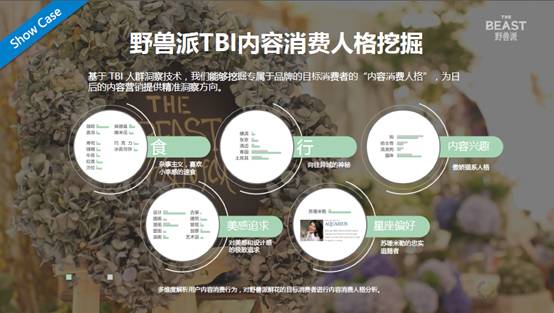 More customized communication: Gain insight into crowd differences for Jo Malone and customize communication strategies
The Jo Malone perfume brand in the UK has a rich product line, but which products are most interesting to the group is the problem it has always wanted to address. Tencent's social advertising found differences in preferences for product types and visual elements between the core and interested groups of Jo Malone: core users were more concerned with moisturizing products, high fashion sensitivity and love of denim, and interested people were more interested in perfumes and interested in the image and elements of the JML brand itself.
These insights help brands develop differentiated product communication strategies, reach and impress users in socialized situations, push Thebody series of gift boxes for the core audience and deliver denim gift box material, target fragrance mash-up suits for interested groups, and engage them with classic brand elements. Compared to the ROI industry average of 0.2, JoMalone's ROI target for reaching 0.6 for potential populations and ROI for core populations breaking 1.
▼ The Jo Malone case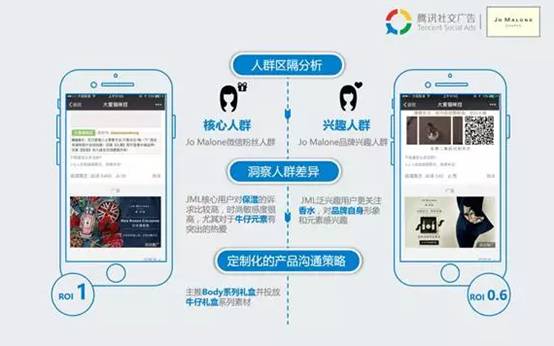 More emotional: help Changjiang Business School to tap into the "million-dollar annual salary of the circle of friends" pain point
How to find millions of people in the circle of friends and gain insight into their pain points, create inspiring creative content, and then make the good feelings come true? Tencent social advertising for Changjiang Business School's high net worth target group accurate portrait: TA mostly have a family of male BOSS, workplace promotion and crisis awareness, family relationship maintenance investment is insufficient ...
For these pain points equipped with "warrior", "superman" and "fatherly love" three themes directly poked pain point communication material, the circle of friends immersive advertising, emotionally impress users, to promote the target audience on the Changjiang Business School's brand identity and sense of belonging. 1,737 potential users signed up through the Circle of Friends channel, with conversions up 282%, more than 22,000 fans and 299% more likes and comments.
▼Changjiang Business School case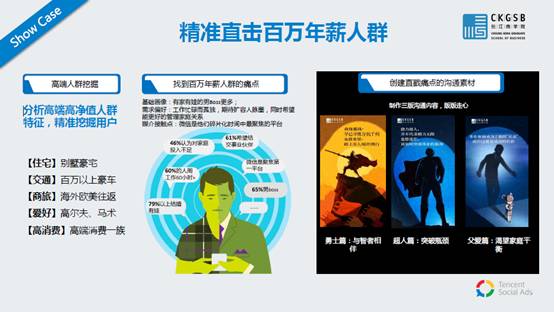 4
More effective optimization: Tripadvisor Owl lets users "choose" creatives
Tripadvisor Owl, the world's leading travel community, posted an ad push in a circle of friends on May 25th, signaling a cool little video telling users to ask questions directly with the brand to get a response. Tencent's social advertising circle of friends and advertisers feature, so that the brand in the social situation with the user natural dialogue, enhance interaction, so that the brand overnight red.
This promotion uses Tencent's social advertising customized outbound travel crowd selection model, through Tencent location big data, using LBS to dig out consumers who have experienced outbound travel, to make fact predictions, and then through Tencent social big data, using search, browsing and other data to tap consumer behavior, behavior preference prediction, so as to accurately find the target audience for advertising push. Tencent's social advertising precision targeting technology and high-quality advertising resources, for advertising to bring more fun, greatly improve the performance of the campaign click-through rate is 4 times higher than the industry average, the review rate is higher than the industry average 10 times.
▼Tripadvisor Owl case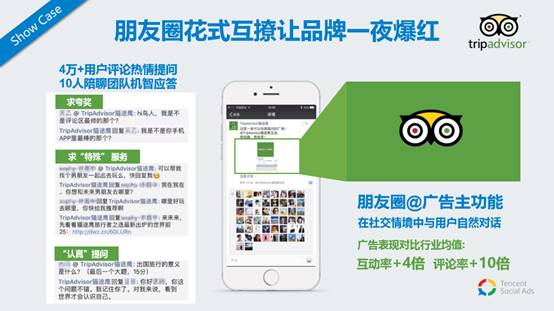 The data brain helps with marketing decisions,
Create new opportunities for the industry

At the summit, Guo Weijun presented Tencent's "social plus data" advantages with a set of data images: based on Tencent's social scene for more than 90% of Chinese Internet users, Tencent Social Advertising built a sophisticated user tag system to achieve accurate insight into users. Through the efficient integration of Tencent, advertisers and vertical platforms such as JD.com, Sogou, 58 Tongcheng and Drip Car, Tencent Social Advertising has built a comprehensive, real, usable and unique data ecosystem by opening up the entire scene data.
▼Tencent's social platform covers 90% of China's Internet users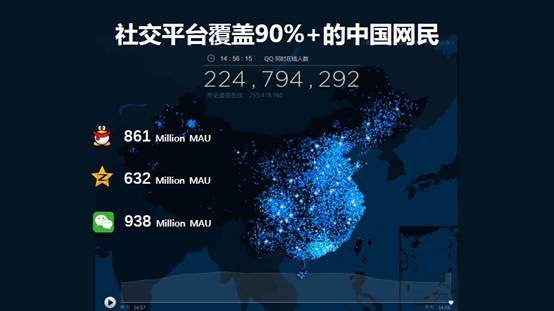 ▼Tencent's social advertising data ecosystem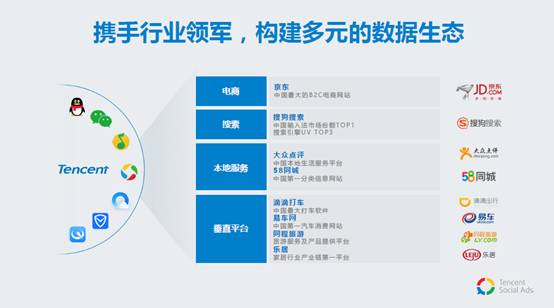 Relying on this advantage, Tencent social advertising uses data brain to assist brand decision-making, improve marketing efficiency and effectiveness, from insight to "targeting-scenario-creative" dimension to build intelligent marketing solutions: people and insights as the core, deep understanding of the brand target audience, for advertisers to target the most accurate people; Finally, we can realize the intelligent creative delivery and creative decision-making with data, realize the evolution of marketing intelligence, and bring new opportunities for marketing.
▼Tencent Social Advertising Intelligent Marketing Solution Illustration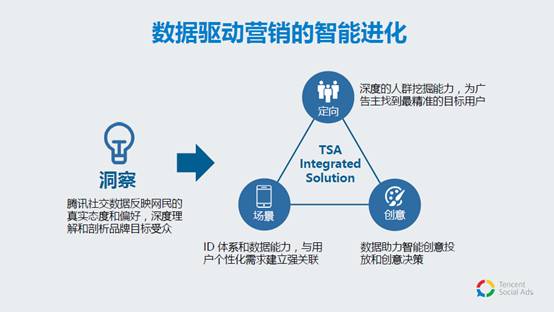 Guo Weijun said that "social plus data" has become a key force in mobile marketing, Tencent social advertising and brand launched a series of explorations to help brands and users better natural connection, release social energy, and create new opportunities in the marketing industry.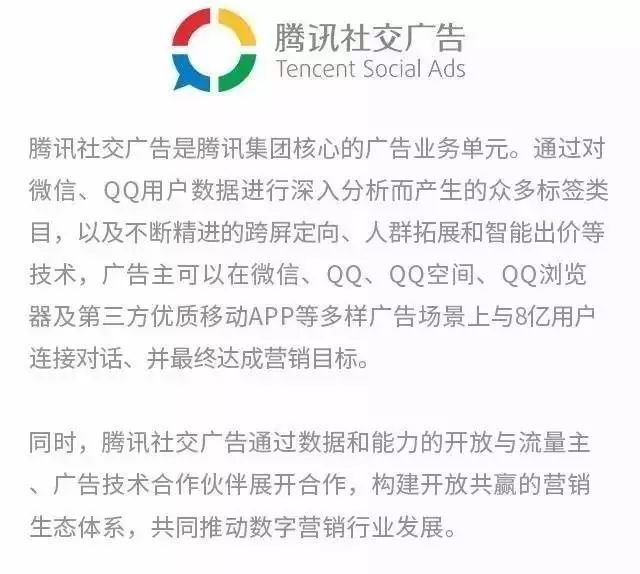 ---