Tencent Luo Zheng: How do social advertising face users and goals?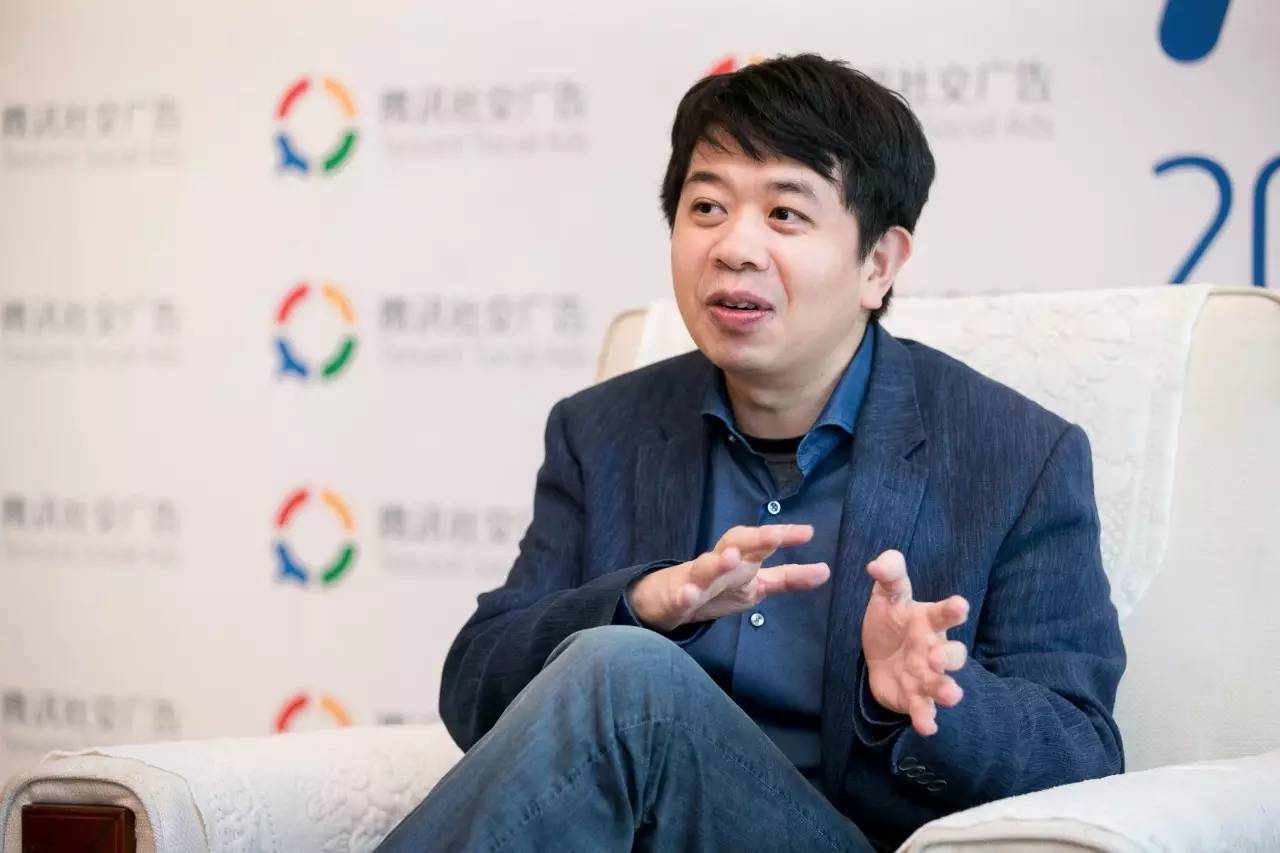 In Luo Zheng's view, on the one hand, the mobile Internet makes advertisers and users communicate channels have undergone fundamental changes, communication units further fragmented, audience accuracy and delivery scale are often difficult to have both;
。
5In June, an advertisement for Dawn's endorsement of Nestle's white coffee was posted online. The plot is actually very simple, dawn played by the staff, singing the adaptation of the song "Love coffee did not speak", to the boss highly recommended Nestle white coffee. But the ad received 4 million views on its first day online. Compared with the population of about 7 million in Hong Kong, this figure is quite staggering. AndAds run entirely through Facebook's single channel, and the power of social platforms is evident。
Nestle is not the first brand to eat crabs. According to a Nielsen report released earlier this year,More than two-thirds of advertisers increased their social marketing spending and budget spending in 2015. Social advertising has entered the ranks of mainstream advertising, social platform has become the focus of advertisers to serve ads channels.
On the one hand, users don't exclude ads on social media - research by the Social Brand Lab also shows that users are less likely to hate social ads in many forms of interactive advertising. Advertisers, on the other hand, want interactive platforms such as social networking sites or mobile apps to allow users to forward, spread, and get feedback from fans about the ads themselves. The traditional one-way mode of advertising communication has been transformed into a two-way and even multi-directional mode.
Against the backdrop of the booming social advertising, Tencent has launched a new brand image of Tencent's social advertising and a brand concept of "empowering business and always on people" with the theme of "AD plus". The summit's theme, "AD plus", stands for connectivity and marks an ad that is not a one-sided message push, but an interaction between the two sides.
Tencent Group Vice President Lin Yu proposed:In the era of mobile social, users have unprecedented control and control over content, Tencent hopes to respect the user's control of content and provide interactive and interesting advertising to find a perfect balance, so that ads in the right time and place in the right form in front of the right people, so that ads have a valuable relevance.In this way, users will buy, will be as Tencent's general manager of social advertising Luo Zheng said: " (users) see ads, interaction with them when the behavior." "
In Luo Zheng's viewOn the one hand, the mobile Internet makes the channel of communication between advertisers and users have undergone essential changes, communication units are further fragmented, audience accuracy and scale of delivery are often difficult to have both;Thus, Luo Zheng put forward a new way of marketing: "face the user" and "face the goal".
Face the user: through the data exchange, to achieve accurate delivery
According to Tencent's latest earnings report,WeChat and WeChat combined monthly active accounts reached 762 million, QQ, QQ space monthly active accounts reached 877 million and 648 million, respectively. Such a large user base provides a solid audience base for Tencent's social advertising products.Tencent covers more than 90 percent of China's Internet users through QQ and WeChat, and covers most of their time and behavior, Luo said. Advertisers can freely choose QQ, WeChat or Tencent Co-ed Media/APP as their delivery channels, and choose the way to target users when running ads, according to the people they target. In other words, Tencent has made data exchanges in-house and achieved data integration.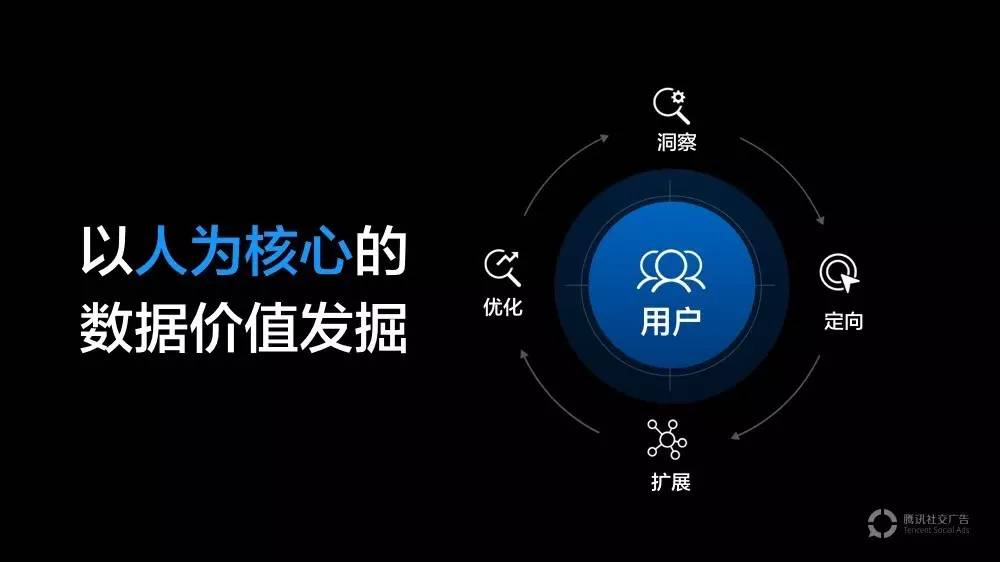 Based on Tencent's large-scale, multi-dimensional, cross-terminal, diversified data base, advertisers can not only gain in-depth understanding of the audience from the basic dimensions of population attributes, geographic location, device behavior, etc., to achieve accurate delivery, but also according to the advertising needs of their industry, understand the characteristics and behavior of users and vertical industries, and target the target user base. Advertisers can also use WeChat, QQ two account systems and their associations, identify the use of different devices to access the Internet the same user, to achieve the crowd coverage and contact frequency of effective control.
Luo Zheng to Tencent and Ctrip cooperation as an example, said: Tencent through the analysis of tourists and business travelers to understand their travel frequency, travel mode, from which to judge the user's intentions and needs, to achieve more accurate marketing. Adhering to the principle of win-win cooperation, Tencent hopes to activate and share the value of data in the advertising and marketing ecosystem. In addition to Tencent's own media, Tencent's data can also be used in the advertising of co-ed media/APPS.
Face your goals: Social advertising is combined with marketing goals
Luo Zheng also answered the question of "how to optimize the performance of advertising" which advertisers are more concerned about. Tencent offers a new way of delivering CPA, an advertiser's measure of user conversion costs: oCPA. Advertisers only need to select specific target, such as download activation, registration, shopping cart, etc., to provide the average price willing to pay for this target, and timely and accurate back to the performance data, Tencent's social advertising system will use the conversion estimation model, real-time estimate of the conversion value of each exposure, automatic bid, and ultimately according to the click charge. "It's going to be a lot more stable for traffic and it's not going to be very volatile."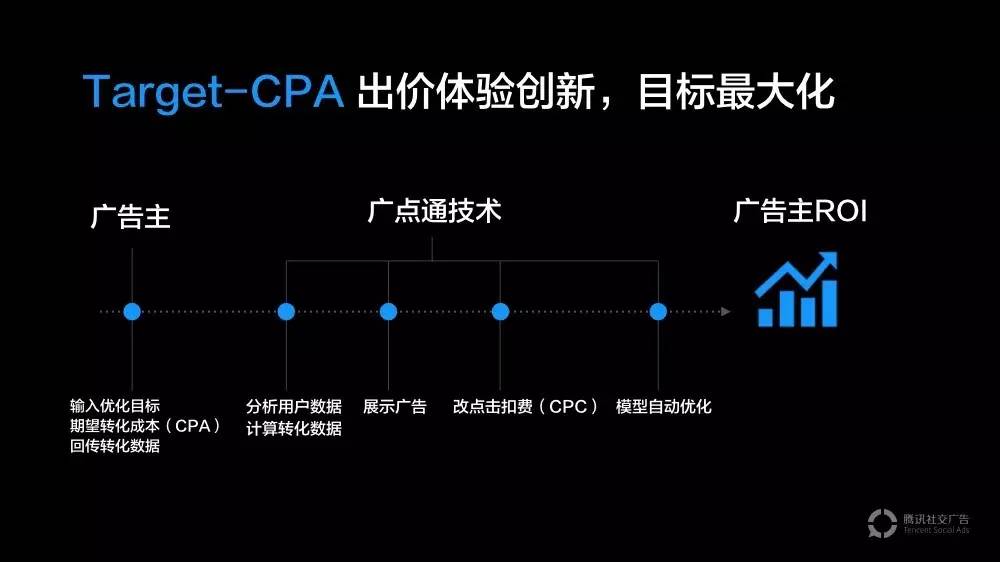 The deduction is not the end of the partnership, and Tencent will work with advertisers to optimize its ultimate goal by estimating the probability of conversion after clicking through a pCVR strategy.Tencent can also provide advertisers with more insights, such as how to identify advertising goals and how to clarify the criteria for ad conversion rates.
Previously, Tencent and JD.com co-built e-commerce advertising, because of the advance access to the data account system and the establishment of a marketing closed loop, consumers are attracted to advertising, impressed and finally landed in JD.com consumption, to achieve the combination of brand advertising and effect advertising.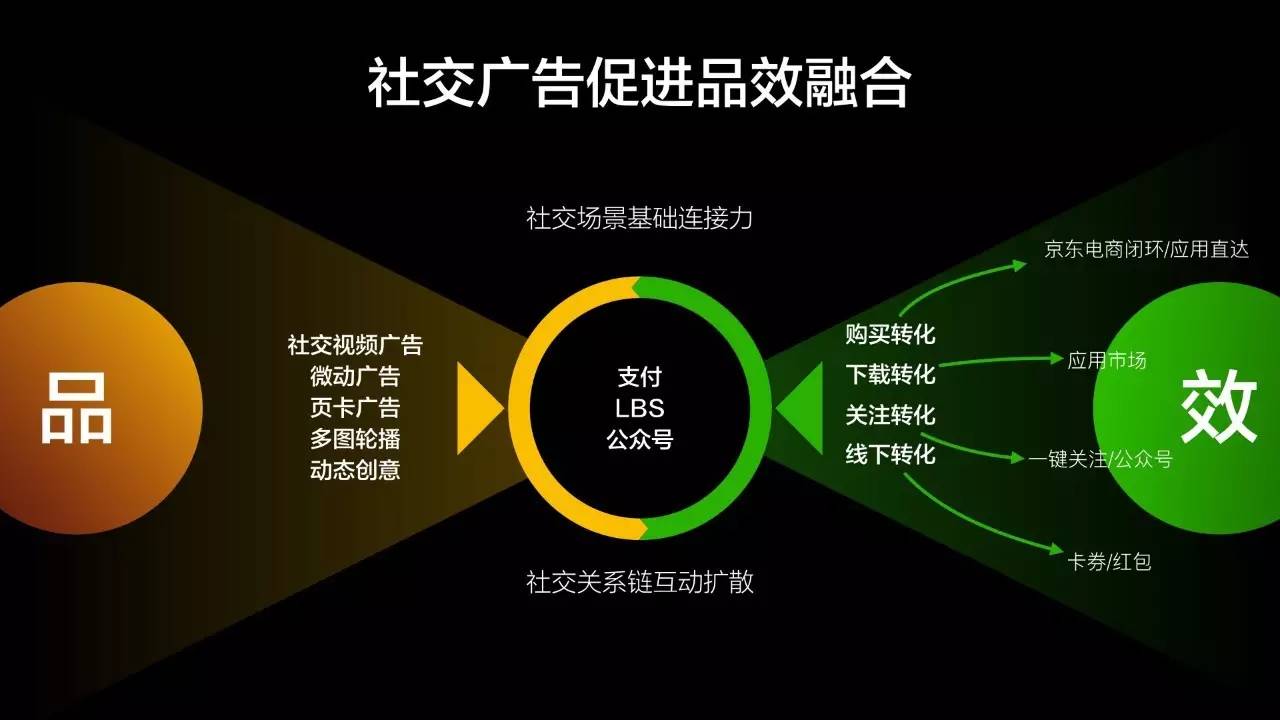 Of course, Luo Zheng put forward: click-through rate, exposure rate these indicators are means, the ultimate goal or the goal of their own product business, it is important to define clearly, through social advertising better combined with marketing objectives.
Social advertising break point in 2016
According to eMarketer, global ad revenue on social networks is expected to reach $36 billion in 2017, accounting for 16% of the total digital advertising share. As a result,Network advertising from portal advertising, search advertising era to the third stage: the era of social advertising.In the age of social advertising, the threshold for user-defined content is getting lower and lower. The latest results from several social platforms, including Tencent, Weibo, Facebook and Twitter, have been pretty good, especially as the mobile social networking business has grown a lot. It is understood that Tencent social advertising this year will further focus on improving the service capabilities for advertisers, such as: CPA as the goal of effective promotion, the next evolution of DMP services, the continued exploration of native advertising, and so on.
It's worth noting thatSocial video ads, which began at the end of 2015 and are considered the "next explosive point" by Luo Zheng, will be the focus this year.So far, WeChat, Facebook and Pinterest have all made some initial gains in video ads. Luo Pointed out that the user interaction and sense of involvement of social video advertising, as well as the ability to target people relying on the Internet, are more than television advertising. The Nestle white coffee ad, described at the beginning of this article, is a typical example of social video advertising.
Tencent, on the other hand, is also trying to reach out to some overseas advertisers through service providers. The latter wants to obtain data on Tencent users' behavior at home in order to run ads at home or influence Chinese users' behavior overseas, such as outbound travel and Haitao. A large proportion of these overseas advertisers have yet to set up branches in China, but already have demand for Chinese consumer data. We think that recently Twitter's senior management has also frequently appeared in the domestic media, and actively contact with domestic brands and even seek cooperation. As you can see, social advertising for overseas markets is about to become a hot cake in the near future.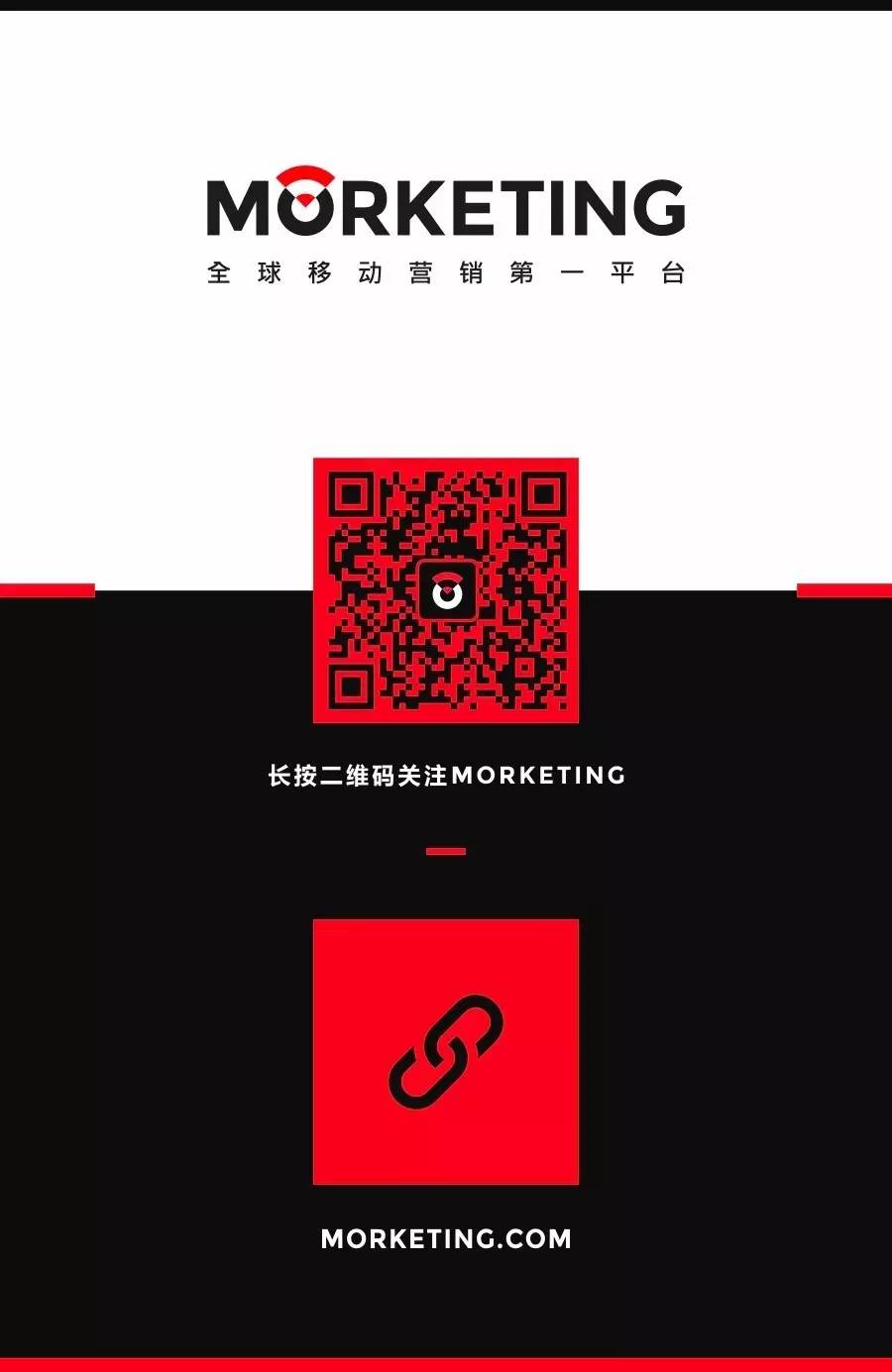 ---