Super dry! Some of the best ways to run Facebook ads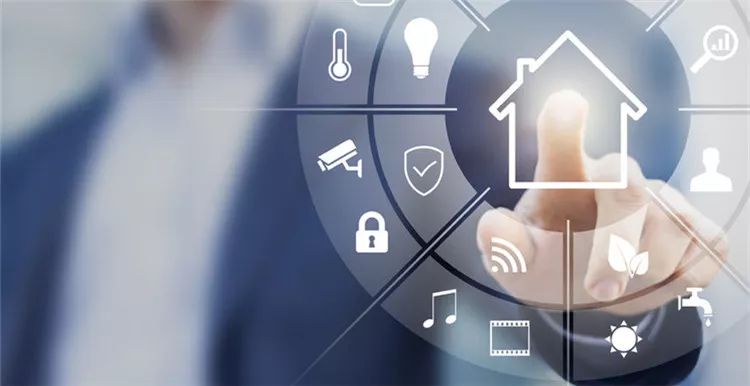 Abstract: Facebook has so many ad channels, how to pick?

In 2018, Facebook's ads will appear not only on Facebook, but also on apps such as Facebook Messenger, Instagram and AudienceNetwork.
Facebook is no longer a single-choice advertising platform. Advertisers must now pay close attention to the performance of ads across the platform;
In the case of Instagram and Messenger, if you choose to display ads on all available options during ad setup without providing a square image or ad text for Messenger, your ads won't work very well on Instagram and Messenger.
It's easy to set up your ads to run automatically, but it's not a high trick, but you can also make manual adjustments.
Here's how Facebook's ad bits are manually adjusted.
First, let's take a quick look back at the settings selection for Facebook's ad spaces, which, if it's an image newsfeed push ad, contains a large picture, title, and ad text.

Facebook
Feed (News Feed). Ability to display standard newsfeed ads on Facebook mobile and PC.
Instant articles (instant articles). An article format based on images, videos, and other content that is essentially a Web page that requires additional settings and only supports the mobile side.
Plug-in video (mobile). Video ads that run between other videos.
The right-hand bar. Image ads on the right side of the Facebook newsfeed page.
Suggestedvideos (recommended video). Videos played after other videos are only mobile-only.
Marketplace trading platform. Facebook Mobile's exclusive Marketplace feature displays standard Facebook ads.
Instagram (Mobile)
· Feed. Ads similar to Instagram posts.
· Stories (Story) feature. A video ad for "Burn After Reading."
Audience Network, a cross-app mobile advertising service
AudienceNetwork is similar to Google's Display Network.
Local ads, banner ads, on-screen ads. Standard Facebook ads run on sites other than Facebook.com.
Plug the video. Video ads that run between videos.
Reward video (mobile). Video ads play before the user starts the game. This is a typical free game where developers make money by displaying ads.
Messenger (Mobile)
Home (home page). Standard Facebook ads, Messenger screen format.
Sponsoredmessages (paid information). You can send messages directly to Facebook users, but additional settings are required.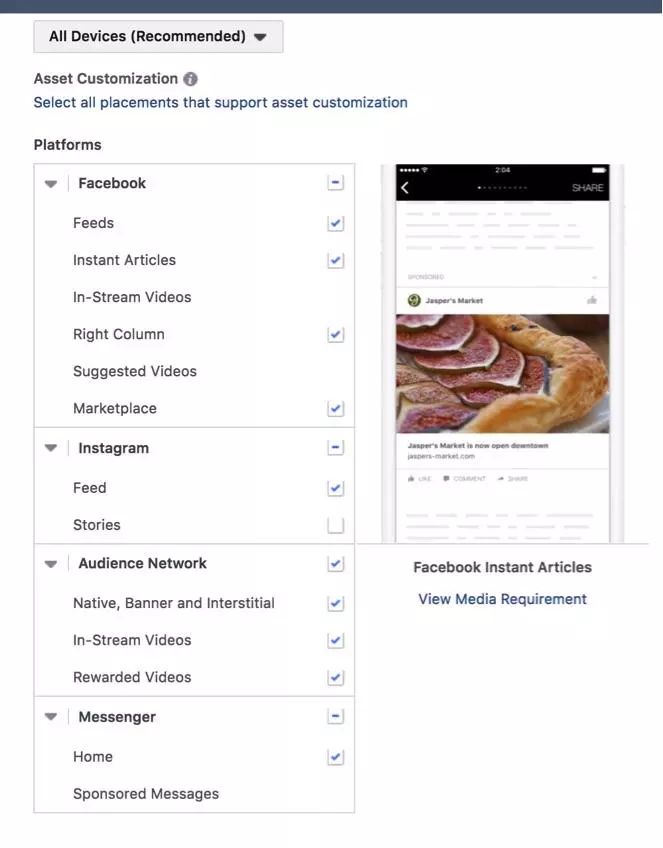 For most businesses, a simple ad can lead to good results, but that's not to say that complex forms of advertising don't work. For example, a family-run live CS store will focus more on video advertising and instant articles. Video ads are easy to make and work well. In general, the more complex your ads are, the fewer target audiences you have.
How do I determine the best ad space? Here are four steps.
Step 1: The target audience determines the ad space

After you've created your ad mix and targeted your target audience, you can turn on automatic ad delivery for about seven days, and a daily cost of $100 should be enough.
Make sure your ad ideas work well across all your ad spaces, and check to see if your daily budget is overspending.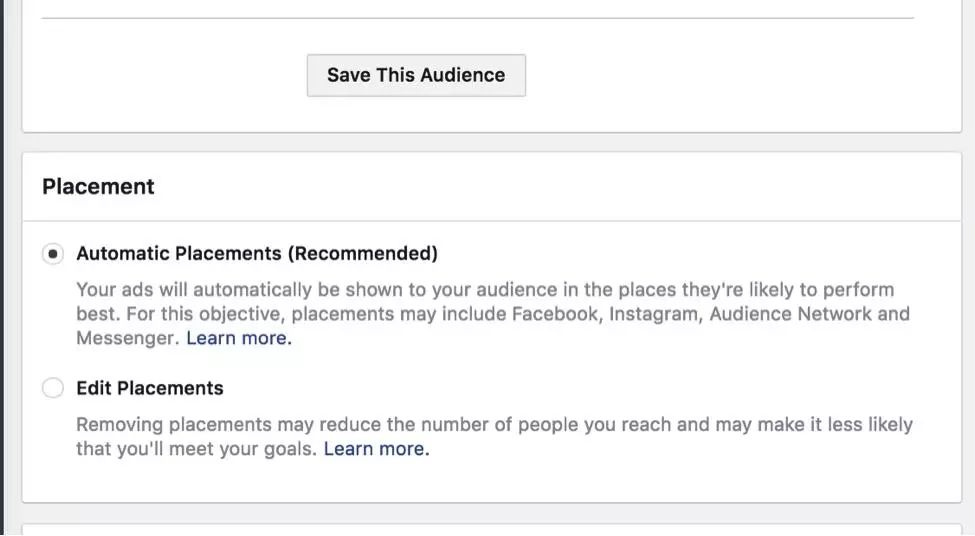 Step 2: Check the performance of your ads
You'll need to sign in to the ad management page, select your campaign, click the "ByDelivery" option, and then scroll down to "ByDelivery" and click on the "Placement and Device" option inside.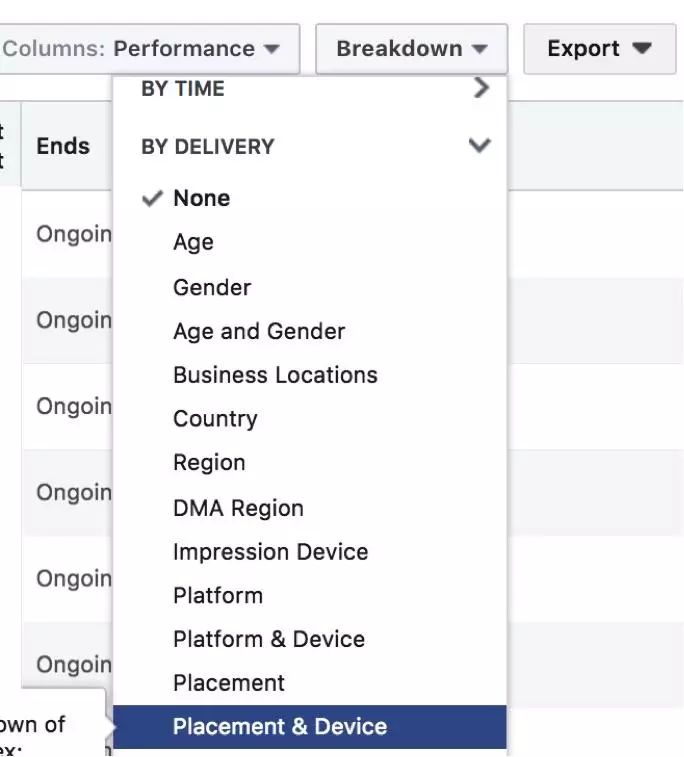 From the Placement-Device option, you can see where your ads are running and which ad space works best. If you don't have a particularly good ad space, you can also wait for the ad to run for another week, then check it again, or follow your instincts.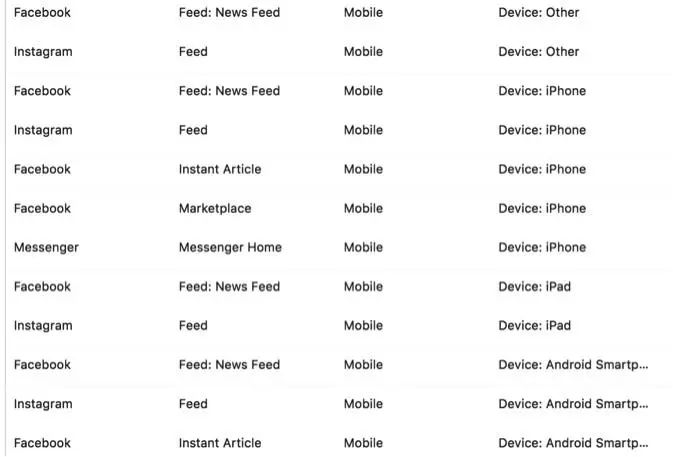 Step 3: Create the same new ad mix based on the best-performing ad mix
You can copy the ad mix that works best in your marketing, and then go to your ad mix settings and select a single ad space and single device option. Choose the best ad mix from your existing ad campaign, act as the only active ad, and copy the best ad mix to the newly created ad mix. The budget for each ad combination is $50 per day.
Step 4: Learn how your ad bits are working
You can see how your ad bits work from the view of your ad mix. Often, the best results are the best ad spaces. This makes it easier for you to track your ad marketing performance and pause your ineffective ad mix if necessary.
(Compilation/Hugo Net Huang Zhaoxing)
Identify the QR code below and follow us!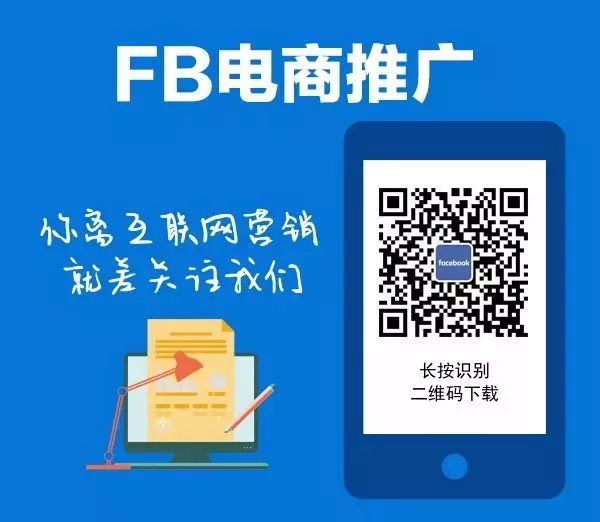 ---