Running Facebook ads like this will improve conversions by 30%!

The effectiveness of Facebook ads is influenced by many factors, and it's hard to draw conclusions based on just one factor, so a process of analysis is especially important. Recently summed up a dry goods, optimize advertising, from then on farewell without a clue.
One. Organize your data
If you want to improve the performance of your ads, you need to analyze your ad's data. Getting meaningful ad data is important.
First of all, we need to know which variable changes have an impact on the effectiveness of the ad, each campaign and ad group to organize a comprehensive, extract key information.

In sorting out the data, we try to choose the time period a little longer, preferably more than 7 days. Because of the short time of data, it may not be of great reference significance.
One noun has to be mentioned here:Attribution window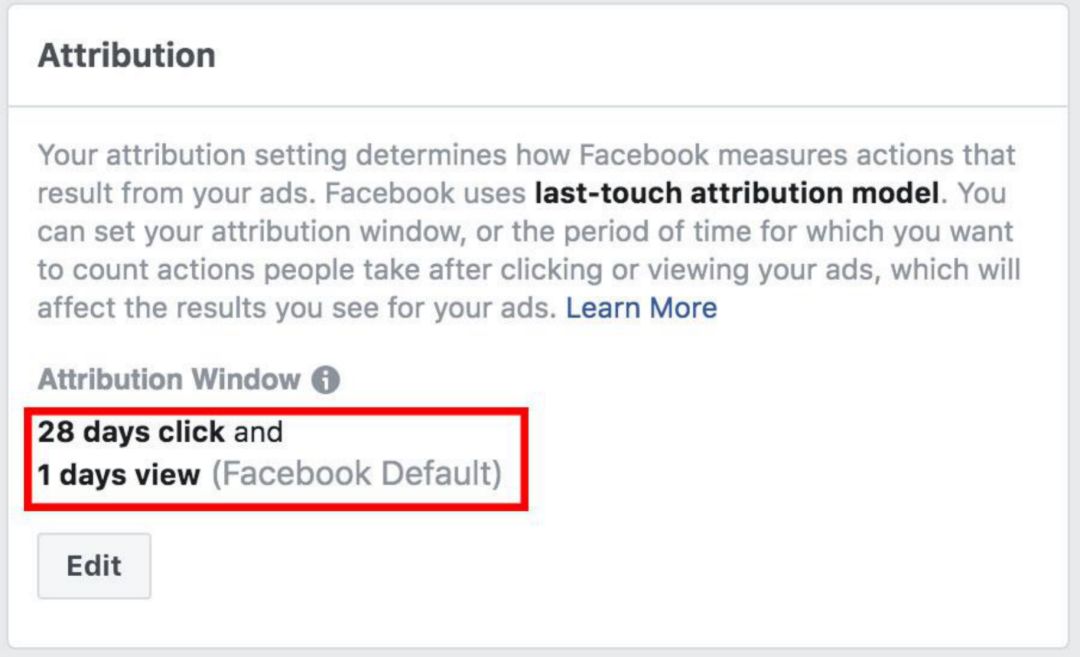 Simply simply,Attribution windowThis means that the user has generated a conversion over a period of time. Facebook's official default attribution window is 28 days. What does that mean?
Take an example.
Scenario 1:
You collected data from 1 to 3 on the 3rd and analyzed it and found 10 conversions.
Scenario 2:
You collected data from 1 to 3 on the 7th and analyzed it and found 11 conversions.
Obviously, the situation is one more conversion than the situation, because one user saw or clicked on the ad, between the 4th and 7th of the conversion.
For example, in the figure below, the difference between 28 days' data and 1 day's data is more than three times.

When students encounter fluctuations in data, do not panic, you can stretch the timeline a little longer, and then do analysis. Doing judgment and action when the data isn't accurate can affect the effectiveness of your ads.
Two. Bid budget
When you're doing Facebook ad analysis, you start by focusing on one point: how to set your bid and budget. Especially for nods, bids and budgets are like a mystery, so how do you set them up? Why isn't there a quantity?
No one always starts with a specific value, but they don't really need to. Because many of its values are constantly changing, advertising to make adjustments is also relative. Here you have to review the logic of bidding.

As we can see from the image above, the actual bid is not necessarily the same as the one you set. A bid 4, but the actual bid is 3, which means A spends less money. Similarly, B actually cost only 2.
In addition, there are other factors that affect the final effect, so don't get tangled up in a value. Every ad is different, so you have to adjust it to your situation to get the best results.
Three. The user audience
User audience data is also important, helping you adjust your ads to find the lowest-cost users.
We set up the user portrait when we created the ad, but what the actual situation is, we still have to talk about the data.
This is the most important feature for analyzing ad data, as shown in the following image.

With this feature, we can find gender, age, advertising space and other factors on the impact of advertising performance.

Above, for example, an analysis of ad bit data shows that Instagram users have the lowest conversion costs.
All we have to do is find out what will lead to the highest ctr and the lowest conversion costs. By recording the data, you can later create more granular ad groups and find more matching users step by step.
Four. Material innovation
Material is the absolute core of advertising, determines the final user conversion effect. Footage accounts for a large part of Facebook's value rating of an ad. (as shown)

A brief summary of the following points to see if it has been done:
Video footage is best within 15s and expresses the theme in the first 3 seconds

Ads are interactive and disseminateable

Material re-living

Video is king, video footage conversion effect is better than picture footage
The innovation of material is very, very important. Say the important thing three times. Material that resonates with users is good material. A good material has a variety of forms, and there is an opportunity to speak later.
Five. Automatic rules
Do you break down when you encounter hundreds, if not thousands, of ads that need to be adjusted?
When we're not at the computer, but we're afraid of big fluctuations in ad data, are you going to crash?
At this time automatic rules can help you solve this problem. As shown in the figure below, enter from here.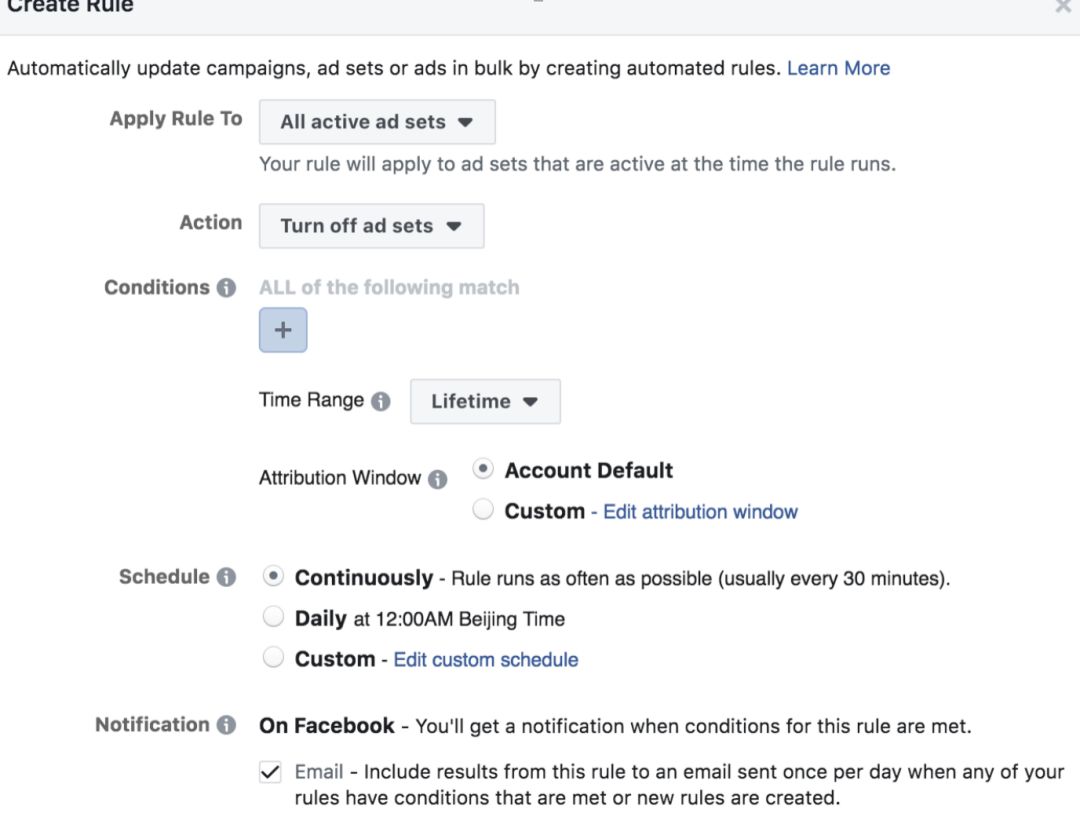 Here you can simulate human behavior and automatically reflect changes in a parameter. For example, the following image simulates the behavior of closing an ad group when the impression is greater than 8000 and the conversion cost is greater than $10. Depending on the situation, we can set up several automatic rules to improve the performance of your ads.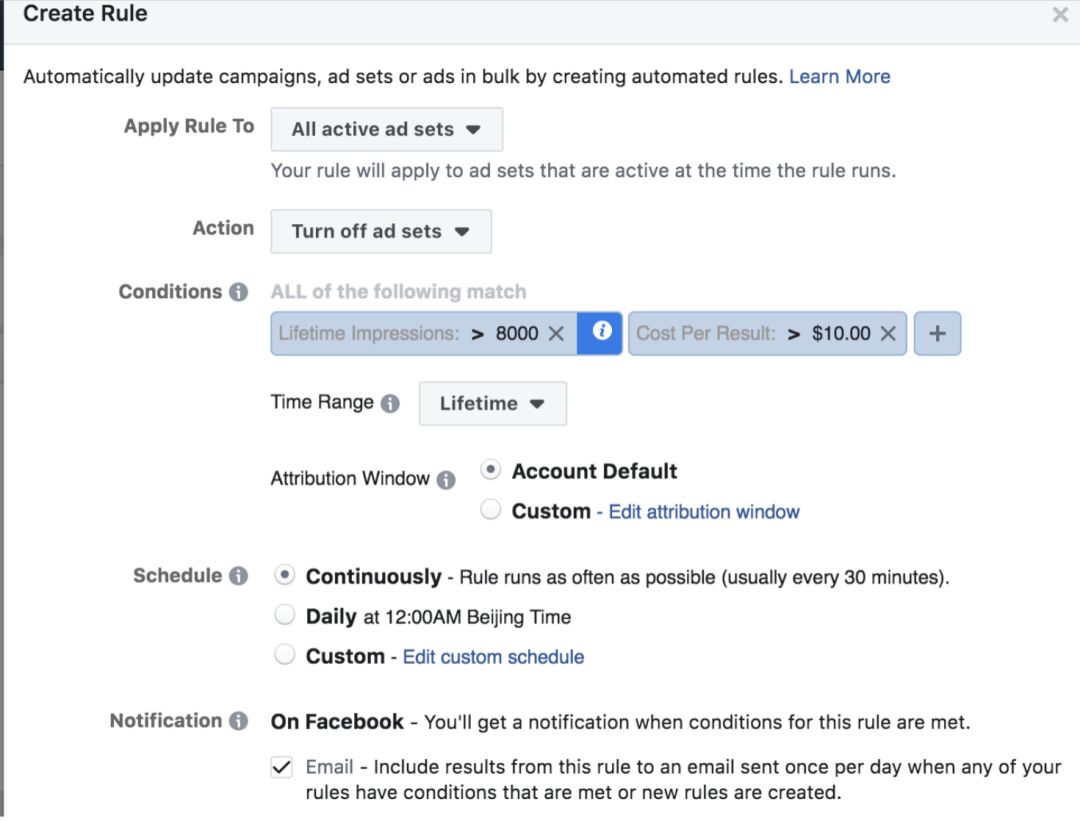 Facebook ad optimization requires careful data analysis to support it, which is also a way to reduce costs. In addition, Facebook is more creative, need UI or AE big understanding of their own home products, design suitable for user conversion of material, this may be a long-term work needs to be constantly tested.
—— END ——
A wonderful review of the past
→ the secret of Apple's recommended bit! 5 minutes to teach you how to easily get millions of traffic
→Create an ASM account to ad serving, the most complete tutorial on the web (newbies)
→ 30 per cent of Apple's pumping era is over, and the new business model is shifting to "hard work"
→ the dotcom financial bubble needs to be offset by the real economy
→ these kinds of apps must pay attention to! A lot of people were pitted...
→Apple reviews new developments, reviews big revelations!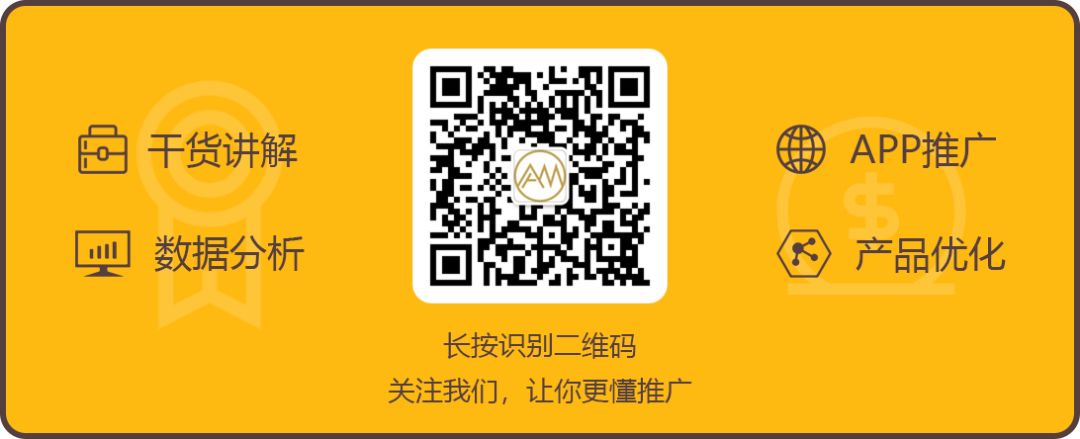 ---