Media reports . . How does Facebook ad delivery increase game retention by 66%?
In.During the GMGC conference, Madhouse invited Kong Chek Yong, Senior Strategy Manager at Facebook APAC Gaming, to set up a "Million Movement Classroom" at the event site.Share some of the issues you should be aware of when running mobile ads live.
In addition,Madhouse Senior Product Manager Hu Ling and PerforMad's North China Operations Director and senior optimizer Zhang Qiang, two old drivers, also talked about PerforMad's upcoming new features and excellent Facebook optimization cases.
The little friends who didn't get to the scene were blessed! Today's small editor will be hand-touring dragons, tigers and leopards finishing the scene dry goods content to share with you! Are the papers and pens in your hands ready?!
It is believed that the App Store and Google Play are the two main application channels that have to be broken by the sea-goers, and how to acquire users is probably a common problem for global applications. If you want to solve this problem, it becomes very important to study the delivery mechanism, form, effect and so on of common social channels such as Facebook, Twitter and Instagram.
Facebook is also one of the most understood channels for overseas social platform launches. So how do you increase user conversion rates with Facebook delivery? What kind of delivery combination will make the promotion more successful with less? What forms of advertising are more likely to interest gamers? That's all we need to know.
This article will address the following issues:
1. What is the Facebook delivery mechanism?

2, how to use class positioning to find more high-quality users?
3. Can seed users in one region be used in another?
4. How do I bring the same players from different countries together to push?
5, what form of advertising is most effective?
◆  ◆  ◆
What is Facebook's delivery mechanism?
In the first 6-12 hours after the ad launch, the game ads will probably be delivered to 5000-10000 people, some of whom downloaded the game, then constitute the game's "pre-download number", and this pre-download number will serve as the next ad to serve the number of downloads.

The red box in the following image shows that assuming that there are seven people downloaded in the previous period, five of whom have the same characteristics in one area, such as playing SLG games in a week and setting them yellow, the next step is to send the ad to a larger number of yellow people.
If it's like marked blue content: there are seven people in the early download, two of whom have the same characteristics in one area, and when you continue to deliver, the system delivers to people who share the same characteristics as these two people, it's easy to find a player audience.
In other words, Facebook in many scenarios is based on previous user statistics.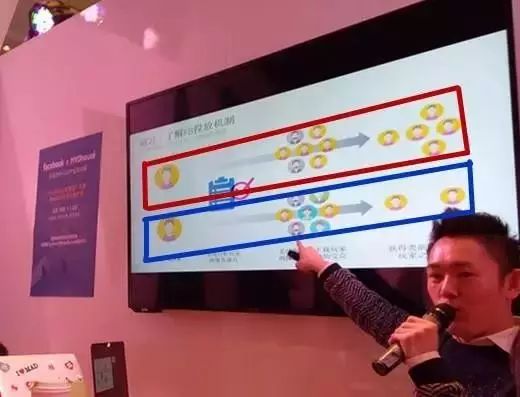 In general, Facebook can be targeted in three ways:
First, define a user for a class (Look-alike), using existing high-quality players to find a wider range of high-quality players, because it is the system to help find players, so relatively high player characteristic consistency.
Second, interest positioningPeople who play three games, for example, may also like to play parkour games, because they are all casual games. But interest targeting relies more on people's subjective judgment, and targeting users in this way may have a lower download conversion rate than class definition users.
The last is pan-positioning, for example, by gender, a certain age group positioning, a wider range, and conversion rate may be lower than the first two.
Chek suggests that targeting users isn't just about choosing classes to define users, it's about combining several ways if you want to expand your game's user base.
From the feedback of foreign gaming companies, usually, 60% of the budget into the class definition of users, 30% into interest positioning, the remaining 10% to do general positioning can achieve better results. But if there is no way to determine the class definition user when the game doesn't go online in the first round, then you can put the budget first on the interested user, wait until the user range is expanding, and then further determine the class definition user, put in the budget.
◆  ◆  ◆
How do I use class targeting to find more high-quality users?
It is important to note that "class definition users" do not mean that there is only one label or a group alone, but that its interior can also be divided into different classes according to the level of "feature consistency".In general, class definition users account for 10% of platform users, with the highest feature consistency users, which may account for only 1% of platform users;

High-activity, high-paying SLG players, for example, account for 1% of Facebook users; SLG players with lower activity, with higher single-payer SLG players accounting for 4%, SLG free players accounting for 7%, and SLG players at 10%.
So how can we make better use of these classes to define users as seed users of game products? Here we recommend that you try to find the label characteristics of the user by continuing to try and summarize the analysis, from 1%, 4%, 7% to 10% of the different stages of the class definition user has. Then create the seed user. The process of creating seed users is arguably one of the most important things facebook launches.
The number of seed users is controlled between 1000 and 10 million, which is an ideal state, not more than 50,000 at most, and it is not easy to set up samples for data analysis if it is less than 1000.
In addition to focusing on quantity, we should also pay attention to quality. There are two main criteria for measuring the effectiveness of seed users: first, if seed users represent paid players, then in the next round of push, there is a good chance that the user who is reaching the ad will still be a paying user. Second, activity, if the seed user is a highly active player, later push users may also have a high degree of activity.
If the game in the early stage of release, the number of paid players is not large, then activity is an important standard for platform push reference, in addition to the choice: "complete the novika tutorial players", "complete a round of level players" and other labels to set, and so the number of players reached 1000 can begin to determine "paid players."
◆  ◆  ◆
Do seed users migrate across regions?
Games go out to sea before entering a country, in fact, according to one country's paid players to lock in another country's paid players.

For example, a game between Taiwan and Taiwan, collected a lot of seed users in Taiwan. The game then tried to launch in Thailand and Malaysia, and the promotion team was able to bring the collected Taiwanese seed users to both countries. Because Facebook summarizes the characteristics of Taiwan seed users and finds people with the same characteristics in the local market.
But.Seed users are best to choose adjacent markets for delivery, for example, with Korean seed users corresponding to Japanese users, the closer the culture of the country, seed users migration will be better.In addition to this, you can choose between one-click matching global positioning or regional market positioning, and Facebook can independently match similar markets.
Here, the Dragons and Leopards suggest that if the global positioning, can be under this range to do subdivision, such as positioning the French-speaking region, for 25-45 years old girls to do the launch. At this point, you can ensure that your ads run directly to countries that are easy to ignore.
For countries such as the United States, which have higher user costs, there is a separate delivery. Regions with medium- and high-quality players, such as Malaysia and the Middle East, can also be launched separately to avoid competition with other regions. Of course, some countries, such as India and the Philippines, can be temporarily excluded when 1-2 weeks of delivery does not have much effect.
◆  ◆  ◆
Can ads reach global target players with one click?
This requires one thing to do well: event-oriented optimization. Event-oriented optimization can be used in scenes where your app downloads ads. For example, "paid users to download", "to reach the game level 10 users to download." In this case, the cost of getting a user acquisition may not be low, but ROI will be higher.

It is important to note that if 100 people download games a day, the percentage of paying users is between 1% and 50%, event-oriented optimization can be referenced, generally a game pays between 2% and 4%.
The next step is to select high-active, high-paying users for global positioning, which excludes high-user cost regions such as the United States and Brazil, as well as high-paying regions, and then select language versions for positioning, and if you need to refine, you can add game type definitions, such as SLG players. You can then select a higher quality user when you choose to optimize event orientation, and then bid. Usually the system bid will not be higher than $10.
Take zynga's slot game, for example, where high-value paid players create class users, add keyword targeting criteria such as age and gender geographic location, and then download them as "paid players." In the end, the game achieved 4.5 times more ad recycling than the average ad, 2 times the player paid for the conversion, and a 60% increase in download conversion rates (usually 20%).
Here are three tips:
1. If the user positioning and delivery did not work at the beginning, you can try to use the general download as the optimization guide for the ads to take warm-up;
2. Can set 100 dollars for the daily budget to download-oriented, after 24-36 hours of automatic bidding, into AEO;
3. Automatic bids are available faster and prices can be limited in the daily budget.
◆  ◆  ◆
What form of advertising is most effective?
If you understand the rules of delivery, what ads are the most attractive?In form, Facebook, for now, can increase its three-day retention of games by 66% compared to image ads;

Video advertising is not complicated, static characters or background keyed out, do simple displacement can be used as video advertising. In general, video ads take five forms:
(1) Multi-form combination (canvas): Interactive full-screen advertising, i.e. users can click and swipe the screen to get more information about the product or brand photo of interest.
(2).360-degree video: Consumers can swipe or move mobile devices to immerse themselves in product interactions and control their own advertising experiences, such as first-person combat games.
(3) Rotation: An ad that allows advertisers to display up to five clickable images or videos in a single News Feed ad.
(4) Dynamic diagram: including GIFs, Cinemagraph
(5). Live video ads.
According to the available statistics, 6-14s video ads are more acceptable to users and will improve conversion rates.
Let's start with this today, knowing that marketing and promotion of a game has only just begun, starting with Facebook's ad video.
---
-END-
Source: Hand-Traveling Dragons and Leopards
▼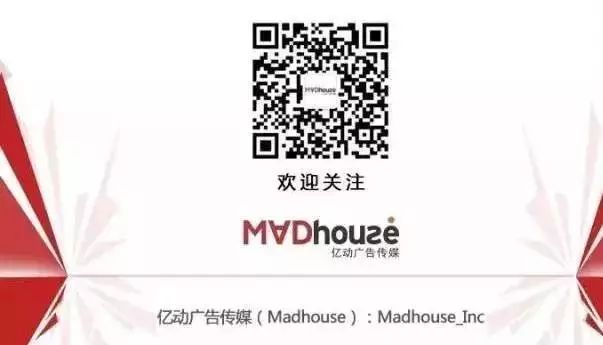 ---