2017 Facebook Ad Cost Data Report - A comprehensive analysis of Facebook ad spending to optimize ad performance
AdEspresso, a well-known data analysis company, countsFacebook More than $300 million in ads in 2017, combine all ad data. Here are a few general conclusions:
1、FacebookAdvertising is a hot place and you don't hand over a pile of cash directly
  Advertising, yesParticipate in a bidding system to bid for your ads。
2, many advertisers are also trying to more usersNewsfeedget your own advertising space,
  AndFacebookLimits the number of ads that each user sees.
That's one of the reasons why the price of Facebook ads is so important

Factors that affect the price of Facebook ads
There are a number of factors that can affect the price of your Facebook ad from which you will bid, as follows:

1)Peak.The competition is fiercest, the total cost increased. (in the middle of the year, in a week, or during a special period of time you expect)
2) YoursBidding strategy。 You can set an average budget, or set a budget cap.
3) You chooseThe layout。 Different ad implants have different cost inputs, such as ins, which are usually the most expensive.
4)The relevance of the ad。 Yours.Ad relevance score (including user interactions, clicks, etc.)will directly affect the fees charged to you by FB.
5) YoursTarget audience。 If other advertisers try to reach an audience that's almost identical to your ad, the cost will go up because their news delivery space isn't unlimited.
Facebook advertising costs:
When analyzing the study data, different factors, such as differences, were observedAge.、Countries.user pairAdvertising costsand as well as the wholeThe performance of the campaignimpact.
2017Facebook CPC Cost.& Return.
The figures reflect 2017Average cost-per-click、The amount consumeAnd.Multivarivity data information 。
Facebook's 2017 ad delivery segment
01

• While each country will vary by industry, audience type, employment opportunity, and a number of other factors, you need to know what you're delivering firstnational averageHow much is it?

• Our goal isTarget audiences in low-cost countriesThe higher the CPC, the greater the cost.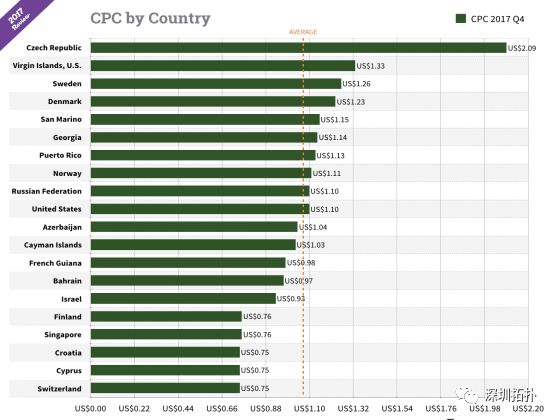 02

• Higher cost investment for older users - data show:The older you get, the higher the cost
• For most of 2017, target users averagedThe cost of 65 plus years is the highestof the .
• Although.Older users may spend more money to target directlyand theyHigher incomes and less debtthat means they can be used for consumptionDisposable income is also higher!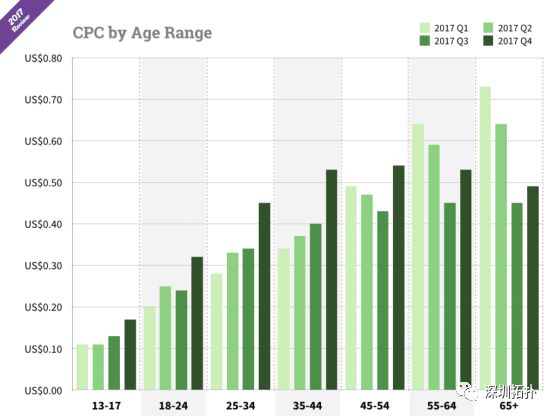 03
• Ins ads have always been the most expensive: 2017insof thenewsfeed ads、story adsAdvertising costs are all  It's more expensive than similar Ads on Facebook。
• The cost trend is more pronounced in Q4,ins newsfeed adssoared to almost the majorityFacebookWebsitetwice。 But there's no denying thatIns conversion rate and participation are also high。
• Audience Network has always been the best dealthe layout of, so enabling this layout keeps the average ad cost low for a long time.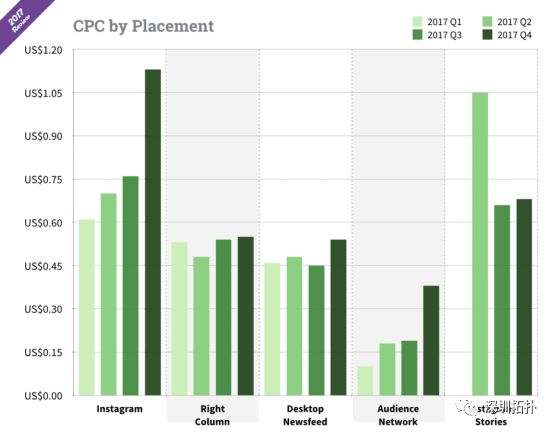 04
• It's very easy to see that there are a lot of factors that are pushing up the cost of Q4 advertising
• Q3 Average summer cost0.35 Knifeto Q4 the sharp change in price,It rose to around 0.50。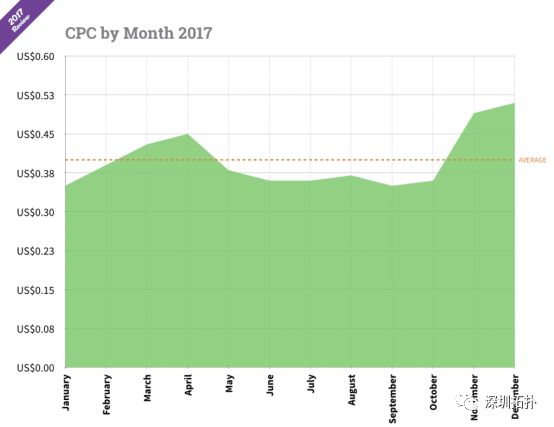 • 2017CPCThe lowest costs fluctuate enormously.
• Q1:Tuesday.of the CPC is most reasonable about every time0.34 Knife;
• Q4: Sunday.The CPC is the lowest, averaging about every time1 knife;Tuesdays and Thursdays are expensiveCPC is close to each time0.5 knife。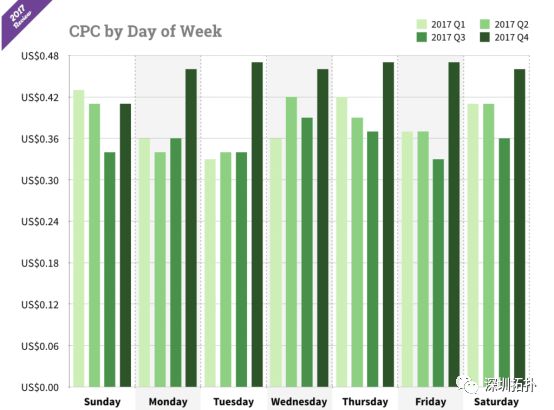 • Used quarterlyWomen's costs are higher than men's。 Outside of Q3, quarterly advertising costs to women are about the same as for men0.15 Knife 
• Does this mean that your ads shouldn't be aimed at women? Of course not , but if you advertiseIt's all about womenYour ads are relativeHigh.A lot!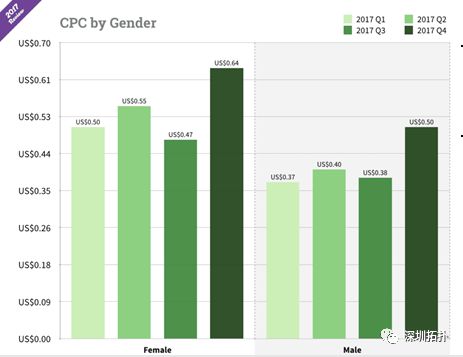 • OverallThe average daily activity and cost-effective in 2017CPCThe time period is almost consistent。
• Early morning hoursAdvertising costs are all season longThe lowest。
• Although Q2,Q3, the ad cost difference may seem to fluctuate the most through the day, but it's actuallyQ4The difference between high and low is the biggest, early5am to11pmBetweenCPCThe range of fluctuations is in0.45~0.50Knife.Between.
• This means that day-parted ads may not save you much in advertising costs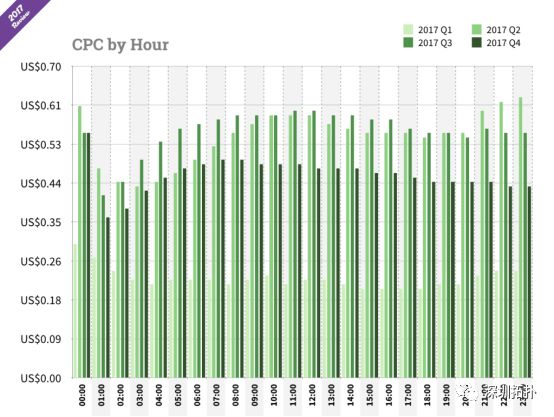 • To.Impressions target campaigns that are usually lower than optimizing link clicks in exchangeCPC?  On the contrary,The cost of optimizing link clicks until Q4 ($).0.44can make the lowestCPC,Conversion second($0.66), lead development third ($).1.18)。
• Not all link clicks mean conversion or actual legal information submitted, and you may always be paying the price for useless work, but by comparison, yoursreach andimpressionswill really give back to you for the cost.
• But that's not to say that just being true to an ad goal or inglying about arrival and impressions can make your ad system more loving.
  Cost Per Like for Page Like Campaigns in 2017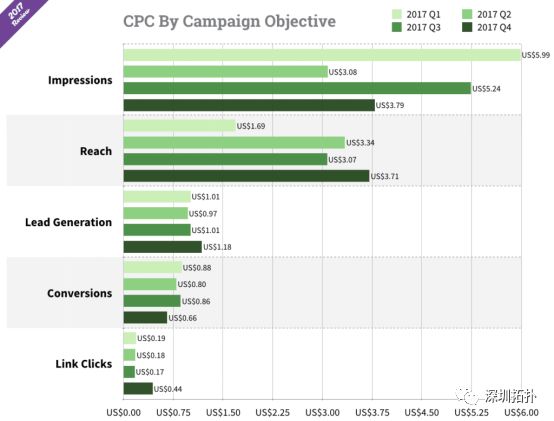 • It's easy to see, noIn the same country,CPC has little to do with a single approval book 
• Norway.it is the most expensive per PCpc unit price of any country ($).2.70);Sweden.from a high-cost CPC down to the average position;
• Kazakhstan.Each time in favour of this minimum ($0.69), followed by Australia and Finland ($0.77)
• If your audience is right in Norway, that's all rightIt is recommended to reduce the total cost from other input areas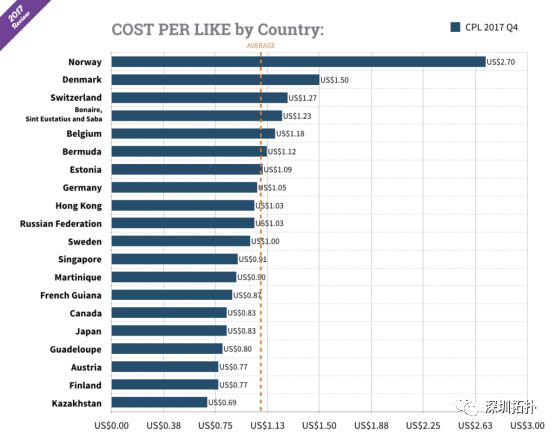 10 
• There is a clear correlation between age and cost: the older you get, the higher you are(Consistent with age and CPC ratio trends)
• Q4:55+Year-old users single-up in favor of this sharp rise, while25-34The number of users who approved of this one time decreased.
• Of course, that doesn't mean you should exclude the "older group" from your audience, and you have to look at the situation objectively because manyOlder people tend to hold more consumer income and may encounter less consumer competition in older groupsto further realize advertising marketing。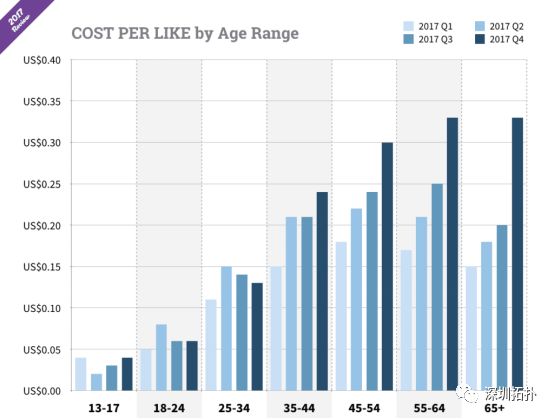 11
• CPC and layout, single approval of the ratio trend between this and the layout of the different exploration can be said to be very deliberate.
• Facebook's right-hand side of the page andfeedThe layoutCPCAlmost consistent;Q1 to Q2 period, bothCPLAlso nearly consistent, howeverQ4The end of the period began to go the other way
• Q4 end, right-hand position advertising cost rationewsfeedThe layout is nearly $higher0.10And.feedThe layout can be more spiritual to achieve advertising. It's not clear why the right-hand section is still heavily used.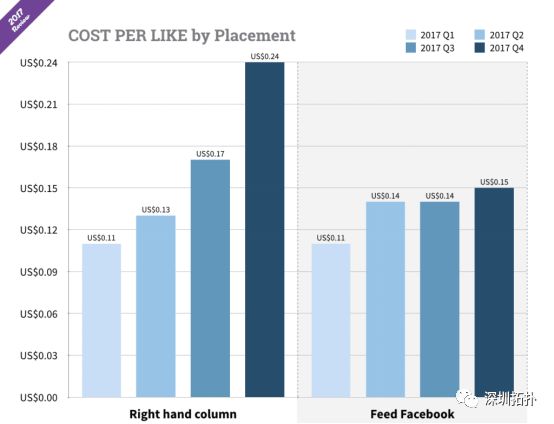 12
• Overall, the monthly average single approval was slightly higher than $0.12 (Q1The lower cost input level is just the sameQ3、Q4($0.16(High-cost inputs offset each other)
• More interestingly, in December, single approval fell back to average, probably because of that periodPagesSome details are optimized.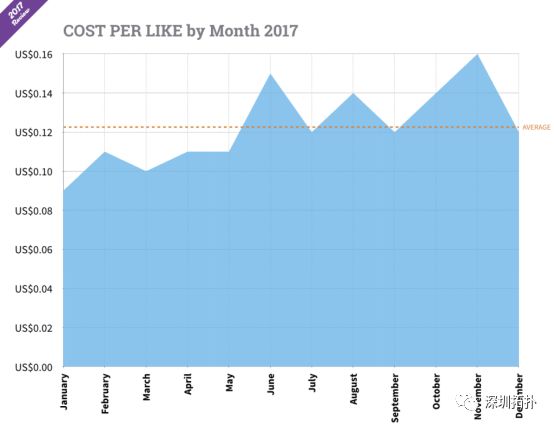 13
• If you want moreLow-cost home page likes,Friday.($0.12) would be a good choiceand, as for it  Tuesday and Wednesday ($0.15) You'll need to invest more to get likes
• But you'll notice,Day single approval ben is different almost every quarter, high or low, high volatility is strong, so you say you want to put ads on a certain day is not a reasonable choice.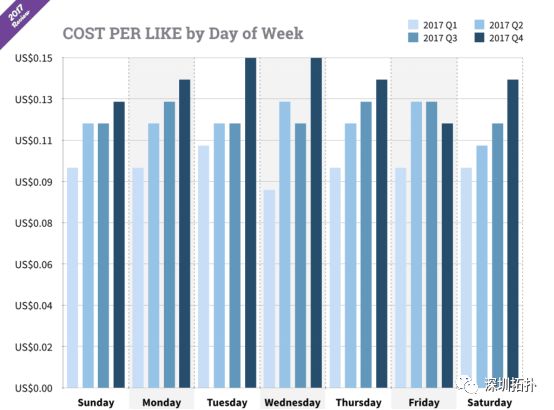 14
• It's no surprise.The single approval for women is much higher than for men。
• Each quarter is higher on average0.05 Knife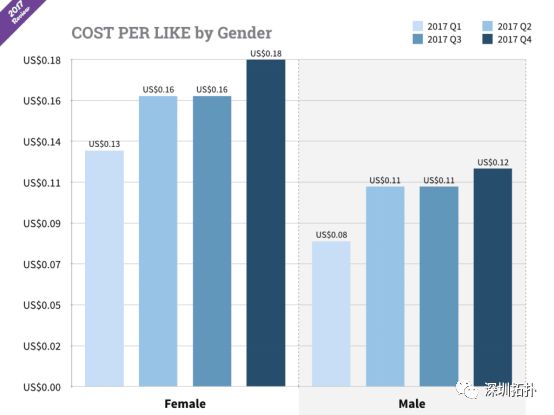 15
• Different from CPC,A single approval of this hour will change significantlyand Q1-3 toQ4Single approval of this sharp rise.
• Early morning hoursSingle like clickThe lowest cost, hovering at $0.13 And. $0.19Between.
• CPC from7am($0.20To4pm($0.33Continued to riseand then began to fall, straight toIt fell back at 11 p.m$0.20
• This reflects the active peak hours of most users of social media,The more active users there are on the platform, the more expensive it will be for a single like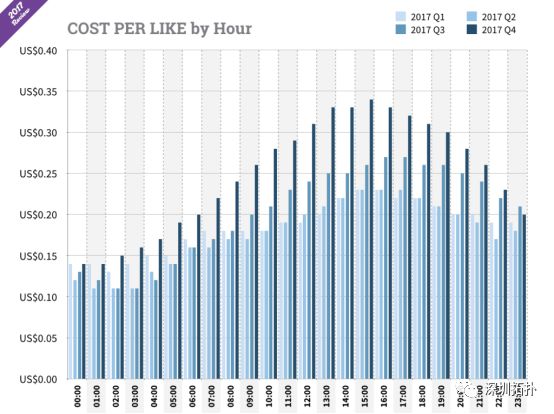 Is The 2017 Facebook ad delivery results segmented, and did the small partner running Facebook get to the point? If it is not fully recorded, then hurry to collect this article, in the future ads in the control of the app.
Shenzhen Topology, due in July6-8number, heldFaceboookOperating training courses015Period. Longer course time, more course content and times, limits:30People. To learn more, scan the QR code below: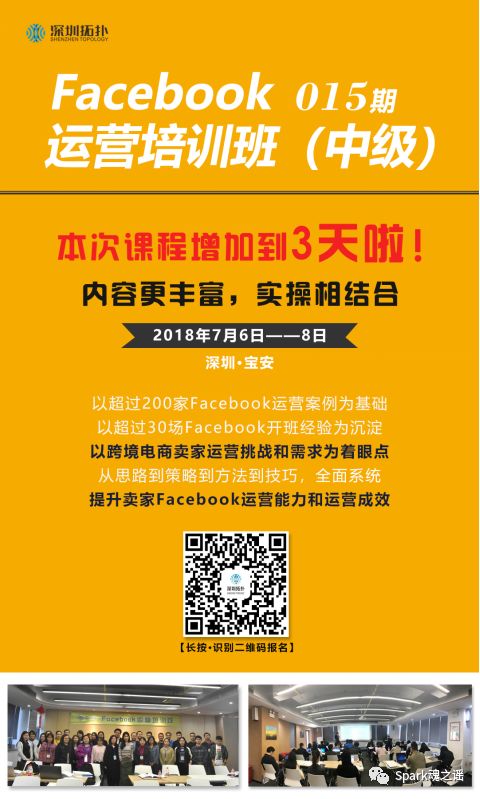 For a complete view of Facebook's 2016-2017 ad data and professional interpretation of the data, please forward this article and send the screenshots to our staff as follows: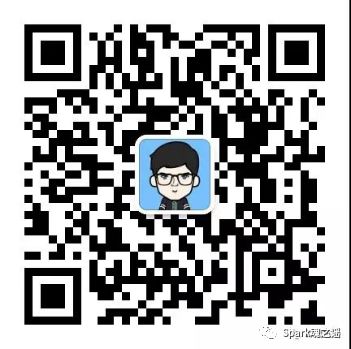 ---