Reliable small class: games go out to sea with social media marketing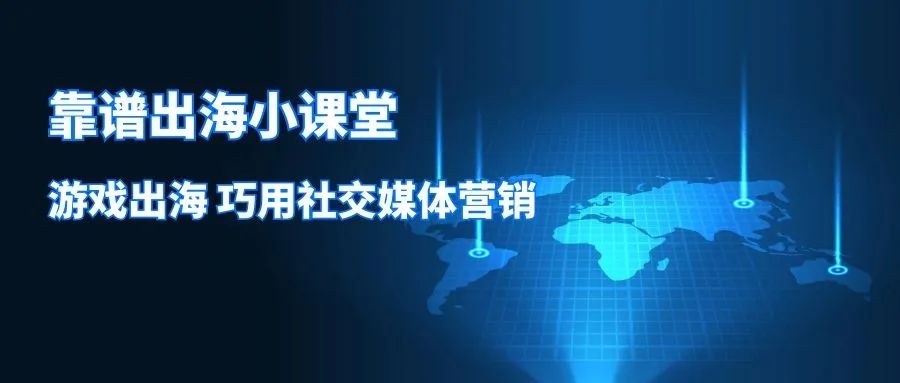 We Are Social and Hotsuite recently teamed up to release the latest Digital 2020 Global Overview Report. According to the report, global social media users have now passed the 3.8 billion mark, up 9% from the same period last year (321 million new users). For sea games that want to reach their target users more accurately, using social media marketing and community building can be a good way to build a brand image for your products and better communicate to users.
Mainstream social media and communities overseas
      Social media and community may seem close, but there is a fundamental difference in actual attributes. Social media marketing is the use of social media proliferation characteristics, the production and release of social content, directly attract new users and interact with users. Social media tends to be more "one-to-many" in its properties.
      Community building includes customer service, user feedback, community activities, brand discussion and so on. Community building is more about small-scale user management than social media operations, fostering high-loyalty users, and thus enhancing the value of the brand. The properties of the community prefer to interact directly with the user "one-to-one".
      Social media overseas now includes Youtube, Facebook, Twitter, Instagram and, more recently, the emerging Tik Tok short video media platform. And the community mainly has Reddit, Discord and other popular community platforms.
The benefits of marketing through social media
      Overseas social media, similar to domestic microblogging and WeChat public numbers, can be an effective job to win more new customers, while helping brands build better relationships with customers. In recent years, there are often brands on social media to "personalize" the image directly to customers, the character of a distinctive image can effectively enhance the customer's good feelings, but also enhance the brand's memory point. Data show that 53% of Instagram users and 50% of Twitter users follow their trusted brands through social networks, with images and videos viewed 94% more than text-only content, and 71% of customers with a good social media consumption experience willing to recommend them to other users.
Produce more content directly to the user
      Game out to sea in addition to simply promoting their own brand, but also need to according to the player's psychology, the use of social media "small, refined, fast" advantages, to create more can touch the user's inner content. Resonate with players with high-quality content that quickly filters out seed users for the game and gives more room for future brand marketing.
Use social media attributes to expand dissemination
      The biggest advantage of social media is the wide dissemination, whether it is combined with current affairs hot spots, viral marketing and a series of means, can quickly stimulate the user's desire to share, thereby stimulating more user attention, enhance the overall sound volume of the brand.
Deep interaction with the user
      Another great benefit of social media is that users can be invited to participate in interactive activities, with people production, camp team, player opinion collection, red envelope fission and a series of other activities, effectively stimulate the enthusiasm of current users, and then spread to more potential users, enhance the brand user base.
The benefits of building a community
      The community is made up of current users, target audiences, and everyone who interacts with the brand online, directly and indirectly. More often than not, it's a hub for players, where a large number of players discuss the content of the game to form a sound community where the content of the community can have a powerful impact on the brand.
      Within the community, each player's interaction is directly related to the core of the brand, and discussions, questions, and even conflicting topics can lead to more user engagement. And as player engagement increases, it's even possible to produce a lot of media topics and go on to social media for dissemination. In the NGA community in China, for example, game-related topics are often produced and widely disseminated on Weibo.
The user's sense of belonging
      On social media, players can only associate themselves with the game through the hashtag (TAG). In the community, the player is directly with like-wanted people to discuss, in a good atmosphere in the community, the user's sense of belonging to the brand will be greatly enhanced.
      While social media can attract users with creative forms of content, the best way to get "users" to tell more users that your game is really worth playing. In the Raddit community, there is a good example of how, early in the forum, creators created a large number of virtual accounts and created fake posts to simulate an active community environment to attract new people. What is so popular about Raddit today is that it attracts more users with "users" and eventually becomes a real active community environment. As long as you can build an active enough community that is authentic enough, you can demonstrate that your brand has a high level of trust and attract more users, form a virtuous circle, and gain more retention.
Bad social media marketing and community building cases
      Through past examples, we have summarized some of the wrong practices on social media and community platforms:
      Marketing lack of creativity, just the content superimposed and repeated, difficult to stimulate the user's interest and desire to share, the user added is even more unthinkable.
      Some developers in the process of globalization, only a simple translation of the game, not combined with the local language and culture, even the content of the terrier is designed with domestic thinking.
Lack of communication with the user
      We've seen a lot of products on social media that don't care if the player likes it or not, and only publishes content according to their preferences. And in the process of content display, completely ignore the communication with the user, resulting in a diseloyal situation with the user.
Over-emphasis on incentives and stimuli
      The rich benefits of the game can undoubtedly attract a large number of users, but at the same time it is often easy to ignore the display of the game experience, resulting in users are not interested in the game at all, so that more welfare incentives will not help.
An overly fable brand image
      In the early stages of marketing, developers are constantly testing different materials and styles to filter out the material that appeals most to users. But to the latter stage, if or constantly change the brand image and style, easy brand memory point decline, user loss.
How to do a good job of social media marketing and community building?
      Based on these error cases, we have come up with some practical tips for social media marketing and community building:
Creative original content
      First of all, the idea itself needs to combine the game with the local market culture overseas, which can more easily resonate with the player. And need to always think from the player's point of view, listen to the player's advice, from which to find more opportunities. Recently, there are many cross-border marketing cases as well as online red marketing cases are good reference objects.
      Developers must have an in-depth understanding of the differences in the sea-going market, and in the localization process, it is best to use local people as translators and tailor the content to the local language and culture in depth, so as to increase the acceptance of local users, but also to provide a more appropriate way of thinking for marketing ideas.
Build a dedicated channel of communication with users
      Blizzard, for example, regularly outputs new versions of content to users in the form of blue stickers and listens to players within the community and provides timely feedback. In particular, negative evaluation and feedback, if you can get timely treatment, you can get the "game attaches importance to the views of players" reputation, which can also become one of the advantages of the game.
A reasonable social media content plan
      A professional marketing team will develop a comprehensive marketing plan, and will also be measured in weeks and months for planning, in advance to prepare materials to ensure that the plan is safe. It also requires a responsive team that is always responsive to u-planned marketing events.
Establish the consistency of brand style and people as early as possible
      Once the brand style is finalized, it also needs to be consistent with social media and the community. Such as in determining the overall style of the game to face the user portrait is like secondary animation of young women, Meng Meng's language style can undoubtedly add a lot of points for it, but always maintain the unity of people.
Make the most of social media and communities to quickly build brand roots
      Similar to the domestic microblogging and WeChat public numbers, developers who can make good use of social media operations and community building can build a better brand image for the game and provide better user streaming when the game available online. In the limited budget range, media material, update frequency, activity coordination, etc. can play a certain role in drainage. And can also make use of the popular internet red, do large-scale live broadcast, theme activities, in the social media cooperation, enhance the activity draining effect.
      In addition, developers tend to ignore social media and community building time, often after the game online began to consider construction, in fact, with the game online social media and community operating programs must be planned at least three months in advance, in order to better establish the foundation of the brand, enhance the player's trust in the brand and expectations.
Scan QR code plus my friend
Sea-going consulting/product access
Name: Zhang Guosheng
Microseal: Coulson
Scan QR code plus my friend
Sea-going consulting/product access
Name: Fan Shuxiang
Microsyscope: WSfansx
---