Policy . . Facebook's guide to advertising in the fintech industry
The fintech industry has been booming in the world in recent years, and more and more financial advertising is appearing in front of the public.
To help practitioners make better use of Facebook, the world's premier digital platform, to market, reach high-quality audiences, and create a good user experience, Facebook has launched an advertising policy guide for the fintech industry to make ad delivery more regulated.
Let's take a look at some of the fintech applicationsCan run Facebook ads, and that's itAvoid which drop mine zones.
The scope of fintech applications
The following four types of apps are fintech apps and must follow policies when running Facebook ads.




First, the lending category

Companies use fintech to provide loans to users. The term of the loan must meet Facebook standards and cannot be cash advanced.

Second, investment class

Fintech services include equities, fixed income, foreign exchange, commodity trading and data subscriptions.

Third, payment and wallet class

Includes e-payments and e-wallets that allow consumers to easily transfer money or pay online.

Fourth, cryptocurrencies class

Facebook has set up a standardized whitelisting process for such apps, as detailed below.






Fintech merchants require prior approval to run ads
Fintech merchants need prior approval to run ads. Please note that merchants may not advertise cryptocurrencies and their related products and services, such as Bitcoin or Ethereum, without prior written permission from Facebook.
Advertising requests for cryptocurrency products and services:
1, after creating an advertising account, please go to the exclusive page to submit an external whitelist -
https://www.facebook.com/help/contact/532535307141067
2. The Facebook GSO team will submit an internal whitelist application form
。 Please note that this licensing process is only available to customers with dedicated services.
An overview of the key points of the advertising policy
When creating Facebook ads, fintech businesses should strictly follow the following policies to allow ads to be reviewed and published smoothly.
· Payday loans, salary advances and bail services may not be advertised:
It is prohibited to advertise payday loans, salary advances, bail services, or any other small short-term loans needed to meet people's spending before their next payday.
· Do not advertise misleading or deceptive financial products and services:
Promotion of financial products and services that are often associated with misleading or deceptive promotions, such as First Token Issue (ICO), Binary Options Trading, or Blockchain, is prohibited.
· Do not include content that expresses or implies that the user has certain personal characteristics:
Including directly or indirectly emphasizing or implying a person's race, religion, age, gender, disability, state of health (physical or psychological), financial status, criminal record, etc.; "In urgent need of cash to pay for it?" "and so on."
· Do not contain misleading or false content:
Deceptive, false, or misleading content, including deceptive statements, offers, or ways, is strictly prohibited in ads, landing pages, and business practices, such as "Your friend is using the app" or "Successfully borrowed $100."
· Ad images must not use too much text:
Too Chinese images may result in fewer ad reach or even no delivery. Facebook provides detailed guidance and specialized tools to help you reduce image text, visit the Advertiser Help Center for details: https://www.facebook.com/business/help/980593475366490
· Users may not be asked to provide the following information in Lead Ads without Facebook's prior permission:
Government-issued identity documents: social security number, passport number, driver's license number, etc.
Account number: such as frequent flyer number, credit card number, broadband/telephone account number, etc.
Financial information: such as bank account number, credit card, debit card number, etc.
Please go to the relevant page for details:
https://www.facebook.com/policies/ads/prohibited_content
· Do not use discriminatory practices when advertising:
Inappropriate targeting or exclusion of specific ad populations or the addition of discriminatory content to advertising is strictly prohibited. When running fintech-related ads, advertisers must state that they will comply with Facebook's anti-discrimination policy and applicable anti-discrimination laws. Use the Declaration button in Ads Manager to complete the claim. Please go to the relevant page for details:
https://www.facebook.com/policies/ads/prohibited_content/discriminatory_practices
Following Facebook's advertising policy helps you create high-quality ads and get the best results.
If you believe your ad has been misjudged, you can investigate further with the Papaya Mobile account team to properly handle your complaint.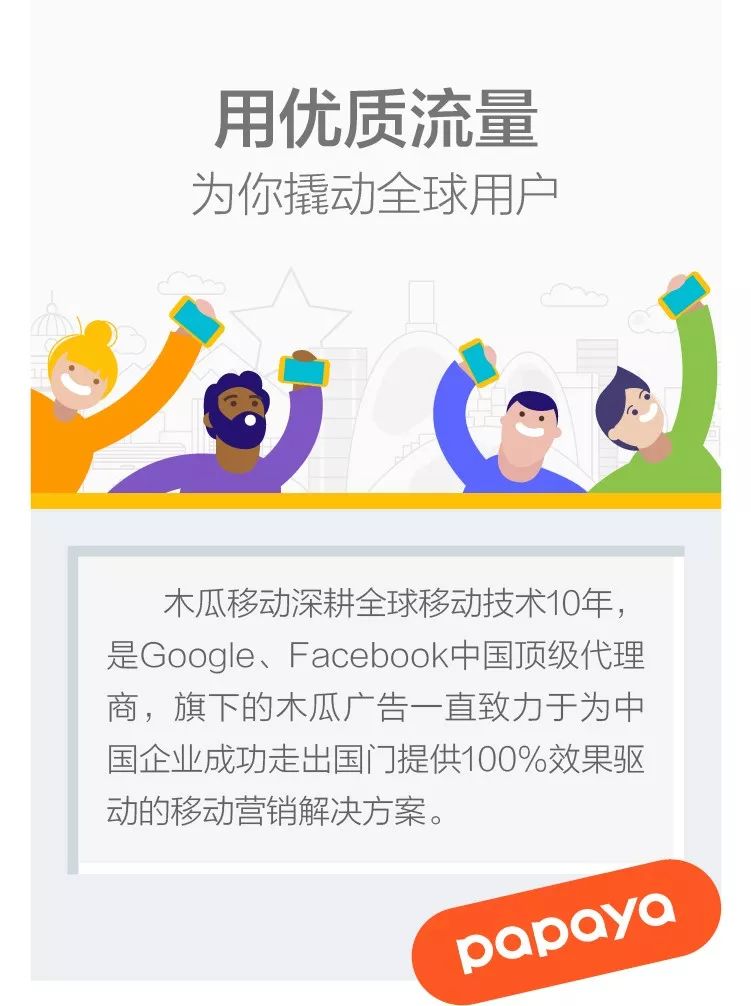 ---