Reverse! The absurdity behind Facebook's cryptocurrency advertising ban
Click on the blue letter above to follow and take you to decrypt the blockchain world
Author: Bai Wei Wang Wei
Editing by Du Zhong
  Source: Windy Finance (ID:QFCJ2018)
FacebookA ban on cryptocurrency advertising was issued in January, saying it was designed to prevent it"The financial products and services promoted involve misleading or deceptive marketing campaigns"。 Since there has never been a precedent, this has caused great reaction from all walks of life.
6Month.26day, under pressureFacebookThe ban was amended and a new announcement was issued that cryptocurrency advertising would again be allowed, but the ban was maintainedICO(First token issue) product. This initiative is considered beneficial to the development of cryptocurrencies,Facebooka large number of potential users, which will make it the main advertising platform for digital currencies.

In just a few months, the plot reversed, inFacebookBehind the actions, there was a lot of fog.
The mouth is right and wrong
On January 30th Facebook announced that it would change its advertising policy to ban ads related to cryptocurrencies and ICOs, saying they use "misleading or deceptive promotional tactics."
At the beginning of its release, the message contained in the ban puzzled the public. After all, it's a far from the attitude of Mark Zuckerberg, Facebook's founder and chief executive. In a private article, he said he wanted to study cryptocurrencies further:
"Cryptocurrencies will open up an important counter-trend - to take power from a centralised institution and return it to the public . . . I'm very interested in delving into the positive and negative aspects of cryptocurrencies and how they will be better applied to Facebook's services in the future. "
Subsequently, Facebook's cryptocurrency advertising ban went viral. Although Facebook made it clear in a post about the ban that the policies were likely to be changed thereafter, the public did not buy them because of a 180-degree reversal of Zuckerberg's previous stance.
(Pictured is Facebook's ban)
Meanwhile, Facebook's ban opens the floodgates for social platforms to ban the posting of cryptocurrency-related content.
In March, Google followed Facebook's reasons for banning cryptocurrencies, adding a ban under its latest financial products policy that would prohibit "cryptocurrencies and their related content, including but not limited to first-time coins, cryptocurrency exchange, cryptocurrency wallets and cryptocurrency trading rules."
Twitter subsequently issued a message banning all forms of cryptocurrency advertising, including ICO, other token sales and advertising for exchange and wallet services, except for companies already listed on major stock exchanges.
Bitcoin's price fell from $11,200 to $8,800 when Facebook's cryptocurrency-related ban came into place in January.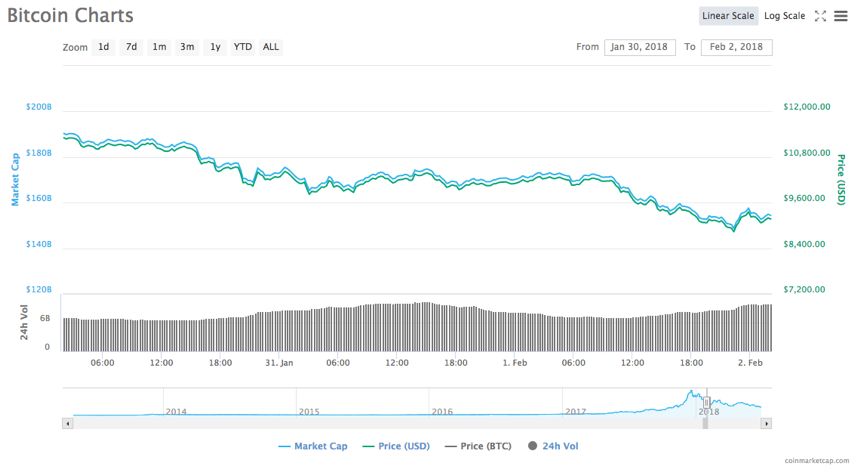 (Bitcoin price volatility line chart from January 30 to February 2)
Source: Coinmarketcap
Bitcoin fell to $8,000 in the year to March. When Google and Twitter issued bans, Ethereum's price dropped to $600.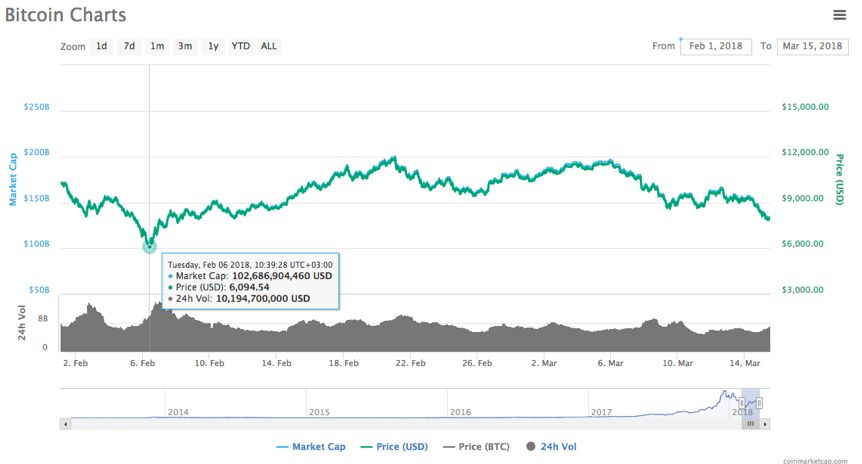 (Bitcoin price volatility line chart from February 1 to March 15)
Source: Coinmarketcap
Surprisingly, Facebook's policy shift at the start of the ban came so quickly.
Just five months after the ban was announced, Facebook's advertising policy was updated again. The new policy allows cryptocurrency ads to be posted on Facebook, but the direction of the ICO will still be banned. In response, Facebook said it had been looking for the best way to improve its cryptocurrency advertising ban.
The revised Prohibited Products and Services Policy reads as follows:
"Starting on June 26th, we will ... Allow pre-approved advertisers to promote cryptocurrencies and related content. However, we will continue to prohibit the promotion of binary options and ICO projects. "
In terms of wording alone, Facebook's use of "allow pre-approved advertisers to advertise" in its announcements is likely to suggest that many advertisers are in its "pre-approved" group.
In addition, the revised advertising policy strengthens Facebook's control and control over cryptocurrency content on its platform, but also creates additional challenges and risks to Facebook's ad review system. Unifying cryptocurrency-related content on the platform is more conducive to Facebook's search for valuable cryptocurrency projects.
The social media giant's relationship with the digital currency ecosystem is confusing. On the face of it, Facebook rejects cryptocurrencies; Sources say Facebook is developing a blockchain app led by David Marcus, head of its messaging app Messenger.

More paradoxically, there have been recent media reports that Facebook is considering launching its own cryptocurrency, a built-in virtual currency.
Facebook has set a precedent for banning cryptocurrency advertising, but has been slow to give a really reasonable explanation for why it changed its advertising policy in a short period of time. But if reports of Facebook's work on blockchain are true, what does the advertising ban mean for its business?
Facebook's implementation after the changes to the ban were also questionable, with Cointelegraph, a media organization in the cryptocurrency sector, reporting that it had been greatly affected when it tried to promote cryptocurrency-related articles on Facebook at the start of the ban. But the posts were still not reviewed after the ban was lifted, and Facebook's attitude was ambiguous - neither admitted nor rejected
Facebook's practices have left users in cryptocurrencies wondering. It declared that the cryptocurrency advertising ban had lapsed, but there had been no innovation in content monitoring.
The real motives are mixed
Evidence suggests that Facebook is indeed already deploying blockchain and cryptocurrencies, a risky move, especially in a revolutionary area that is bound to be important in the future.
But Facebook is strong enough to code its blockchain and cryptocurrency projects, provided, of course, that it is willing to create an ecosystem that is friendly to the projects it supports or participates in.
Speculation has also s been saling about Facebook's motives for lifting the ban.
Carlos Grenoir, chief executive of Olyseum, the blockchain mobile social app platform, sees it as self-interested, saying: "The reason Facebook lifted its cryptocurrency advertising ban is unclear, but its motivation may be related to its own strategy of layout blockchain and cryptocurrencies." Cryptocurrency ecosystems are expanding rapidly in mainstream societies, bringing new economic opportunities. It is well known that regulators are taking steps to strengthen the global economy by providing security for ecosystems. "
But not everyone is sceptical about Facebook's reversal of cryptocurrencies. On the contrary, some in the cryptocurrency community see the move as a major victory in the history of cryptocurrencies for the future development of cryptocurrencies. Twitter user Peter McCormack tweeted: "Facebook has lifted its ban on cryptocurrency advertising, which is great news and is worth looking forward to in the future!" "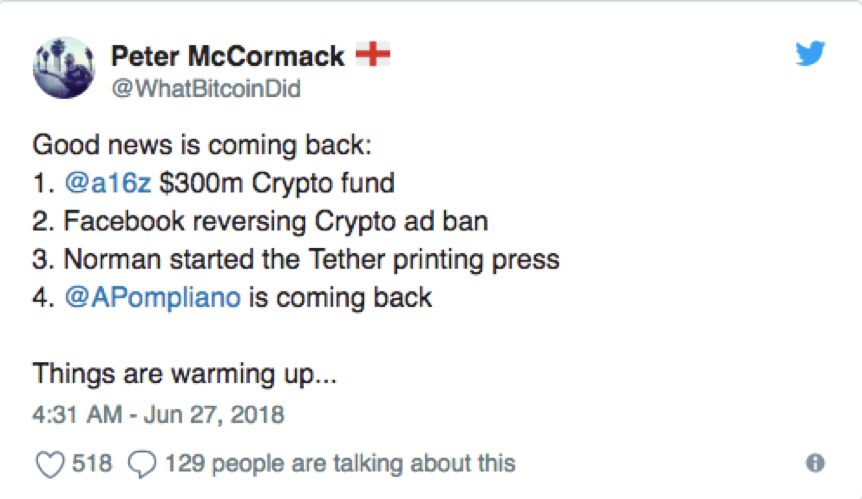 In addition, Bitcoin commentator Whale Panda makes an interesting point that, given Facebook's current situation, they urgently need to do something revolutionary to get higher returns. "Facebook has gone through a period of dark times before, with an increase in users but a decrease in advertising revenue . . . The lifting of the ban is intended to increase advertising revenue. "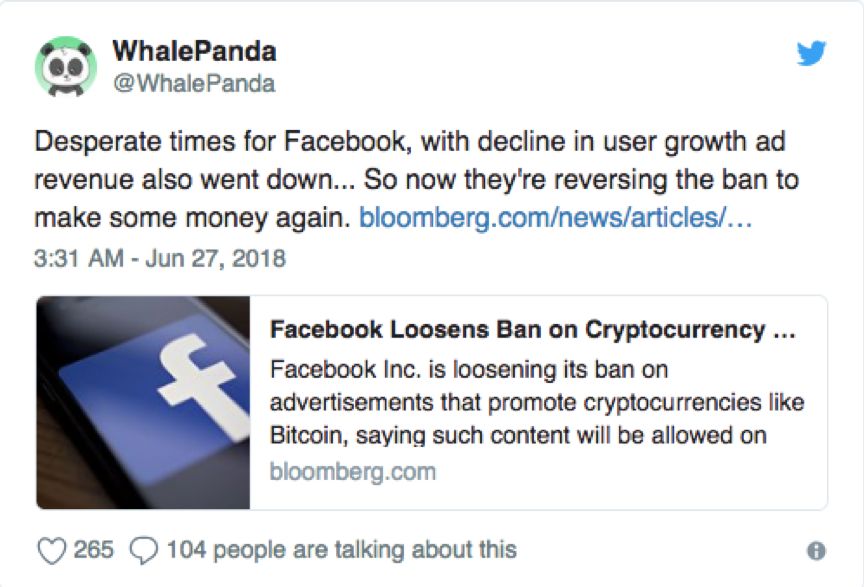 Source: Twitter
Not finished to be continued
If Facebook does prevent "the financial products and services it promotes from involving misleading or deceptive marketing campaigns" with the aim of censoring content involving cryptocurrencies, it is naturally not to be criticized. But if this is its own development of the bureau, the future may be self-eating.
Facebook's previous ban was followed by a notice that did not specify the criteria for review. Now that the ban has been lifted and seen by most cryptocurrency groups as a victory, it is only a verbal statement that Facebook has not issued in a statement.
If Facebook wants to reopen the door to cryptocurrencies, it should do so in a more formal way. If they're just using this as a ladder to the next level, then the eyes of doubt will follow.
With that in mind, Facebook is likely to change its attitude toward cryptocurrency ads again, and that's not yet certain. How Facebook will lay out its cryptocurrencies and blockchain in the future, what comments the policy counter-transfer will trigger in the industry, and how the domestic and foreign media will report on it, Wille Finance (ID:QFCJ2018) will continue to pay attention.

Read in the past
(The following order is in the order in which the messages were sent)
Zhiyong Relativity:Lubenfu | Mu Yan | Han Feng | Huang Lianjin | Cai Dong | Cao Huining | Gu Feiyong | Xu Hongbo | Liu Xingliang | Yang Dong (last issue)| Yang Dong (next issue)| Yang Ning

Conference dry part:Yuan Dao | Yao Yudong | The father of the founder of EOS | Yi Lihua | Qi Love People | Zevid | Jeremy Chen | Gold key | Chen Lei | Xie Ping | Lubenfu | Zhang. | Xi Hui | Yu Caning (full white paper)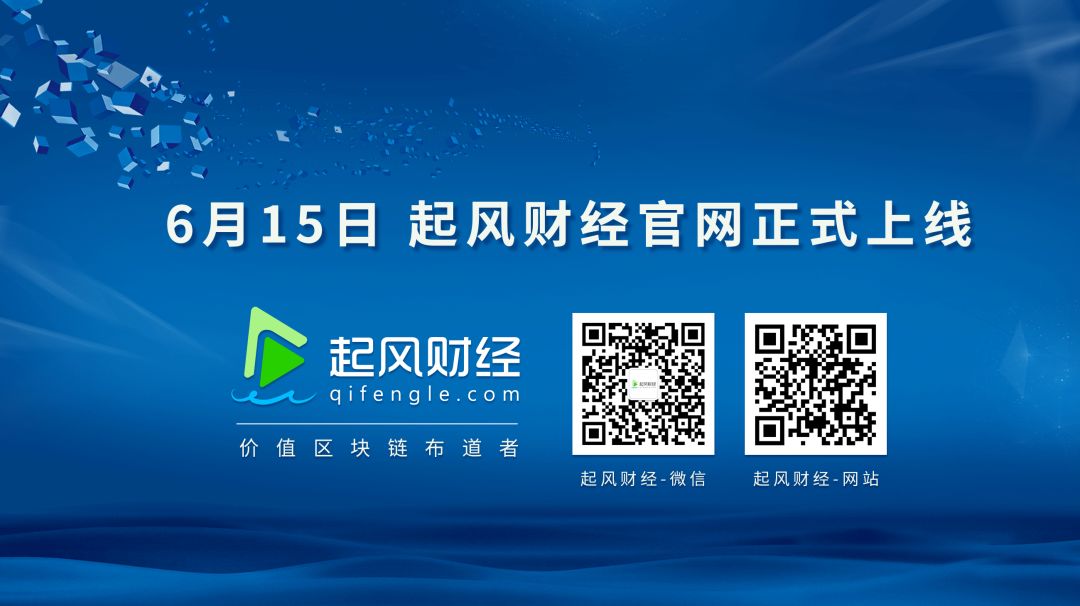 ---