Seven tips for reducing Facebook's advertising costs by channeling out of Amazon!
Cross-border worry-freeID:STLB-36HAPPY
Cross-border e-commerce: find a platform, open an account, find products, lack of talent, to train, European VAT tax, international trademark patents, domestic and foreign companies registered, do account tax returns, bank account openings, account complaints, financial loans, on the cross-border worry-free!
As the cost of in-station traffic rises and the cost-effectiveness of out-of-station traffic costs rise, more and more Amazon sellers are shifting their outreach to out-of-station diversion.When considering the combined input-output ratio, social channels such as Facebook are preferred.
In fact, brands have realized that a lot of traffic on their Amazon product detail pages comes from Facebook.
Many brands are beginning to seize the opportunity to take advantage of Amazon's super url for off-site streaming, an advantage that makes Amazon super url an ideal landing page by getting traffic from off-site channels such as AMS and Facebook, while no competitor can advertise on your landing page.
Today, I'm going to talk to you about how to reduce advertising costs and improve overall advertising efficiency while channeling facebook off-site.
1, take advantage of the reach of Facebook videos
The first step in cutting Facebook's advertising costs is to use video in ads.
Facebook prioritizes video content, so videos have a wider reach than other forms of content ads because they may rank higher. With more exposure, you can increase your ROI even if your advertising costs stay the same.
But that doesn't mean sellers have to spend a lot of money making videos to get amazing results, and mobile videos are now mature and can be viewed in millions.If your ad costs are high and you want to lower your costs and just don't have a product video, you just can use video.
2, improve the relevance of advertising score
If your advertising costs are getting higher and higher, you should first check the relevance score.
Facebook's relevance score is similar to Google's AdWords quality score, which is one of Facebook's metrics for measuring the quality of ads. In short, Facebook measures the overall relevance of your ads based on their quality and engagement, resulting in a Relevance Score for your ads.This score is important for cost because it determines whether Facebook often displays your ads and CPC fees.
Relevance scores are from 1 to 10 points, of which 1 is the worst and 10 is the best. If you want to increase ad coverage and reduce CPC costs, keep the correlation at 8-10.
Sellers can view relevance scores by following these steps:
Open "Ads Manager"

Click on the specific ad you want to see

Click on the "Columns" pull-down

Select "Customize Columns"

Check "Ritten Score".

You can also check Positive Feedback and Negative Feedback for feedback.

Click on "Apply" to view it.
If your ad relevance score is lower than expected, there are three ways to improve your score:
Make sure your ad content is not misleading.

Using "deceptive" text or images (also known as click lures) to get clicks in a misleading way can significantly hurt relevance scores.

Make sure your audience is targeted accurately.

In other words, narrowing your targeting to a specific audience ensures that more people are targeted and find more relevant content.

Make sure your ads don't last.

If you use the same ad for a long time and target the same market, the ad will become obsolete. Over time, your relevance score will decrease because consumers get bored.
3, set up the Facebook Pixel
Setting up a Facebook Pixel can help you reduce the cost of Facebook ads.
Not only does it give you access to more data, but it can further help segment your audience and improve click-through and relevance scores.
In addition, the Facebook Pixel lets sellers see what Facebook ads bring in sales, allowing sellers to optimize their ads for a higher return on investment.
With the Facebook Pixel, you can:
Run a valid redirect ad.

Use data to optimize your ads.


Track sales.

4. Limit your Facebook ad bids
If your Facebook ad relevance score is right, limiting Facebook ad bids will help sellers reduce costs.And when your ads get more valuable audience clicks, Facebook continues to send ads to people who click on them.
By using bid limits and create rules, you can ensure that your ads work within your budget.Therefore, the seller wants to make sure that the "automatic" bid is converted to "manual".
Tips:
If you choose to bid manually, you should set it to "Average" instead of the highest. If you set the highest, you'll lose the most valuable user in your target audience.
5, adjust Facebook audience overlap ads
If your Facebook ads are too expensive, you should also consider how many audiences overlap.
Audience overlaps not only mean that you're targeting very similar goals, but Facebook says audience overlaps can lead to poor ad serving because your ads are essentially competing with others.

Fortunately, Facebook has audience Overlap tools that let sellers know if and where audiences overlap, ensuring better ad delivery and lower costs.
Sellers can view the following steps:
View "Audiences"


Check the audience you want to compare (up to 5)


Click Action, and then Show Audience Overlap will be enough to view it.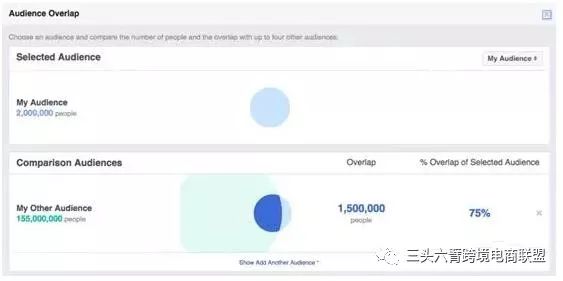 If, as in the Facebook example above, your audience overlaps high, and you can then combine or improve or change targeting by further segmenting, using Facebook pixel data, and so on.
Increase click-through rates for Facebook ads
Reducing Facebook's advertising costs requires an increase in the CTR (click-through rate) of your ads. Because the higher the click-through rate, the higher the relevance score.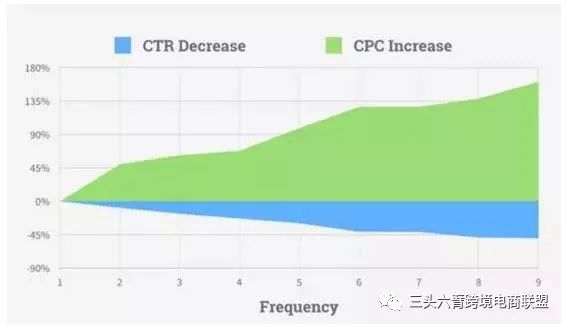 So how do sellers improve click-through rates?
01  Get higher click-through rates by adjusting where your ads appear
Facebook now offers a variety of feeds and platform ad locations, but sellers should remember not to select "auto" ad locations to run, but to manually test them to find the ad locations that get the most hits.
In addition, your ad location selection matches your overall goals and ad content.
For example, if you're using high-quality images, multiple impressions on Instagram will ensure you get a higher click-through rate and relevance score. Or.If you can provide more granular promotional information, you can use Facebook messenger ads, which may yield a return on investment.
Sellers who want to maximize the value of performance and cost need to set a special location for each ad.
02  Get higher click-through rates by preventing ad fatigue
Ad fatigue is when an audience sees more of your ad and finds that the content is old, which in turn affects ad reach (when the audience starts to hide the ad) or click-through rate (consumers may no longer click on the ad).
Sellers can prevent this by setting automatic rules to keep the frequency of occurrence low.Sellers can set it up through Facebook's ad manager, then select Create Rule, and then change the display frequency.
Here's what it looks like: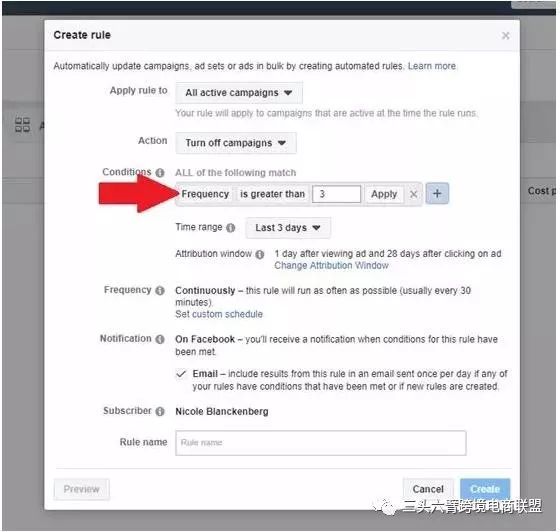 Target your audience more precisely
The more accurate your audience targeting, the more likely your ad traffic is, not only by clicking on your ad, but also by sharing it with other audiences who are interested in content.Click-through and conversion rates are not directly related to reach if audience targeting is too broad.
Inaccurate audiences, your ad competition and bids will be higher than targeting the exact audience.
For example, if your target audience is "female consumers aged 18-55 who like to work out," the ad competition will be higher than if the audience were targeted at "women aged 18-23 who like yoga and live in Sydney."
Precise targeting ensures that your ads get a higher quality score.
(Source: SuppliedLeonwang)

If you think the article is helpful, share it with others to seeLet's go!
If the above content is infringing, pleaseTimely.Contact usplacereason.
Drafts:
Requirements are original works, cross-border e-commerce operation dry goods or experience sharing, manuscript fees are generous, welcome to draft! (Please add microseelect: stlb-yu)
Three-headed, six-arm cross-border e-commerce alliance official platform:
Click to read the original text or visit (http://h5.swayedu.com/appjLfqyllC5010)
Amazon recommends collection methods:
Payoneer application link: (https://www.payoneer.com/zh/stlb)
Wish recommends how to collect money:
Payoneer application link: (https://www.payoneer.com/zh/stlb)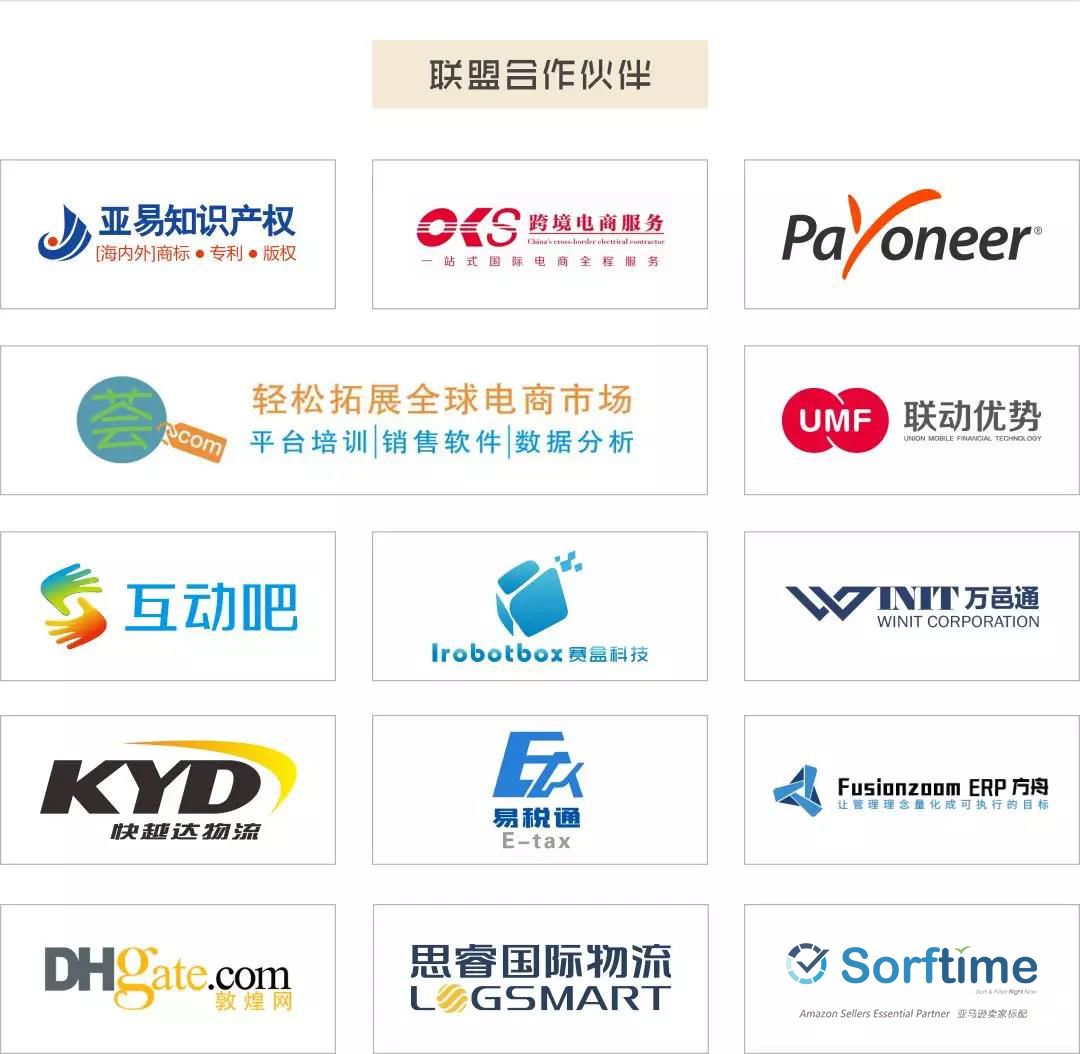 ClickRead the original textVisit the three-headed, six-armed official platform!
---