Last year's winner of the World's Best Social Media Marketing Award was...
Coca-Cola invites people to enjoy food and communicate in dark environments, making the process a video called "Unlabeled" to combat prejudice against people who look good。This video is inOn YouTubeWith 18 million views and high interaction on Twitter and Facebook, it's a classic marketing case of low input and high output.
The New Yorker asked 1.33 million fans for help.Use user-original content as creatives,Gather popular ideas to create successful social media marketing for yourself.
CA company from the inside, throughThe "Social U" program has trained 13,000 employees to promote their brands on social media, with great advertising results.
■ Starbucks is using "influencer marketing" to borrow from the outside, teaming up with big V on social media to create creative marketing and attract new customers to the brand.
 You.It may be argued that big brands have been so successful in social media marketing because they have a well-budgeted and high brand awareness. In fact, in the age of social media, strategy is at the heart of successful marketing.
So, even if you're not a big company, you can actively listen to users' needs on social media, observe their reactions, and create great content that's impactful and suitable for sharing.
Here are six examples of events nominated for the Best Social Media Awards, which we may learn from. To learn more about the Shorty Awards and vote for what you think is the winner, visit its official website by clicking on "Read the Original" at the end of the text.
Coca-Cola speaks in "video"
Video is one of the most seductive weapons on social media, but few companies can play it like Coca-Cola.
Coca-Cola, using its YouTube channel as a platform, invites people to sample Eid snacks in a completely dark environment, and produces a video called "Don't Label" to combat the prejudice of making people look good.
Participants interact with each other in the dark, and then the lights come on, everyone suddenly realized that the original mutual look and communication in the dark gives people the feeling is so different, some people even said that if you see some people's appearance first, they will not communicate with him.
Coca-Cola ends the video with a succinct but far-reaching message: "Labels are for canned people and are not suitable for people." "It's both a very witty bundling marketing and a thought-provoking values campaign.

The ad has attracted up to 18 million views on YouTube and 33 percent and 35 percent on Twitter and Facebook, respectively.
If you can't make a drink like Coca-Cola, you can still learn to play around with videos. Shoot video footage from your smartphone, brush popularity with YouTube and Facebook ads, and then use analytics data to evaluate the performance of your videos.
Southwest Airlines uses social media
Provide intimate service
Southwest Airlines is known for its witty flight service, but it still faces problems common with other airlines, such as late flights and lost luggage. Unlike most airlines, Southwest provides timely and fast information to passengers through social media platforms.
Southwest Airlines has a social media monitoring center where customers can log on to the center platform to reflect their needs and ask questions. The company can find real-time content on the Internet through the social media monitoring system. The customer service team then contacts the customer to provide them with real-time information. Whether it's weather conditions or other issues, Southwest Airlines keeps customers available with the necessary information.
Brands can quickly catch the eye if they interact closely with their audiences on social media. When people are used to communicating with you on social media, your helpline doesn't get too long, and when you want to make big news on social media, it's not that hard.
If you don't have a professional customer service team working with information on social media, you can monitor social media with tools like Buzzlogix to quickly respond to your messages.
Starbucks Opens "Influencer Marketing"
Influencer marketing is one of the hottest promotional strategies of the day, and people are more willing to pay for a product if a big V in the circle recommends a product. This is the best form of social identity.
Starbucks has adopted a strategy of influencer marketing in its summer star binge ads. They work with big V on social media to create creative marketing and attract new customers to the brand.
In fact, it's not hard to find a big V, you can try to advertise on the grounds of contacting them.
First, you have to identify those influencers in the market and think about whether you want to lock in TA through its reach, through its fan base, or any other metric. They can then be found using an analytical tool like Klout.
If you find it, start reaching out to them, interacting with them below what they share, developing intimacy step by step, engaging them in conversations, and even pulling into your marketing team.
CA nurtures its employees
"Brand Promoter"
Influencer marketing works well, but in addition to borrowing from the outside, you can also power from the inside. The software company CA realized that there were people in the company who were suitable for branding, so they used their power to create amazing ads.
They created a project called Social U. This is a "social media education, training, and support program for the enterprise, designed to keep employees active on both internal and external social media platforms.""Social U"A total of 13,000 employees were trained to promote their brands on social media.
Even if the number of employees can not be compared with CA company, you can still cultivate brand promoters from within, to release the employee's "flood power." To do this, you need to foster a strong work culture that makes it an essential part of your employees' daily work and life. 
Then, communicate social media marketing guidelines to your employees and train them to maximize promotional effectiveness on brand-related social media platforms.
Next, develop a publicity strategy that allows company leaders to play a role and command actions on the front lines of brand marketing.
Finally, always test your influence indicators. It's always a good idea to use metrics to find out how people interact with brand ads. In fact, social media monitoring is critical to your marketing campaigns now and in the future.
The New Yorker lends its hand
Blast the red network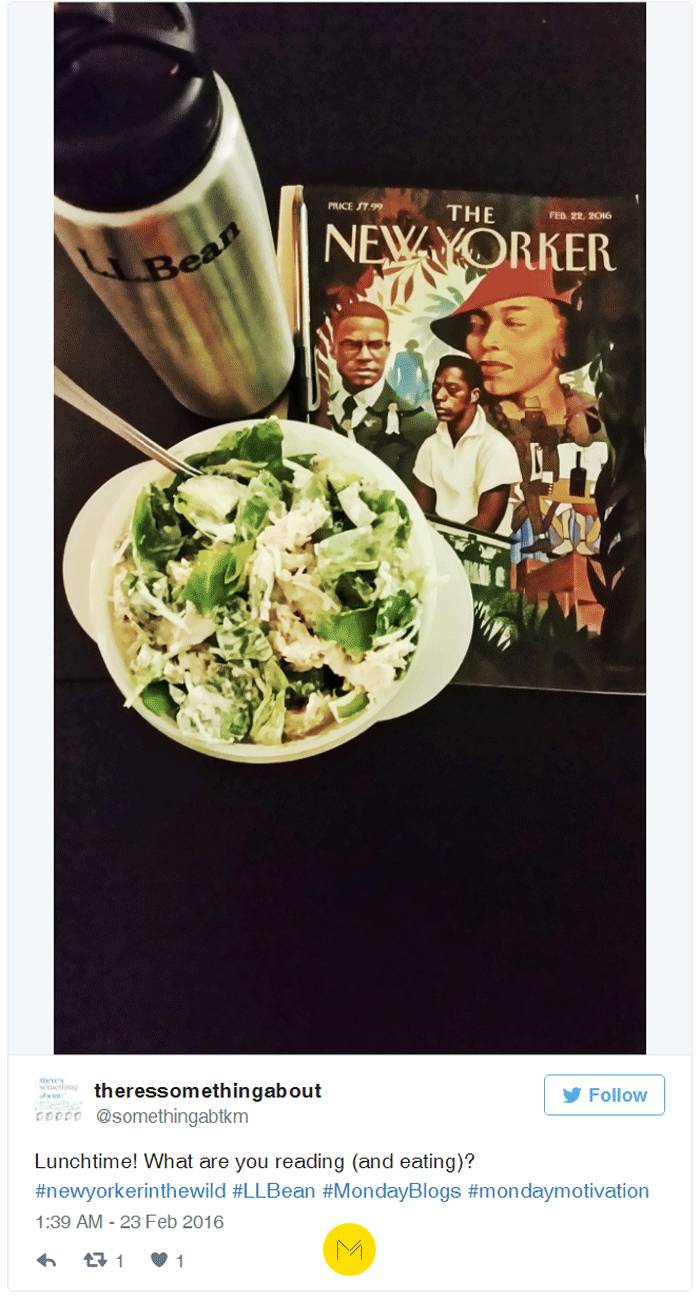 If you're often under pressure to think about new ideas, learn the New Yorker's strategy. They turned to their 1.33 million followers on social media for some content ideas, and then used the hashtag to highlight the user's original content (UGC), which led to a rise in user engagement and attention.
You can also design ads based on UGC without spending a lot of money.
The first is to call on users to leave reviews of the brand on social media and turn them into advertising material.
Another way is to re-post photos shared by fans. You can even host a video contest that will be used as your material.
Comedy Central hits "Cross-Platform Marketing"
When the TV channel Comedy Central aired the comedy "Broad City" and "The Wide Town Daily," it decided that the show would be a special blow to the audience's minds. After its premiere online, the series was replayed on a television channel. It's curious, what kind of magic does Comedy Central do to make the show so popular online and on television?
The secret is that Comedy Central successfully promoted the show with its highly infectious cross-platform ad, "The Big City Chick." The ad keeps people interested in the series and still remembers it after the season.
▲"A big city chick" is an online series that has been updated to its third season. The play tells the story of Abbi and Ilana, two young friends who support each other in this brutal city, and is no less good-looking than "The Bankrupt Sisters" and "The Great Mom." Viewers can watch on YouTube, Snapchat, Facebook and more, and Comedy Central's cross-platform ads include six episodes that have attracted 32 million views. 
If you have a video or content on hand, you can use tools like Buzzlogix to upload content to different social media platforms with one click, allowing your brand influence to reach a wider audience.
When it came to social media strategies, big companies often contributed a lot of good ideas. Although we don't have that much budget, we can still use these good ideas for our own use. These ads are classic and work well in practice, so ideas and inspiration can take your social media strategy to the next level.

This article is compiled from:
7 Big Brand Social Media Strategies that Small Businesses Can Use / Social Media Today
This article is not authorized and is prohibited from reprinting in all its forms. Reprint and content cooperation, please send a private message to WeChat background.
Review of previous periods
---