Introduce 5 tools to broaden the interest of Facebook's advertising audience
On Facebook, in addition to footage and photo is a more important factor, set the audience is also a more important factor. There are many ways to set up a Facebook ads audience, often by looking directly at Facebook's audience insight, or by referring to some of the official GA's user portrait data, Google ads keywords and trends, etc. to set up Facebook's interests.
At present, Facebook ads manager gives a basically narrow choice of hobbies, each category below the interests of interests at most only about 25, so today to introduce a few tools can broaden the audience under Facebook.
The first is the Precise Magnetic plug-in tool, which will be displayed directly in the upper left corner of Facebook's advertising platform after installation and can be used directly by clicking showtool.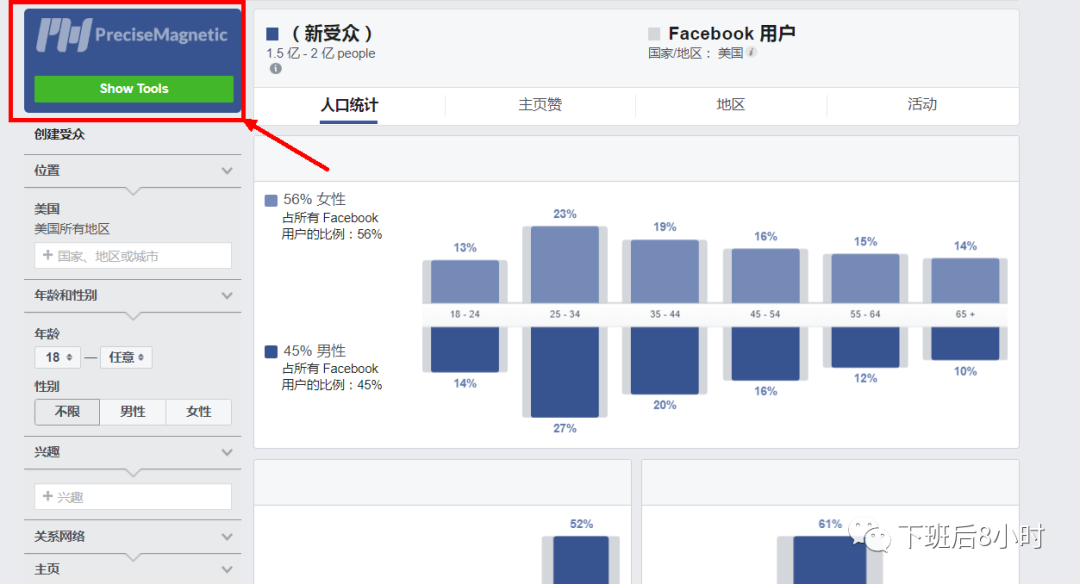 Take, for example, setting your country, age, gender, etc.There are two buttons, the light blue button on the left clicks to add this Interest to the Interest List, the dark blue button on the right clicks on this Interest-related Page information, you can also set the people who like this page your TA.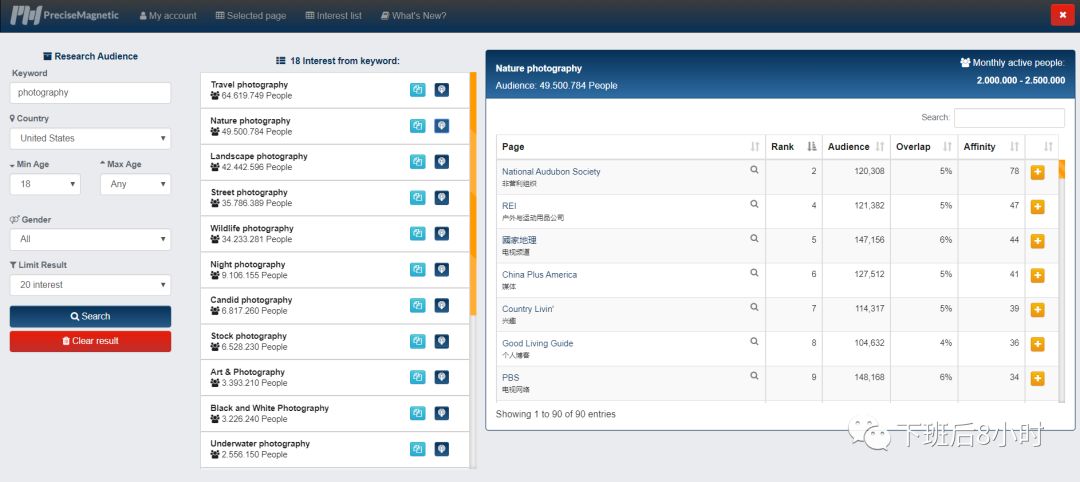 There are four data to refer to in Page's information:

Under the Rank-Relevance column, Facebook defines Relevance as "selecting the page that is most likely to be relevant to your audience based on user affinity, page size, and people who already like the page.""

Under the "Audience-Audience Size" column, Facebook will tell you how much Audience Size you like about Page includes in Photography, which lets you choose whether to use it by looking at Page's relevance, and the Page name can occasionally be retrieved in Interest.

Under the Overlap-Overlap column, you can see the percentage of overlapping Audience.

Under "Affinity- Affinity," Facebook tells us "how likely your audience is to like a particular Page than everyone else on Facebook."
The free version has about 20 hobbies listed, but I still think the other tool that's better to use is audiencebuilder (https://www.audiencebuilder.io/), which shows the path, and the extended hobbies can be exported in bulk using Excel to add to the list.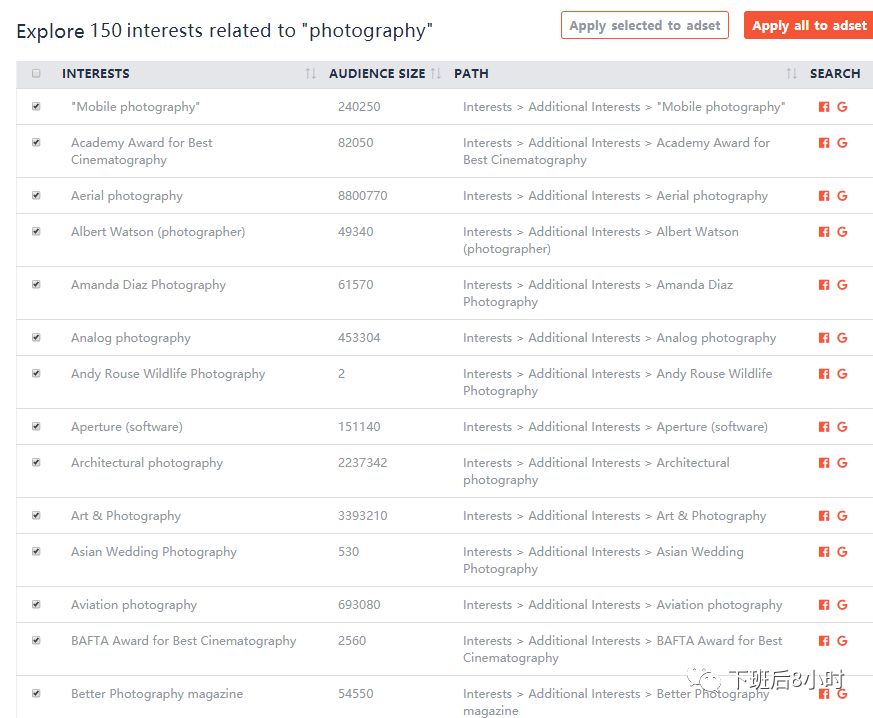 The third ishttps://enginescout.com.au/, features similar to audiencebuild, but also can be exported in bulk to hobbies, the following is a link.
https://enginescout.com.au/facebook-interest-targeting-tool/?fbis_keyword=photography&fbis_lang=en_US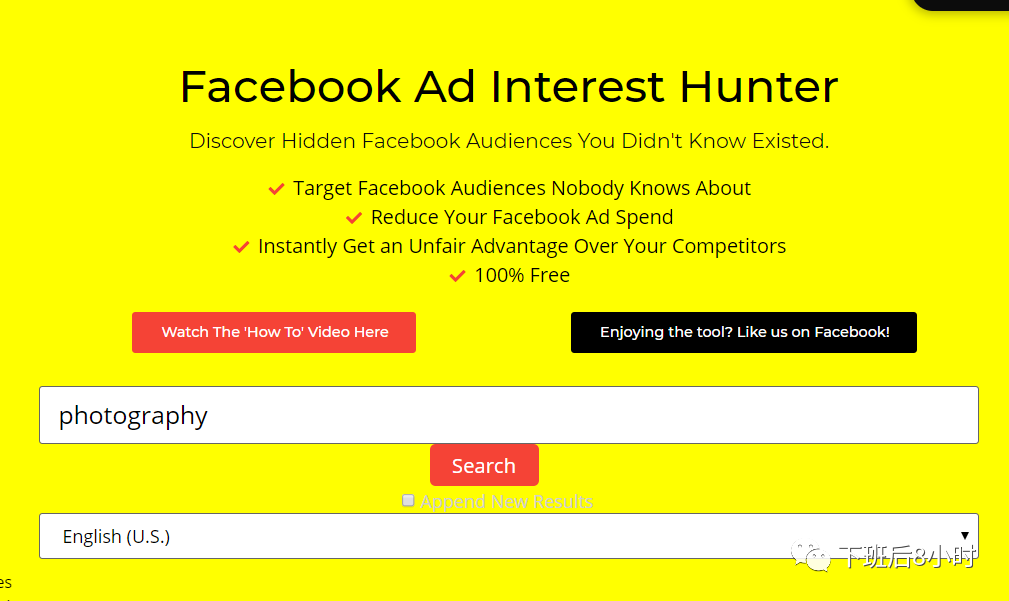 There are also 2 similar URL tools that can broaden the audience when serving Facebook ads, as follows:

https://connectio.io/keyword-interest-search/
https://bentonow.com/tools/interests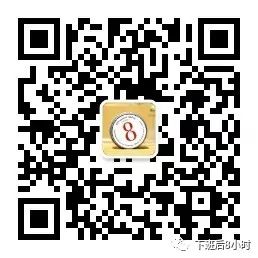 ---