How is Facebook mobile video ads optimized?
How do Facebook ads work for you?Do you want a better return on your investment through Facebook ads?
Users pay more attention to video creatives than static footage.This means that Video Ads is a powerful tool to help businesses get people's attention, increase brand awareness, and increase conversions.However, optimizing video footage for your mobile viewing environment is essential if you want to run productive video ads on the mobile side.
For mobile viewing environments, this article shares 5 tips for setting up and optimizing Facebook ads to easily process video footage you already have on hand.
1. Use slideshows to turn still images into video ads
Slideshow Ads makes it easy to create simple video Ads with images you already have at hand, and without any additional production investment, the process is quick and cost-effective.

Unlike some video ads that require big production, slide show ads are simple to make and low-cost. Quickly create slide ads directly from your phone or computer in just a few minutes, with the option of an existing image at hand or from a range of free stock images, rich video editing tools and a variety of music.
Facebook slide ads are video-like ad formats that use sound experience graphics to tell great brand stories and show across devices. This type of ad loads quickly, and slideshow Ads is ideal for reaching slower people, such as emerging markets, because slide ads load so fast that they work perfectly at any network speed.
When is slide show advertising best?
. Quickly create an immersive experience
Slide ads are easy to create and edit, are less expensive to create, and have most of the experience benefits of video ads.
. Create premium ads from your Page or phone
Choose from free stock images, rich video editing tools, and a variety of music.
. Simplify complex processes or narratives
Images help show a series of content or steps to the user more intuitively than a text description.
. Covers people with slower Internet speeds
Slide ads load only 1/5 of the traffic for video. Create slideshow ads based on video ads to help you market to people who are slow to get online or use older devices.
2. Trim the video to fit the viewing behavior on the mobile side
Users browse content on the mobile side very quickly, so video Ads must comply with this fast viewing behavior.If the video lasts longer, such as a 60-second product demo or how-to video, you can reprocess the video using the Facebook Video Trim tool to select the most important 10-15 second clips.Reducing the length of Video Ads is not only optimized for the way people view content on the mobile side, but also ensures that Video Ads is suitable for all places, such as video interstages.

3. Crop the video to fit the mobile device screen
Users typically hold their phones upright to view content, so be sure to create a 9:16 video ad (Video Ads) to make the most of the vertical screen space.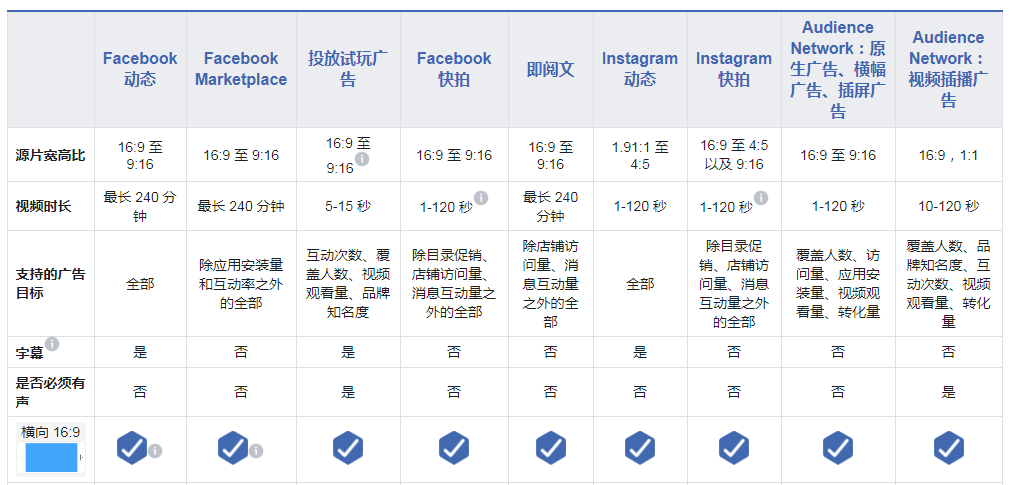 With the auto-cropping tool in Facebook Ads Manager, it's easier than ever to format Video Ads to fit vertical screen space. Using scene detection technology, the tool determines the visual focus of non-portrait video frame by frame, and then automatically crops the video based on the selected aspect ratio.
4. Make material suitable for sound and silent playback
Users watch videos in a variety of ways at different times, so they want to achieve audio or silent viewing. That's why subtitles are recommended to convey information when users mute viewing. In the Facebook Video Maker toolbox, you can add text footage to your videos, introduce your story frame to your audience, and deliver business messages smoothly in a mobile environment. The video production toolbox provides templates for common marketing goals, such as increasing product discovery and demonstrating the benefits of multiple items. You can also use the Video Maker toolbox to turn static footage into video ads.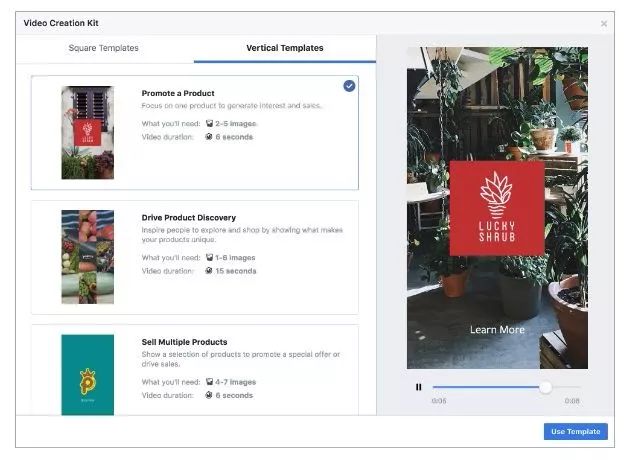 In the Facebook Video Maker toolbox, you can create your preferred mobile video ads using existing photo footage, overlay text, and logos. The Video Maker toolbox offers a variety of templates that you can customize with ad managers or your Facebook Page, and then use them in Facebook or Instagram ads. Each template has a different goal, and whether you're promoting a new product or telling a brand story, you'll find the right template.
5. Highlight the brand at the beginning and end
Given the speed with which people browse content on the mobile side, it's important to make sure that your brand or business information is highlighted at the beginning or end of the video to help increase brand awareness and ad echo.
Adding a brand at the beginning of a video increases the chances that viewers will see it, while adding a brand at the end helps to deepen your brand's impression of them as they continue to browse other content.
As a reminder, Facebook's ad rankings use an algorithm that takes into account factors such as engagement, return on investment, and creative best practices. Ad rankings are calculated based on the month in which the ad meets these criteria, not the month in which the ad is run.
For more inspiration and information on how to create a productive mobile video ad (Video Ads), visit Facebook Creative Shop to see the industry's best-performing video ads of the month.
Business cooperation
Zheng Xusheng WeChat: 18558713545
Overseas cooperation
I'm a king WeChat: 18513119881
Promote online
Lin Hui . . WeChat: 18065112858

Press and hold the picture to sweep the code

Join the Moby Dick community
---