Facebook Can Play Ads - You Should Know These 4 Tips . . Black Lion University
Playable Ads should be no stranger, because a year ago, many video channels began to promote this new form of advertising, and the results are good. But not all games run ads on video channels, so for many optimizers, playable ads are only in the attention phase.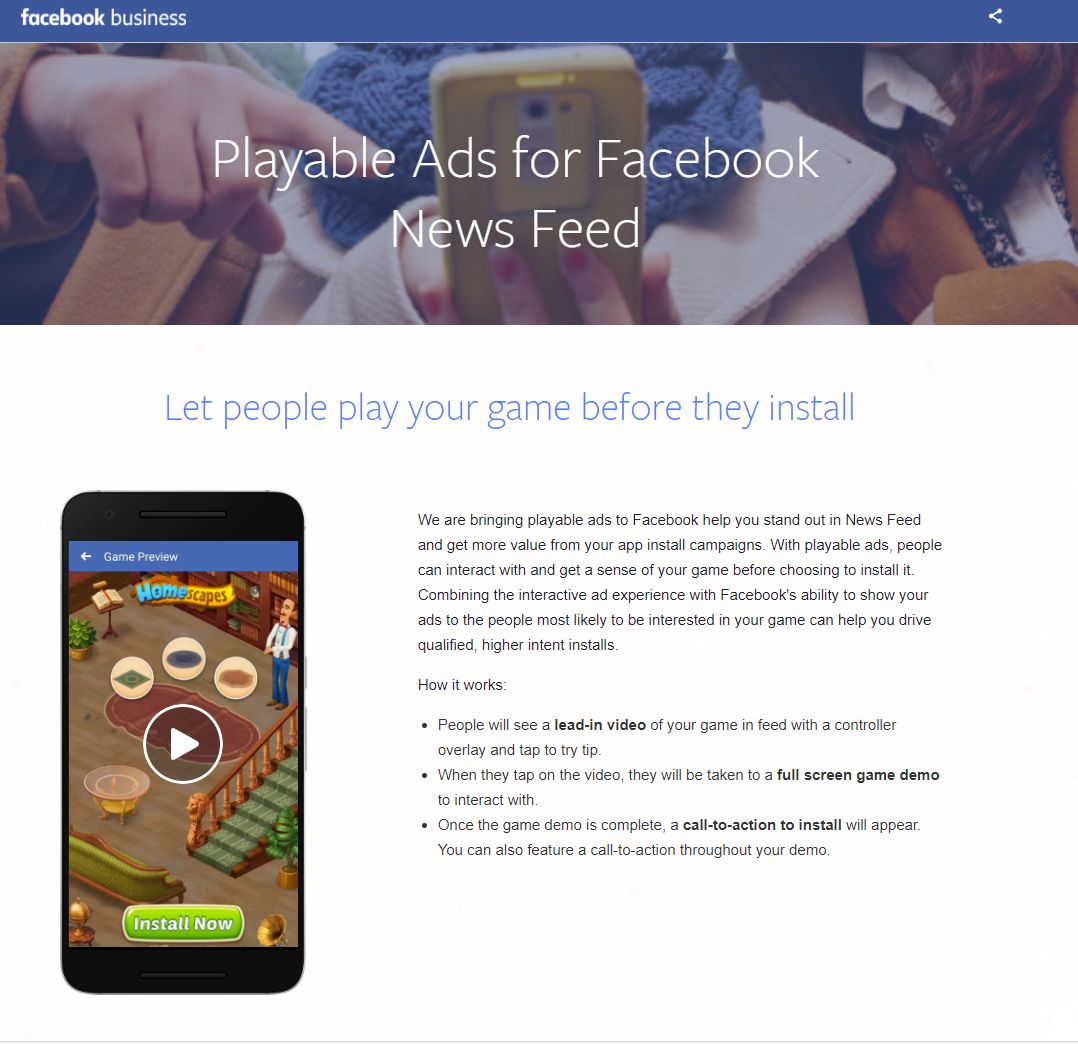 (Quoted from Facebook's official website)
ButStarting August 3, Facebook's advertising form also appeared playable ads, can be said to be the world's largest, the best quality user advertising platform, become Facebook's advertising form, so that playable advertising attention suddenly rose to a new level, but also let most of the budget placed on Facebook's small and medium-sized advertisers suddenly have the opportunity to try playable ads, and quickly seize this new form of advertisingDividend.。
First, the advantages of playable advertising
Playable ads are actually a mini-H5 mini-game embedded in the ad space, as the name implies, users can try to play in the ads, experience some of the native game play. Let's start by briefly combing through some of the advantages of playable advertising:
1. A better user experience: What you see and what you get is that you can immerse yourself in the fun of a game and get some positive feedback and fun before deciding to download it.
2. Better ad data:After experiencing the game play decided to download the user, most of the game has a more realistic expectations, so as long as the game's core experience and playable advertising performance is not too biased, the user's conversion rate and retention rate, even the pay rate will have a better performance.
3. Better traceability:Compared to images or video footage, playable ads themselves can be buried, which means optimizers can optimize creative material by analyzing the loss of funnels in user experience ads.
Second, Facebook can play advertising 4 tips
Of course, playable advertising, although many advantages, but the difficulty and cycle of making a playable creative material, usually higher than most video footage, so we need to be more careful in the creative and advertising process, the following to provide you with some of Facebook's small partners summary of the playable ads of the small TIPS:
1. Introducing Video (Lead-in Video) requires optimization in the following ways that are easier for users to click on
I) High-quality game perspective
II) A short no-go guide
III) The core purpose is to attract as many clicks as possible
2. Try the optimization of the game section
I) The purpose of nocty-led is to reduce the loss of users due to a lack of understanding of small games
II) The core purpose of designing the game is to enable players to quickly get some positive feedback and a sense of accomplishment to encourage them to download the game for further experience
3. About the quality of the game: trial advertising needs to have a high degree of fit with the game itself
I) The goal is to prevent players from losing out because the game is too difficult or the game is too boring
II) It's best to be able to get players interested in the full version through funplay of the game
4. The optimal direction of playable advertising ideas
I) The length of the game you can play
II) The difficulty of playing games
III) How to play games
IV) Visual effects
The core goal is also to increase the conversion rate of advertising users, retention rate, and ultimately optimize the ROAS of advertising

Third, the actual test feedback
Some feedback from the whitelist user test provided by a small partner on Facebook's Global Gaming team:
1. Nick Tsimpidaros, chief marketing officer at Miniclips, revealed that playable ads have tripled the click-through rate of other forms of advertising, reducing installation costs by an average of 25 per cent and returning twice as much as regular ads.
2. Tatyana Bogatyreva, head of user acquisition at GramGames, also noted that playable ads are more engaged, "after several optimizations and creative iterations, the return on advertising expenditure (ROAS) is 25 to 30 percent higher than video ads." "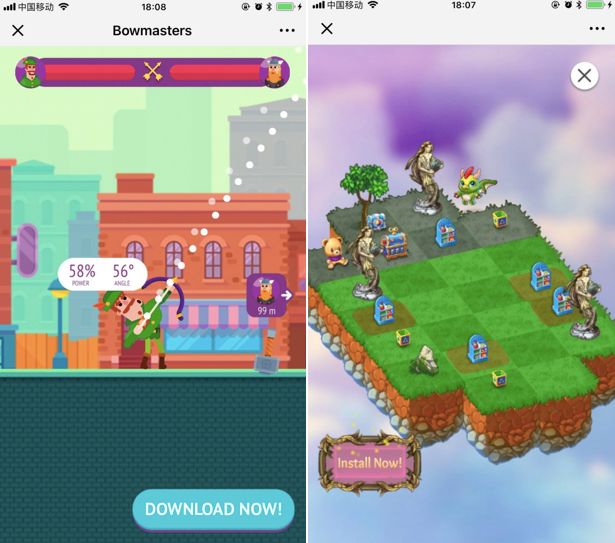 Footage case:
http://sp2.zingfront.com/socialpate/chartboost/0320a7f79ba07036a8bd9b94007fc3d2.html
http://sp2.zingfront.com/socialpate/unity/626fdd2812b95a5a16d4c412d35f6623.html
In addition, according to some data analysis reports on the SocialPeta creative analysis platform, recently in North America, playable ads in all channels are very large (detailed reference to the following screenshots), it can be seen that the effect of this new form of advertising has gradually been more and more advertisers verified!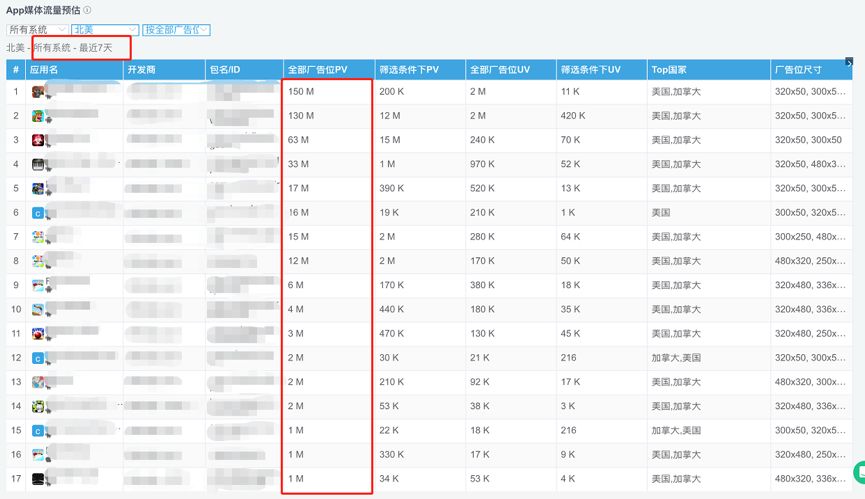 For now,When running casual games on Facebook, it works great with playable ads, casual games are usually simple to play, but the excellent performance of playable advertising is also in our expectations.
So.Does a medium-heavy game have a chance to boost its performance with playable ads?I think yes, I personally enjoy playing some casual games, and I've seen some moderate and heavy games in a lot of motivational videos before.
More typical of mild and medium-term games such as Gardenscapes, this game is a casual combination of three-game and long-term simulation business play, I saw this game and its sequel Homescapes, both often run trial ads mainly reflect the decorative part.
For example, the game's characteristics of three choices and one decoration, is the most commonly used trial play elements, but the game's other core play three, almost no reference to the trial play ads, which expresses that the game's core users are more inclined to find those who are more interested in decoration decoration this selling point, rather than more interested in the three games of users.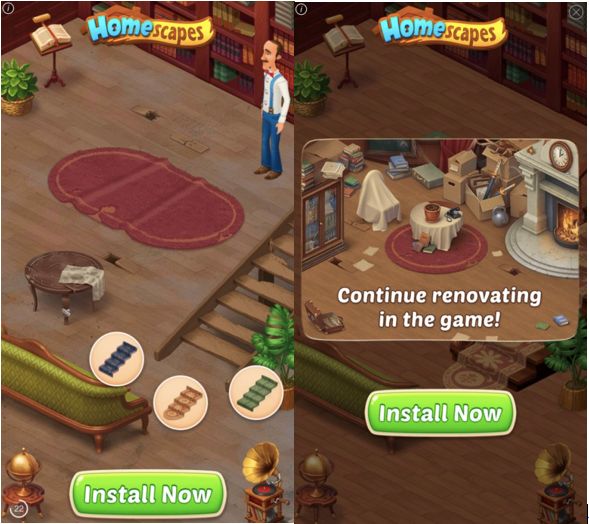 For example, the recent fire, IGG's Kingdom era and MACHINEZONE's final fantasy two SLG games, they have also placed a lot of playable ads.
But SLG's overall play is actually more complex, in a trial advertising certainly can not reflect the complete content of the game, with what form to attract core users, in fact, is a test of playable advertising creativity.
The trial advertising idea of the Kingdom era is more biased towards the play of the array class, while the final fantasy is more of a game of tower defense class.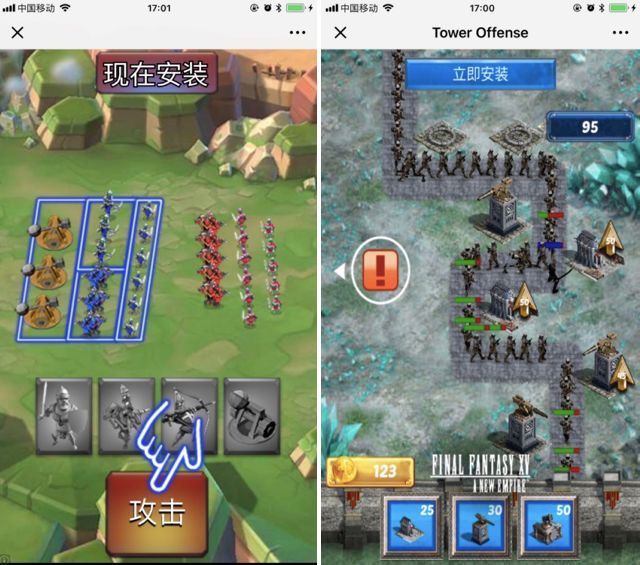 Footage case:
http://sp2.zingfront.com/sp_opera/5fe7cb8cac85e06797d051dd5f5f2b5d.html
http://sp2.zingfront.com/sp_opera/3a9c56b2b3690ded8425824a9ecabb06.html
At first glance, I think these kinds of trial play and the core play of the game is still a certain difference, even said that there is no similar play in the game, so why can these advertising ideas still have a good effect?
My analysis is that regardless of the formation or tower anti-play, in fact, are derived from rtS real-time strategy type of game, although they and SLG play has a certain difference, but the strategic nature contained there are many commonalities, so the two types of play the target user is a certain amount of recomense.
And SLG play requires a certain amount of operating time, and the immediability of the array tower defense, but can bring a lot of immediate positive feedback to the player, so that users can easily get a sense of accomplishment, resulting in unexpected results.
Fourth, recommend tools and websites
Finally, thank you for some official advice and user feedback from the small partners of Facebook's Global Gaming team, as well as some information and examples from the small partners of SocialPeta, a subsidiary of ZingFront.
Recommended tools:
ZingFront's SocialPeta creative analytics platform is now available to support Facebook's analysis of playable ads!
In addition, Smart Line launched online creatives generation tool UnrealFront has been able to not only support the production of various types of 2D trial ads, and even support cool 3D trial ads, shorter time, more cost-effective.
Combined with the creative support they provide for material, it can help advertisers at sea to significantly reduce the cost of trial and error in the process of crafting playable ads.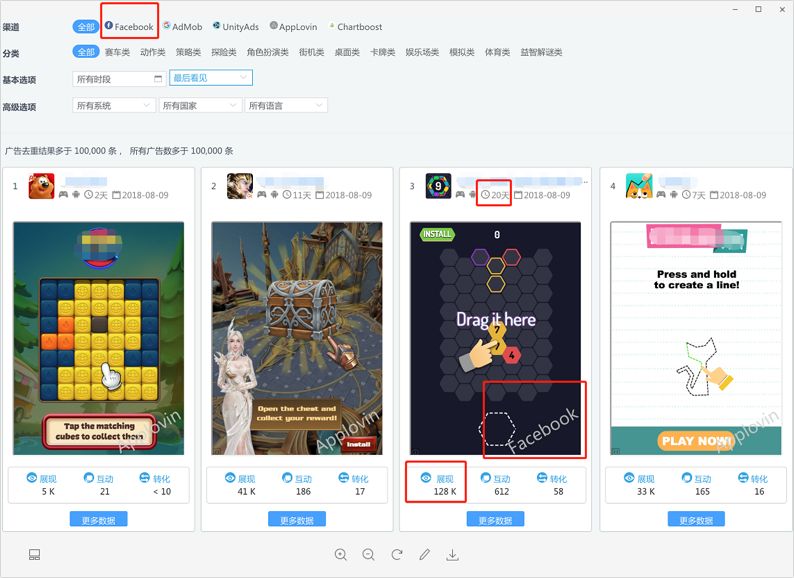 Recommended website:
Attached: Facebook Playable Ads related links:
1) FB Official Announcement:
https://www.facebook.com/business/m/one-sheeters/playable-ads
2) Ad format display:
https://www.facebook.com/business/ads/playable-ad-format
3) Advertising specifications:
https://www.facebook.com/business/help/412951382532338
4) Developer-related documentation:
https://developers.facebook.com/docs/marketing-api/mobile-app-ads/?locale=en_US
The author of this article Marcel , has traveled to Europe for many years, has a deep understanding of European and American culture and the Internet market, has more than 3 years of Facebook optimization experience, good at game access and overseas market analysis. He is currently the Director of Overseas Marketing for a gaming company. Contact the author: WeChat 1482639992
---
Black Lion Worldwide
Focus on the application and landing of global projects
     WeChat Public Number:blacklionmobi
The article has been publishedModify.
---