How many secrets does Google's PPC advertising budget contain? These details you need to know!
Click on the top to topHugo.com, don't be across the border e-commerce big and small things
Marketers often ask the question: How much does Google advertising cost companies? That's a good question. If you're just starting to develop a PPC strategy, you need to make sure you have enough money to run Google ads before you start allocating your marketing budget.
The cost of Google ads will vary depending on many different factors. If you want to better understand how much it costs to advertise through Google, you need to understand what these factors are and how they affect advertising costs.
Below, we'll discuss some important topics about Google's advertising costs. We'll discuss factors in Google's ad bidding system, how Google's advertising budget is used, and other factors that may affect costs. This information will give you an overview of the cost of Google ads to help you determine if they fit your budget.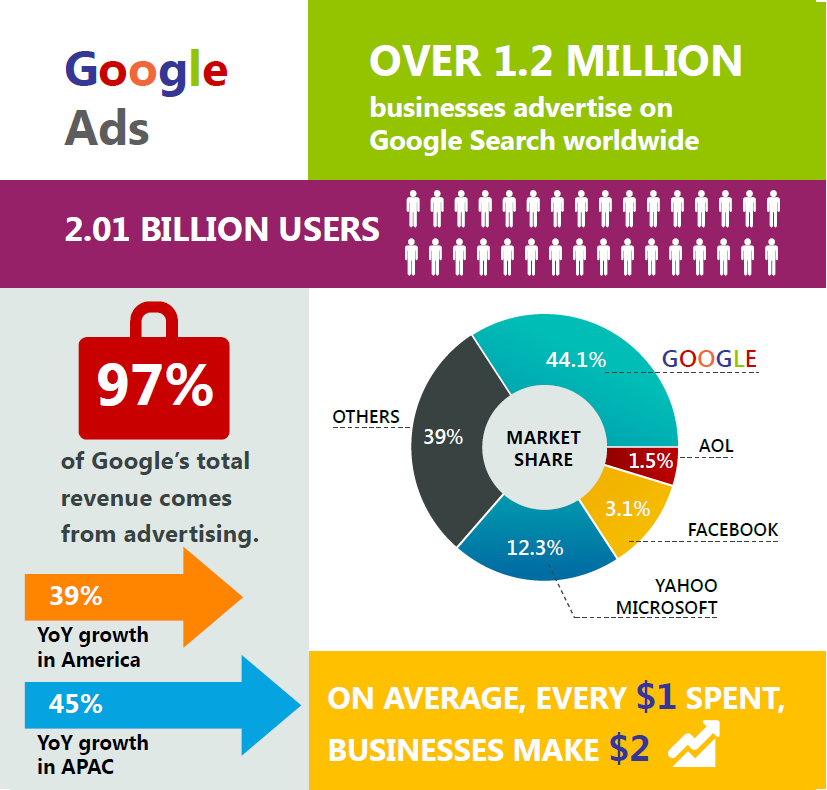 Obviously, Google advertising is a popular form of advertising, but it may not be suitable for every business.
How does Google Ads work?
It's important to understand the average cost of Google ads and how they work.
Google ads work much like auctions. The process is like this:
First, search users type keywords or phrases into search engines. This is called a search query.
Google then determines whether the search query contains any keywords that advertisers might bid on their PPC ads.
If multiple businesses bid on the same keywords that users search for, Google will start "auctioning" where these ads appear, also known as ad rankings.
Ad rankings are based on two different factors: the highest bid and the quality score. The highest bid is the maximum amount that you determine you want to bid on the keyword. The quality score depends on the relevance and usefulness of your ad content to end users (or people who use search engines).
Google will use all this information to determine each time a user clicks on an ad, and Google's ad cost is based on the rating of the last ad in your ad rank divided by the quality score plus 1 cent.
Here's a visual view of it: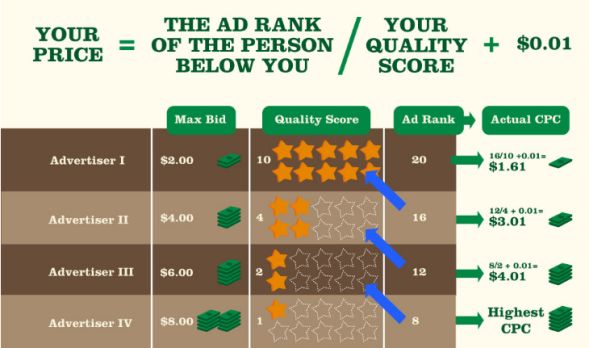 (This is a breakdown of how Google determines how much your business pays per click through Google ads.) )
It's worth noting that, contrary to popular belief, the companies with the largest advertising budgets don't necessarily have the most influence. While there's no harm in allocating more money to Google ads, deciding which ads to display in the bidding system helps level the playing field.
As you can see from the chart above, advertisers with the highest cost per click (CPC) actually have the lowest maximum bid. This is because their quality scores are higher than those who bid for the same keywords.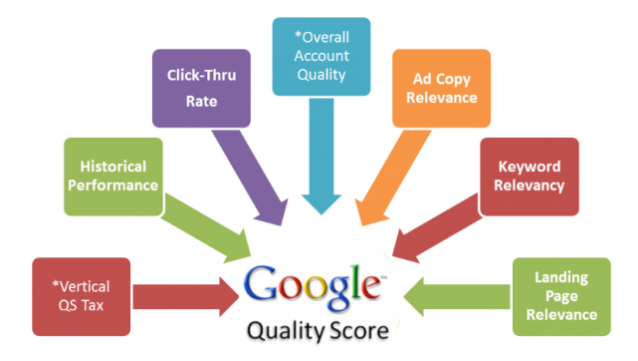 This bidding system is good news for small businesses that can't have the same budget as large businesses. Through Google's bidding process, these businesses can still make significant gains from Google PPC ads and even compete with large companies that may spend more on advertising.
How does the PPC budget work?
Many companies new to PPC advertising may think Google's advertising costs are too high because they find that their budget spending is faster than expected. For example, an enterprise might set its advertising budget to want to last a month. However, they soon found that the budget had been spent in just a few days.
Why is this happening? If you want to make the most of Google's advertising spend, it's important to understand the basics of PPC budgeting.
Like other types of budgets, you need to allocate a certain amount of money to your PPC activities. A popular way to handle Google's advertising budget is to create a "per-campaign budget. Each ad budget means that you control the budget based on each individual ad campaign.
You can assign a daily budget to each activity based on priority. For example, if you have a product that sells well on your site, you may give more daily budgets for advertising this product. For products that may not sell as well or are less important, you can reduce your advertising budget.
When calculating your daily budget, you need to remember your largest CPC. Once you set the maximum CPC, this is the maximum fee you will charge.

However, the actual amount Google charges you for each click will vary. This means that sometimes you pay less than the maximum cost per click.
When considering your budget, you must also consider when your ads run. Ad serving time settings or time period settings are the dates you choose to show your ads in front of search engine users. Keep in mind that your ads still have to go through Google's ad bidding process.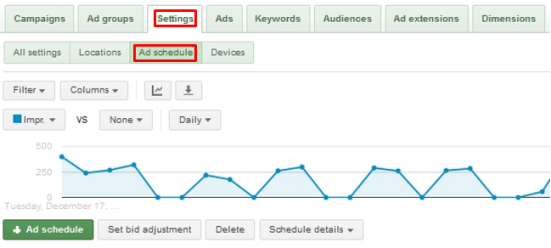 (To select the date you want your ad to appear on Google Ads, access settings, and then click Ad Schedule.) )
Time period settings are a good strategy for small businesses that want to attract more traffic to their sites on certain days of the week. For example, if a local company is only open Monday through Friday, they might want to schedule ads during the work week to take advantage of weekly ad traffic.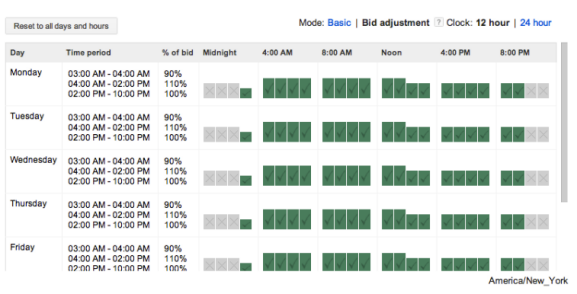 Another good way to allocate a budget is based on location. Location targeting allows you to spend more of your budget on ads that appear in specific geographic locations. You can also exclude certain locations. The location you choose will depend on the area you want to reach. Your ads can radiate to areas as small as two blocks, as large as an entire state.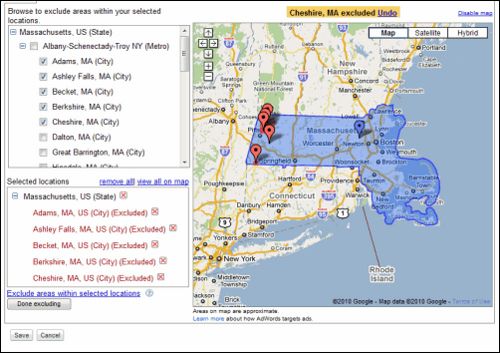 This budget traffic is useful for local businesses that rely on the traffic of nearby consumers. For example, suppose a coffee shop in Berkshire, Massachusetts, wants to attract more coffee consumers, and they might allocate more budgets to reach search engine users in Berkshire, Massachusetts.
Another way you can get more out of your budget is to budget based on how your device is being used. You can allocate your budget on a consumer's mobile device or desktop computer. Your device targeting strategy will depend on the primary source of traffic.
Let's take the coffee shop above as an example. When stores see where their traffic is coming from, they are likely to see a lot of mobile device users. If coffee shops are aiming to generate more local traffic through Google ads, they may want to allocate more of their budgets to these mobile consumers.
All of these advanced target choices can affect your Google advertising costs. It's important to remember what type of goals you want to do and how you'll allocate your budget based on your goals. Because of the lot of mobile traffic involved, it's also important to think carefully about budget strategies before you start publishing Google ads.
Now that you know how Google's ad bidding system and PPC ad budget work, you might want to know how much Google ads cost per click.
In general, Google's advertising costs will depend on the target of the keyword bid. In other words, if there are many other companies bidding for these equally popular keywords, you'll probably have to pay more for your Google Ads CPC.
The more competitive your keywords are, the more you'll spend on Google ads. That's why you need to consider the competitiveness of certain keywords and phrases when planning your budget and developing your Google advertising strategy.
If you look at the average cost per click for all the different types of keywords and businesses, you'll see that the average cost per click on the search network is between $1 and $2. In Google Display ads, the cost per click is typically about $1 or less.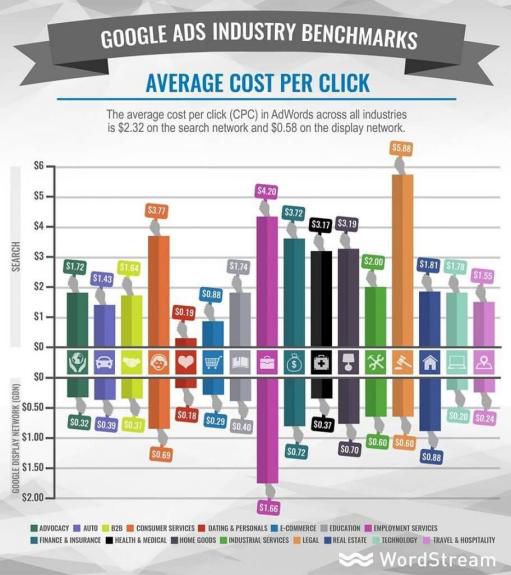 If you bid on keywords in a highly competitive market, you'll find that the average cost per click is much higher. For example, on Google, the important keyword categories are Business Service, Bail Bonds, and Casino.. These popular categories of CFCs are as high as $58.64, $58.48 and $55.48, respectively.
In these highly competitive industries, companies can often pay higher cost per click because they experience a higher average lifecycle value for each customer. Basically, this means that over time, customers tend to spend more money on their services. This increased their return on investment, even though they started by paying higher CPC.
It's also important to note that just because your business may be in a competitive industry doesn't mean you have to pay the highest cost per click for your ads. You can use creative strategies to engage your customers without having to bid on high-value keywords that take up more budget.
For example, using long tail keywords can not only help reduce CPC, but also help you bring more relevant traffic. Long-tailed keywords tend to compete less than more general keywords. For this reason, they cost less per click.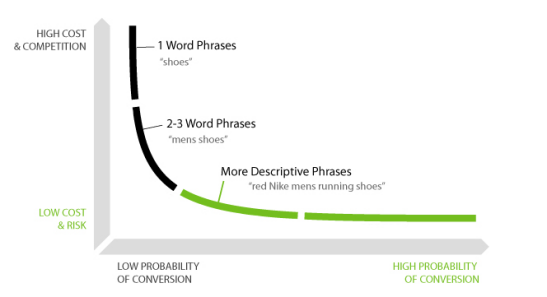 Another benefit of long tail keywords is that they often have a higher business intent. For example, if someone searches for such a wide range of keywords as "clothing store," they will find many different brands of clothing, both online and offline. However, if you search for "women's clothing store near me" or "women's clothing store in Atlanta, GA", it is likely that they are looking for nearby stores.
By using long-tailed keywords, your business can get more out of its advertising budget. You can take advantage of less competitive keywords and phrases. However, you can also find specific consumers who are better suited to your brand.
In addition, according to the survey data, 20% of mobile queries are done through voice search, and almost 70% of searches use voice search, which is the difference between it and typed queries.
Here are some things to note about voice search keywords:
They are usually longer and consist of 5-6 words.
They are usually in the form of problems.
They have a high local value, which means that your keywords should include keywords such as "near me".
Is Google ads right for your business?
Now that you know how Google ads work and what factors affect the cost of Google ads, you should have a better understanding of the cost of Google ads. If you're still curious about how much you need to spend, you can look at the average CPC for a particular keyword and you can do some research to find out the average advertising spend in your industry.
While there's no way to determine how much money you'll need to put into your Google advertising budget, it's helpful to consider every factor mentioned above. In addition to each ad budget, you need to consider strategies to target your audience. All of this will affect your total cost.
If you still need help determining if your business has enough Google advertising budgets, you can consult the PPC regulatory body. Experts on the PPC agency's team understand the complexity of PPC budgets and know how to make greater use of Google advertising spending. Not only can they help you determine that your marketing budget is for PPC ads, they can also help optimize your ads.
Wen Wen/Hugo.com Wang Weihui
Hugo.com is committed to providing sellers with quality dry goods
Sweep code attention

Add stars and watch the text every day

▼
---